Keep up with the latest hiring trends!
Does Crystal Know You Better Than You Know Yourself?

If you've ever struggled to engage a sought after candidate (and let's fact it, who hasn't?) – you're about to be blown away by an incredible new tool! It's called Crystal, and it will rock your candidate communication universe.
What is Crystal?
Crystal is a brand new Chrome extension that analyses public data to tell you exactly how to communicate with different individuals. And it does so with startling accuracy. Yes, using personality detection technology, the Crystal Chrome extension creates unique personality profiles for every person with an online presence, to show you how to speak/write in their natural communication style.
How does Crystal work?
Crystal scrapes "thousands of [publicly available] sources" online about you and others to create a profile on how to best communicate with you, complete with details about whether or not you enjoy things like emoji or sarcasm.
It starts by examining things you're written publicly — social media profiles being a primary source — and analysing factors like your writing style and sentence structure. Then it processes what others have written about you on these social sources. Using each of those data points, the site then identifies you as one of 64 communicative types (which the company has adapted from well-known personality frameworks), and infers insights about your personality and your personal communication style. Including how you like to be spoken to, the style of email you like to receive, how to behave when working with you, how to go about selling a product to you, and it even infers what comes naturally to you, what doesn't come naturally to you.
Take me, for example. Crystal tells me that I am "social" and "creative", and I "trust feelings and gut instinct more than rules or logic", all very much true.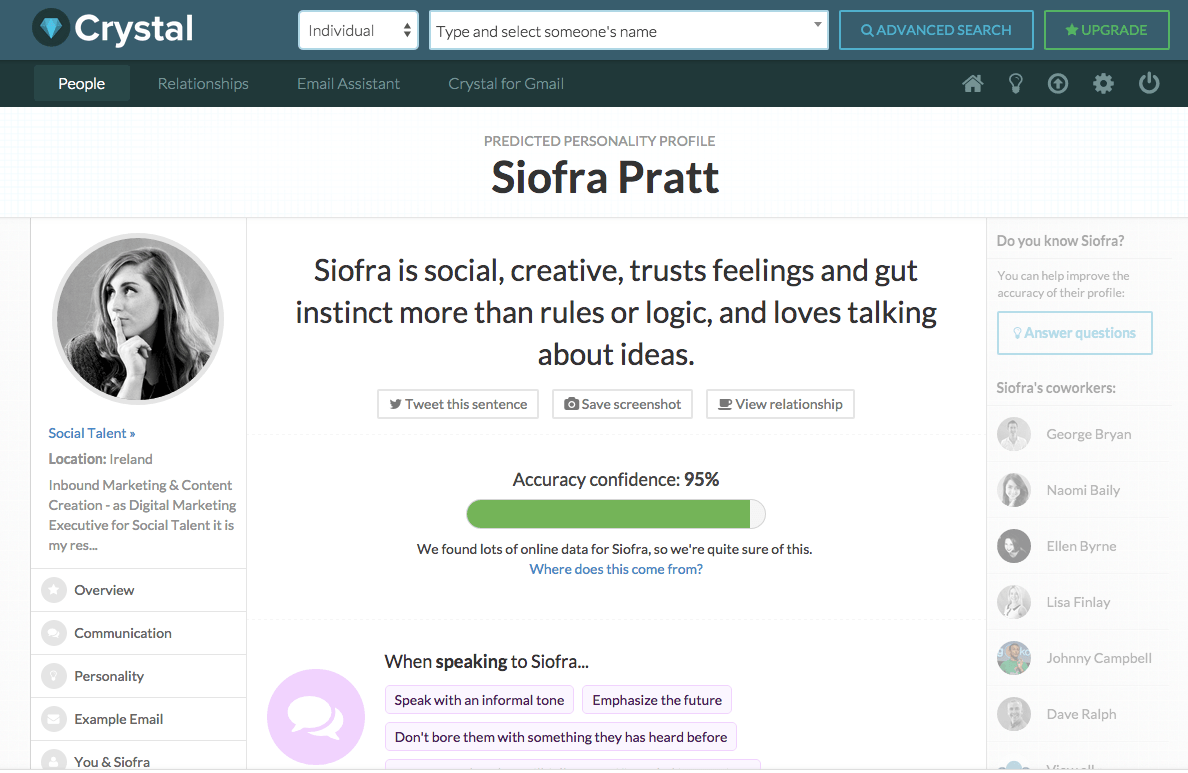 It also says that if you're speaking to me I prefer an "informal tone" – which I very much do. If you're emailing me , it's best to "use emotionally expressive language" and "write with short, casual language and abbreviations" – I do love me a good abbreviation!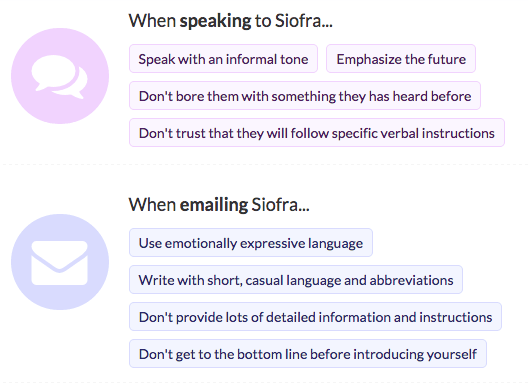 And it says that it comes naturally to me to "enjoy a story more than a list of facts" – give me a story over facts any day! It also mentions the fact that it doesn't come naturally to me to speak with a "tactful, reserved demeanour", which I have to admit is also quite true – I can be a little blunt!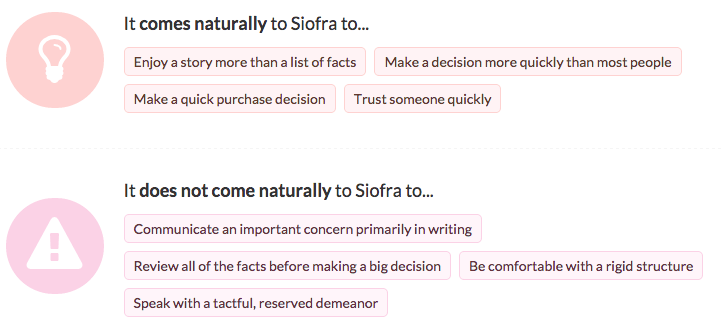 Crystal for LinkedIn
This is where Crystal gets super interesting and useful for recruiters!
After installing the Crystal for LinkedIn Chrome extension, when you view a LinkedIn profile just click the Crystal icon to visit that LinkedIn user's full personality profile on CrystalKnows.com, where you'll learn the best way to communicate in several instances with that person, based on their unique personality.
Take Holly's profile for example. On her profile it tells me with 76% confidence that she is "very loyal, ambitious, and accommodating, but it may take longer to earn her trust than most other people":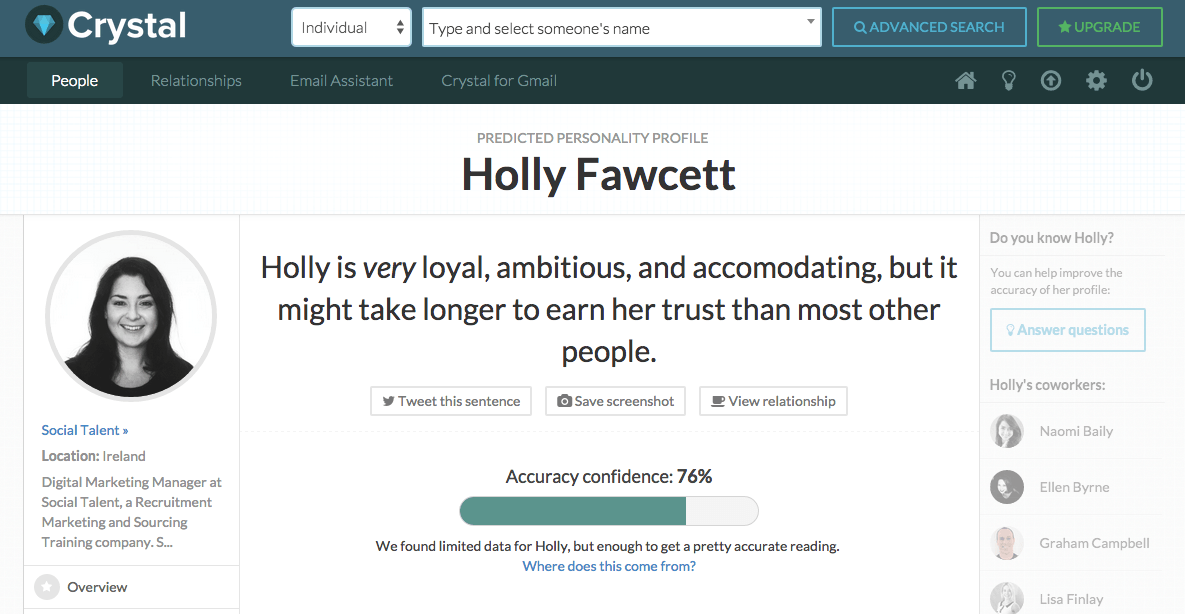 As a result, if we were contacting her via email about a job opportunity we would need to "state our purpose for the email in the first sentence", "point out personal connections like common friends or interests", and avoid overloading the email with "lots of extra information like links and attachments":

And when selling our job to her, we should "bring everything back to her career goal and how we can help her achieve it":

All exceptionally practical, insightful and useful information when trying to contact someone for the very first time about a role, I think you'll agree!
But that's not all! Crystal has another even more impressive trick up it's sleeve.
Crystal for Gmail
If you use Gmail, you can plug Crystal directly into Gmail for quick tips about how to communicate effectively with whoever you're emailing, right from within the email draft itself – a feature Crystal are saying will put an end to email miscommunication.
And we can see why they're making such a bold statement! Take my email to Holly as an example. Once installed, when I begin writing an email to Holly, Crystal starts analysing all the public data from her social profiles and other websites, to detect her communication style: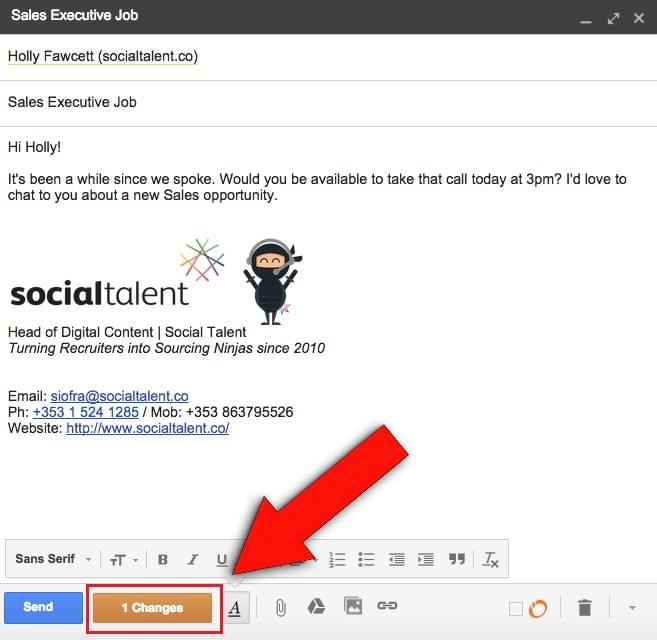 Then, before I click send, it will suggest how I should greet Holly, what I should say to her, how I should say it, what to avoid saying, and which specific areas of my email I should edit to make it more appealing to Holly's specific communication style: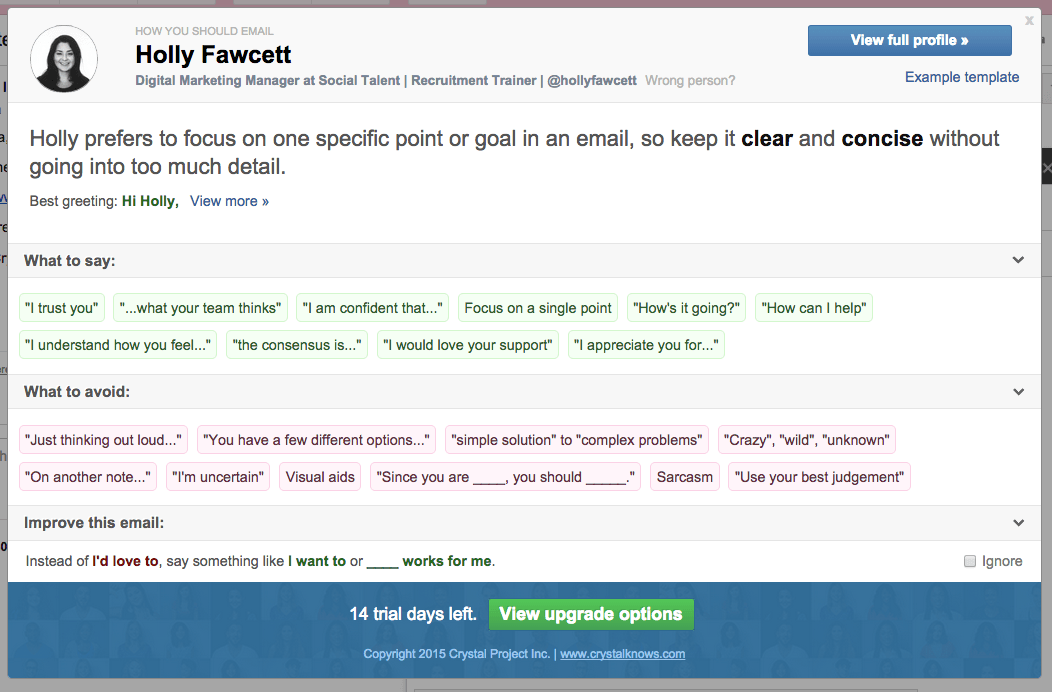 It's almost as if she was looking over my shoulder as I wrote it! And, if I was using the paid version of the product, Crystal would even go so far as to offer a fully-written email template, algorithmically derived for Holly!
As most recruiters can appreciate, it can be hard to know what sort of greeting to use when first sending someone, and a candidate in particular, an email. Should you address them formally or informally, is it okay to include a joke, is it appropriate to use emoticons? Crystal tries to remove some of that ambiguity by suggesting corrections to your email as you type, translating your communication style to that of the recipient's in real time. And we can vouch for its effectiveness! BIG time. In fact, we love Crystal so much we're adding it to our Black Belt in Internet Recruitment training course!
And it seems we're not the only ones. Just a quick glance at the feedback for the Gmail plugin reveals it's being very well received elsewhere too:
"Been using this for some of my cold sales emails with awesome results. Gives you suggestions unique to the recipient so you don't have to reck your brain trying to relate to them."
"Brilliant idea, crazy accurate. I see the potential to overcome LinkedIn as this is truly what I'm looking for in a networking tool."
"THIS IS INSANELY ACCURATE"
"Great way to understand someone's personality."
It's important to note however, that Crystal is not always accurate. While it is an incredibly accurate tool most of the time, its accuracy does depend on publicly available information. So if a candidate doesn't have much information in the form of social profiles available about them online, Crystal will not be able to infer that much data about them. That said, Crystal is an amazing tool that you really can't afford to ignore or at least try.
You can sign up for a free 14 day trial of Crystal without any credit card details, just click here to do that. It will take a few days to get approval, but if you wish to bypass that waitlist (and you will!), all you need to do is follow the company's Twitter account and mention them in a tweet. Once you do that, you'll have access to the Crystal plugin in about an hour.
Pricing for the paid version starts at $19 per month and includes some bonus features like email templates specific to people you're looking up (as we mentioned above) and more.
We really, really hope you give Crystal a go, we're extremely impressed by it here at Social Talent, and we really believe you will be too. So please, if you do decide to give it a go, let us know how you get on and how it helps you improve you candidate communication efforts. Enjoy!
Find out how the likes of IBM, IKEA and Siemens
drive hiring excellence with SocialTalent
---