Keep up with the latest hiring trends!
Google Verbatim Search - Urgent Boolean Update for Searchers!
Big thanks to Gary Cozin for the heads up about this development today: Google have begun to roll out from today a Verbatim Search tool for Boolean searchers.
As Google's search engine has become more and more sophisticated, it has been searching for terms sorta related to your search terms instead of the exact thing. So instead of simply just searching for the term CV, it looked for other related terms like resumé, curriculum vitae, profile etc. Boolean searching is a precise method of searching, and when we search for particular things, we generally ONLY want Google to look for those terms. Boolean searchers were able to use the + operator directly in front of a word to force Google to look for that spelling, and not stem or correct a word, but they say in their blog that less than half of a percent of searchers used the + operator, and even then only one third of the time was it used correctly.
So, we can still use the "double quotes" to force Google to look for specific spellings or words, but now Google will instead be rolling out across the next week a Verbatim Search tool within the Google SERP.
After typing in your search, along the left margin click on All Results, then More Search Tools, then Verbatim. This will ensure that Google will search:
without making automatic spelling corrections
without personalizing your search by using information such as sites you've visited before (when you're signed in to a Google account within your browser somewhere)
it won't including synonyms of your search terms (matching car when you search [automotive])
it won't find results that match similar terms to those in your query (finding results related to floral delivery when you search [flower shops])
won't search for words with the same stem like running when you've typed [run]
and won't make some of your terms optional, like circa in [the scarecrow circa 1963]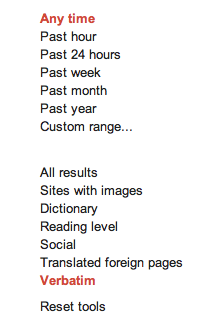 Hopefully your Boolean searches will be more accurate now using the Verbatim search, unless you're still a little new to Boolean techniques and Google's broader search was actually finding you people who you wouldn't have otherwise.
Find out how the likes of IBM, IKEA and Siemens
drive hiring excellence with SocialTalent
---