Keep up with the latest hiring trends!
How to: Deactivate or Delete your Facebook Account

Had enough of Facebook? Want to go cold-turkey and just be rid of it all? If you're like the 62% of people who check their Facebook account before even getting out of bed in the morning and perhaps want to make a clean break, or maybe you're not really that sure who a huge chunk of your "friends" actually are (survey says: we don't know 20% of our Facebook friends, on average).
Many professionals whose name is quite well known – like a CEO or Recruiter – and teachers can often feel the prying eyes of the public on their private lives through Facebook. I know how you feel – the more changes Facebook make to the platform to try and make our updates and content public by default (grr), the more I'm itching to just ditch it all, go outside, and talk to actual people.
There are two things you can do:
1. Deactivate your account, which will preserve your data but remove your profile from the network;
2. Delete your account, which is a permanent and thorough deletion of your profile, data, photos and social life, reminders for everyone's birthday, existence. It's become a real crutch for people's lives, hasn't it?!
Here's a step-by-step guide to do these:
1. To Deactivate your Facebook Account
Step 1: Click on the little cog button in the very top right corner of your screen, and click Account Settings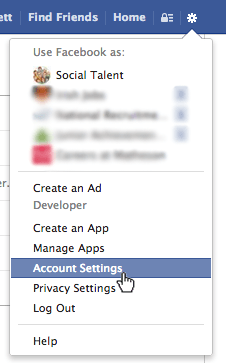 Step 2: Click on Security from the left-hand panel, and at the bottom of the page click Deactivate your account.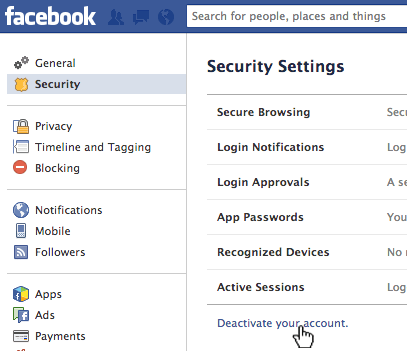 Step 3: Don't get weepy now, as Facebook will show you photos of friends who'll miss you now that you'll no longer be on Facebook. They won't really, because you'll see them at work or you'll call round to their house later on, interacting in this place we call real life. Fill out the little questionnaire telling Facebook why you're leaving;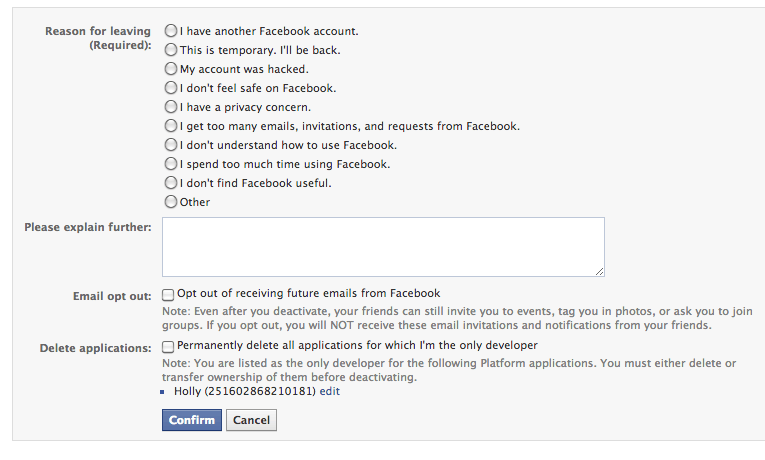 Step 4: Click "Confirm"
If, after you've rejuvenated yourself from your Facebook fast, you want to re-activate your Facebook account again, you can do so easy peesy. Just log back into Facebook with your email address and password, and it'll be like you never left. Except no doubt, in your absence, Facebook will probably change everything and you won't know yourself.
2. To Permanently Delete your Facebook Account
This is a little trickier, and Facebook really don't want to see you go. Facebook will completely remove everything you've added to the network, and once you do this it's completely irretrievable. #WIN!
Facebook recommend that before you delete your account permanently, you download all of your information. Depending on how active you are on Facebook and how long you've been a member, it could take several hours for your data to download. But, you will recieve it in one intelligible lump soon enough.
Step 1: Download all your information from Facebook, so that you have it as a backup (and semi-scrapbook of your online life). Click on the cog in the top right corner of Facebook, click on Account Settings (same as above) and click on General from the left-hand side panel. and at the bottom of the screen click on Download a copy of your Facebook data, and then Start my Archive.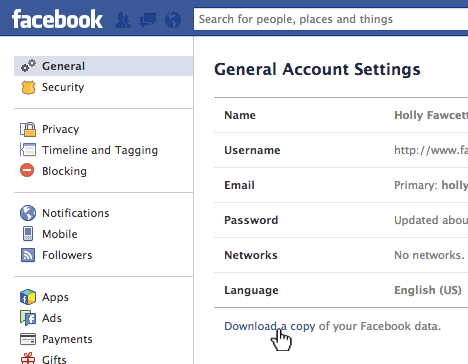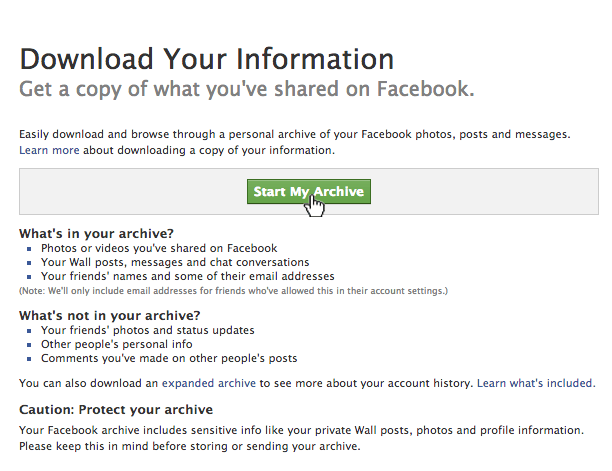 Step 2: Then, click here and click Delete my account. You'll be asked to input your password and also a captcha.

Simple as!
Now if only I can be brave enough to do just this
Find out how the likes of IBM, IKEA and Siemens
drive hiring excellence with SocialTalent
---