Keep up with the latest hiring trends!
How to: Find and Follow your LinkedIn Connections on Twitter
As social recruiting becomes more and more to the fore, we're getting on Twitter. Twitter integration with LinkedIn is nothing new (it's been around for about 2 years now), but it's surprising how overlooked this option to integrate your Twitter and LinkedIn connections together still remains.
Your LinkedIn connections may be more influential in their Twitter space, sharing articles and blogs of industry importance and innovation that can mean you stay with the curve of progression when it comes to social recruiting. Also, the people you're connected with in LinkedIn you may not be following on Twitter, so here's a really easy way to update your follows.
Here's how to integrate your LinkedIn and Twitter connections:
Firstly, click here to install the Tweets application to your LinkedIn profile.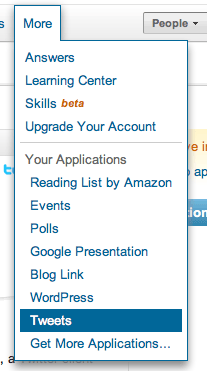 Once that's up, then click in to the More tab at the top of your profile, and click on Tweets.
When you're inside your settings on Tweets, you'll be given an overview of your Twitter feed, who you follow, and what Lists you have. Now, Lists are actually quite important. If you characterize people under Lists (but bear in mind, they can see the name of that list, so DO NOT call them things like "Prospect" or "Dud-prospect") you can easily organize your connections, particularly if there are connections on Twitter whose Tweets you don't want to overlook.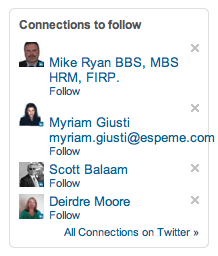 You can have up to 20 lists, and up to 500 people per list. Based on your LinkedIn connections, LinkedIn will suggest connections for you to follow (down a bit on the left hand side) and click on "All connections on Twitter". This will show you all of your LinkedIn connections who have Twitter accounts listed in their profiles, and you can directly follow them on Twitter without having to leave LinkedIn. LinkedIn will also categorize your new follows in to a List (generically called LinkedIn connections, but you can change it to whatever you'd like).
So, really easy, and one more way to get social with LinkedIn. If you're relatively new to Twitter (which many of you would be, Twitter gained more than 250,000 members in Ireland this year alone and is therefore the fastest growing social network in the country) you can have your Twitter stream inside your LinkedIn stream as one, without needing to go through multiple social networks to get your news.
Have you integrated your Twitter in to LinkedIn? Have you found it useful? Tell us in the comments.
And if you'd like, you can follow us on Twitter! Click here to follow me (@HollyFawcett), here to follow Nicola (@MsNickyMac), here to follow Oliver (@OliSkehan) and here to follow Jonathan (@Recruiterblog).
Find out how the likes of IBM, IKEA and Siemens
drive hiring excellence with SocialTalent
---