Keep up with the latest hiring trends!
How to Source using Geolocation: Top Tip
We ran a webinar this week on Mobile Recruiting, recorded on campus at Harvard University, Massachussets. We were attending the truBoston conference with, amongst many others, Geoff Webb, aka @RadicalRecruit and Geoff kindly shared with me a great sourcing tip for finding a candidate who works at a target company using Geolocation.
This great tip works on the premise that most people link their Twitter account with their Foursquare account so that when they check in on Foursquare, the API automatically posts it out on Twitter in a predictable format.  If you are into FourSquare then there's a pretty strong chance that you regularly check into your work location.  Your Twitter bio is only 140 characters long and Twitter is not a professional networking tool (per se) so it is likely that you do not list your employer in this bio but a smart recruiter can make the assumption that if you regularly check-in to a certain workplace, then you probably work there!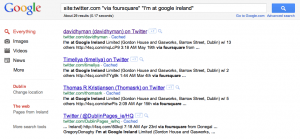 Try this out on Google, replacing your target company and location:
site:twitter.com "via foursquare" "I'm at google ireland"
The first part of the search string (site:twitter.com) searches Twitter. The next phrase ("via foursquare") is automatically contained in the message header when posted through the Twitter API from Foursquare and lastly the "I'm at" piece precedes all locations.  It may not be "Company X, City Y" as the official FourSquare location could be a street name or district, so you may have to play around with the search to find the exact company office you are looking for but it's pretty neat none the same!
Try it out.  Do you use geo-location to source candidates?
Here's Geoff Webb of RadicalRecruit discussing some of the new geo-locational sourcing tools he is working on:

Find out how the likes of IBM, IKEA and Siemens
drive hiring excellence with SocialTalent
---