Keep up with the latest hiring trends!
How To: View LinkedIn Private Profiles Using Your Mobile Phone

Here's a quick one for you! When you're attempting to view a LinkedIn profile that's completely outside of your network (ie, not first, second or third degree connections), it comes up "Private", hiding their name, most of their profile and the ability to connect with them. However, there are several ways to get around this smoke-screen, one of which is to use the LinkedIn app on your smart phone (as cleverly spotted by Dale Taylor of Digital Minds last week).
UPDATE 10 April: LinkedIn has updated their iPhone App last Friday (to version 4.3.3) to take away this option of seeing Private Profiles, so if you want to retain this feature, keep your old version of 4.3.2.
So, when you've conducted your search on LinkedIn for the perfect potential candidate and you've stumbled upon someone outside your network who's ideal, how do you get around the "Private" bit and see their name? Whip out your smartphone, log in to your LinkedIn App (if you've not installed it by now, I'd recommend you do, it's actually really good!), and search for that person again (using keywords found in their profile like their job title and a location).
When you've found them in search, just click on their profile, and to-do! As if by magic (or complete lack of memory) LinkedIn will show you their full name and profile, and give you the chance to connect with one click.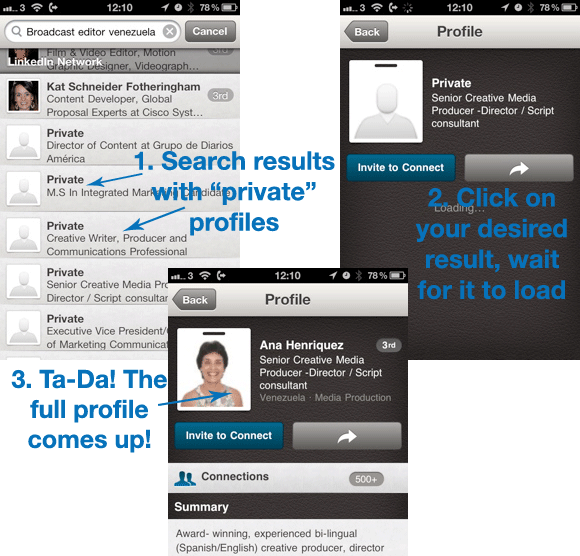 Now, bearing in mind that searching LinkedIn using the mobile app is rather tedious, this is only one of a few easy (but closely guarded secret) ways to find people outside your network. We show you how to really open LinkedIn and utilize social networks to find virtually anyone for any job through our one-day Blue Belt in Internet Recruitment courses (click here for info).
Have you found any neat ways to get around the LinkedIn walls? Let us know your tips in the comments!
Find out how the likes of IBM, IKEA and Siemens
drive hiring excellence with SocialTalent
---