Keep up with the latest hiring trends!
LinkedIn's new homepage and "LinkedIn Today" layout makes good content more important for recruiters

From today, LinkedIn's new homepage and LinkedIn Today layout have been rolling out across all profiles and its new "Most Popular" updates feature has made it even more important for businesses, and recruiters, to write great content and influence your network in what they read on LinkedIn each day.
Do you or your company write a regular blog on industry matters, job-seeker tips or technical tips? Does this blog bring people to your site regularly where they can review your jobs as well? Well then, this development is especially relevant to you.
Up until now, scanning through updates on ones homepage on LinkedIn was like looking for a needle in a haystack. It was difficult to ascertain when scanning quickly which were stories that mattered and which were (often meaningless) updates like someone had changed their skills to include "Typing" or something equally benign.
Now though, the LinkedIn homepage will make features out of important stories and news, as more people comment, like and share your update. According to the LinkedIn blog, "Now you can see the most important network updates and articles at the top of the feed. This makes it quick and easy to stay on top of what matters most, such as trending topics, news, and professional updates based on what your connections and industry are reading, sharing, and discussing." Rather like Facebook, if your blog is gaining more traction and discussion amongst your network, it will appear at the top of your network's homepage for longer and can entice them to read it too.
This is the old view, I'm sure you're used to it: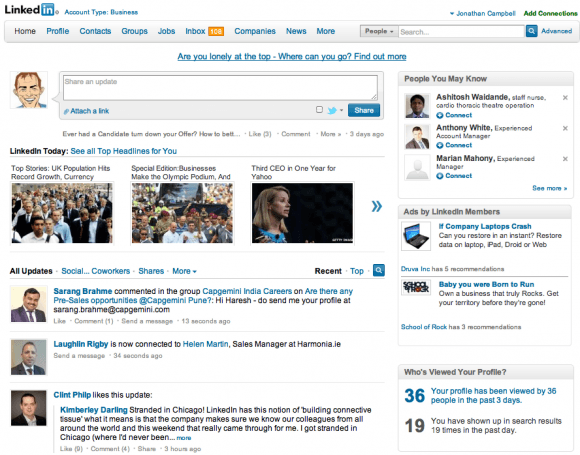 And this is the new layout – click here for the full-scale version: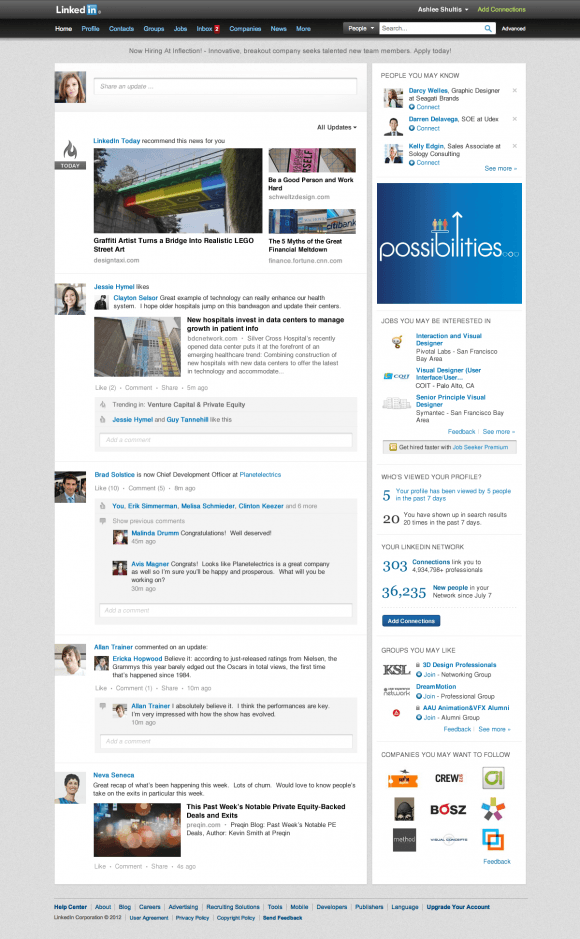 Promoting discussion, being seen as an expert and thought-leader, and encouraging debate are excellent ways for recruiters to promote their jobs in a soft-sell way. Hard-to-nail-down personnel from IT people to hedge fund accountants don't want to hear from recruiters pestering them to move jobs ("I came across your profile on LinkedIn and I thought you might be interested in a new job that's just come in" – sound familiar?). But they WILL want to hear about stuff to do with their job, like salary surveys, industry news, new techniques, developments that may affect them etc.
Transforming passive blog-readers into potential candidates is actually rather easy. With each visit of an industry professional to your site, you're planting the seed in their head that there's plenty of job opportunities with your agency or organisation, and that moving jobs is an option. Passive blog readers will accept the soft sell, and you'll probably find job announcements on LinkedIn that don't receive any traction from your network will be driven to the bottom of the heap.
In essence, what LinkedIn is driving across the board is greater content. No longer is spitting out a rung of job ads as status updates going to cut it. Writing good stuff and promoting it across LinkedIn to your network will get more readers to your site than before, where they can continue to peruse your website and search for jobs. If you're not writing a regular blog as a recruiter about relevant topics, now is definitely the time to start!
Has LinkedIn's new Homepage launched on your account yet? What do you think of it so far? Let us know your thoughts in the comments.
Find out how the likes of IBM, IKEA and Siemens
drive hiring excellence with SocialTalent
---