Keep up with the latest hiring trends!
Next Generation Sourcing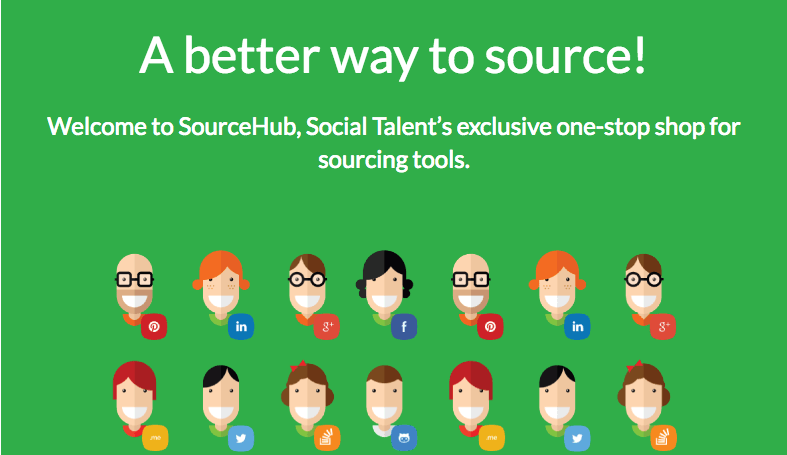 If you have taken our world-class training before, you will be familiar with our exclusive souring tool called SourceHub, which helps you to dramatically improve your sourcing efforts through automatically generating your Boolean search string. In the last couple of months, we have made some big changes to this tool in order to enhance your browser experience and improve your productivity, mainly through our SourceHub Chrome extension (which you should have installed already!). Read on and learn how you can take advantage of the latest updates here:
Find Candidates Any Time, Any Where
Whether you're catching up on the latest recruitment news or just browsing around during your free time, the SourceHub icon will display on the right-hand side of ANY web page in Chrome. There is an option to modify this through your settings but if you have a light bulb moment and need to search for specific candidates right away, we would recommend keeping Hiroto on hand (plus he's kinda cute!). To start your search, all you need to do is click on Hiroto and start finding qualified candidates on the largest professional network, which is of course LinkedIn!
Step 1: Click on Hiroto


Step 2: Enter in the job title, skills and location you want to search for and click 'Search on LinkedIn'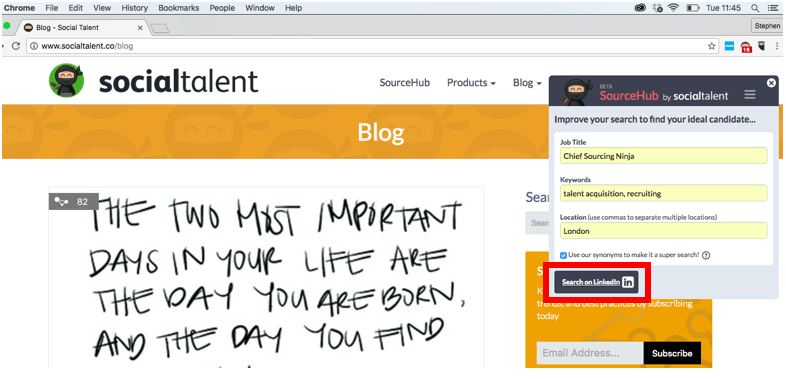 Step 3: View the results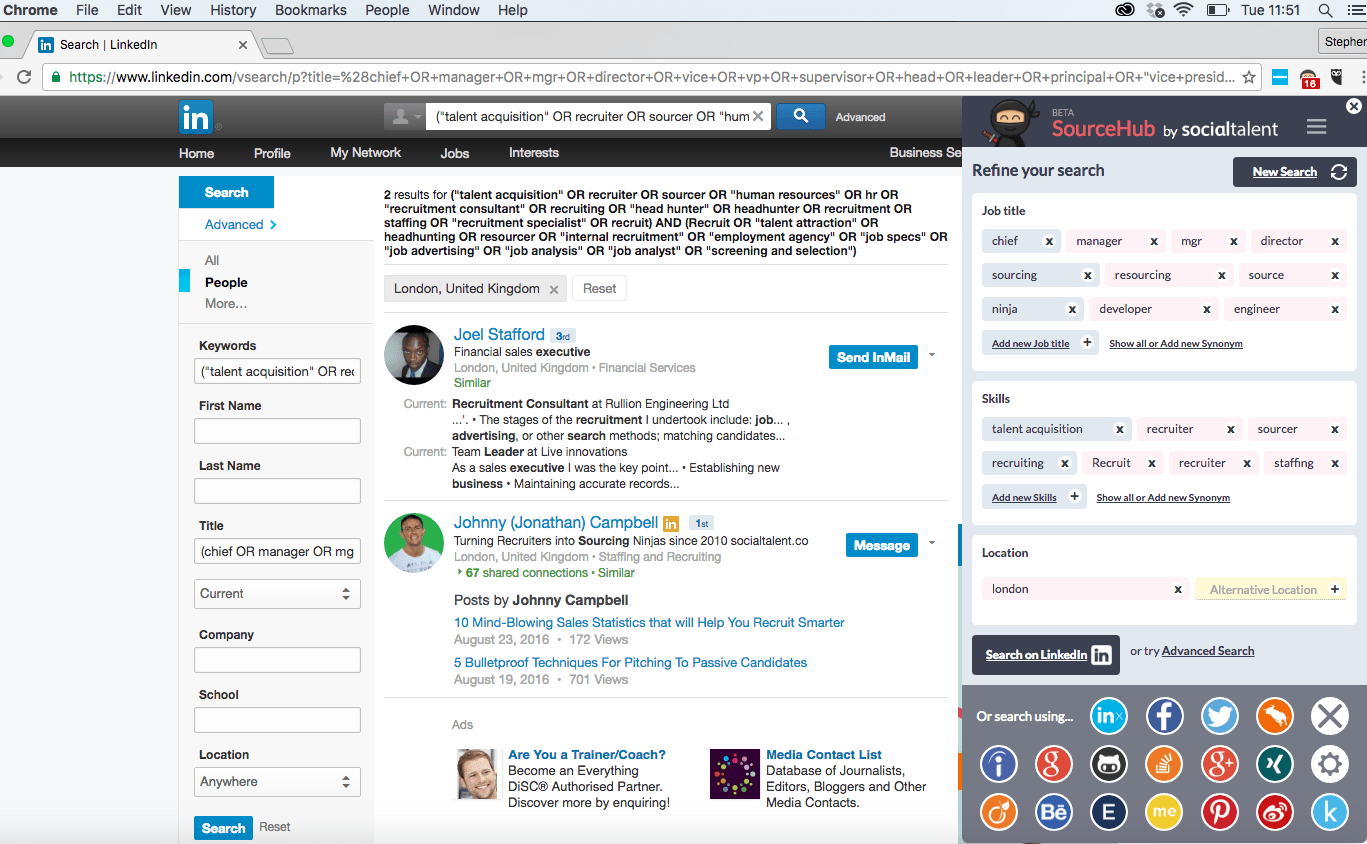 The SourceHub plugin automatically creates a Boolean string of that search. We have done this by building up our database of synonyms through crowdsourcing which you can see on the right hand side. You also have the ability make changes to some keywords and customise that search by adding or removing synonyms as you see fit. The tool will then run the search with the amended synonyms showing you the candidates most relevant to your search. The best thing thing about this is that you don't have to write a new string or even leave LinkedIn to get this new search!
Improved Team Collaboration
Staying on the LinkedIn results page, you will notice an option to 'try Advanced Search' (see below).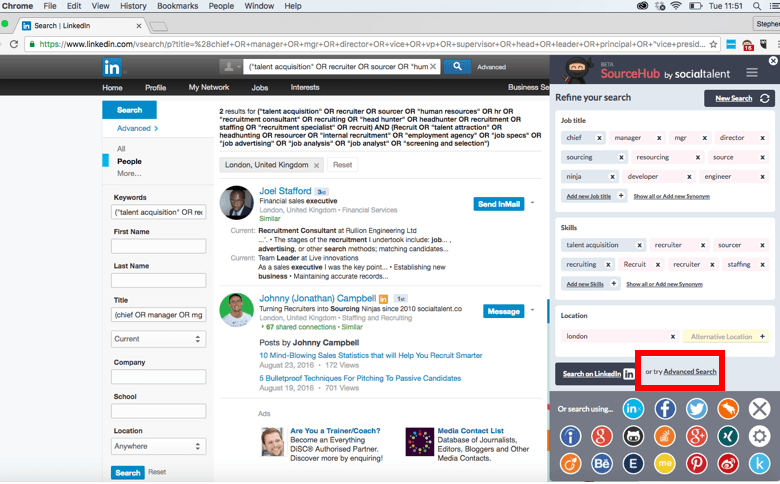 When you click on this, you will be redirected to the desktop version of SourceHub which will give you a full breakdown of the different synonyms for the job title and skills you have entered previously. Scrolling to the bottom of this page, you will see the full Boolean string of search which you can copy and share with team members.

Not only this but you can also check the search history of your team members as well as yourself. This greatly increases transparency among teams as you can see recent searches. You can also share successes with team members of the best search strings for your candidates or adapt and amend existing searches as you see fit.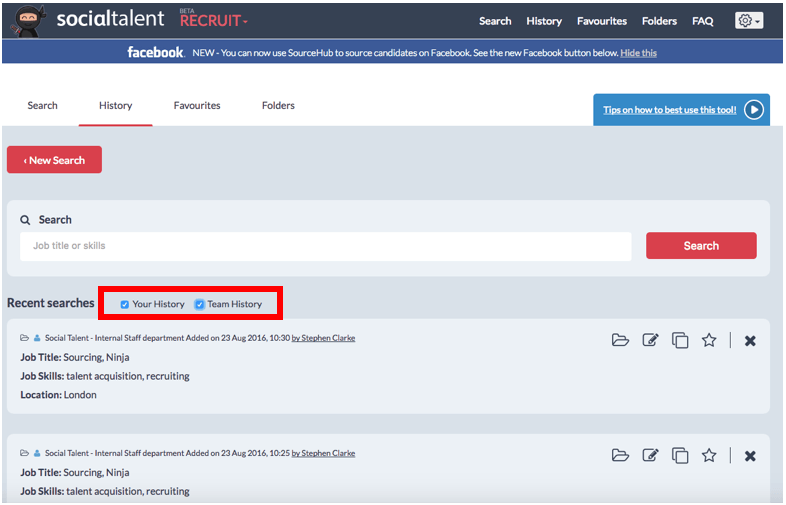 The plugin isn't just good for all of you Boolean experts though. Whenever you click onto a LinkedIn profile, the plugin will alert you if you or any member of your team has viewed this specific profile recently as you can see below.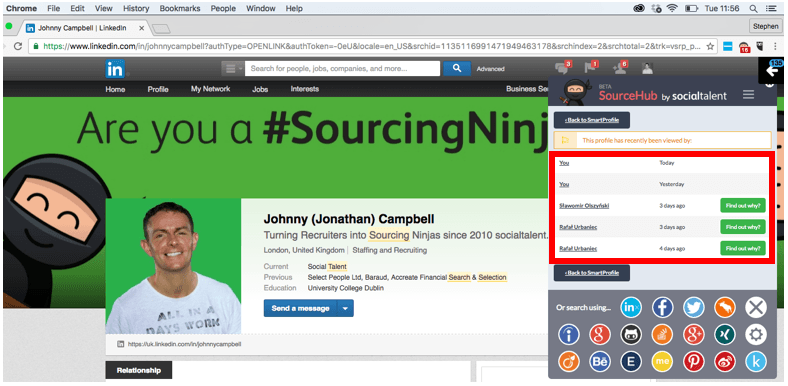 You may notice a green 'Find out why?' button which generates a pre-populated email where you can contact team members and find out if contact with that potential candidate has already been made. This enhances team collaboration and eliminates overlap as it will save you from reaching out to the same candidates. Neat, right?

Bullhorn Integration
What really makes SourceHub powerful is its online integration with websites like LinkedIn, Twitter, Behance, About.me and StackOverFlow, which have massive pools of potential candidates. We're excited to announce our latest integration which is with applicant tracking system Bullhorn! That's right – if you find a great candidate on LinkedIn and if you are using Bullhorn as your ATS, you can see if you have a record of this candidate already in Bullhorn. Bringing more efficiency to your sourcing!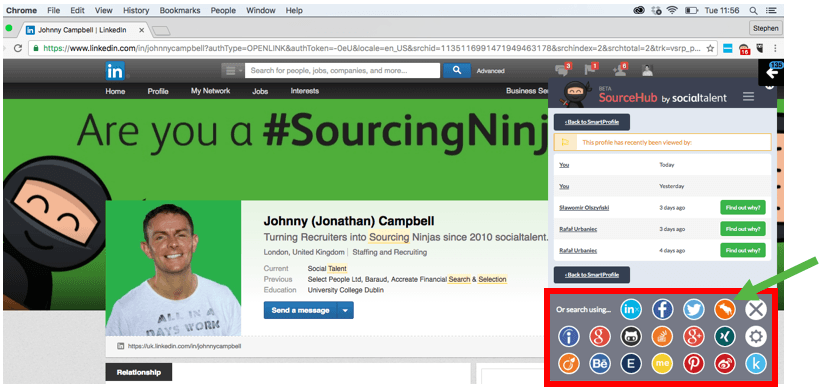 Don't use Bullhorn as your ATS? Fear not, we're planning on rolling out more integrations with other ATS's in the near future so stay tuned. Is there any particular ATS you would like us to integrate with SourceHub? Let us know in the comments!
If  you are not a SourceHub user and you would like to find out more, you can sign up for the SourceHub lite version here. It's free!
To find out more about SourceHub's full features along with other proactive tools, click here.
Find out how the likes of IBM, IKEA and Siemens
drive hiring excellence with SocialTalent
---