Keep up with the latest hiring trends!
New 5 Second Pop-Up LinkedIn Ad: When Free Isn't Really Free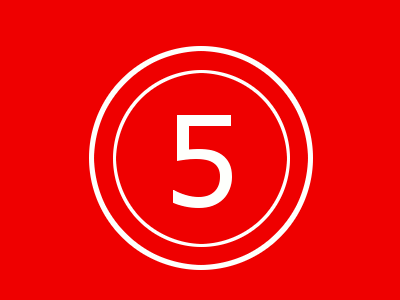 Do you like counting? Well, if you're a user of a free LinkedIn account I sincerely hope you are, because you'll be doing a lot of it from now on. Yep, free account holders now have to wait five entire seconds before being able to view a second or a third degree connection on LinkedIn.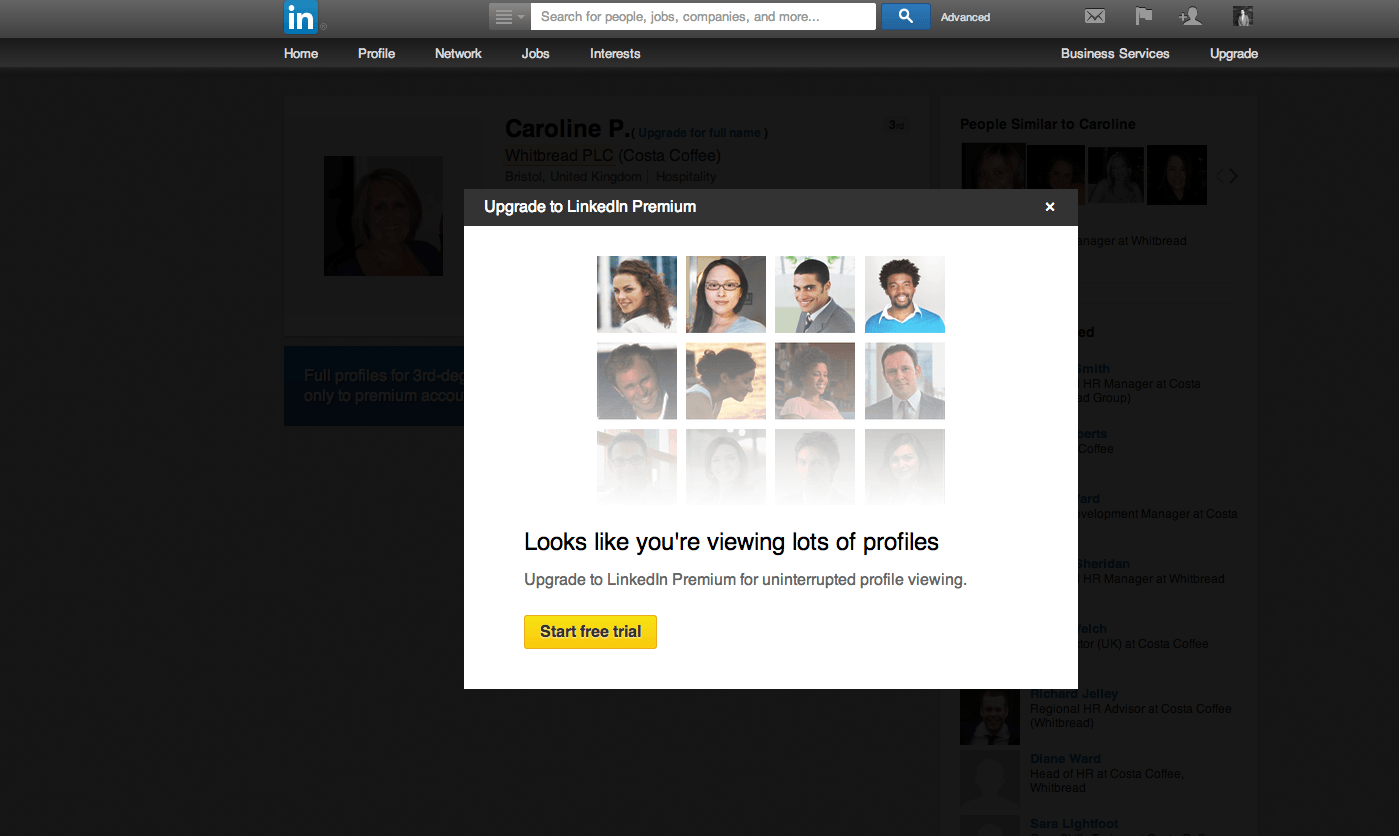 Why? Well LinkedIn have decided "you're viewing lots of profiles" and that needs to stop. At least while you're still using a free account that is. "Upgrade to LinkedIn Premium for uninterrupted profile viewing" – that's the message LinkedIn are sending out loud and clear.
And the people are not happy about it: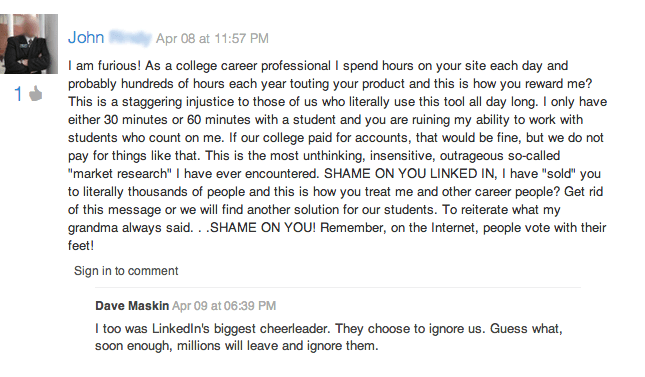 But for better or worse, this is just the latest development in an ever increasing list of "free" product features that are biting the dust slowly but surely. We think it's now safe to say that many of the features you currently enjoy using on a free account like search filters, will NOT be free this time next year. As we've seen from the number of updates and improvements LinkedIn have been making to their Recruiter product (both on mobile and desktop), LinkedIn's focus going forward would appear to be with the more expensive Recruiter offering.
In recent weeks, we've been introduced to a new look LinkedIn Profile page for users of Recruiter, a new iOS Recruiter app and an Android app, and a sneak peak of the Talent Solutions Products to come. We've had the Products and Services tab removed from our Company Pages, as well the Polls feature in Groups, and we've seen the plans for LinkedIn's integration with the Samsung Galaxy S5 and planned integration with iOS and Android. Phew! That's A LOT of updates.
So should you persevere with your free account, or bite the bullet and upgrade? Well, as we suggested a couple of weeks ago, we feel many recruiters would benefit from upgrading to a Premium LinkedIn account. You can see the full names of your 3rd degree connections, you receive 10 InMails to have in your back pocket for when you absolutely need them, you have access to the OpenLink network, you can see the full list of people who viewed your profile in the last 90 days, and you are able to view more pages of results. At £12.95 a month it is significantly cheaper than paying £499.95 a month to upgrade to LinkedIn Recruiter , and offers enough improved features to keep you going. However, we do expect that even users of Premium will eventually be forced to move to a LinkedIn Recruiter account within the next few years, as many crucial features and benefits start to become LinkedIn Recruiter-only perks.
In the meantime, for all of you free LinkedIn users out there, we've discovered a little hack that'll prevent LinkedIn's new pop-up from bothering you:
Once it's installed, click the logo and select 'Options'.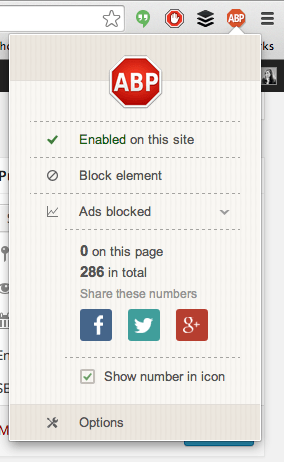 Then select 'Add your own filters' and click 'Edit filters as raw text' from the bottom of the white text box.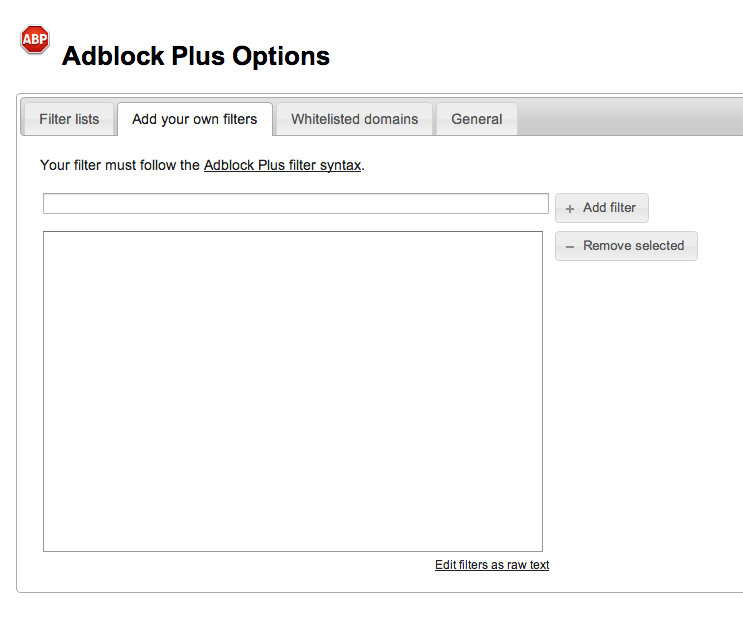 Enter the following into the large text box:
– www.linkedin.com###paywall-content
– www.linkedin.com###paywall-content-wrapper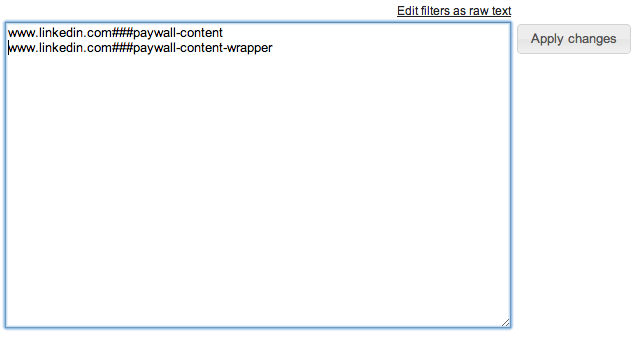 Then hit 'Apply changes'.
**Note: The hack may not work for LinkedIn users outside the U.S.
Have you come across this issue yet? What do you make of the pop-up? Would it encourage or discourage you from upgrading your LinkedIn account? Let us know in the comments below.
Find out how the likes of IBM, IKEA and Siemens
drive hiring excellence with SocialTalent
---