Keep up with the latest hiring trends!
The Social CV launches today: Is this the game changer for Social Recruiting?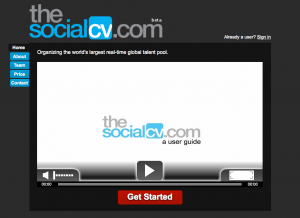 The much talked about Social CV launches today after months of private beta testing.  So the big question is; how good is it?  I have spoken to several people who have had the opportunity to beta test what is essentially a recruiter's filter of the web and all things social, and so far they have all been blown away!
The Social CV makes sense of the scraps of data that exist online about people and sorts it in a manner that recruiters can understand.  It also comes with a really cool interface and database that enable you to find people by skills, job titles, employer etc and then view all of the available online data about that person before contacting them or saving their details for a rainy day.
This quick video demonstrates it best:
Have you had a chance to test it? What did you think? If not, do you think this is something we will all be using in 2 years time?
Here's what the folks at Work Digital had to say in their press release today:
Title: The Launch of thesocialCV.com
After 3 years in Development – Product Targeting 300,000 Seat Licenses by Year-End

London, UK '¬€œ 13 April 2011: After 3 years in development and 6 months in private beta, thesocialCV.com launches today. The product emerged from the R&D of a partner product the company launched with Google and was previewed at a London TechCrunch event. It makes use of sophisticated semantic tools to aggregate data contained within social profiles.  The product contains more than 65 million candidate profiles and is indexing an additional 400,000 daily.

thesocialCV.com will be sold on a seat-license basis and at launch is partnering with leading global recruitment software providers and staffing firms that can put the product on more than 300,000 seats by year-end.

"We've been overwhelmed by the commercial interest in the product,"  says sales director, Jonathan Cooney. "Our challenge has been identifying the right partners and locking down a commercial strategy."

In private beta, WorkDigital Ltd, the parent company of thesocialCV.com, worked with leading edge recruitment companies representing more than 35,000 staff to test the user experience, feature sets, and relevancy algorithms. Through tests with global recruitment companies and market specialists like Quest Search & Selection, hundreds of tweaks were made to the product to address the unique challenges of recruitment professionals.

"Live testing is a critical part of the product development and most critical when optimizing our search algorithms,"  says product manager, Katie Canton.  "Our new TalentRank algorithms and our semantic skills extraction processes, for example, were dramatically overhauled during our private beta."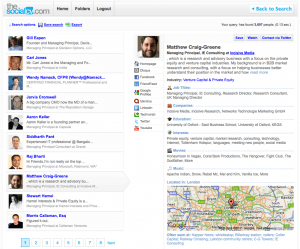 The product will be integrated into the core platforms of global ATS and CRM providers. For leading ATS platforms, the product allows them to offer their clients:

Access to a talent pool of more than 65 million individuals globally.  Adding 400 thousand, daily.

Ability to build custom talent pools and get notifications when candidates update profiles.

Ability to update/refresh current CV database with realtime data.

A 360 view of candidates [to assess engagement and corporate fit] that currently sit in their DB or for prospective candidates.

Access to TalentRank and semantic skills extraction CV search capabilities.
The company is a veritable incubator of semantic search products.  "It's an interesting technical challenge, and I'm sure we've got a long way to go to get it right," says thesocialCV.com CEO, Howard Lee.  "But when building a talent pool of more than 600 million individuals, we had to take a look at new approaches to building relevancy algorithms and faceted metadata search to meet the demanding needs of recruitment professionals."
In private beta, thesocialCV.com was the Winner of Onrec Technical Innovation Award for 2011.
A video overview of the product:  http://youtu.be/0mdjx468dck
Some pre-release product reviews:  http://bit.ly/f3yMmf http://bit.ly/hpmckc
For Business Development and Seat License info contact:
Commercial Director Jonathan Cooney at +44 2073169206 or 

[email protected]

About WorkDigital Ltd:
thesocialCV.com and TalentRank are products of WorkDigital, a natural language search technology company that builds enterprise and consumer facing products that power general classified channels and social CRM solutions. WorkDigital clients include Adidas, Lloyds, Ernst & Young, Adecco, KPMG, KFC, and other leading global brands with products that have been featured in the NYTimes, Financial Times, the BBC, WIRED, Guardian, TechCrunch and hundreds of other publications/news outlets.
Find out how the likes of IBM, IKEA and Siemens
drive hiring excellence with SocialTalent
---