Keep up with the latest hiring trends!
Top 6 FREE Online Recruitment Tools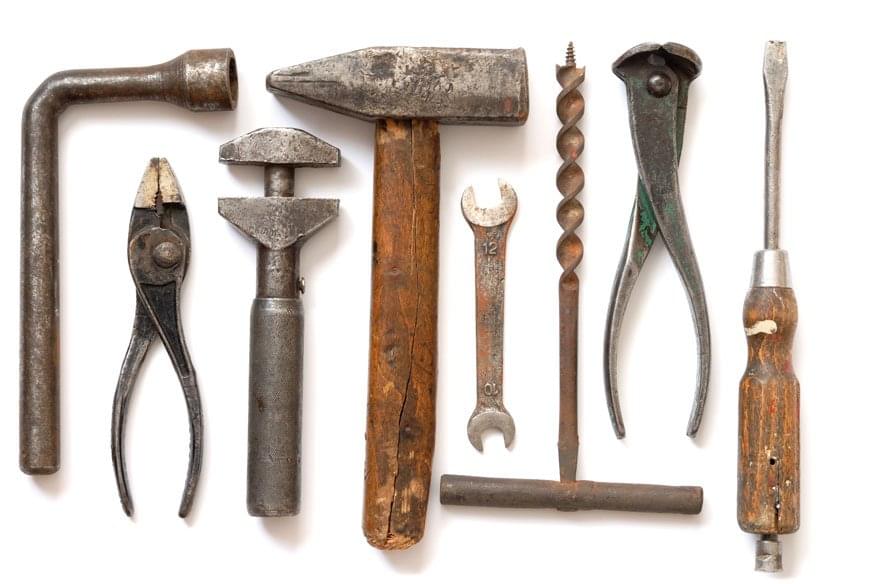 Everyone loves a freebie, especially when that freebie can help to improve your efficiency and your productivity when sourcing candidates online!
So, here's our list of free tried and tested online recruitment tools that'll help you find four times the candidates in half the time, find the contact details of candidates more easily, build a more credible network, produce powerful connections between different social sites, and monitor the social conversations being had about your company and your jobs:
1. SourceHub
Ok, so we know it's a little rude to blow our own trumpet first, but hey, SourceHub is a fantastic tool and we feel exceptionally proud to be able to scream that from the rooftops of the internet! Because, if you're looking to dramatically improve your sourcing efforts and significantly cut down the time it takes to find the best candidates (and let's face it, who isn't?), SourceHub is the tool for you.
If like many recruiters, you struggle to get to grips with Boolean's many operators and usage rules, you'll be pleased to know that SourceHub has been developed especially to negate the need to use Boolean, by implementing taxonomies to perform comprehensive searches for you, based on very little data.
For example, all you need to find great candidates on 15 different social sites including LinkedIn, Twitter and About.me on SourceHub, is:
the title of the job you're looking to fill
the skills the candidate needs to possess,
and the location you're looking for the candidate in.
No ANDs, ORs, or NOTs. Just tell SourceHub exactly what you're looking for, in simple terms, and it'll do the hard work for you – literally.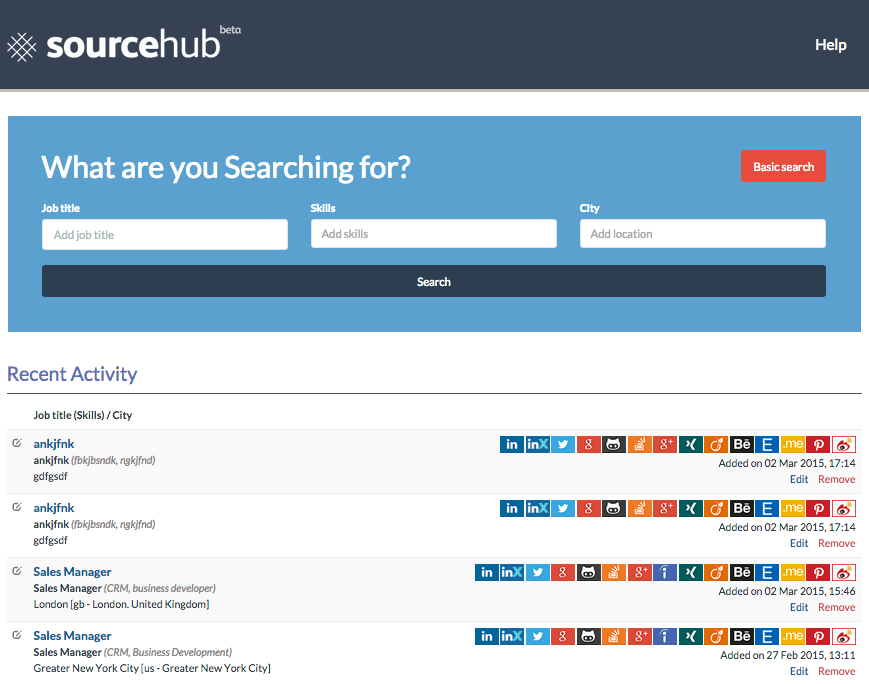 You see, the challenge with Boolean today (besides having an in-depth knowledge and understanding of how each Boolean operator works), is being sure you've included all the possible keywords and synonyms needed to find the perfect candidate – no mean feat as I'm sure you're aware!
The beauty of SourceHub is that it is designed to automatically recognise and input ALL possible keywords and synonyms associated with your specific search and put them into a Boolean string for you. Then, with the click of one button, you can search up to 15 different social sites to find exactly the candidates you're looking for.
In other words, SourceHub takes you straight to the results without all the messing around!
Use SourceHub to Get Around LinkedIn's Commercial Use Limit on Search: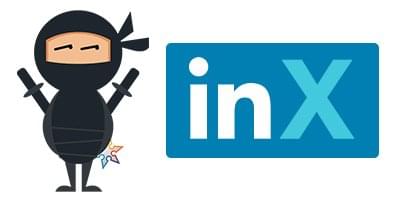 We've just introduced a brand spanking new feature to SourceHub, that allows you to search LinkedIn extremely effectively without, I repeat, WITHOUT LinkedIn registering that you've made a search and without using up your search quota. Uh huh! That means you can now search for as many candidates as you like and you will NEVER reach your assigned search limit. In other words, it's a solution for users of free LinkedIn accounts who have hit their search quota for the month, and for those who just don't have the budget to upgrade to a Premium LinkedIn offering. Pretty cool, right?!
The new LinkedInX button:
Provides unlimited searches of LinkedIn data.
Intelligently maps all cities and countries into accurate location searches.
Automatically includes synonyms to increase the number of results you get without reducing the relevancy of results.
Ensures that you never breach the 32-word limit that applies to search terms and operators set by Google, as many people do.
Doesn't require you to have a premium LinkedIn account, or any LinkedIn account for that matter.
Is extremely simple to use. Just enter the job title you're looking for, the skills you need and the location you need the candidate to be in. That's it.
Produces quality results every single time.
Download SourceHub for FREE here.
2. Prophet by RecruitingBlogs
How often do you wish you had a contact number, an email address or just a little scrap more information about a candidate? Because, in a nutshell, that's what Prophet helps you find.
Prophet is a free Chrome extension that helps reveal more information about the people you're interested in (AKA potential candidates), and does so in two ways.
Firstly, by showing you alternative social data associated with a particular person when you're frequenting one of their other profiles e.g. if you're looking at a candidate's LinkedIn profile, the Prophet widget will show you any available information it can find on their other social profiles including, Facebook, Twitter, GitHub, StackOverFlow, Google+ and About.me: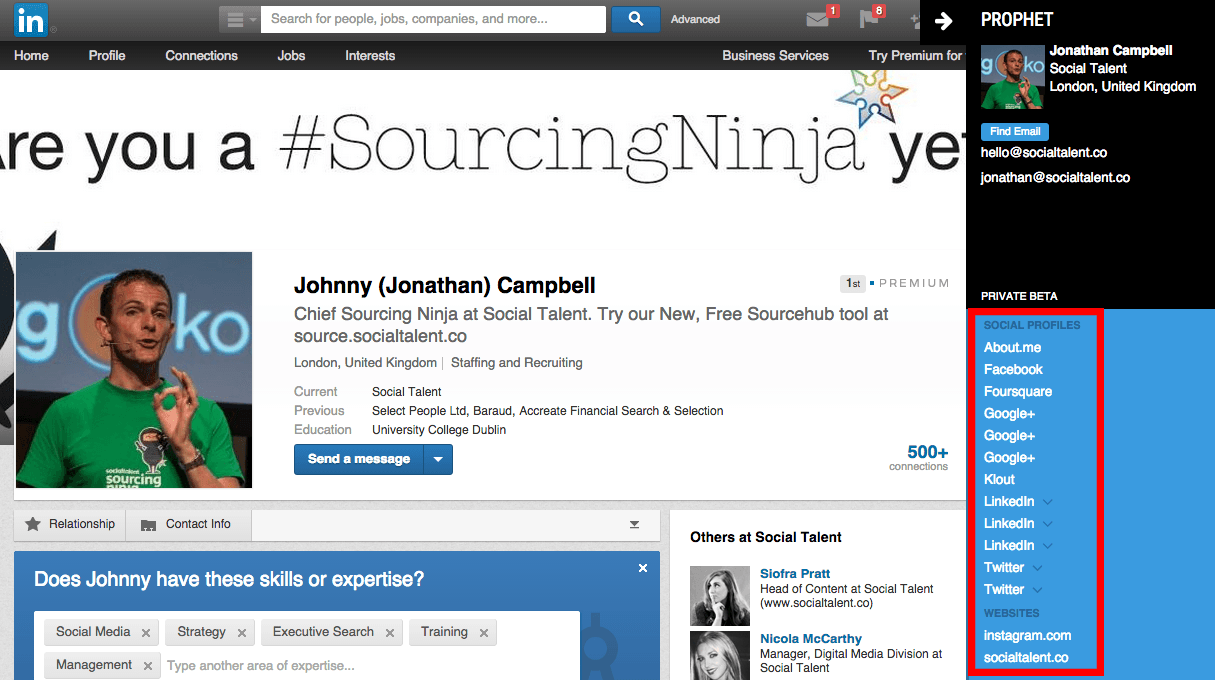 It's not particularly strong, and certainly not as good as 360 Social, but where it does shine is in it's second function as contact-finding tool.
Yes, Prophet's ability to help you uncover people's contact details in the form of email addresses and phone numbers (in some cases), is unparalleled – especially in a free Chrome extension! So how does Prophet do this? Well, according to tool's creators it uses "an advanced engine to predict the most likely email combination for a given person based on their name, company, and other social data" to essentially make the internet your own personal address book!: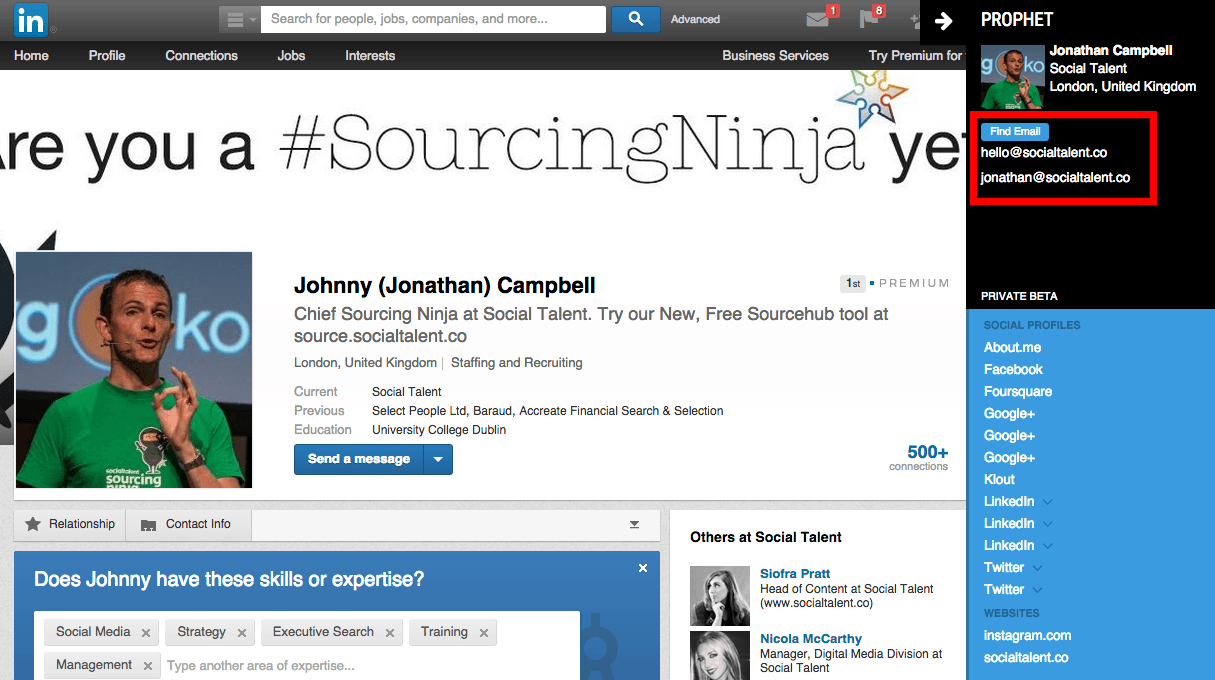 So basically, Prophet does automatically what we teach our trainee Sourcing Ninjas to do – find anyone's email address – and it does so accurately about 90% of the time. How could you not download it?!
Download Prophet for FREE here.
3. Rapportive
Ok, so we have to admit that we were one of those people who breathed a long sigh of discontentment when it was announced Rapportive was being taken over by LinkedIn last summer. But while the tool did loose some of the functionality after the takeover, we were delighted to note that the most useful Rapportive function had gone nowhere.
As a Gmail plug-in, the best part of Rapportive was always the fact that it showed you the LinkedIn profile details of any person you were either sending an email to or opening an email from, all within Gmail itself. It then allowed you to connect with them, than and there via the plug-in. And thankfully, that function still exists in today's version.
But the core reason we started recommending Rapportive in the first place (and the reason we're still recommending it today), is that it reminds you of the people you have forgotten to connect with on LinkedIn, and gives you the opportunity to build a really credible network straight from the comfort of your email.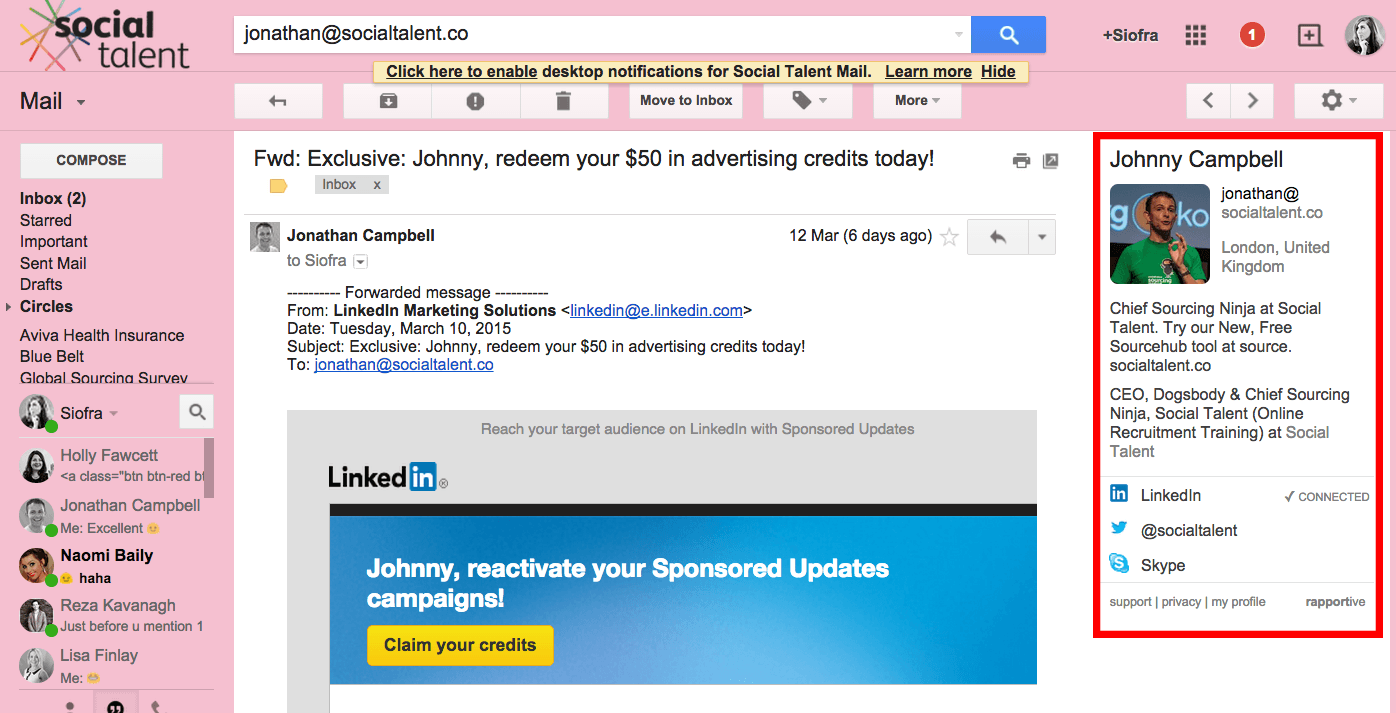 If you use Gmail for your work email, we absolutely recommend that you use Rapportive in your day-to-day work. If you're using Internet Explorer as your everyday email (God help you if you are!), then I'm afraid Rapportive won't work for you. We recommend switching if at all possible. Your life will be 100% better if you do!
Download Rapportive for FREE here.
4. Sidekick by HubSpot
You reach out to hundreds of people everyday via email about new jobs. Some of those emails don't get opened, some of them don't get received, and then the one's that do get received and opened but not answered, fall by the wayside.
Wouldn't it be great if you could download an email tracking tool that notified you when someone had actually read your email and, even better, when they read your email? Well, that's exactly what Sidekick does! Sidekick enables you to see, and therefore, prioritise the people who are really interested in your job and to contact them at the perfect time i.e. when they're thinking about it.
What we love about Sidekick is that it can tell you someone's interested in your job by virtue of them opening your mail and clicking on your links. It then gives you the opportunity to talk to those people at the right time – when they're thinking about you and the job you're offering.
Our whole team started using the free product (which allows you 100 notifications a month), but we've all since upgraded to the paid version because we wanted more! But, for starters, the 100 free notifications a month a perfect – just make sure you don't track every email you send otherwise you'll use up that 100 too fast!
Download Sidekick for FREE here.
5. IFTTT
IFTTT (If This, Then That) has one of the most accurate slogans since Ronseal's "It does exactly what it says on the tin". "Put the internet to work for you" is exactly what IFTTT helps you do, and with a simplicity unrivalled by any other website.
IFTTT is a free service that uses "recipes" to help you create powerful connections between different social sites. For example, you could create a "recipe" that means every time you post a job on your company's career site, that same job gets posted on Twitter or Facebook or Google+ or Tumblr or wherever you want it to appear. In fact, you can greatly extend the reach of your job postings by ensuring they get seen by the highest number of people possible using a variety of recipes.
As the name suggests, every "recipe" that IFTTT creates is based in one simple statement if this then that, this being the trigger and that being the action. For example, if I created the recipe if Facebook then Twitter, each post I put up on Facebook will automatically get shared to my Twitter account. Here are Social Talent, we currently use IFTTT to auto post blogs from both Andy Headworth and SourceCon to our account and you can do the same.
How to: Build a IFTTT Recipe to Auto Post Blogs to Twitter:
1. Create an IFTTT account
2. Click Create a Recipe'
3. Choose a Trigger Channel (select "Feed" to auto post blogs)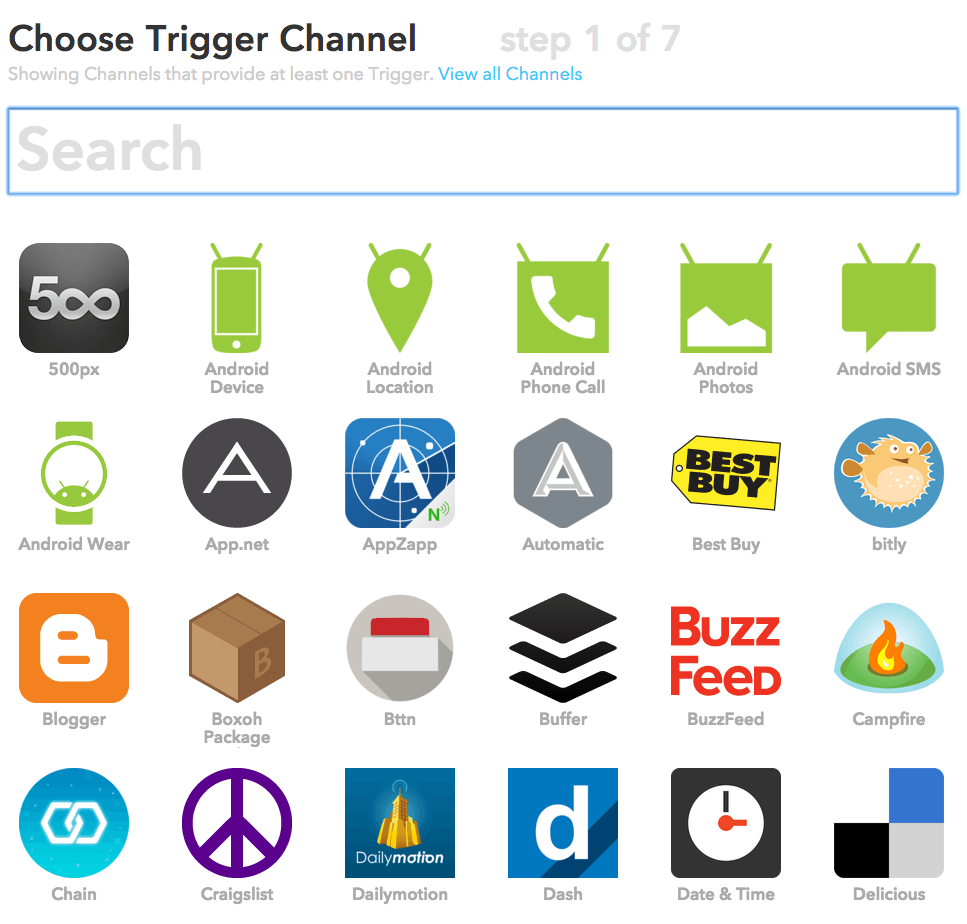 4. Choose the Trigger
Or, in other words, the action you want to take. Select new feed item' to auto post blog content.
A word of warning however, IFTTT will post everything you do, unfiltered. So when choosing which blogs to auto-post make sure that you are confident that their content is always going to be suitable for your own audience.

5. Enter the Feed URL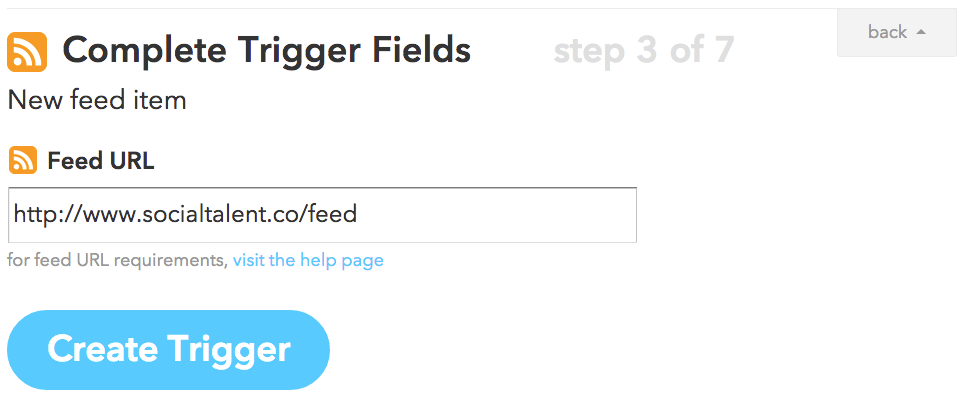 6. Choose an Action Channel
We selected Twitter in this case.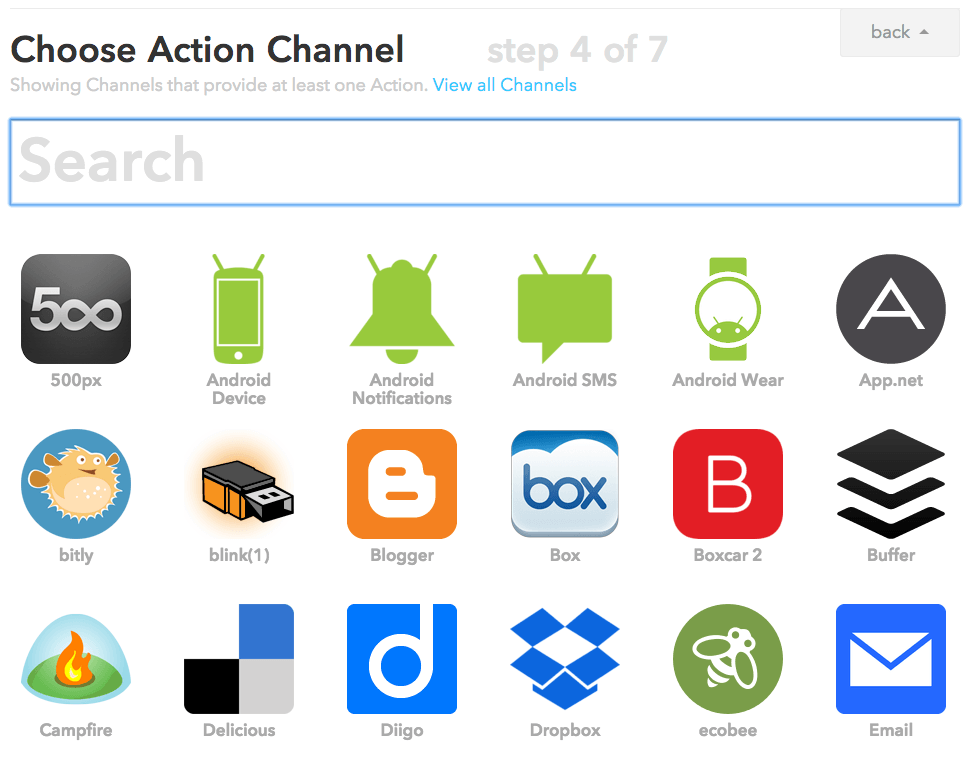 7. Choose the Action you want to happen
We clicked "Post a tweet" in this instance.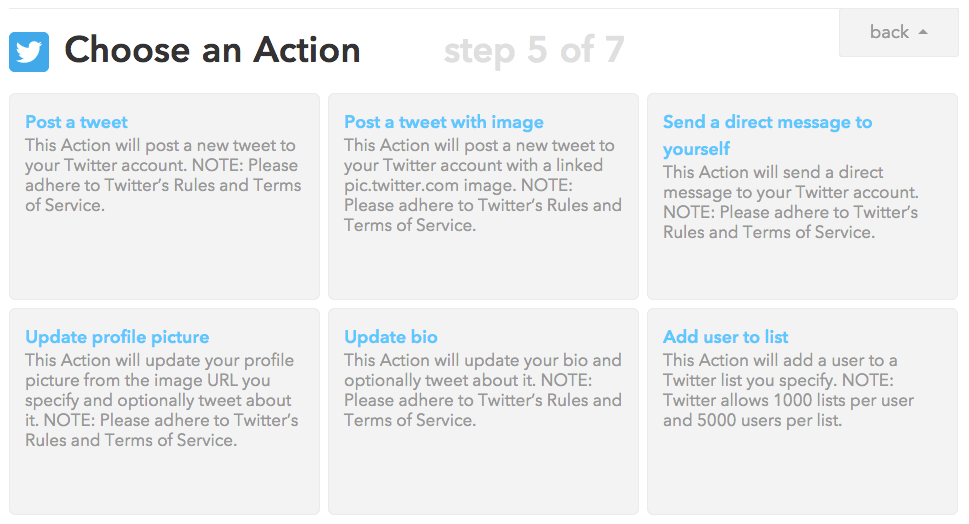 8. Add your own Tweet text around the already included Title and URL.
We always add New from and the Twitter handle of the blog creator after the already included Title and URL e.g."Meet the Speaker Series: Brendan Browne of LinkedIn" New from @SourceCon ift.tt/1FBIHui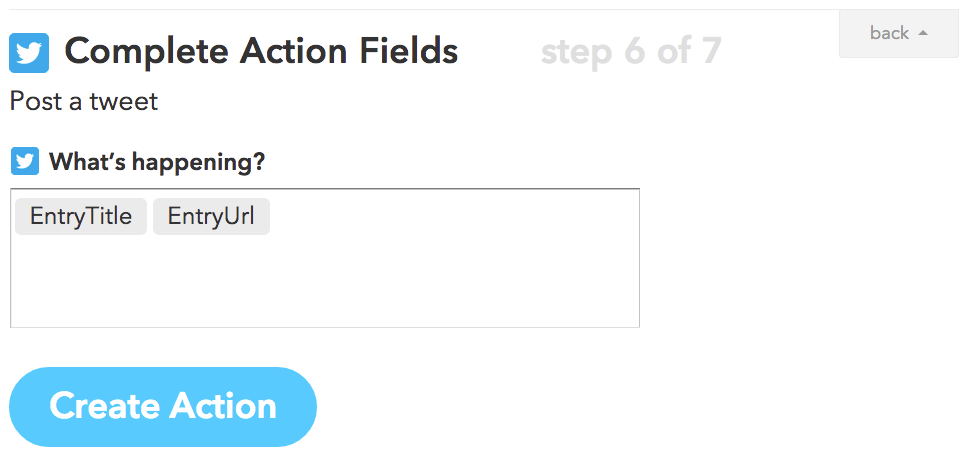 9. Click Create Recipe'
And you're done!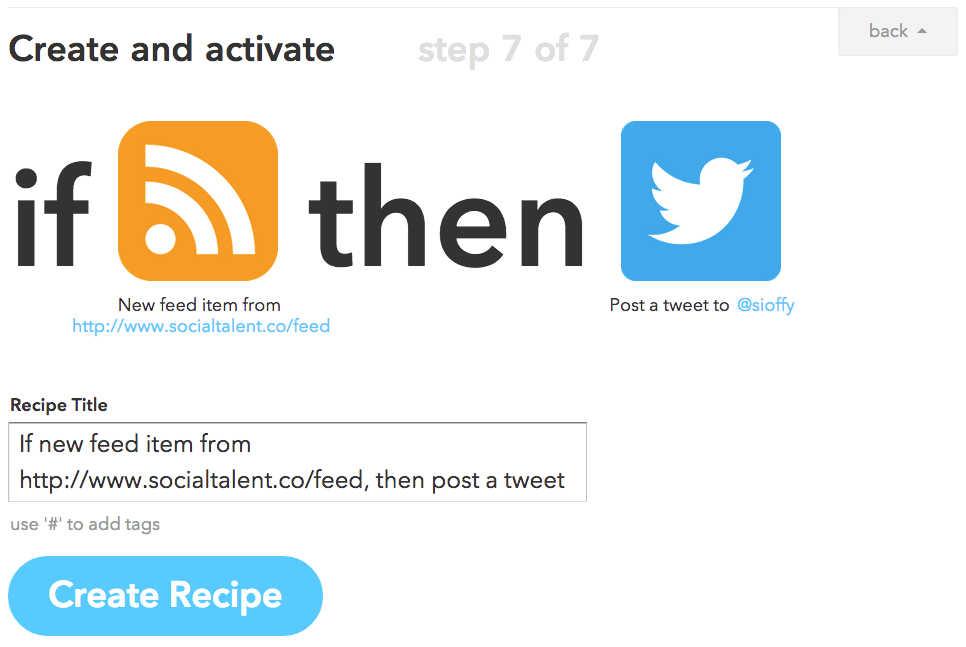 Create an IFTTT account for FREE here.
6. Tweetdeck
Like Rapportive, this is our third year in a row mentioning Tweetdeck in our list of the top free online recruitment tools, because frankly, it's just that bloody good! And it only keeps getting better.
If you're still unfamiliar with it, TweetDeck is a free social media dashboard application that allows you to easily manage a number of Twitter accounts, topics and hashtags on one screen. It's the most popular Twitter application on the market and has been since 2009.
Essentially, TweetDeck is a social listening tool that allows you to monitor the conversation being had about your company, monitor hashtags you use in your job tweets (to see how other recruiters and job seekers are using it), and it can be used to get involved in the conversations of the industry you recruit for. TweetDeck allows you to follow trends more easily, monitor any retweets your job specs may be receiving, and respond to mentions and followers faster.
I use Tweetdeck everyday because I can instantly see a real time feed of who's been interacting with me (the first column), my up to the minute timeline (the second column), who's been interacting with the @socialtalent account (the third column), the tweets that have been sent from the @socialtalent account (the fourth column), and who's been using the #socialtalent (the fifth column).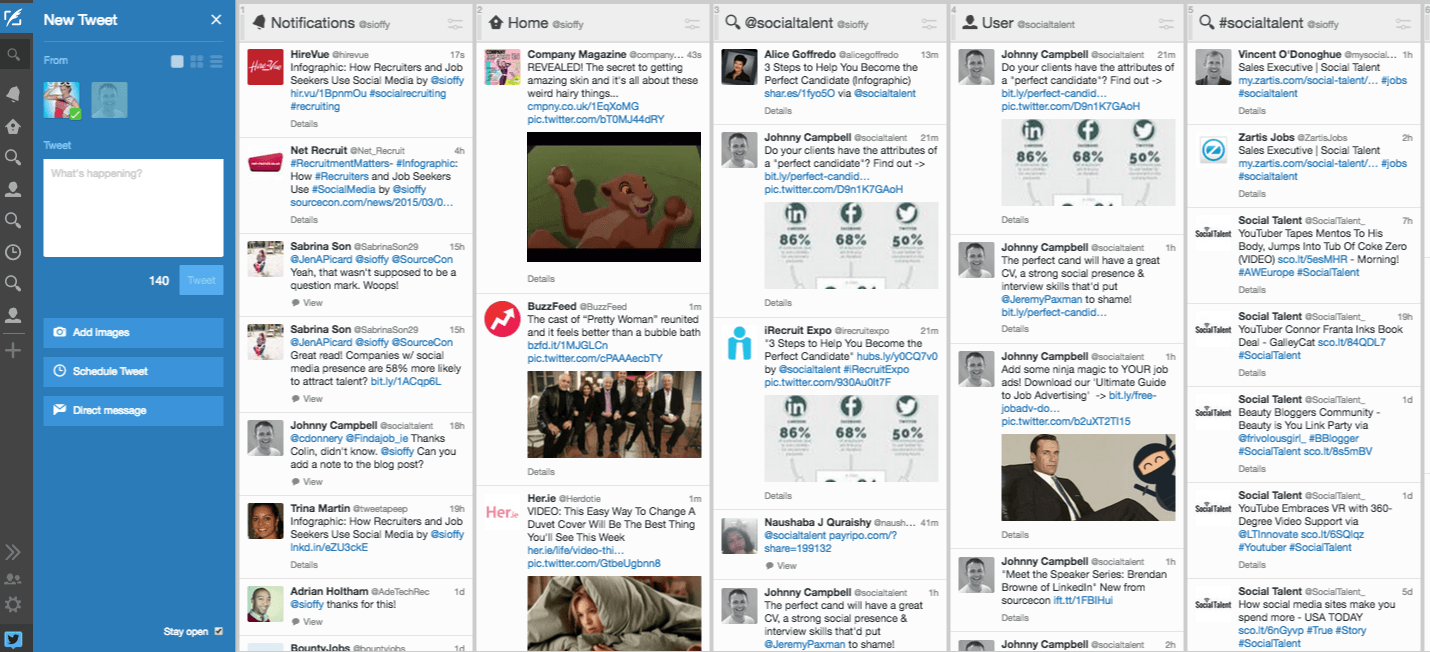 I'm not exaggerating when I say that this tool will completely enhance your Tweeting experience.
Find out how the likes of IBM, IKEA and Siemens
drive hiring excellence with SocialTalent
---