Keep up with the latest hiring trends!
Work4 Labs launch Referral Engine for Facebook Page Job Postings
I've spoken and written before about Referral Engines such as Jobvite and only last week I tweeted from the IrishRecruiters Tuesday Club in Dublin that LinkedIn were demoing their new Beta Referral Engine for the first time in Europe (Accenture and a few other select clients have been demoing it in Private Beta for the last few months). Separately, on one of our free webinars a couple of weeks ago I showed how you can quickly install Work4 Labs' "Work for Us" recruitment app which displays up to 3 job vacancies for free on your Facebook Page and which can scrape your site for new jobs.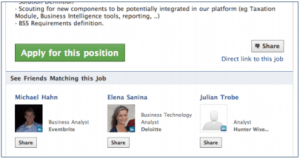 Well the lads at Work4 Labs have jumped ahead of Linkedin and launched their new Referral Engine App on Facebook which sits on top of their Work for Us app. It's fairly simple in fact; when you click on a job vacancy it will ask you if you want to see if any of your friends might be suitable; it then asks you to authenticate your LinkedIn profile and proceeds to scan your LinkedIn and Facebook networks to come up with possible matches whom you can then refer the vacancy on to. Yes, there are drawbacks such as how many people will bother to check to see if there is a match in their networks but in my opinion that's not Work4 Labs problem, its up to smart recruiters to come up with incentives to get their Fans to check their extended network for referrals. Surely this is no problem for social media smart recruiters.
Here's a copy of today's press release: The Social (Job) Network HR 040411
Find out how the likes of IBM, IKEA and Siemens
drive hiring excellence with SocialTalent
---