Keep up with the latest hiring trends!
/
/

Attracting and enabling employees with disabilities, with Yasmin Sheikh
Attracting and enabling employees with disabilities, with Yasmin Sheikh
Disability is often seen as a poor relation in the DEI conversation. When agendas are put forward to hire more diverse talent or create work environments that cater to people from underrepresented backgrounds, so often those with both visible and invisible disabilities find themselves at the bottom of this list. But to ignore this cohort is to ignore a whole pool of talent with skills and abilities that can help organizations prosper and grow.
We recently sat down with the incredible Yasmin Sheikh to discuss this. Yasmin is a TEDx speaker and Founder of Diverse Matters. Together, we examined the nature of disability inclusion in the workplace, the importance of representation, and also dug into how the hiring process needs to evolve to leverage more talent.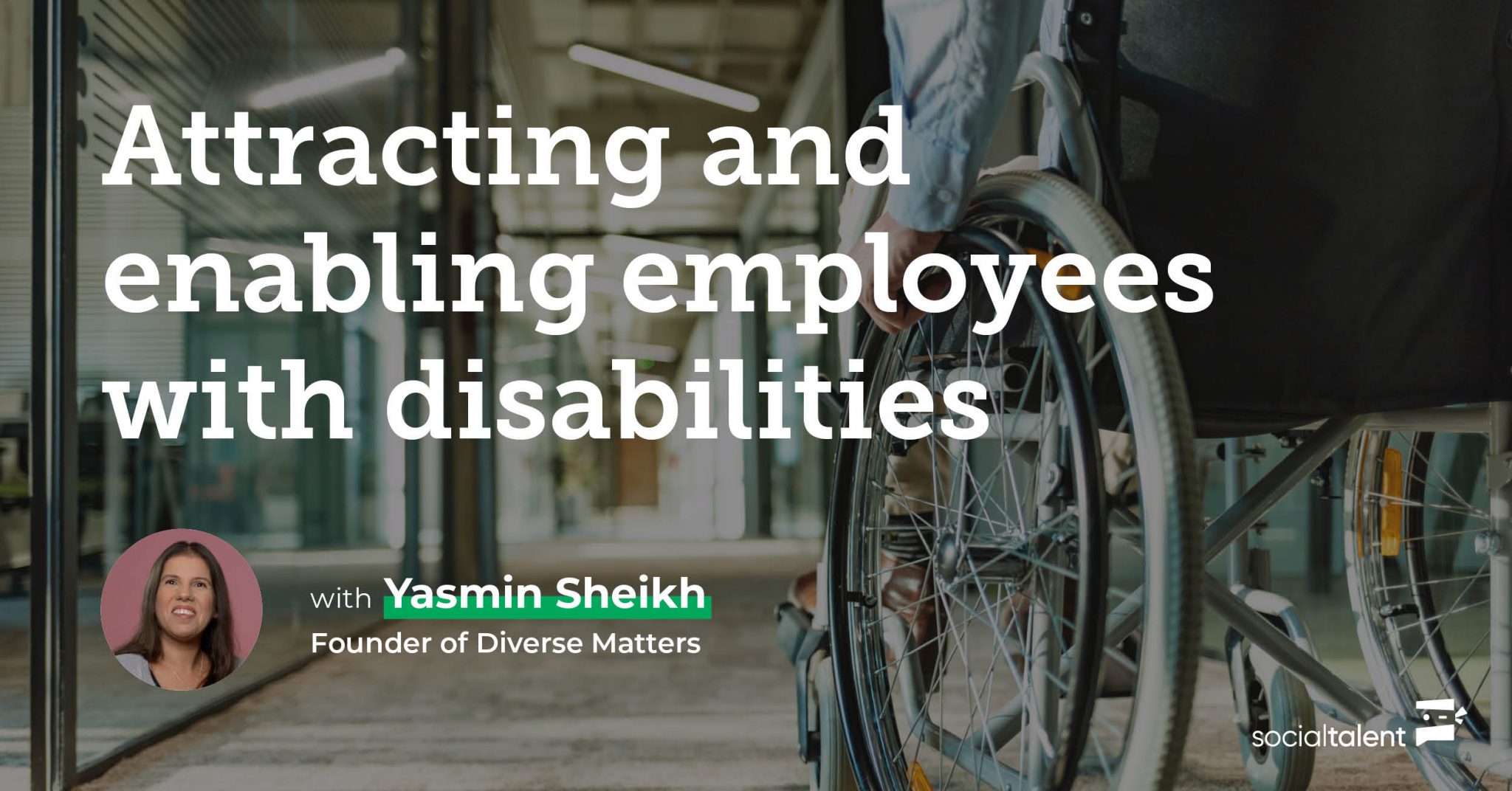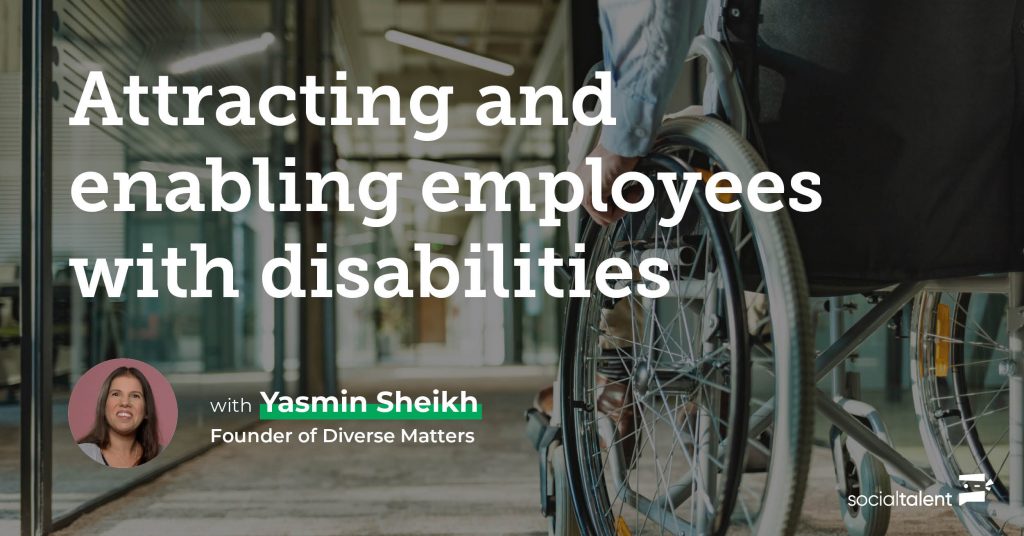 Disability inclusion and the workplace
According to Yasmin, "a lot of organizations don't even realize that they already have disabled people working for them." When thinking about what disability inclusion means, we must look beyond just sticks and wheelchairs. In fact, as much as 97% of disabilities are non-visible. Conditions like dyslexia, dyspraxia, autism, diabetes, chronic fatigue, and depression can all fall under this umbrella of disability. "Disability is not a minority issue," Yasmin tells us, "it's a majority issue." Statistics show that 1 in 5 of us will acquire a disability in our working life. So it's vital that organizations become proactive in how they approach inclusion.
However, workplaces are not often built with disability in mind. And without this normalization, barriers to entry and enablement become omnipresent. Disability is considered 'something that happens to other people,' rather than an accepted reality. Another issue is that some people may not identify with the label "disabled" and therefore, not understand the rights and protections they may have in law.
Yasmin also remarked on the understandable hesitancy to share a disability status with employers and colleagues. The fear of prejudice and discrimination keeps these conversations from happening, and the onus on disabled people having to share their disability or health condition is unfair. Both for organizations who are losing out on a huge talent pool, and for the people who deserve equity and accommodation.
We must reframe. The question for organizations to ask themselves is what are we doing to create a culture where people feel safe sharing their disability if they need to know, and provide them with support and understanding?
Looking to create a more inclusive and equitable workplace? SocialTalent has DEI learning solutions tailored to any journey. Get in-touch with us today.
Disability and the hiring journey
During our chat with Yasmin, she alerted us to recent research undertaken by Legally Disabled looking at career experiences in the legal profession. What it uncovered was harrowing in terms of what disabled people face when going through a hiring process. According to the report, only 7% of respondents find it easy to get information about the accessibility of prospective employers. And only 9.7% have had a positive experience with recruitment agencies. While the attitudes of employers might not be intentional, the impact this has can be detrimental. Data shows that people living with a disability are two-times more likely to be unemployed, so what can talent leaders and recruiters do to reverse these numbers and take advantage of this underutilized talent resource?
Ask EVERYONE about adjustments – This goes back to Yasmin's earlier point about normalization. No matter who the candidate is, find out if they need any particular accommodations or adjustments at the appraisal stage. Remove the stigma associated with working in a different way.
Provide a direct point of contact – Sharing information can be sensitive, so be sure to have a personal email or telephone number on applications rather than a generic link or form. Candidates will be more likely to share this way.
Website accessibility – Your website is often the first port of call for applicants so make sure it's completely accessible across the spectrum.
Talk openly – If you're committed to finding and securing talent who may have disabilities, ingrain this into your messaging and practices. Walk the talk.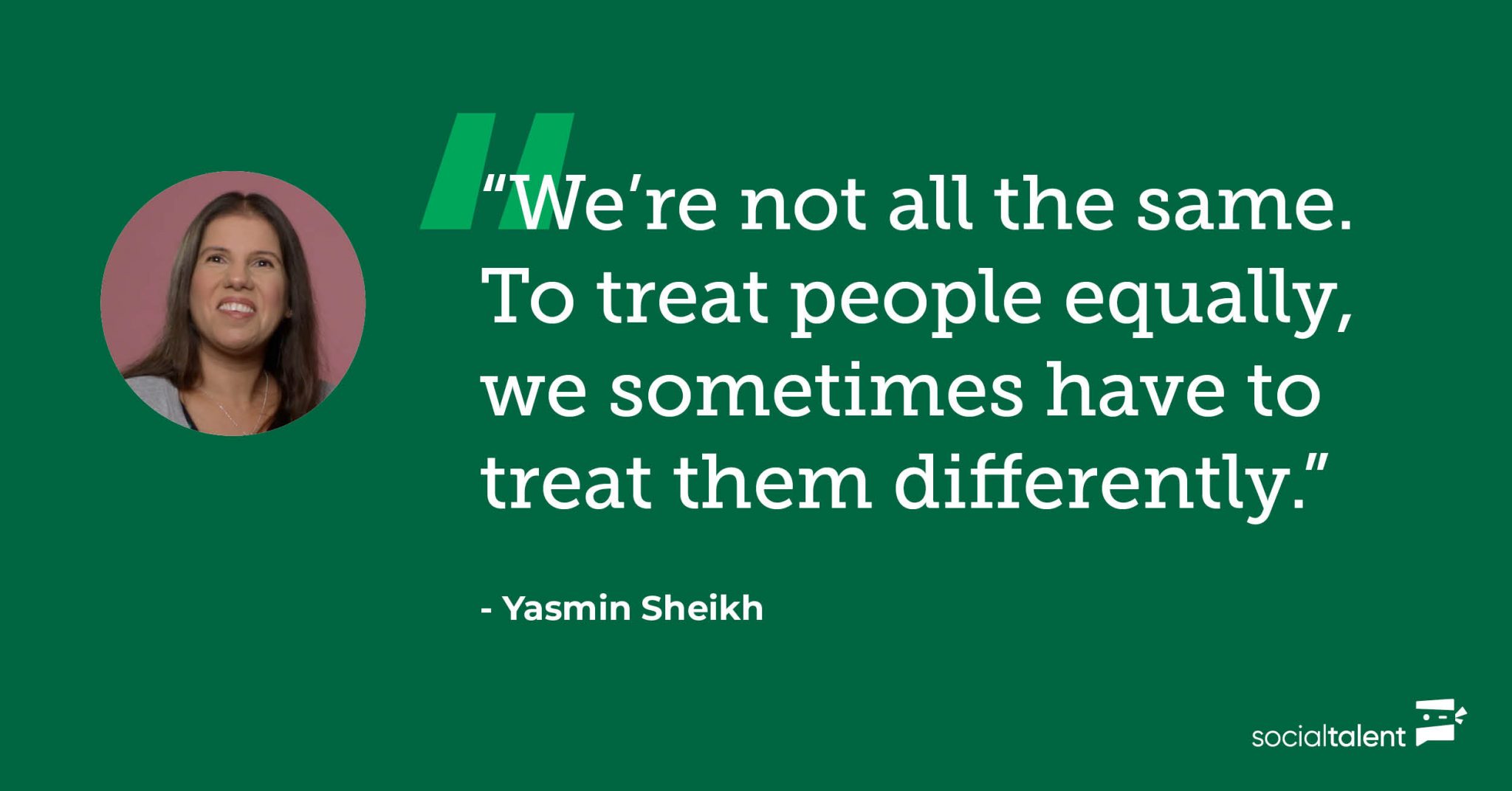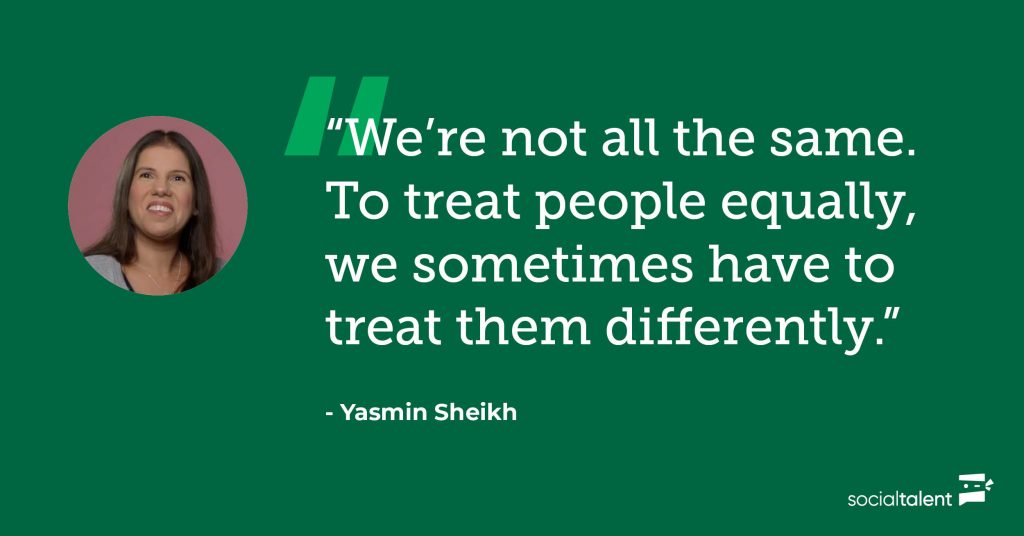 Representation matters
"If you see it, you can be it," Yasmin told us, citing the well-used DEI saying. But it's absolutely true. Role modelling is integral when it comes to attracting, engaging, and encouraging disabled talent in any organization. "When senior people speak openly about some of their challenges, share vulnerabilities, or perhaps even a disability, it sends a big message." The positive impact of seeing other disabled people succeeding in a workplace acts as a catalyst for others. Visibility fuels aspiration. By creating an environment that enables people from any background to forge a path, you open the floodgates to so much more potential. But as Yasmin says: "I don't think senior leaders sometimes realize the power and the platform they have." Targeted, lasting change comes from the top.
The final word
"We're not all the same," Yasmin says. "To treat people equally, we sometimes have to treat them differently." And this really gets at the crux of what Yasmin is trying to teach. Disabled people, just like anyone else, have the same ability to do incredible things in a workplace when they are set-up for success. And while the adjustments and accommodations might seem obscure to many, this is exactly why we need to be having these conversations. We must normalize disability and build workforces that can embrace a full life experience.
Watch Yasmin's full appearance on The Shortlist below:
Yasmin Sheikh is the Founder of Diverse Matters, a training consultancy that gives organizations confidence in relation to diversity issues in the workplace. She is also a contributor to the SocialTalent e-learning platform and a TEDx speaker.
Find out how the likes of IBM, IKEA and Siemens
drive hiring excellence with SocialTalent
---