Keep up with the latest hiring trends!
/
/

Talent Leadership Trends in 2022
Talent Leadership Trends in 2022
According to Josh Bersin, only 25% of organizations are recruiting in an optimized way. Talent is scarce right now, so it's never been more imperative for TA leadership to look at their strategies, optimize processes, and bring their function to new levels. Easier said than done, right?
We recently took a temperature check on what TA leaders are coping with during our webinar, SocialTalent Live: Elevating and Innovating TA Leadership. With over 500 TA and HR leaders in attendance, we ran a series of polls to ascertain some of the trends that are surfacing within the Talent Acquisition sphere.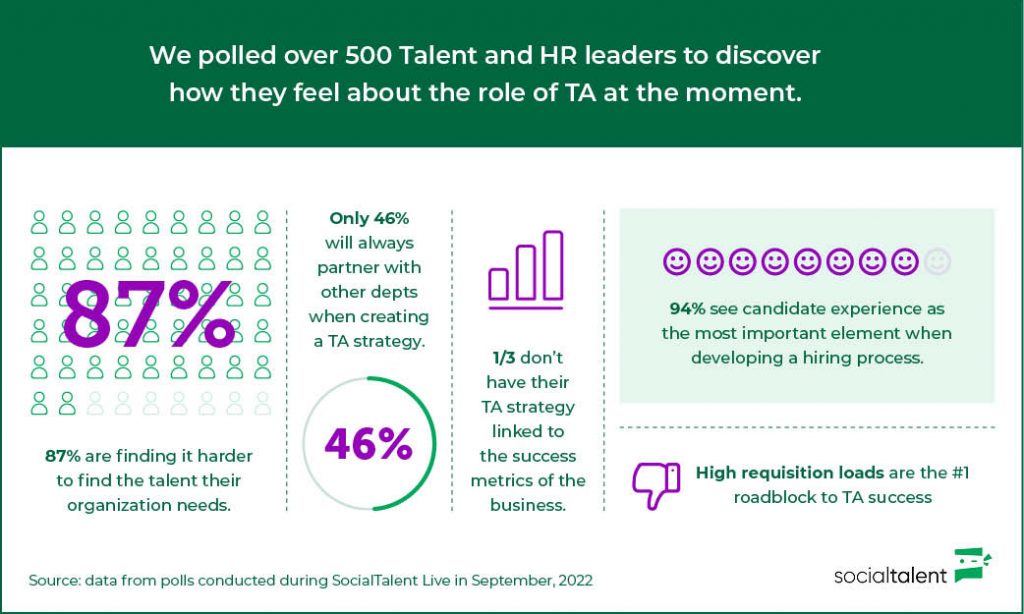 Now, let's take a closer look at the findings…
How difficult is it to find talent at the moment?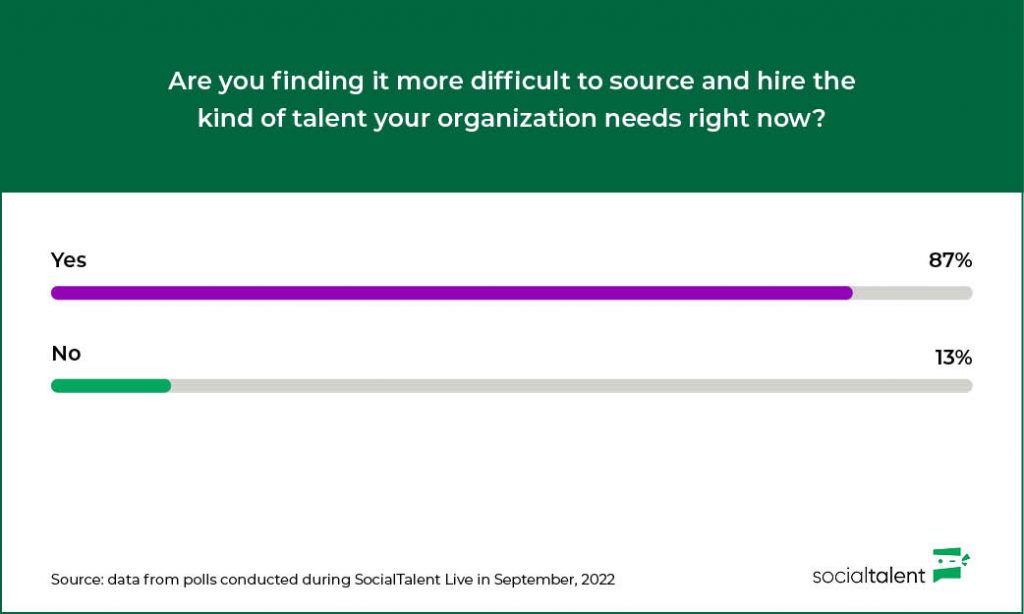 According to our survey, 87% or respondents are experiencing difficulty in finding the talent their organizations need. We've been hearing this rhetoric for a while now, and even in the face of economic uncertainty, layoffs, and cut-backs, it's still incredibly tough to source, hire, and retain the right employees. And why is that? Many reasons have been cited, from changing priorities after COVID, to the skills shortage, or even older generations leaving the workforce. It has become a perfect storm, and according to KornFerry by 2030 more than 85 million jobs could go unfilled.  
So how do Talent Leaders even begin to tackle this trend? Michel Guye-Bergeret, the Director of Global Talent Magnetism at SITA and a panelist at SocialTalent Live, believes the answer lies in potential:
"It's an opportunity to start recruiting more on potential," he told us, "and less on what someone has achieved – more behavioral assets that can contribute to the company."
Coinciding with this, he also advocates for internal career development, or organizations creating their own talent stream, so they don't become short in years to come.
Is your organization looking to improve its approach to talent mobility? SocialTalent recently just launched its dedicated
Internal Mobility training
solution.
What is the most important element when developing a hiring process?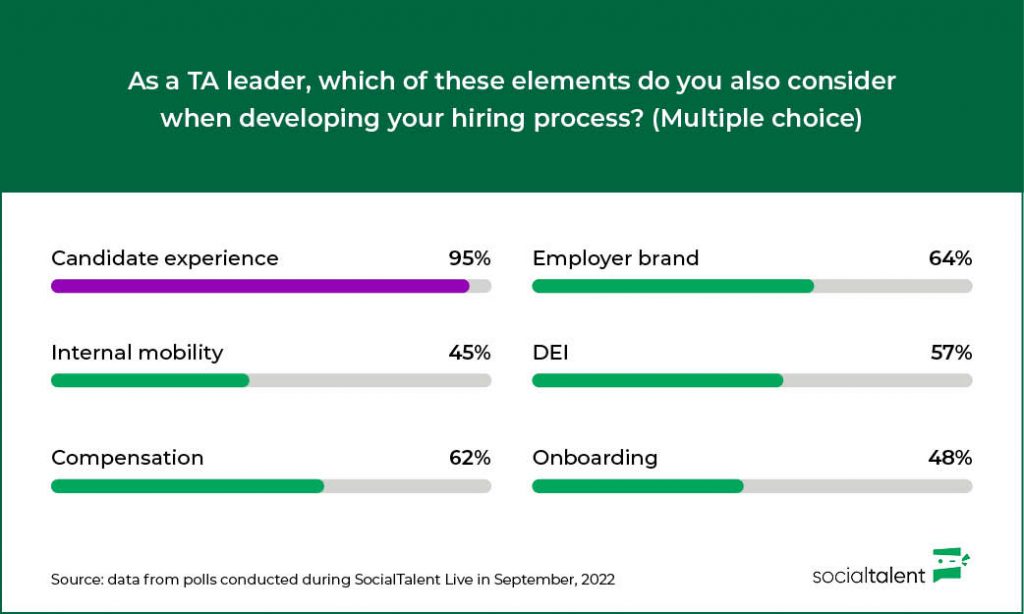 95% of TA leaders believe candidate experience is the most important factor when creating a successful hiring process. And this didn't come as a huge surprise, especially when so much of the power lies with candidates at the moment. 
Hiring is the first touch point for a candidate. It is the opportunity to sell your company, provide clarity, and inspire success. Every interaction in this process matters. And with the job seeker market being so tight right now, it's never been more important to ensure your candidate experience is ship-shape. The best talent has plenty of choice, and positive candidate experience can be a huge differentiator. IBM has even noted that prospect employees are 38% more likely to accept a job offer after having a positive experience.
Looking for more information about elevating candidate experience? SocialTalent's resident expert,
Andrew McAskill has the answers!
Is your TA strategy directly linked to the success metrics of the business?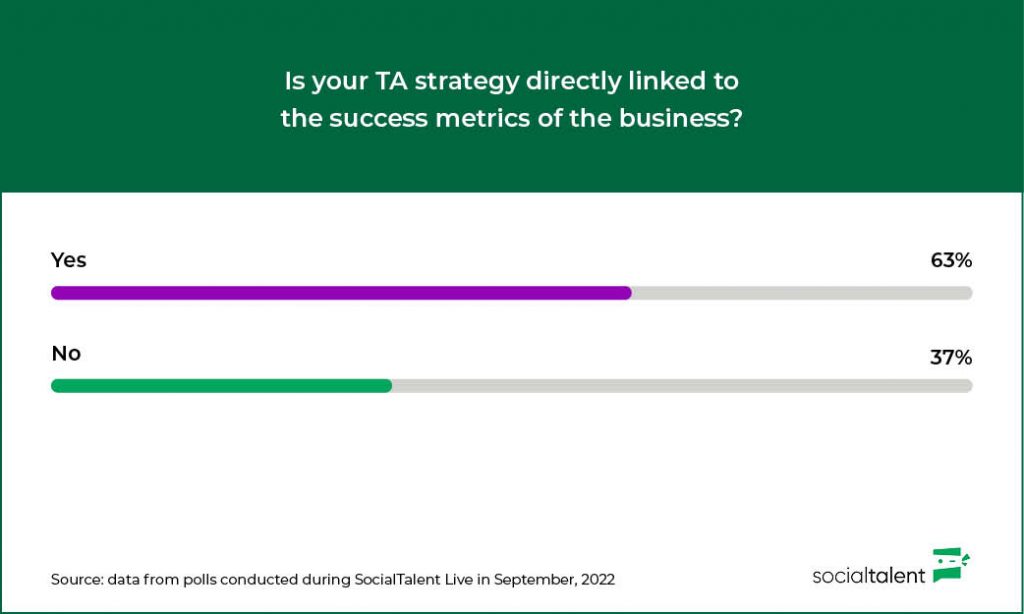 Talent is the lifeblood of every organization, but so often there is huge misalignment between TA and the rest of the business in terms of what success looks like and how it can be achieved. This same tale cropped up in our poll result too as over a third of respondents (37%) don't believe their talent strategy is linked to the success metrics of the business. And there's a huge missed opportunity here. Hiring should be regarded as a team sport – when everyone is engaged and on the same page, it allows TA to attract and hire the very people an organization needs to thrive.
Roopesh Panchasra, the Global Head of Executive TA at Uber and another one of our incredible guest speakers at SocialTalent Live, believes that businesses are based on relationships, and if TA want to be known as more than transactors, they have to understand the strategic direction and plans of the company. Being able to ask the right questions around what skills and what kind of people other areas of an organization need will help you "build muscle and build your brand."
What is the biggest roadblock when it comes to developing the maturity of the TA function?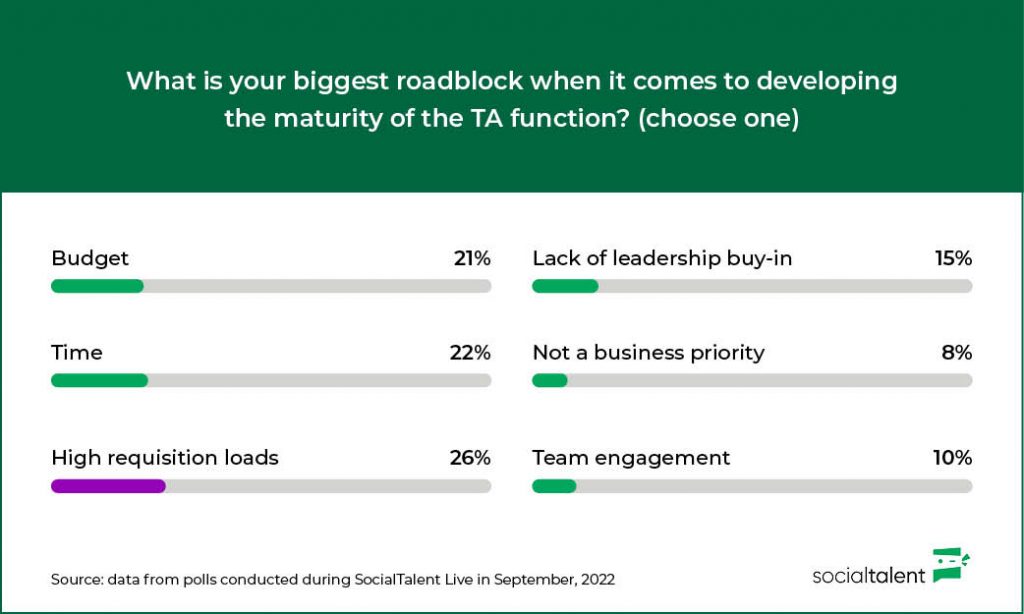 High requisition loads (26%), time (22%), and budget (21%) dominated this survey question. Lisa Kochert, the Director, Academy TA Lead at Avanade, summed these chaotic conditions up perfectly during her panel: 
"It's like we're basically trying to drive the bus while we're changing the wheels." 
Developing a TA strategy, being innovative, branching out to include other areas of the business – these are the aspirations of a TA leader who wants to build for improvement. But it can be difficult to achieve these aims when numbers come into play. If your recruiters are up against it, trying to find volumes of people, it's tricky to completely alter your process when it's in motion. And this is where leadership buy-in is so important. When talent and business strategy are aligned, it's easier to secure the budget and secure the team that can help you build a TA function that not only delivers on numbers, but is helping to futureproof the organization and drive success.  
Interested to hear more about how TA leadership can be elevated? Watch the complete
SocialTalent Live event here
.
Find out how the likes of IBM, IKEA and Siemens
drive hiring excellence with SocialTalent
---