30% of all Facebook updates are about Football!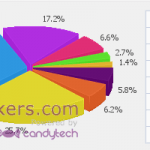 It is not as if you could miss it anyway with the sounds of Vuvuzela's booming from every TV set but even if you tried to take refuge online there is no escape as 30% of all Facebook updates currently reference the world cup, an interesting statistic from Facebakers.com which gives detailed statistics on Facebook usage by country, age group, sex, applications and so on. Check out www.facebakers.com
Want to keep up to date?
Join our 75,000+ subscribers who do!