4 Super-Creative Alternative Recruitment Methods We Should All Learn From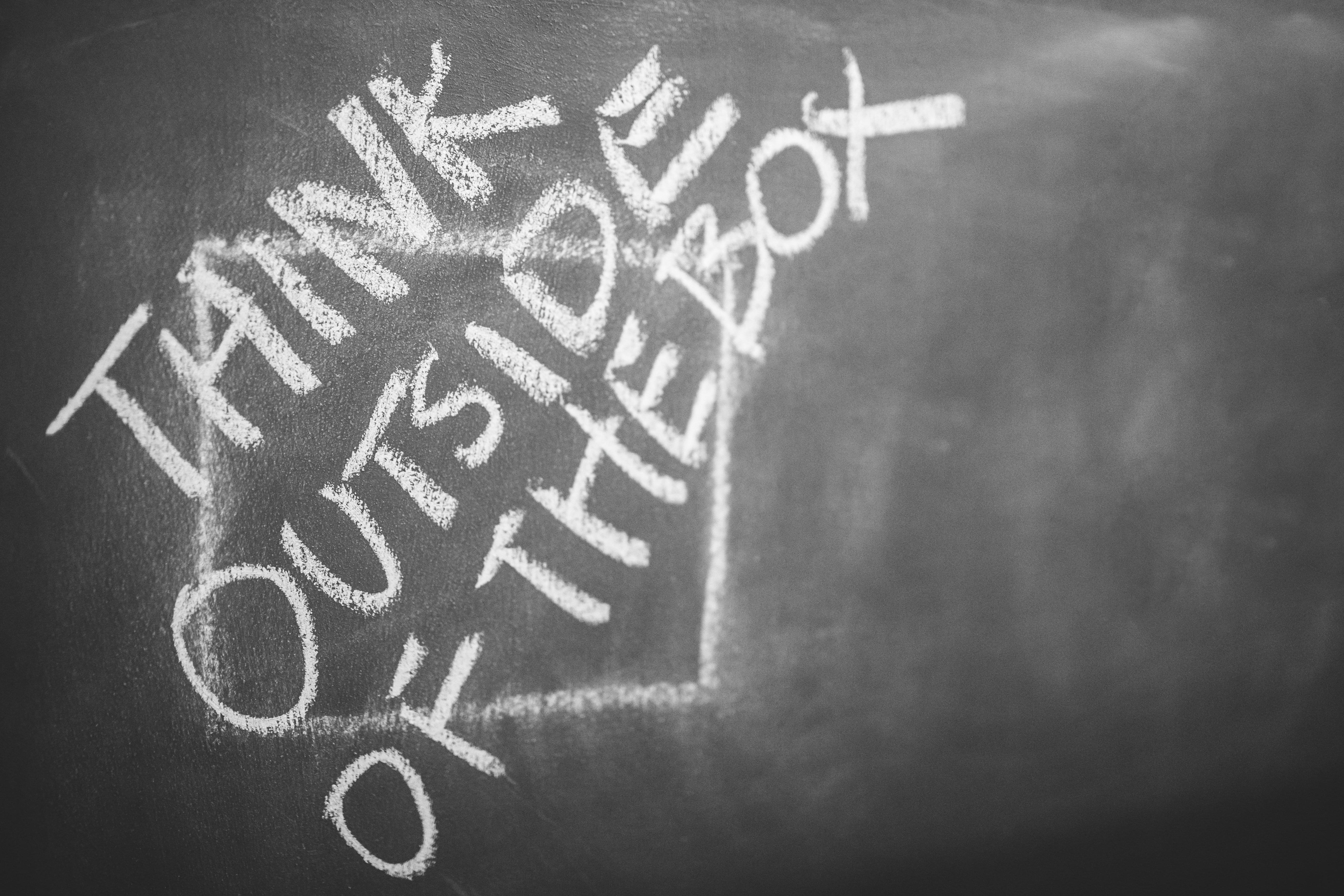 At Social Talent, we're ALWAYS on the look out for new and unusual ways of recruiting the best talent in the hopes of improving and advancing the recruitment industry and the recruitment process to the next level. Recruitment can be a very backward industry, especially when compared to the likes of Marketing and Sales which are always striving to find new ways to solve old problems. Sometimes, it seems that all we do in recruitment is try to solve old problems using old, blunt tools! Which is why we've made it one of our missions to keep producing guides like A Recruiter's Handbook Guide to Snapchat and A Recruiter's Handbook Guide to Instagram, to try to open the world of recruitment up to more possibilities.
Today, we're at it again! But, this time, we're presenting to you five companies who've actually made the effort to step away from conventional recruitment methods and moved towards some rather more unusual tools to find the top talent they're after:
The Fetch "Tintern"

In January 2016, the New York office of creative agency, Fetch, set up two Tinder profiles (one male, one female), both with a rather unusual agenda. Instead of looking to find a date, the company were using Tinder to find a potential intern within the app's 50 million userbase (primarily made up of those aged 18 to 34).
Yes, for one day, Fetch turned on their unique Tinder profiles to match with people in the New York area, and ask them to send their best pick-up line.
As you can imagine, the question as well as the unusual profile, resulted in more than a few funny one-on-one conversations with some people who, as Fetch put it, "clearly didn't read through the agency's profile before swiping right"! Check out a few of them below: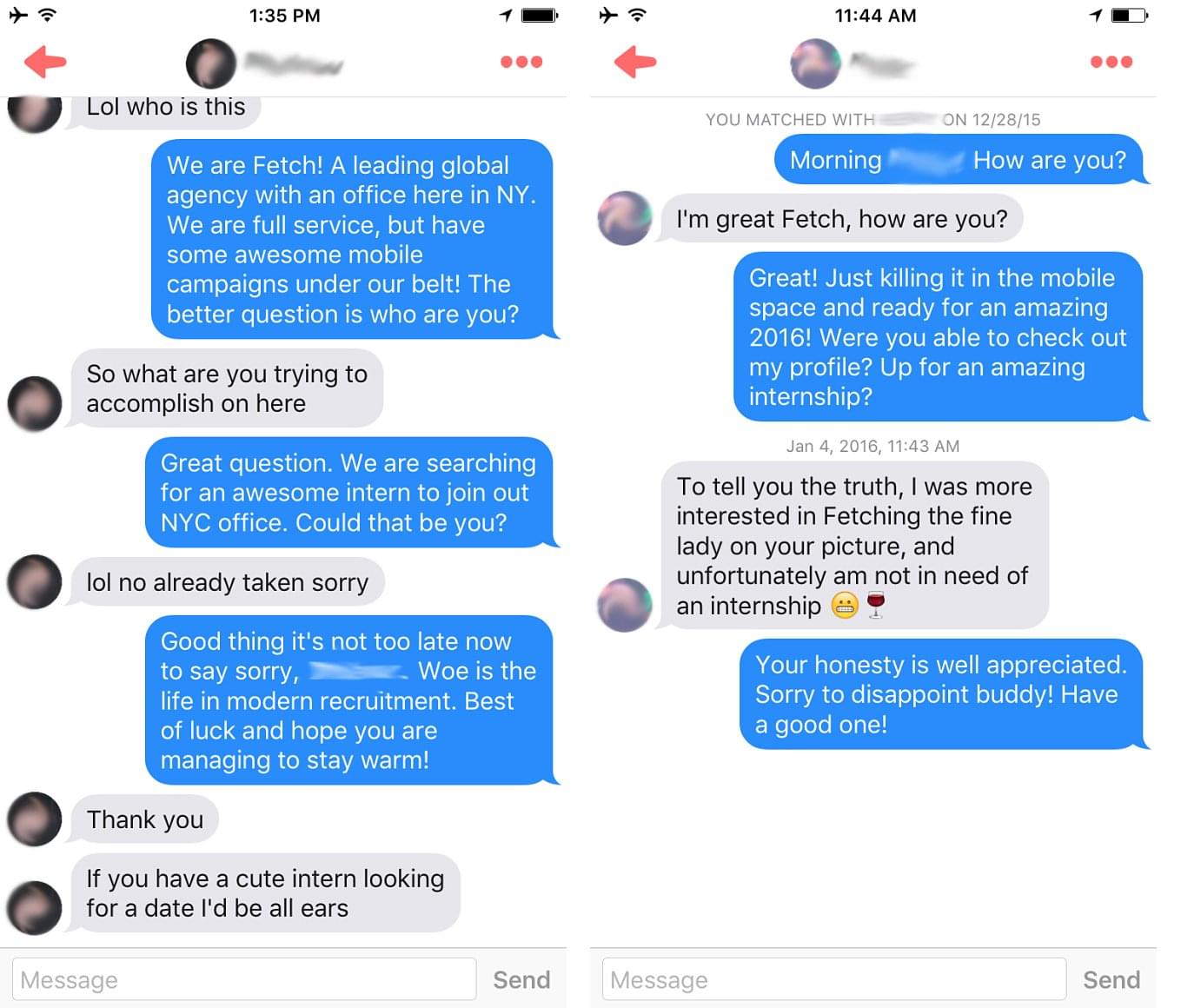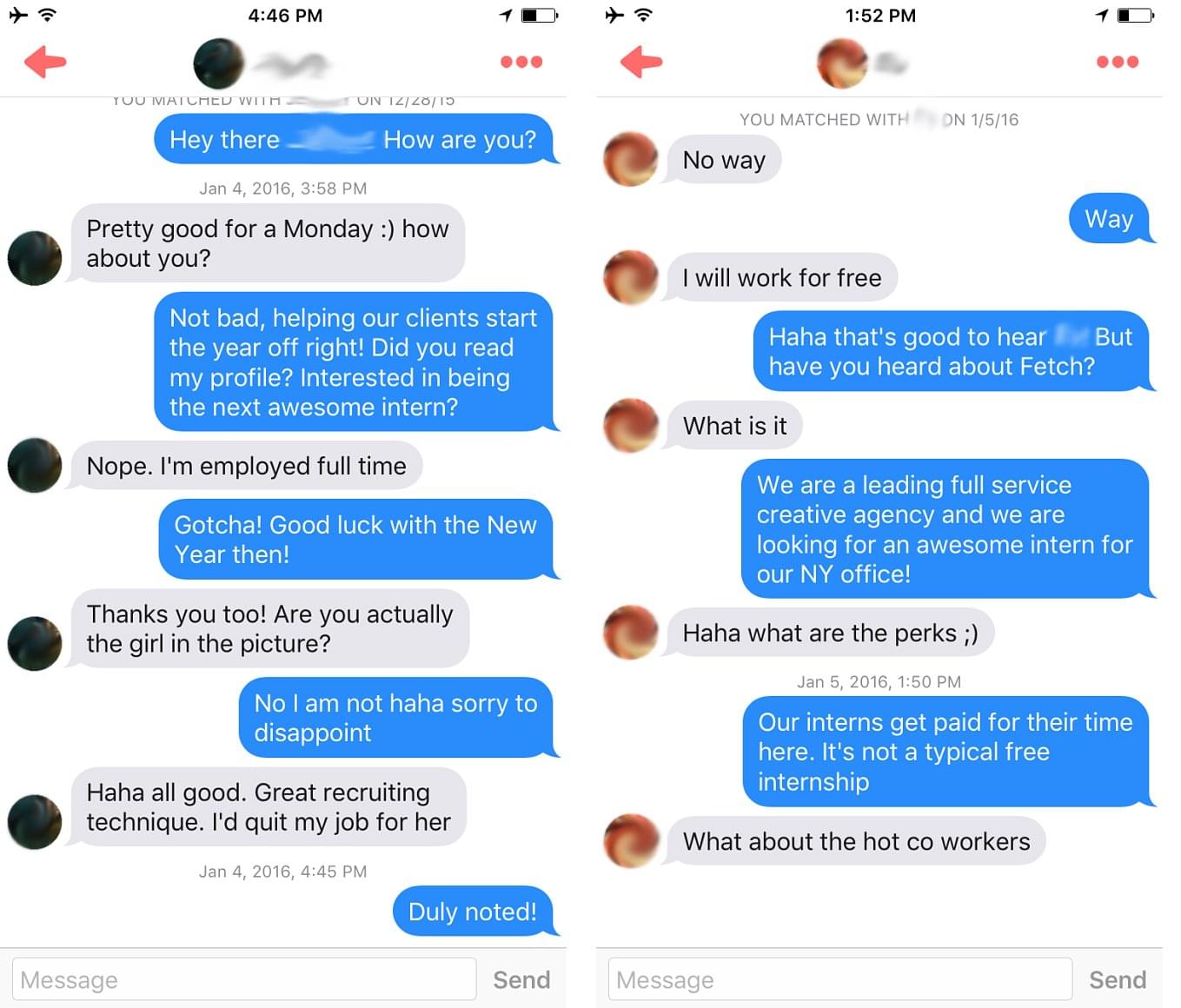 Then along came Sam Weidt – a 22-year-old who is now helping the agency with video editing, campaign tracking, copywriting and social media. Weidt says he wasn't looking for an internship on Tinder (who is?!), but "knew my natural talent with marketing was more present than my natural talent with dating."
What was Weidt's pick-up move? See for yourself: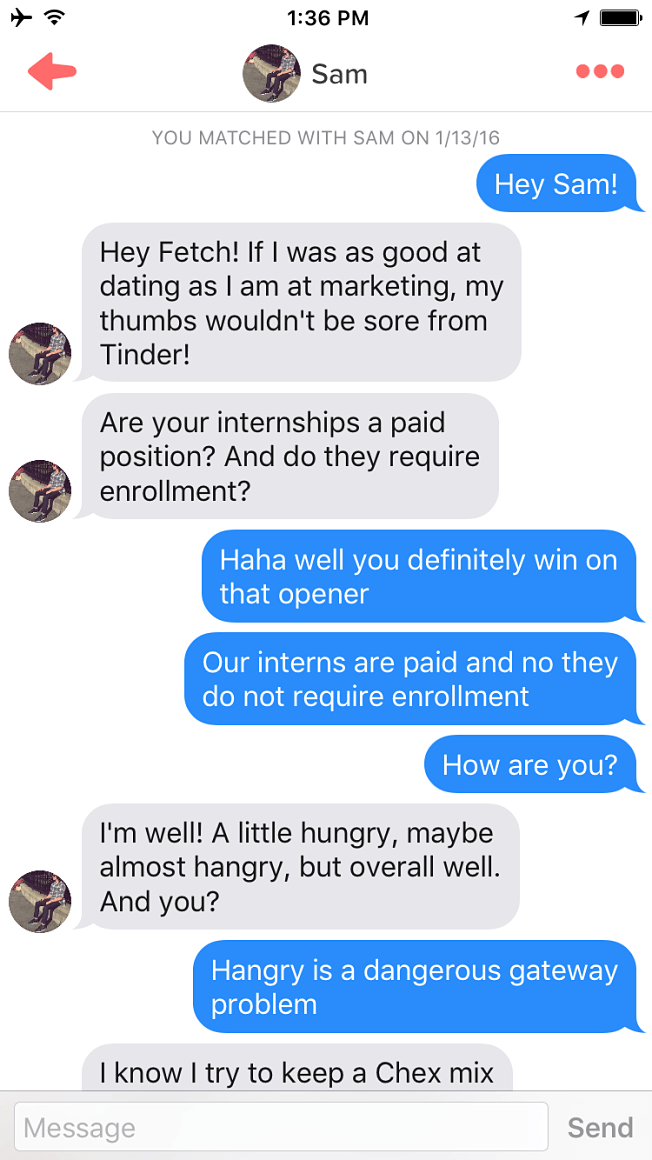 In total, Fetch matched with 270 potential applicants (150 men and 120 women) on that faithful day, and the agency spent 3 weeks talking to them before whittling the competition down to 5 in-person interviews. "Men were definitely more engaged in using the app and conversing, whereas females tended to be more reluctant to match or chat as much," an agency rep said. "If done again, we might change the profile location and switch on the app outside a college or a recruitment fair to diversify the potential matches".
When quizzed about the benefits of using Tinder as opposed to more traditional recruiting methods, the rep says, "it certainly is great to get more candid with potential candidates and get more of the comfortable conversation that might not be as polished as an interview candidate — you get the real thing."
The agency went on to explain the rationale behind their unusual recruitment choice by saying, "New York city is a very crowded space, with every agency looking for top talent. We needed an intern and we didn't just want to be another posting on one of the numerous job boards. So, we thought Tinder would be quite an innovative way of looking for an intern". And thanks to the success of this campaign, Fetch are now said to be considering a second Tinder-based intern hire in the not too distant future.
But Fetch isn't the first agency to find interns through Tinder. Last year,
ad agency Havas Worldwide Chicago also developed a Tinder profile to recruit candidates
for its summer internship. If users swiped right on Havas' profile, the agency started a conversation with them about their skills and interests, ultimately choosing a match to join its team. "It's based on the simple idea that kids understand these platforms," said 
Jason Peterson
, President of Havas Chicago. "If you want to hire someone to do social media, hire the people who know how to do it best."
And it's not just companies using Tinder to find candidates. Candidates are also using Tinder to find jobs. 20-year-old, Jessica Anderson, had applied to over 150 jobs without much luck, before she decided to take advantage of Tinder's extensive user base. t
"I felt totally demotivated," Jessica told Metro.co.uk. "Then I just thought – there are over 8 million people in London right now, a lot will be using Tinder – and maybe some of those using Tinder will know of opportunities or have contacts to help me." Her profile included screenshots of her CV and cover letter which can be seen below: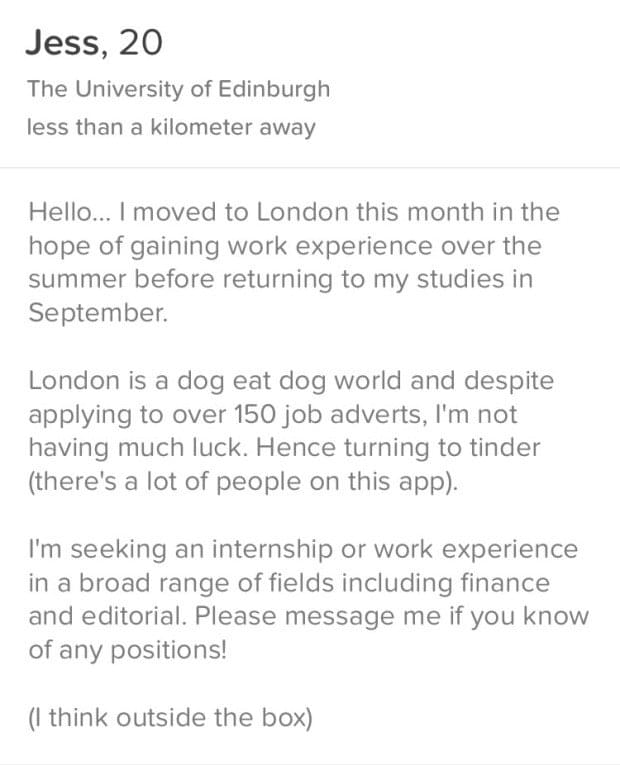 Jessica received over 500 messages in just one day. Some offered her support on how to network and others gave her advice on how to get her foot in the door: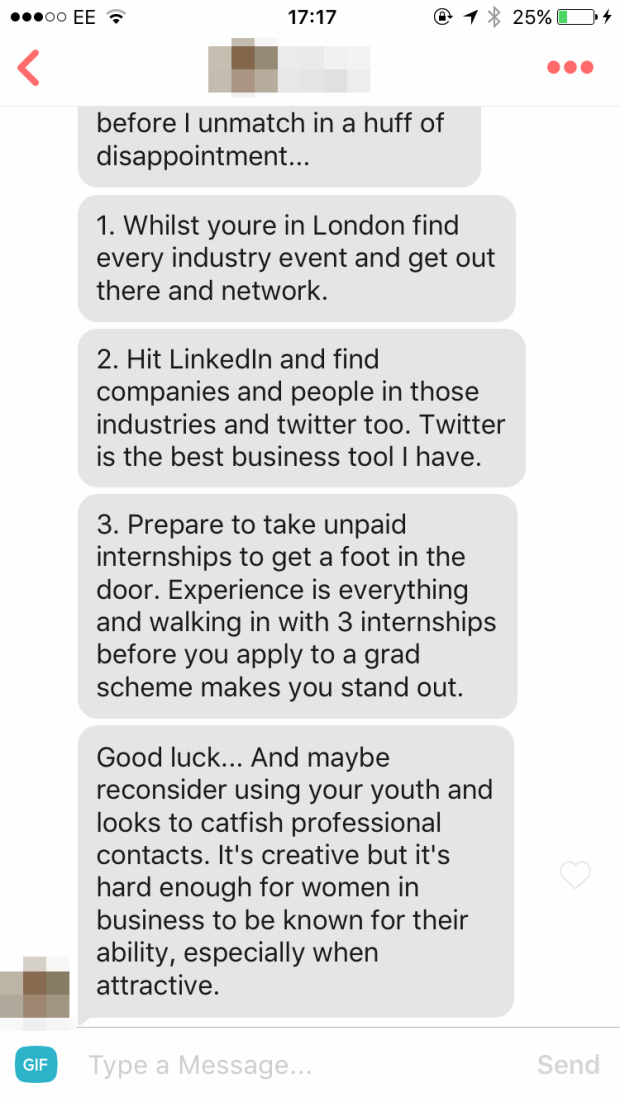 "I'm now in contact with different people working for organisations such as BBC and Sony and a big response from people working in marketing. A lot of people want to help and are impressed that it is a random but innovative way to find a job," she says.
The First Round "Storyteller"

As a blog-publishing platform, Medium is full of writers. Which is why in April 2015, venture capital firm, First Round, took Jason Peterson's philosophy to heart and posted a job opportunity entitled "Looking for a Storyteller" on the site. At the time, the company were looking for an Editor for their content platform, The First Round Review – the goal of which was "to interview the most talented people across fields, disciplines and companies (inside and outside the portfolio), and surface what [they] call actionable tactics ". To continue working towards their goal, First Round needed to find someone comfortable with providing "rich, detailed, long-form writing with heart".
So, they turned to Medium. Their alternative "blog" opened with the line: "For two years The First Round Review has been telling the stories of incredible entrepreneurs. Now we're looking for someone to join us."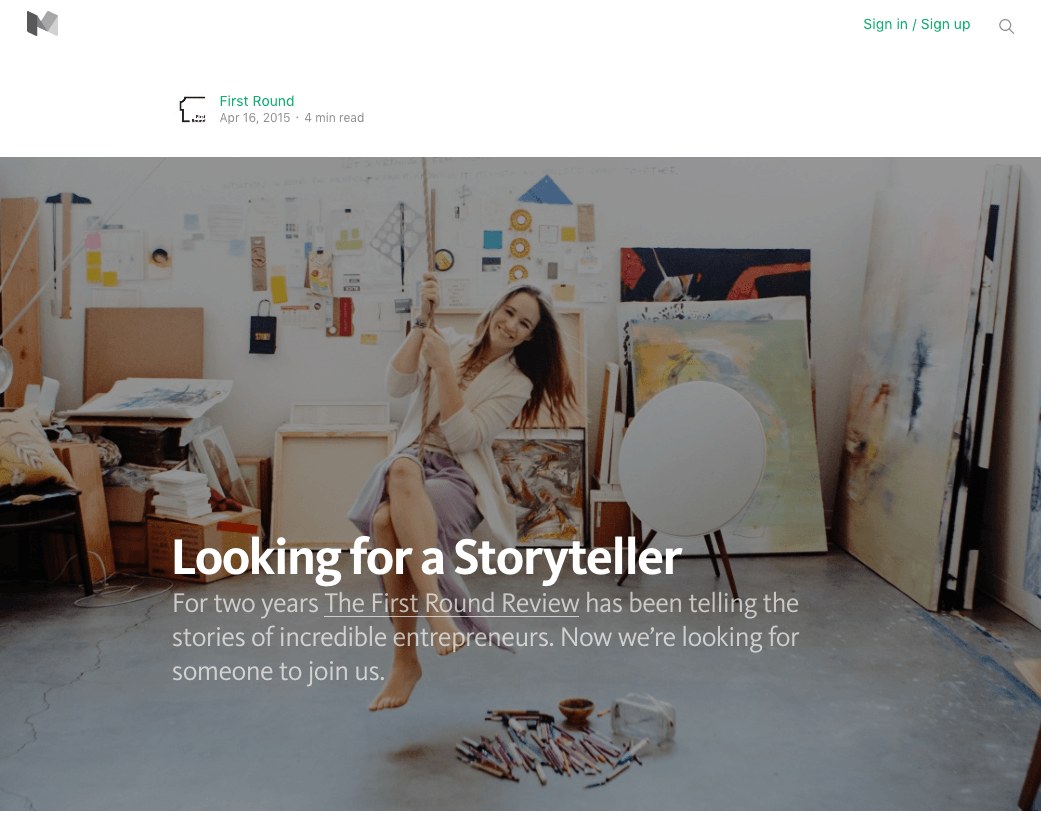 The rest of the "article" goes on to explain why they first set up their content platform and their vision for the platform's future, before explaining how any potential candidates reading the post would be integral to that vision. The entire ad is written and formatted beautifully, and in a manner that is ultimately appealing to the type of candidate First Round wanted to hire – a super-organised, curious writer with a fascination for stories, people and tech.
Read the full "Looking for a Storyteller" blog/job ad here.
The JPMorgan and the GE "Snaployee"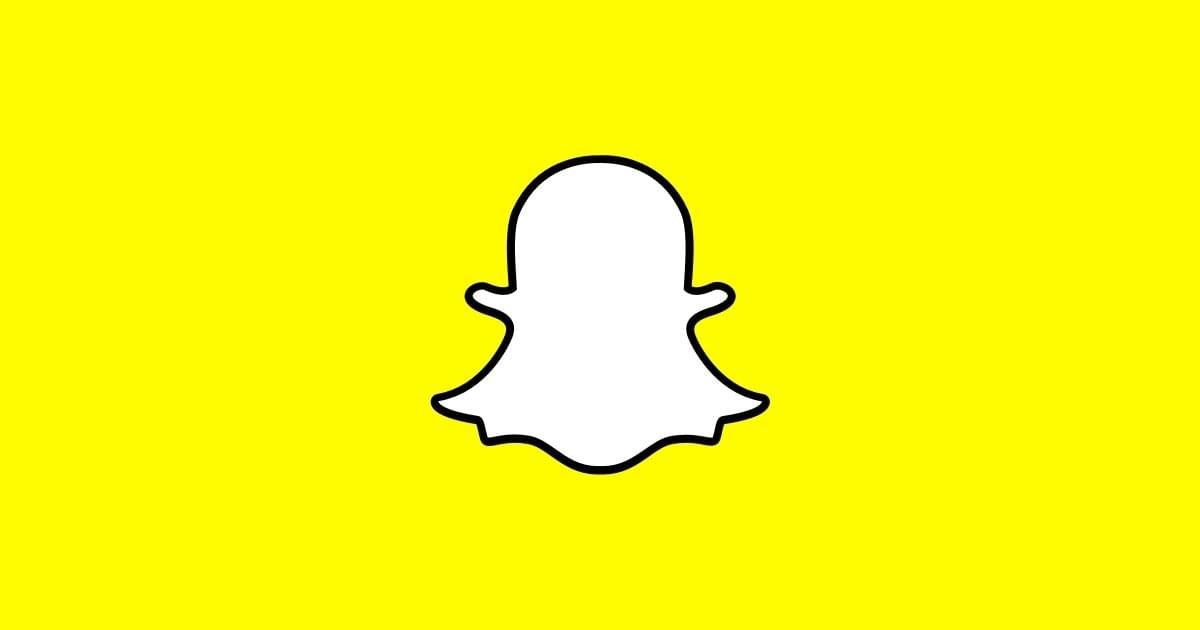 "Gone are the days of simple job ads and recruitment fairs — banks have to convince potential bright, young graduates to join the finance world instead of the seemingly more alluring world of tech", says Business Insider writer, Lianna Brinded, which is why JPMorgan Chase is trying to get one step ahead of its competitors by using Snapchat to reel in Millennial talent.
By using a combination of geofilters and targeted ads on Snapchat, JPMorgan want to "show young people that there is more to a job in a bank than traditional finance and that it can cater for all different types of people".
If you swipe up on a photo or video you shoot in Snapchat, you'll usually find at least one or two location-specific filters you can apply to your snap. These filters are either paid for by brands for events, or submitted by Snapchat users for specific neighbourhoods and cities. These are known as geofilters. As part of its campaign to find young talent, JPMorgan will make their own geofiliters available for runners in its Corporate Challenge races in London and New York this summer. They're hoping that if the London race (which takes place on July 20-21 in Battersea Park) is as large as last year's race (29,000 competitors ran), then it could reel in quite a few interested young people. The New York race takes place on June 1-2.
To do this, the bank is taking advantage of Snapchat releasing "on-demand geofilters" — a way for anyone to create a customised geofilter and pay Snapchat to show it for a much more specific location and period of time. They also plan to use these on-demand geofilters for high school and university events in UK and US.
By using a combination of geofilters and targeted ads (in the US only), JPMorgan want to "show students, on a platform that is native to them, that you don't have to go down a traditional route to work for a bank" and that "there are plenty of roles for a diverse range of people". They
told the Business Insider
that "our social media presence is truly worldwide. Whether we're Periscoping from Dubai or live Tweeting in French from Paris, we want to reflect the global cultures of JPMorgan."
GE is another company who is starting to discover the benefits of Snapchat for recruitment. They've recently started using it to attract more tech talent as part of their "Owen" campaign – a series of commercials GE ran late last year featuring a young man named "Owen," who had just started a job as a developer at GE. In the ads, his friends and family questioned why Owen would go to work for GE – known primarily as a manufacturing company – to become a Developer. Owen then explains the technical work GE is now doing and the importance of that work.
GE continued the Owen campaign on a variety of social media platforms, and have now started to incorporate Snapchat into that promotion. For example, here's a recent photo of Owen on the GE Snapchat page: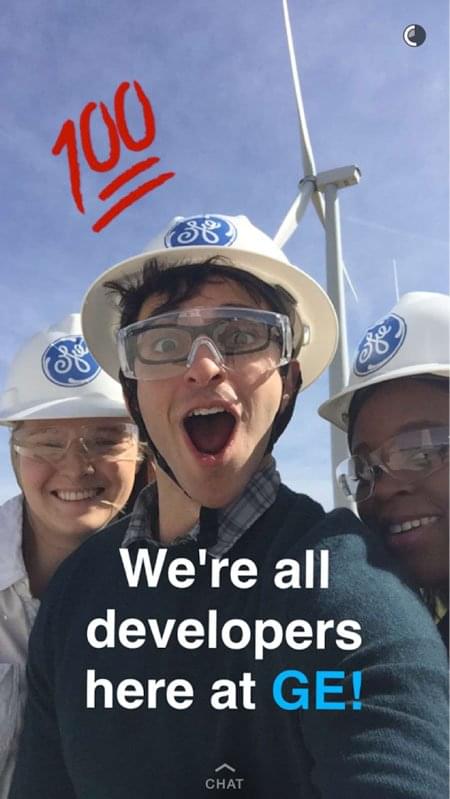 And here's another photo from Owen showing us some of the friends he's made while working at GE as a Developer: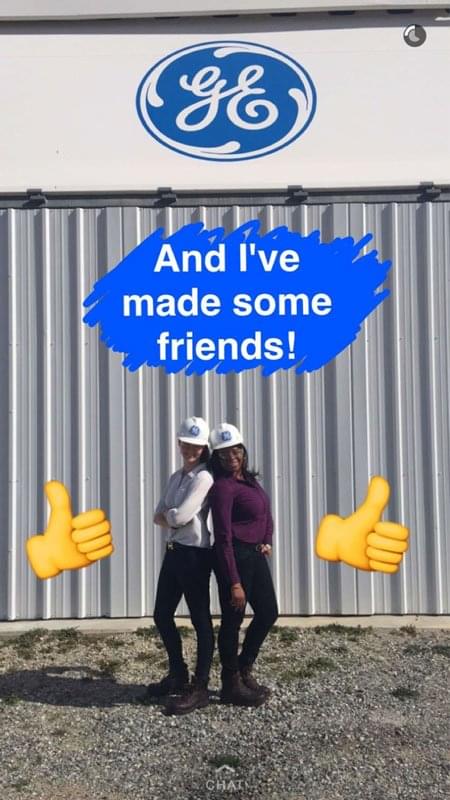 According to LinkedIn, GE's goal with using Snapchat is to show young tech talent (not just tell them about) the excitement of the day-to-day lives of GE Developers, along with highlighting the important work they are doing.
The Stripe "BYOT"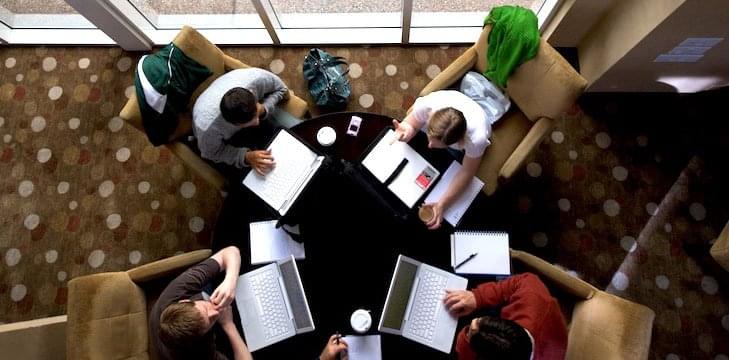 "Do you know anyone who makes you incredibly better at what you do? People who motivate and inspire you, complement your strengths and shore up your weaknesses, help you achieve things you could never do on your own?," Stripe's Engineering Manager, Avi Bryant, asked the readers of the Stripe blog back in April. "Whoever it is, you're stronger as a team than you are apart. Working together, each of you has a valuable advantage—you could call it a network effect—over anyone who works alone," he continued. "Which is why we'd love you—that is, we'd love you and your collaborators—to apply together to work at Stripe. We call it Bring Your Own Team".
Yes, in a unique new hiring push, Stripe, an Irish online payment company, is inviting entire groups rather than just individuals to apply en masse for a job at their company. "The industry has always focused on hiring atoms," Stripe says in its blog post. "We'd like to try hiring molecules."
The process is straightforward: any group of 2-5 people can fill out an application form that includes the CVs/resumes of each team member and a description of how everybody knows each other. Then, according to Tim Drinan, Stripe's Head of Communications, "we'll take everyone in a group through the interview process together, and bring them in for in-person interviews on the same day. While most interviews will still be individual, we'll design at least one interview problem that the group can work on as a team." If at the end of the process, Stripe makes an offer, the offer is extended to the entire team. However, each team member is free to accept or decline the offer individually.
"Mainly, we're hoping BYOT will help us (1) hire great people, (2) hire them in great teams (where they'll be happier and more productive than if they joined individually), and (3) uncover talent that's perhaps been undervalued until now, including underrepresented minorities and people with atypical backgrounds," says Drinan.
Unfortunately, because Stripe has only recently rolled out BYOT, the company has yet to announce any hires using the approach. But, according to this tweet from Avi Bryant, the company's goal of attracting more "underrepresented" applicants is already yielding results:
It's been interesting to see that our first couple of applications to BYOT have been teams with 50/50 men/women splits.

— Avi Bryant (@avibryant) April 26, 2016
Conclusion
"Social media has dramatically changed the day-to-day activities of talent acquisition (a.k.a. recruiting) at Arcadis," says Cindy Bishop, associate VP and Director of Talent Acquisition at design consultancy, Arcadis U.S. "Where only a few years ago, sourcing candidates was accomplished by job board postings, university recruiting, employee referrals and partnering with agencies for hard to fill, niche jobs, now we have the access to that specialised talent using social media technologies. Because information is now public, recruiters can contact potential candidates directly and initiate conversations immediately."
These 4 companies have taken Bishop's thought to heart and gone out of their way to look above and beyond the usual recruiting methods. Instead, they have been brave enough to test their recruiting luck on the hottest social media platforms of the moment and embraced new ways of approaching the old hiring problem.
As Larissa Faw said, "traditional tactics tend to result in average candidates", the question is will you be brave enough to think outside the box.
Not connected with us on social? Stay in touch and keep up-to-date with all the latest recruitment news, research highlights and our wide range of useful resources.
Want to keep up to date?
Join our 75,000+ subscribers who do!