4 Ways to Build Your Personal Brand Without Getting Too 'Personal'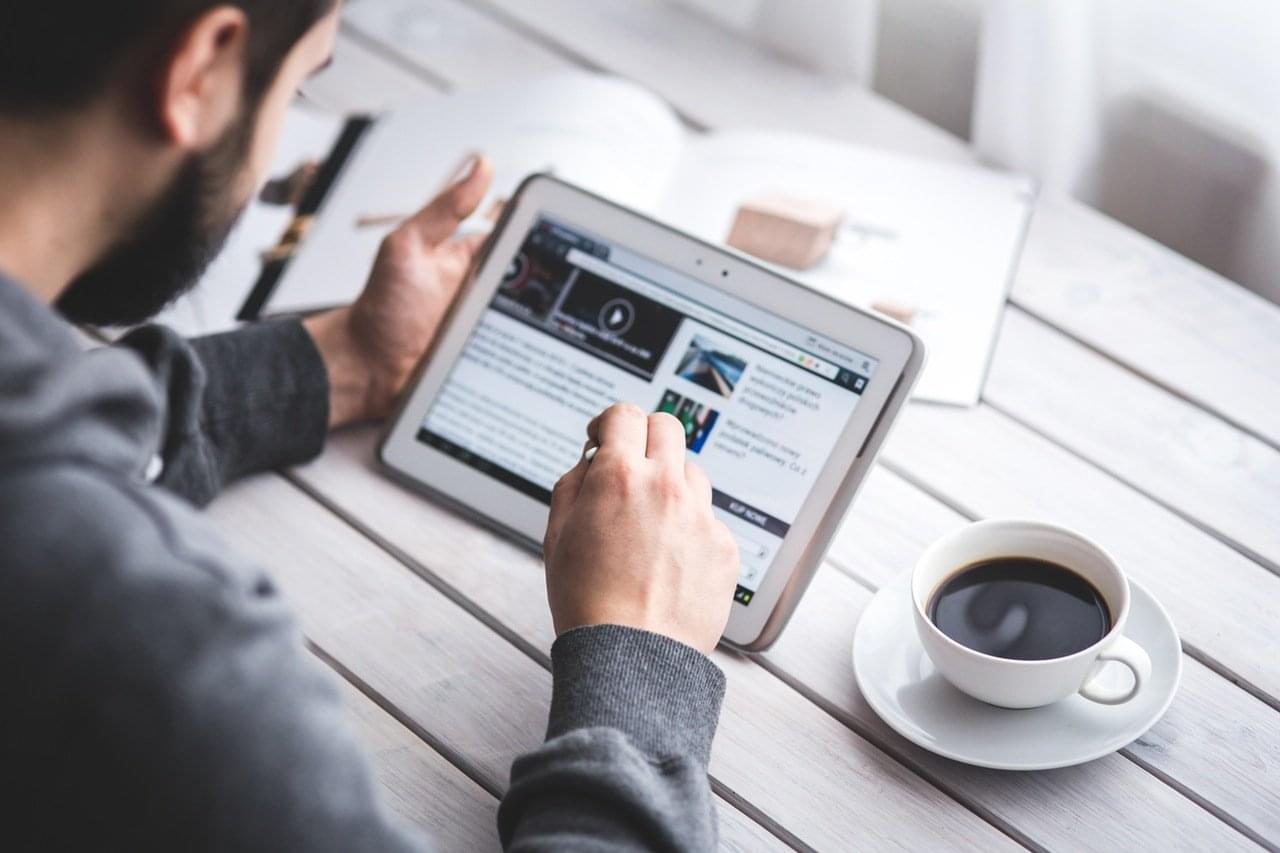 There's no denying that if you want to be a superstar recruiter, you need to have a strong personal brand. And if you've read any of our blog posts on personal branding, you'll know that this means more than just connecting with potential candidates on LinkedIn and posting the odd update to Facebook and Twitter. It's ultimately all about being human. It's about establishing a connection with potential candidates by showing them that you're a person first and a recruiter second. And let us tell you, it really works a treat!
But hang on a second – is it possible that we've overlooked a very valid point when it comes to personal branding? That not everyone is an open book. That not everyone is willing and/or able to share every aspect of their life online? Are they supposed to just sidestep this personal branding malarkey altogether?
Well, of course, we haven't overlooked it, what do you take us for?! Today, we're sharing 4 ways that recruiters can build their personal brand on social media without getting too personal, but before we start, let's just be really clear. There's really no way of getting around the 'personal' aspect of personal branding. But there are plenty of things that you can share about yourself online without ever revealing too much about your private life.
1. Choose 3 things about yourself to showcase
Have two or three things about yourself that you can talk about openly across your social media platforms. Things that make you different from the next recruiter. Things that show that you're not a cardboard cutout, but a relatable human being. That doesn't automatically mean posting updates about how you spend every minute of your life outside the office. There are lots of things that you can share about yourself without getting too personal on social media. Maybe you live right by a beach, and (as cliché as it sounds) go for a long walk with your dog on the seafront every evening. Maybe you're really into trampolining and compete in competitions every couple of months. Maybe baking is your thing. Whatever you're into, showcase this by posting lots of photos on your Instagram and Twitter accounts.
Let's take our chief sourcing ninja, Johnny Campbell, as an example (because let's be honest- if he isn't good at this stuff, who is?!)
Johnny loves to run. A lot. Even when he's travelling the globe to speak at recruitment conferences, you can guarantee that he'll be up at the crack of dawn, clad in his running gear exploring whatever city he's in. And not only does he track his runs, but he also posts pictures of himself at well-known landmarks, as well as the distance he's covered. Check out this Instagram pic of him outside the White House in Washington D.C….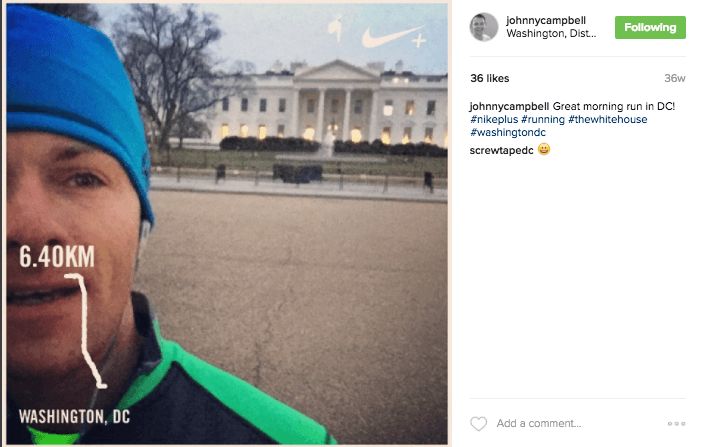 …or this one, at Tower Bridge, in London.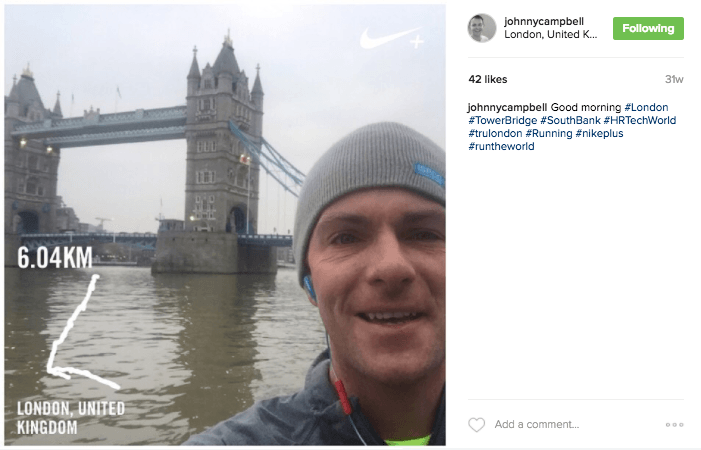 or that time when he dragged Michael out for a run with him in Indianapolis!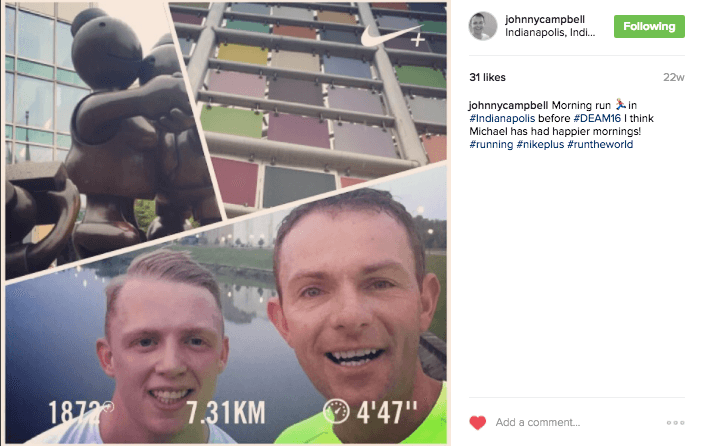 Now, even if you've never heard of Johnny, or know anything about him, don't you have a better sense of who he is just by looking at these photos? Does it give you any deep insight into his private life? No. Does it show that he's someone that you can relate to? (If you're into running, that is…) Absolutely.
2. Use nicknames for your loved ones
When it comes to posting photos of your family or loved ones on your social media channels, we can't stress enough how this is a personal decision that every recruiter needs to make for themselves. Some people have no problem whatsoever sharing photos and videos of their spouses, children, and friends on social media, whereas others are completely against it. But what about a happy medium, does such a thing exist?
Craig Fischer,  Head of Employer Branding at CA Technologies, talks about this at length in our Black Belt in Internet Recruitment programme. You see, Craig, as well as being a keynote speaker, author, blogger and radio host, is also the father of three boys. And he regularly posts photos of his kids on his social media accounts. But rather than calling the boys by their names in his posts, he calls them #1, #2 and #3. What's more is that none of his family members comment on his posts, and they aren't linked to him on Facebook. So people can still get an insight into what Craig's life is like, without putting private details about his family out there for everyone to see

Why is this a big deal, you ask? Well, as recruiters, we're in the stalking business, and there's no question or doubt that the people we are stalking are stalking us back! This nickname trick is a great way to include any of your loved ones in your posts, as it's the best way for you to feel more secure. By doing this, you can start to feel more comfortable about using the likes of Facebook, Instagram, and Twitter to build your personal brand.
3. Leave out specific locations
Whether you work as an agency or an in-house recruiter, it's a given that you're going to list the name of your company on your LinkedIn profile. So people are going to be able to find out where you work, it's just the way the cookie crumbles. But what about your life outside of work? It's understandable if you don't feel comfortable giving away details about where you live, or what restaurants and bars you eat and drink in.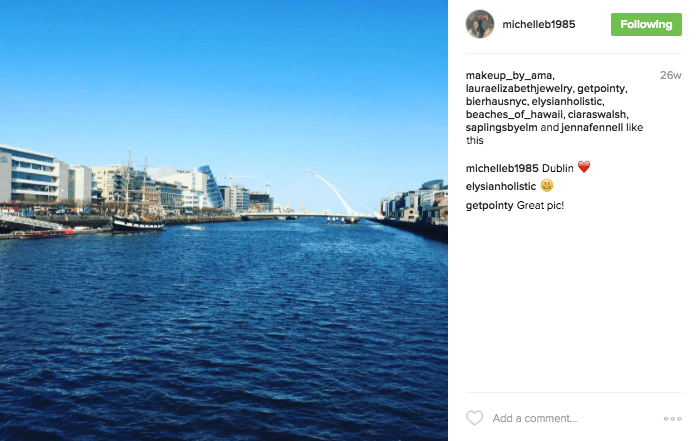 By all means, post photos of your city skyline, or the wrong spelling of your name on a Starbucks cup, or even a giant pizza that you're about to demolish at your favourite Italian bistro, just don't tag the locations! There's no reason why you shouldn't post this type of content as it all helps to paint a picture of who you are as a person, but you can still keep locations as vague as you feel is necessary.
[cta-blog]
4. Be embarrassing
Psychology 101 tells us that if you want to make a memorable first impression with someone, you should tell them something personal, or something slightly embarrassing about yourself right off the bat. That way, you'll be far more memorable than someone who simply gives their name and job title. This isn't just something that you can do when meeting someone face to face for the first time, either. You can easily do this in your Twitter or LinkedIn summaries, and without giving away anything about your private life. For example, let's take a look at my LinkedIn summary…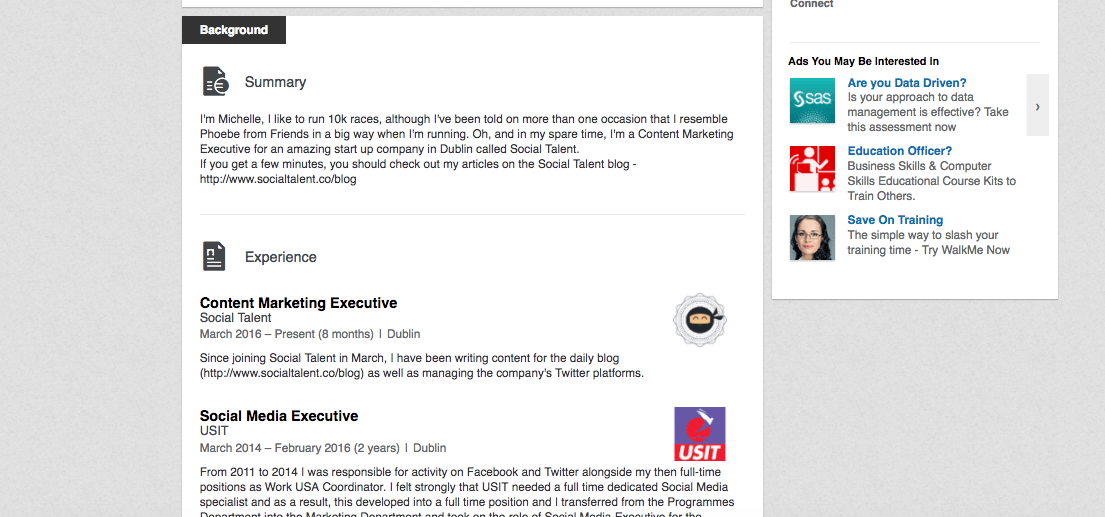 It's not true, by the way. I actually don't run at all. But didn't you get some sort of a mental image as to what I must be like? That's far more powerful than just saying I'm Michelle and I'm a Content Marketing Executive at Social Talent, isn't it? By keeping it light, as well as slightly embarrassing, it's far easier for people to identify with me.
You see? You can absolutely work on building your personal brand without having to reveal too much about your private life. It's just a matter of picking a couple of things that you love to do outside of work and putting a different spin on them. So go ahead and try out these 4 tips to see how they work for you!
Want to keep up to date?
Join our 75,000+ subscribers who do!