Keep up with the latest hiring trends!
/
/

5 Biggest Challenges Modern Recruiters Face
5 Biggest Challenges Modern Recruiters Face
In today's borderless global environment, companies face a vast array of challenges such as social & technological changes, cultural diversity, aging populations and political instability (Brexit!). A consequence of this is that there is an ever-increasing focus on effective recruitment. Hiring the right candidate has never been more important as a company's ability to find, attract, and ultimately recruit skilled talent is going to determine how successful they are in meeting their business growth objectives.
Talent acquisition is now firmly on the agenda of chief executive officers (CEOs) and business owners across the world. But the recruitment landscape is a totally different beast to what it was 20, even 10 years ago. Recruiters have to be much more proactive in order to thrive in today's hiring ecosystem as they continue to overcome some big challenges. Today, we're going to take you through the top 5 biggest challenges that the modern recruiter faces:
1. Breaking From The Noise
It's no secret that we are living in a candidate-driven market, with demand to fill open positions far outstripping supply in many different industries. This means recruiters are facing an increasingly demanding and competitive talent market with many recruiters going for the same candidates. Recruiters who still use antiquated hiring practices run the risk of losing out on not only converting great candidates but even attracting quality applicants at the beginning of the hiring process. Candidates not actively looking for positions will not be receptive to cold calling or irrelevant InMails so recruiters need to go beyond this to pique candidates' attention.
What you can do: Focus on your employer brand. Your employer branding is the sum-total of what potential employees think of you as an employer and the goal is to create differentiation and preference in the minds of these people. Therefore, investing in a strong employer brand will give you a major advantage in attracting top talent. But how do you go about doing this? The answer is through content and social. Renowned marketer and keynote speaker Jay Baer famously once said that 'content is fire, social media is gasoline'. In other words, your content exists independent of what you're doing on social but you use social to drive awareness of your fantastic recruitment-related content (employee spotlight videos, behind-the-scenes, hot topics in the industry, recent team awards etc.). According to an extensive survey by Employer Brand International, 76% of companies said that Social Media was their main channel when it came to communicating their employer brand.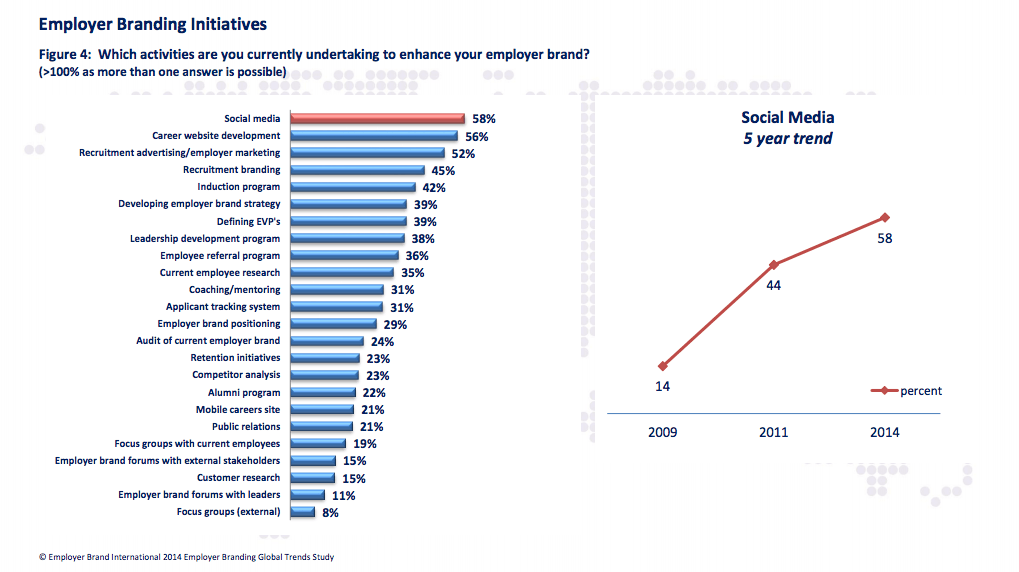 2. Closing Candidates with Multiple Offers
We said demand was far greater than supply in the labour market. This means candidates can afford to be more selective when it comes to their future employers, and oftentimes they have multiple offers to choose from when it comes to the latter stages of the interview process. This can especially be disheartening for recruiters who have put a lot of time into finding the perfect candidate, only for them to realise that the numbers are working against them and they could easily lose this candidate to someone else. A further challenge is that the candidates the recruiter has declined previously have potentially moved on elsewhere, leaving the recruiter to research the talent pool again.
What you can do: Create a great candidate experience. This stretches from the call-to-action you use to get them to your careers site all the way to the overall interview process. You should consider optimising the following elements if you want to perfect your candidate experience:
The overall structure of your careers site (site design and structure)
The layout of individual pages e.g. specific job descriptions (page design)
How the text and graphic content on each page is designed (content design)
Try and steer clear from standard interviews – make it an informal conversation, give office tours, introduce them to senior leadership etc.
3. Relationship with Hiring Manager
This can make or break an effective hiring process.  A number of issues can arise between recruiters and their hiring managers which are very much multilateral. To give you an insight into the potentially tenuous relationship that can arise, iCIMS conducted a study and arrived at the following findings:
80% of recruiters think they have a 'high' to 'very high' understanding of the jobs for which they recruit. 61% of hiring managers say that recruiters have, at best, a 'low' to 'moderate' understanding of the jobs for which they recruit
77% of hiring managers say that recruiters' candidate screening is 'inadequate'. 51% of recruiters said hiring managers 'should do a better job communicating what they are looking for in a candidate' and 'provide relatable examples'
54% of recruiters complain that hiring managers expect recruiters to place candidates into hard-to-fill positions more quickly than is feasible. 42% of hiring managers wish recruiters would build a pool of talent for positions so the company doesn't always need to start from scratch and rush to fill vacancies
What you can do: Make the hiring process a more collaborative one with your hiring manager. This means meeting at regular intervals to discuss requirements for the role, preparing interview questions together, deciding on tactics to source the best candidates and continually tweaking criteria. Communication is paramount throughout and what will really solidify this relationship is insightful discussions on data around best channels for sourcing, number of applications, application/interview ratios etc. Do these things and you will achieve talent acquisition performance.
4. Retaining Millennials
A new generation is driving the bottom line. Expected to make up almost 50% of the workforce by 2020, millennials (born from early 1980s to early 2000s) are starting to dominate the working landscape as more baby boomers begin to retire. Millennials possesses significantly different characteristics from previous generations – they have close affinity with the latest technology, they tend to favour their personal needs more than that of the organisation they work for, they want open communication & regular feedback and are more comfortable with a fluid career. The last point is a particular challenge for recruiters as hiring a candidate who leaves their post quickly reflects badly on the recruiter (and hiring manager). This also increases the workload for the recruiter who now has to find another suitable candidate pool to fill the new vacancy. It seems the importance of retaining millennials cannot be stressed enough. Anne Donovan, Managing Director at PricewaterhouseCoopers, says:
"If businesses are not focused on millennials, they are at a competitive disadvantage. There is a clear business case to have these discussions and to change the culture in the workplace to attract and retain millennial talent. Organizations that understand how much millennials matter are going to win".
What you can do: Make the benefits of working with millennial-friendly. The 'Millennials at Work Study' by PWC found that training & development and flexible working hours were valued more by millennials than financial reward. It is important as an employer to make employee education a core component of your employee engagement strategy. Millennials want to be given tasks that allow them to stretch themselves and develop new skills. Also, mentoring is a great tactic to introduce into the onboarding process which will help with retention; good rapport with senior management and instant feedback are essential.
5. Developing Skills in Analytics
Most recruiters today have the capabilities to use technological tools to their advantage but lack the ability to effectively crunch the data. Glen Cathey, SVP of Talent Acquisition Strategy and Innovation at Kforce, states: "Human capital data can be leveraged to identify and hire more great people more quickly… but the vast majority of companies have yet to fully embrace data as a strategic asset in talent acquisition". Recruiters today need to be able to use data to make better decisions and improve their processes.
What you can do: Meet with key stakeholders in your organisation and select the key metrics to review overtime. This can vary for companies depending on the industry and size but Glassdoor recommend the following metrics you can measure around quality of hires, influence over hires and retention, which should serve as a good starting point:
Cost-Per-Hire
Time-to-Hire
Candidate Demographics
Cost-Per-Applicant
Source of Applicants
Candidate Engagements (e.g., social likes, shares, follows)
Competitor Intelligence
Company Reputation and Ratings
Not connected with us on social? Stay in touch and keep up-to-date with all the latest recruitment news, research highlights and our wide range of useful resources. Alternatively, check out our recruitment training and build your recruiter academy today!
Find out how the likes of IBM, IKEA and Siemens
drive hiring excellence with SocialTalent
---