6 Things You NEED to Include on Your Careers Site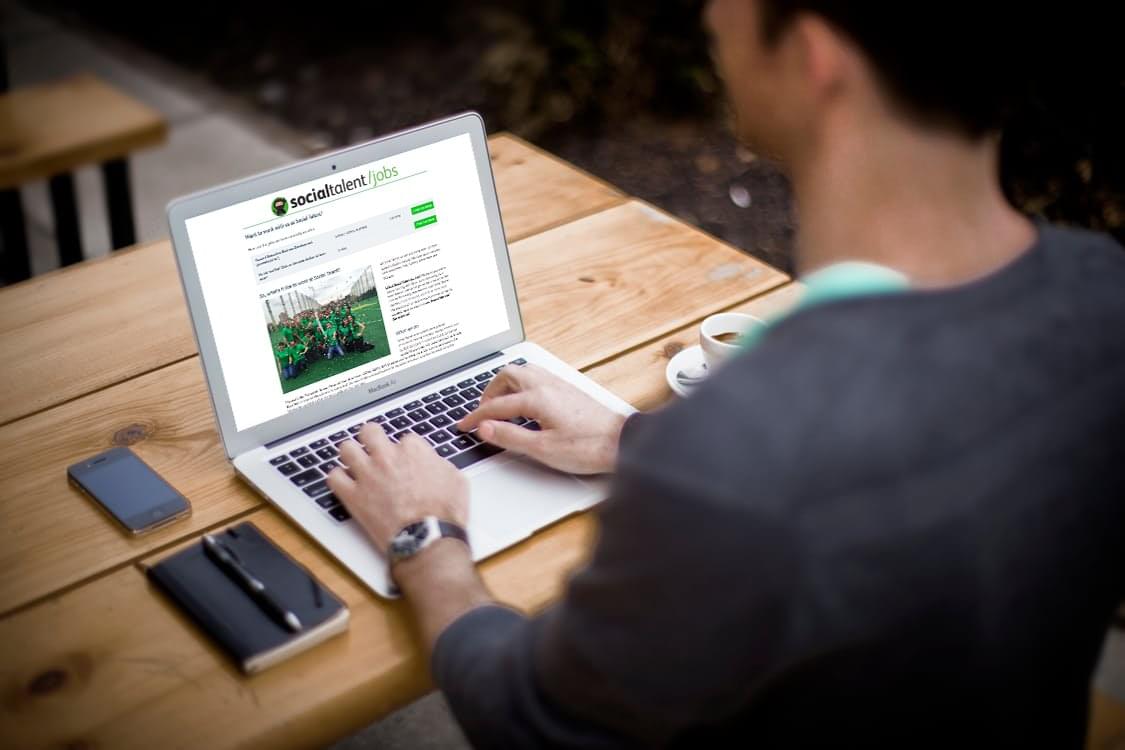 What does your careers site look like? Or, more importantly, what does it tell visitors about your organisation? Does your careers site sell your company to potential candidates? There are a number of things you can do to successfully promote your employer brand on your careers site. In today's blog we're listing six of the most important:
1. Make sure your brand identity takes centre stage
"Before showing any job vacancies, make it very clear to prospective candidates that they're at your territory. Pay attention to colours, fonts, the use of images. Make prospects feel the value of your brand before they actually start reading," say the folks at Recruitee.com. And we couldn't agree more. When a candidate enters your careers site they should be aware that they have come into your space. Take our careers site for example, our signature ninja green is heavily featured, photos of our staff are very prominent  and all of the text on the site is written in our casual, humorous style: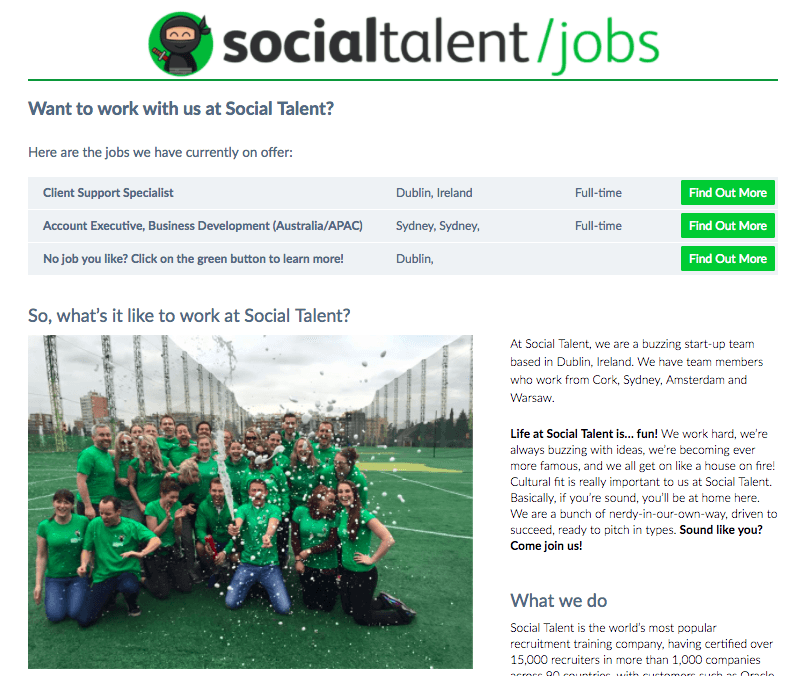 Another good example, is Spotify's careers site. It really resembles their music streaming platform, it contains quirky text unique to them like "Want to join the band?" and it features plenty of staff profiles and videos: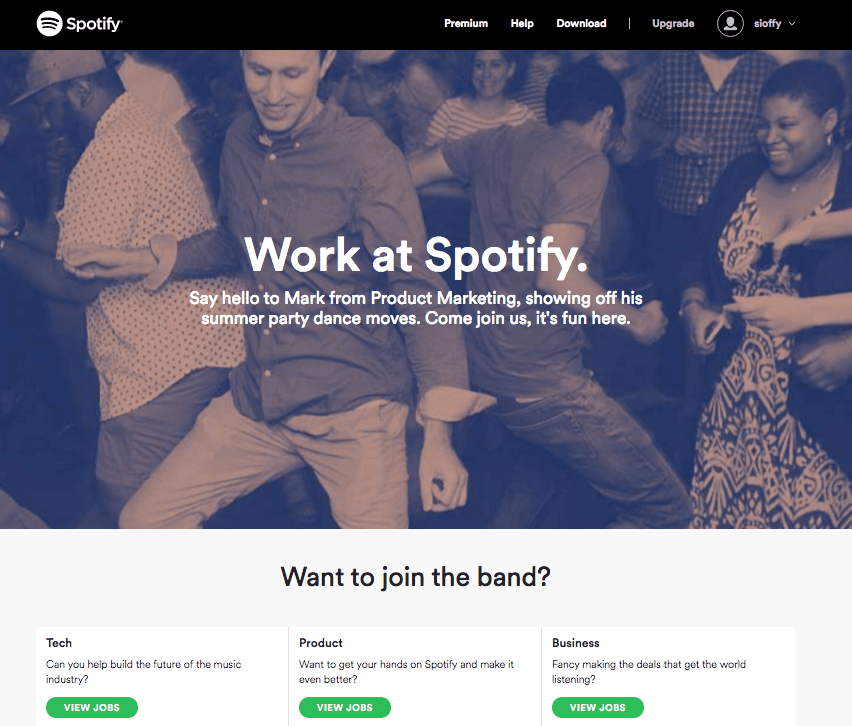 Both sites are clean and easy to navigate which is key to a successful careers site.
2. Tell everybody who you are and what you're about
What's the most appealing thing about your organisation? Why do your employees stick around? What does your organisation offer candidates that your competitors cannot? These are the questions you need to answer on your careers site in an effort to tell people what it's like to work at your company. We do this in our "So, what is it like to work at Social Talent?" section of our careers site and we go into more departmental detail in our "What kind of roles do people do at Social Talent?" section.
Bloomberg tell us who they are in an exquisite short video that features sound bites from their global workforce set to stunning motion graphics. They tell us Bloomberg is about collaboration, information, transparency, connecting the world and in so doing, solving global problems. All of which means Bloomberg employees "see [their] ideas come to life" on a daily basis and that "[their] work really matters".
3. Prove you are who you say you are
When you've told everyone who you are, the next thing you need to do is prove it. Millennials are all about "pics or it didn't happen", and you should keep the same mentality when it comes to your careers site. It's all very well to talk about how well your staff get on, how diverse they are, how cool your office is or the places your staff get to travel, but talk is all it is if you don't actually show people.
Gaming company Ubisoft's careers site is a great example of how to do this well. It's jam packed with photos of the team at work and play, videos of life in Ubisoft and events they've organised: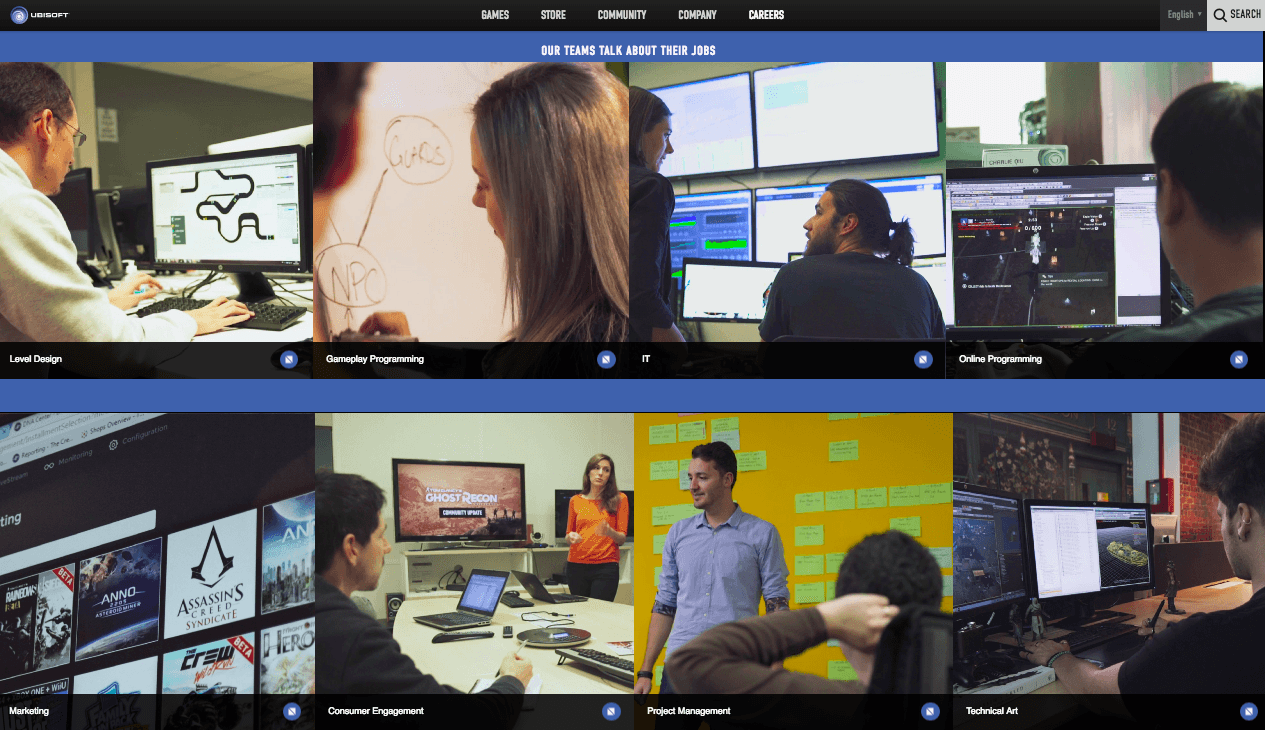 They even have an interactive map of Ubisoft offices throughout the world which you can click to be brought to the specific country careers page: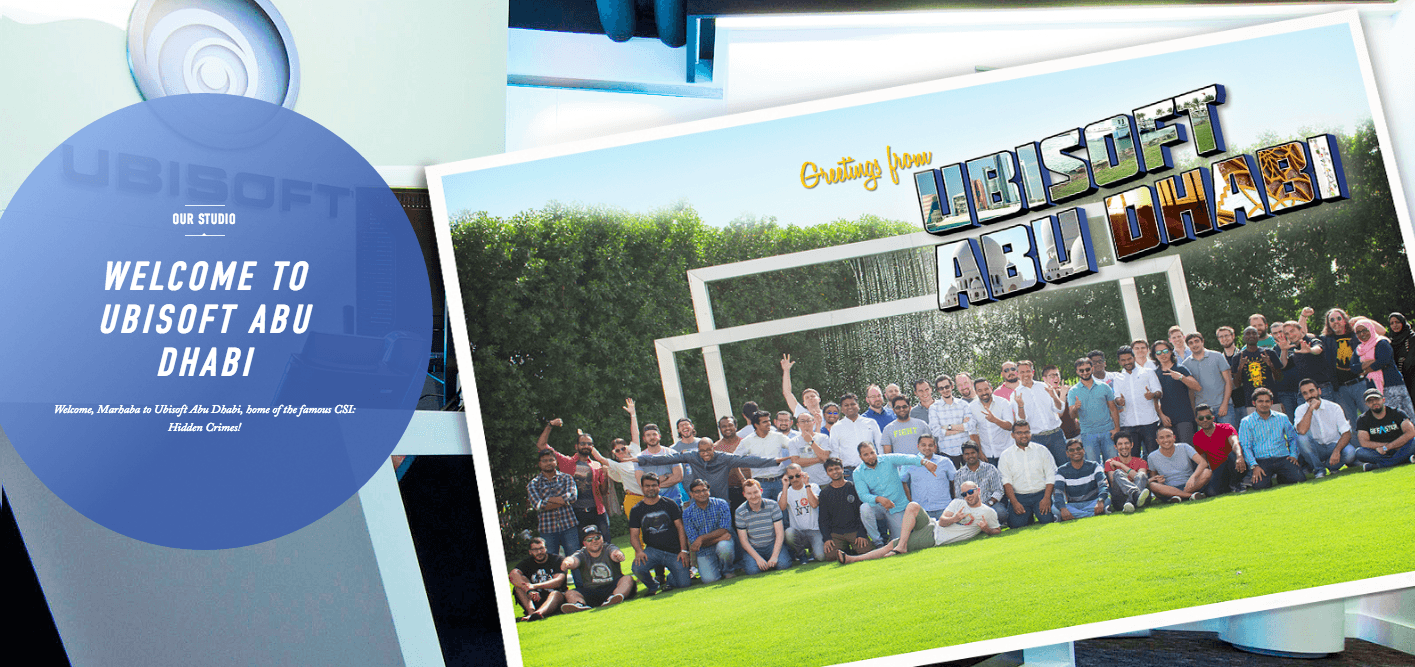 Check it out, it is AWESOME!
4. Let your employees take centre stage
We've said it before and we're going to keep screaming it from the rooftops, your employees are your biggest asset.
"Who doesn't want to read about their future colleagues and how they're doing at their company?!" asks Recruitee.com. "Team photos are a good start to show the real faces behind the brand. But don't limit yourself to just that. Make videos, generate GIFs, throw emoticons, and everything that fits the culture of your company. In this way, candidates get the most feel about a company's culture. They can decide for themselves whether they're going to fit in". Everything you can do to promote your employees on your careers site is a plus. Think testimonials, 'Day in the Life' videos, employee blog posts, and Q&As.
PwC have done this very nicely on their corporate careers site. Not only do they tell us a bit about their employees and their role in PwC, but they also show photos of them, map out their career timeline at the company (including key milestones), and include a short Q&A with them in which they describe their role and their experiences within the company: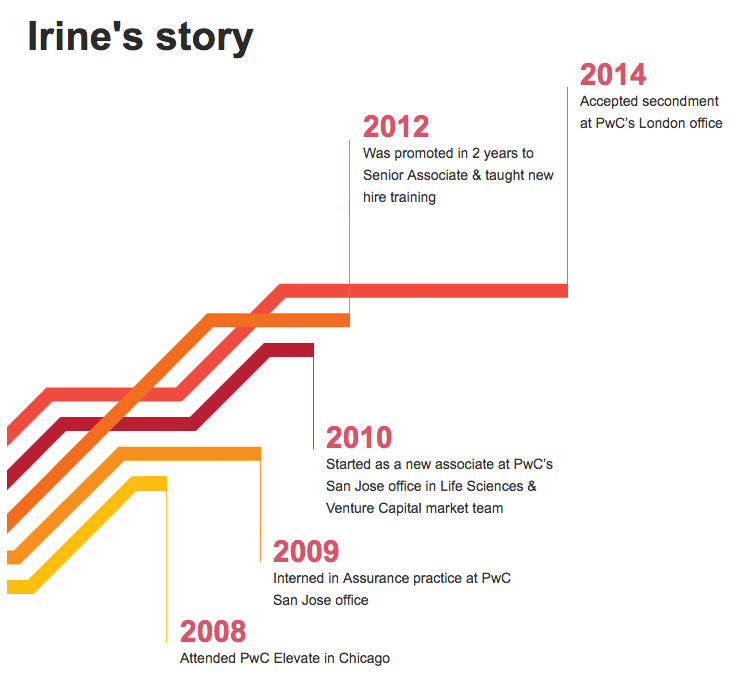 5. Talk about career growth
According to BGL, 42% of all finance professionals stated that having clear opportunities for promotion is an important factor for job satisfaction. They also make the point that an employee with a clear career path is "more likely to excel in the business than one who is uncertain of where they could progress". Yes, after a better salary, career growth is now one of the most important factors in a candidate's decision to take a new job. As a result, you should use your careers site to sell them how your organisation can help them grow and develop professionally through training, coaching, and experiences unique to your company.
Chipotle do this really well on their careers site. Their site features a dedicated section detailing how you can grow through the ranks of the company, what salary you'll receive at each level, the benefits associated with each level, and how you can get there. Each different job level is also accompanied by a video detailing a day in the life of an employee in that role: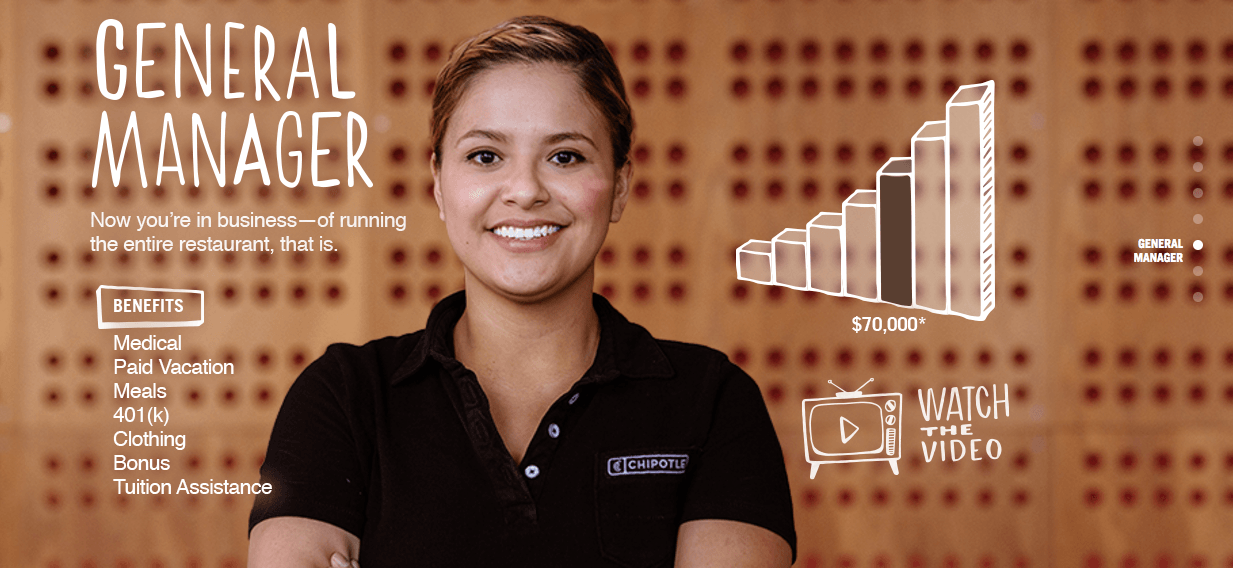 PwC also place a huge focus on career growth on their careers site. They clearly lay out the initiatives the company have put in place to "empower [candidates] to build successful and rewarding careers" including; a training system called "Learning at PwC", a coaching scheme, a career mobility program and working parent resources.
6. Make it clear that you are a diverse and inclusive organisation
Is your organisation an equal opportunities employer? Do you have diversity and inclusion initiatives? Then shout it from the rooftops on your careers site! CEB, ITV, and Google all ensure that their programs for building a more diverse and inclusive workforce are at the forefront of their careers sites, and so should you.
By clearly stating on your careers site that your company is committed to building a diverse and inclusive environment, you prove to potential candidates that they can thrive in your organisation and that they will not face discrimination based on their race, gender, religion, sexuality, disability or age when employed at your organisation.
Take CEB for example. It is very clear from their careers site that diversity and inclusion is extremely important to them and that it is engrained in the culture of their business. Not only do they have a section of their careers site dedicated to talking just about diversity, but they also have several other sections dedicated to each of their individual employee groups – including Women at CEB, CEB Pride, and CEB Mosaic: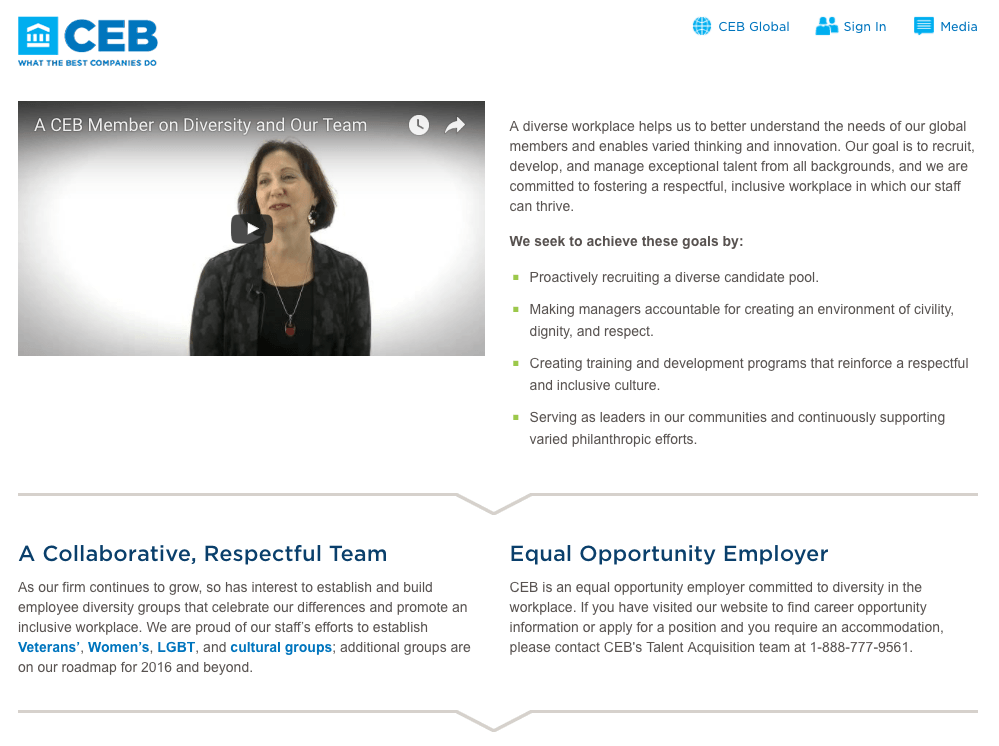 Google has also dedicated an entire micro-site (linked to their careers site) that talks at length about how they are supporting diversity in their own company and beyond. They also present visitors with up to date stats regarding diversity at Google as a whole, in tech roles, non-tech roles and in leadership positions: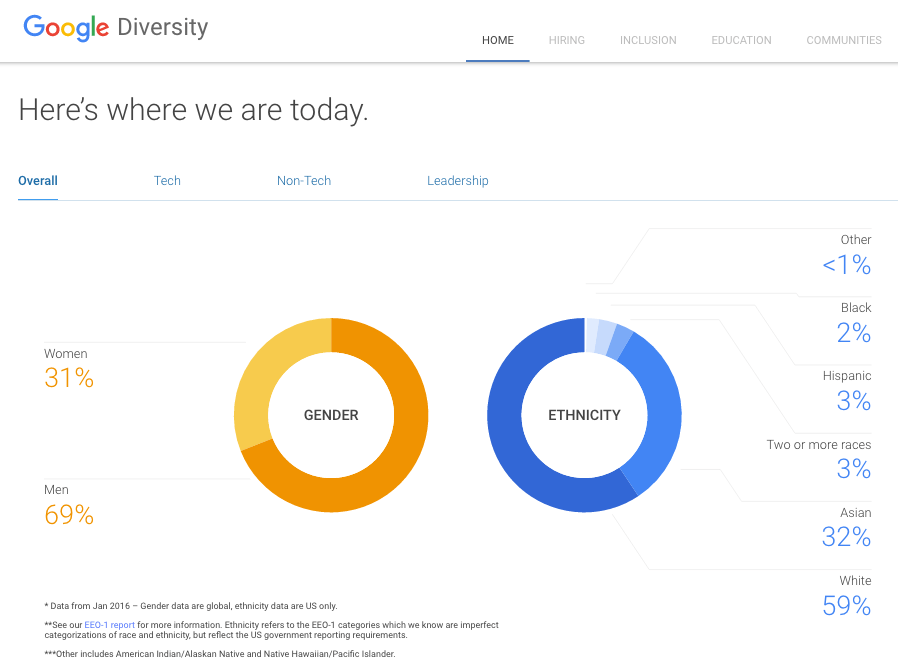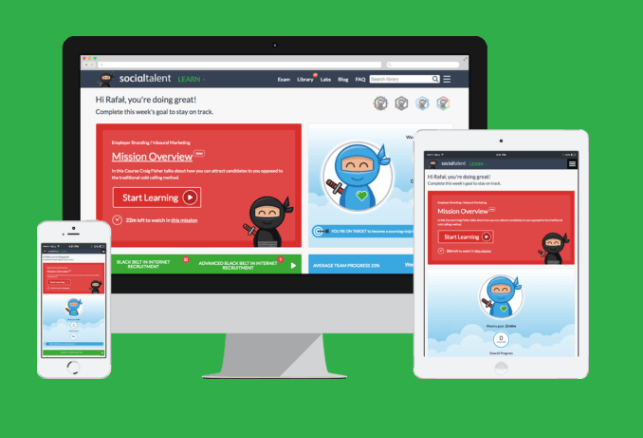 Want more tips on how to boost your employer brand and create true differentiation in the minds of potential candidates?
Request a live demonstration of our world leading expert learning platform today and let one of our dedicated team show you exactly how we can help you reach your recruiting goals.
Want to keep up to date?
Join our 75,000+ subscribers who do!