7 Exciting Recruitment Happenings this Week - 7th September 2015
In the news this week:
LinkedIn Messaging Gets Long Overdue Revamp, Adding GIFs, Emojis And Stickers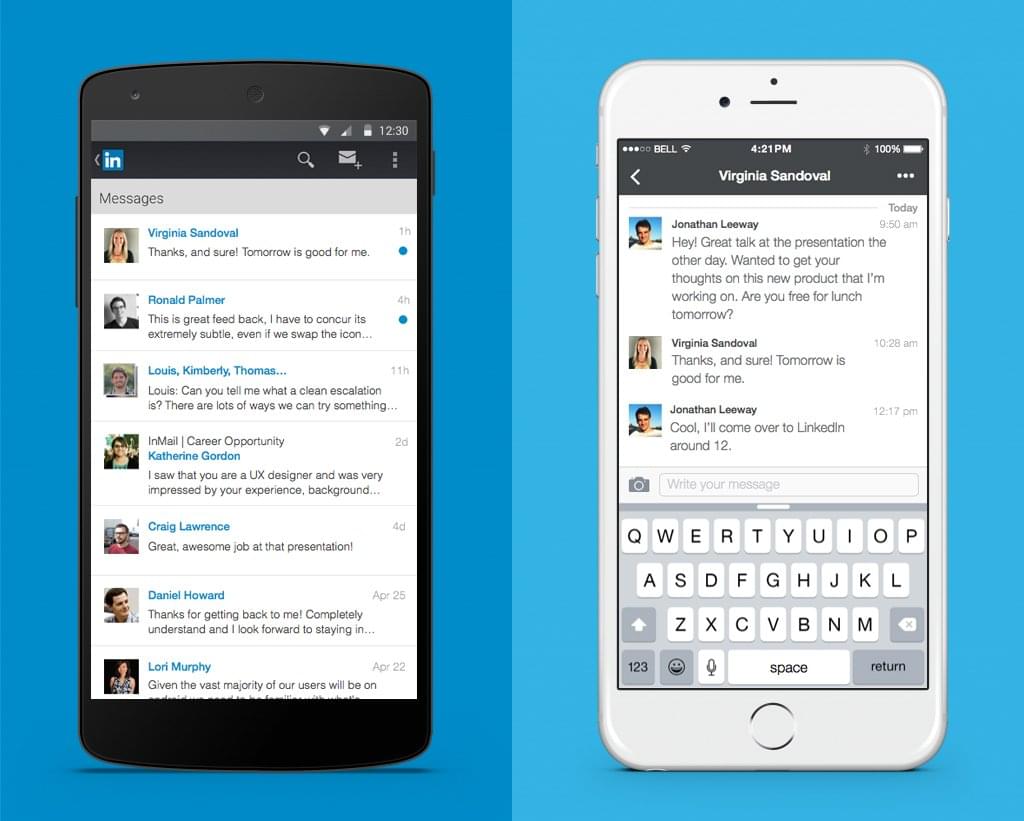 As of last Tuesday, LinkedIn rolled out a brand new messaging experience that offers an easier and "more lightweight" way to have professional conversations with your connections:
"We recently improved the messaging experience to make it easier for you to have professional conversations on LinkedIn. Messaging on LinkedIn now offers a more lightweight, casual way to start a conversation, reach out for advice, respond to opportunities, or simply stay in touch with your network."
So what can we expect from this new messaging "experience"? Well according to LinkedIn's dedicated blog post, the site have "rebuilt everything from the ground up" to give messaging users a "cleaner more streamlined look and feel":
A "chat-style" interface has been introduced to allow for easy back and forth messaging.
Push notifications have been improved to make it easier to stay on top of the conversations that are most important to you.
Stickers, emojis an GIFs make their LinkedIn debut.
Other features such as Sent Notifications have been moved around in order to clean up the messaging experience, so if you're looking for a feature you can't find using the new messaging experience, consult this list for help.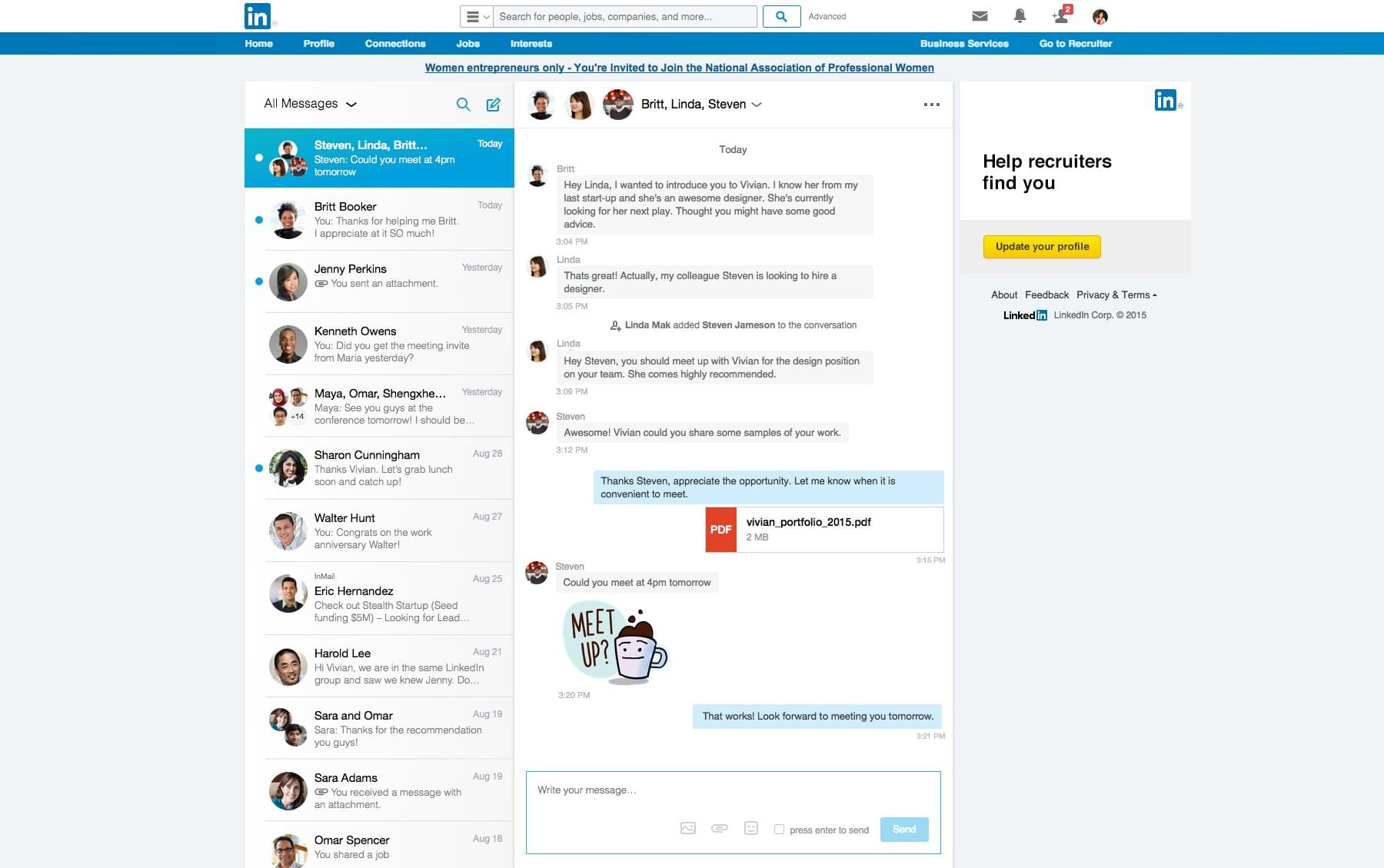 LinkedIn also hinted in their blog post, that it has a lot of other messaging-related features in the pipeline:
"We're hard at work to explore the possibilities of how we will extend this experience. We're excited about concepts like intelligent messaging assistants that can help suggest people you should message or provide you with relevant information about that person before you start a conversation. Or the possibilities with voice and video to make conversations more compelling.

We know we can put a unique LinkedIn spin on the kinds of conversations you are already having in a professional setting, like making introductions or debriefing after a meeting. The possibilities are endless and we look forward to continue iterating and enhancing the experience."
Mmm, I guess we'll just have to wait to see what that means exactly! Meanwhile, the new messaging experience is being gradually rolled to all English-speaking members on iOS, Android and desktop, with no early access requests being granted. The experience will be made accessible to other languages "in the coming weeks".
How Many Job Seekers Does it Take to Make a Hire?
536. That's the number of people it takes to get from the top of the funnel to a hire.
After 10 million applications from 50 million job seeking visitors over the last decade, recruiting-technology-provider Jobvite has drawn some broad conclusions about numbers. Chief among them is that only 11% of the visitors to your career site will apply. As of 2014, you'll average 59 applications per job.
The percentages get smaller as the funnel narrows, until you end up with a hire. From top to bottom, the average is 0.2 percent. In other words, to get someone in the door, you need 536 visitors for every job posting: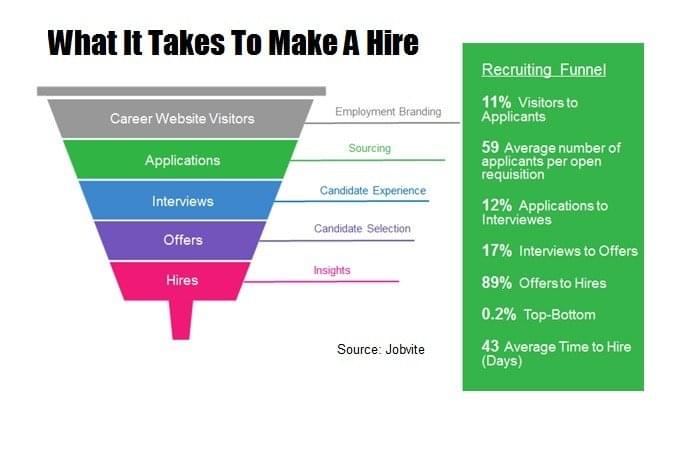 Now, bear in mind that these are averages compiled from Jobvite customers. Calling them industry benchmarks, as Jobvite does, might be slightly overstating the case. However, they do offer insights into job marketing and provide at least some yardstick against which to measure your own recruiting efforts. Expect your mileage to vary. But if it varies dramatically, you need to investigate why.
Besides the broad funnel averages, the data Jobvite compiled — which will eventually be posted on the company blog — breaks down the date by company size. Small companies (up to 250 employees) need an average of 62 apps per req to make a hire. They generally interview more candidates and make fewer offers.
At the largest companies (over 5,000 employees) they get fewer applications, interview fewer candidates, but make more offers – about 1-in-5 candidates interviewed get an offer:

It's a good guess that larger companies make more offers because when you have 2,500 or more employees, you have more openings. The offer may not necessarily be for the same job for which the candidate interviewed.
Another of the data points that Jobvite shared was the source of hire and source of application data. Job boards and career sites produced 77% of the applicants for jobs. But referrals, not unexpectedly, produced 37% of the hires. Career sites produced 22% and job boards yielded 17%.
Twitter: We're Upping Our Female Employees to 35% in 2016, And Then Some

Like a lot of tech companies in Silicon Valley, Twitter last year published numbers about the different backgrounds and cultures of its employees, and its numbers were revealed to be quite white and mainly male – as of last July, 70% of Twitter employees were men, and 72% of its managers were white – a fact that doesn't surprise anyone who saw pictures of Twitter ill-advised frat house themed staff party last month.
But, according to a newly published post by the company, the company is committed to making its U.S. workforce more diverse by the end of 2016.
How? Well, first it's tackling its male-to-female ratio imbalance, saying it plans to increase the number of its female employees to 35% (up from 30% last year); increase women in tech roles to 16% (up from 10%); and ensure the percentage of women in leadership roles hits 25% (up from 21%).
Twitter is also promising to increase the number of underrepresented minorities that it employs, with the goal of bumping their numbers to 11% overall (up from 7% last year), to 9% in tech roles (up from 3%) and to 6% in leadership roles (up from 4%).
Twitter says it wants the makeup of the company to "reflect the vast range of people who use Twitter." Toward that end, its immediate diversity goals aren't just good for public relations; they're necessary if the company wants to thrive well into the future – much like everyone else.
TransTech Helps Transgender People Get Jobs In Tech And, Soon, The White House
Transgender and gender non-conforming people are at risk of facing injustice and discrimination wherever they are: in their childhood homes, schools, the workplace and even in line at the grocery store. This discrimination can lead to missed education and professional development opportunities, which is where TransTech comes in.
TransTech's goal is to develop pipelines to employment and ultimately, independence, for trans people throughout the world.
Trans people face unemployment at twice the rate of the general population, according to a 2011 national transgender discrimination survey conducted by The National Gay and Lesbian Task Force and the National Center for Transgender Equality.
Biases and discrimination result in adverse job outcomes for transgender people, with 47% of the people surveyed reporting being fired, not hired or denied a promotion because of their transgender or gender non-conforming identity. And a lot of those who are employed face discrimination. In fact, 90 % of the transgender people surveyed reported experiencing harassment, mistreatment or discrimination, or took certain precautions to avoid it. Harrowing statistics like those are why TransTech Social is working to empower, educate and employ transgender people.
TransTech Founder and CEO Angelica Ross (pictured above) knows first-hand how difficult it can be to get a job as a transgender person. When Ross began her transition to living as a woman, her employer fired her, her family alienated her and she was introduced to sex work and the adult industry. Ross eventually decided to teach herself how to build websites, and later worked with nonprofit organisations that were looking to serve transgender communities around employment. She soon realised that those types of services could be a lot more effective.
"I discovered most programs to be inadequate, as well as re-traumatising and re-triggering for our population, as many of the programs just undervalue, underestimate and pigeonhole our community into very low expectation positions — you know, food service and manual labor without any sort of development for us to reach for anything else beyond that," Ross told TechCrunch. "I always have believed in the value of the diversity and resilience, and just really the different skill sets that our community has," Ross said. "But we've never been able to find the right platform and find the right environment for us as a community — for us as a professional community. So that's what I am doing with TransTech — creating that professional environment."
TransTech offers education services in graphic design, coding, software like Microsoft Word, Excel and Google Docs, as well as administrative skills like typing. The program also teaches people about building a resume, doing well in an interview, filing taxes, finding the right bank and saving money.
"Trans people, especially trans people of colour, have not routinely had a lot of access to technology," Ross said. "When you drop out of school because of harassment or get kicked out of your home, [you miss out on] basic skills with data entry, Microsoft Office, Google Docs — things like that that will keep them from having office jobs and being in certain environments and being able to compete."
There are 3 tiers of membership:
Community – a free service that offers access to online and in-person workshops and drop-in days
Professional – a $99/month service that offers on-the-job training, contracts, workshops, professional equipment and mentorship
Corporate – for companies that want to tap into the TransTech community
Corporate memberships are what allow TransTech to grow, make money and ultimately become a better fit to offer services to the transgender community at scale. MillerCoors, for example, is just one of the corporate sponsors that gets access to TransTech's talent pool, as well as access to online transgender competency training for employees and a platform to engage the company's transgender and gender non-conforming employees. Other TransTech partners include the Human Rights Campaign and, most recently, the White House.
Ross attended the first-ever LGBTQ Innovation Tech Summit at the White House in July 2014 at the invitation of Dr. Kortney Ryan Ziegler of Trans*H4CK. Ross says Ziegler invited her because he wanted to make sure other transgender people were at the summit. That's when she met Lesbians Who Tech Founder Leanne Pittsford, who then invited Ross to speak at the Lesbians Who Tech Summit in San Francisco in March. It was Pittsford who then asked her to participate in the second White House LGBTQ Tech and Innovation Summit last month.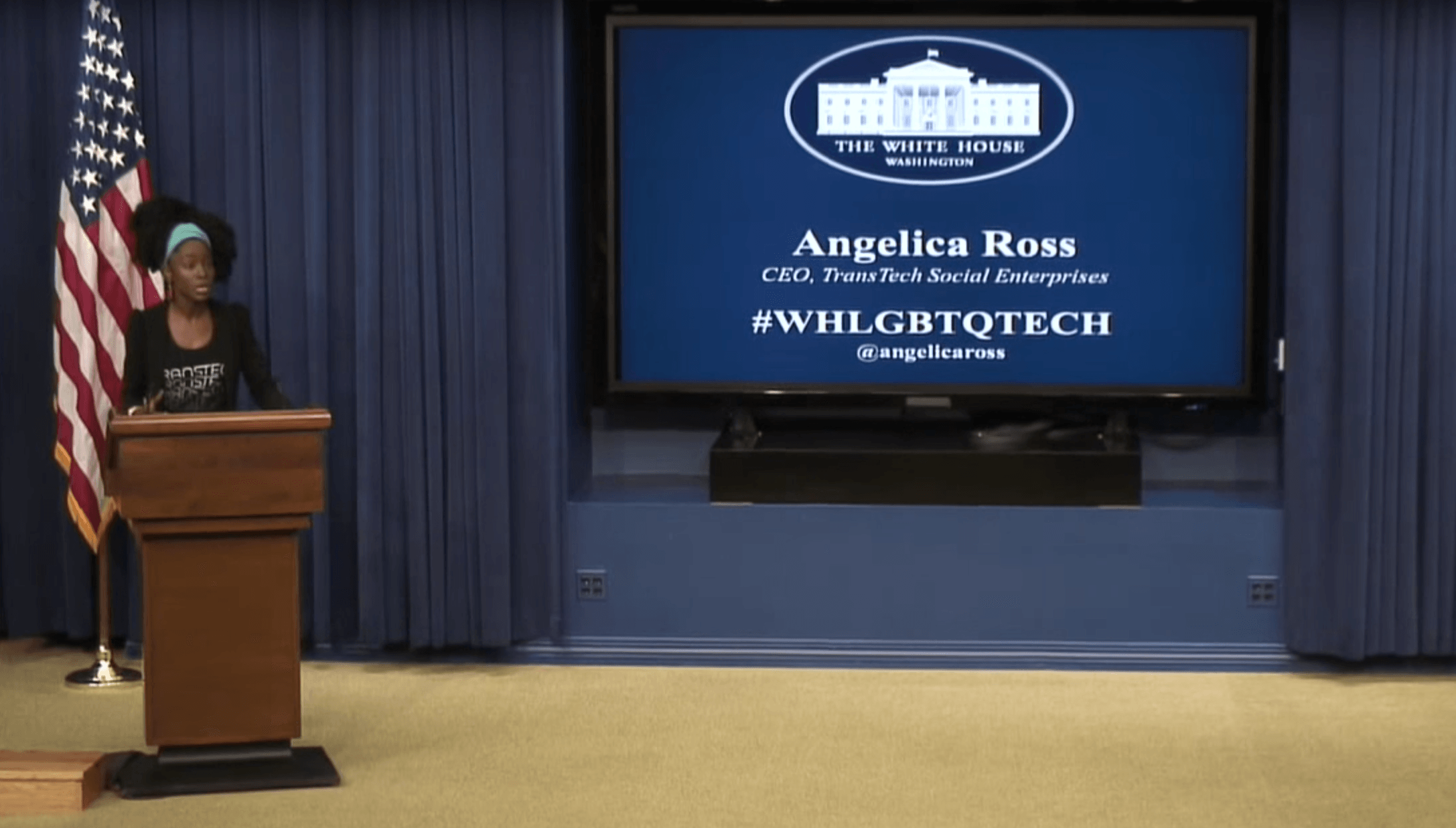 Though Ross couldn't share too many details about her White House involvement, she did say that she's helping to develop a pipeline of employment to the White House for transgender people, as it relates to technology.
TransTech currently serves 30 transgender people, but hopes to eventually reach transgender communities all over the world.
InstaChat? Snapgram?: Instagram Direct's 85M Users Can Now Reply with Photos in Snapchat-Style Visual Convos
I'll admit, while I'm a HUGE fan of Instagram, I've never used the Instagram Direct in-app messaging service. Not once. Why send my friends a message via Instagram when I could just use WhatsApp or SnapChat – two messaging services that allowed me to not only send text-based messages, but also image-based messages. Despite being a heavily image focused app, Instagram's messaging feature, didn't let me send or share images with my friends directly.
But watch out SnapChat, Instagram Direct is getting some impressive new upgrades, that will make it a truly visual communication tool.
Starting last Tuesday you can reply with photos in a thread and start a conversation with just text. Plus, rather than tag friends in the comments of public feed posts you want them to see, Instagram now has a new Direct share button that lets you send other people's photos or videos in a private chat. People can also share hashtag pages, location pages, and user profiles via Direct.
The changes could prime Instagram Direct for the rapid-fire back-and-forth photo messaging (popular among teens) that fueled Snapchat's ascent. It could also give people a way to talk with friends about interesting public posts without their conversations getting lost in the endless reels of comments spurred by celebs and popular users.
"I definitely think it's an evolution," an Instagram spokesperson says regarding how Direct threads work. Previously, one person would send a photo or video, and recipients could send hearts or leave comments. But if they wanted to send a reaction photo or another image to further the discussion, they had to start a whole new thread. "Now they're conversations, whereas before they were just a moment," she said.
To power quick-draw convos, Direct now features an in-line camera. A quick tap adds a photo to the chat, while a tap-and-hold shoots a video. The design of the button, complete with a red line creeping around the button as you use up seconds of video, is almost identical to Snapchat's trigger. Direct messages can also include special hearts and big emoji.
And if you don't have an image to share, you can now start threads with a text message. Easing these restrictions makes Instagram more similar to SMS, WhatsApp or Facebook Messenger, which has added its own quick cam and photo upload features for visual chat over the last few years. Now Instagram could feasibly substitute for those traditional instant messengers, especially for netizens who might only know their friends online and not their phone numbers. Direct's privacy model remains the same. You can message anyone (great news for recruiters!). If they follow you, the thread goes right into their inbox, and if they don't, it stays hidden in a pending cue unless the recipient approves.
Are Some New Twitter Photo and Video Editing Tools on the Horizon?
It looks like Twitter is planning to give its users a lot more creativity in the photo and video department soon. That's according to numerous images posted by Taylor Swift, Pharrell Williams and others popstars and tennis players, who appeared to have access to unreleased editing features from Twitter at MTV's VMA awards show and US Tennis Open, last weekend.
Lara Cohen, who is Twitter's Director of Entertainment Talent, highlighted the new photos with tweets that implied (and seemingly confirmed) that the stars were roadtesting something new. It isn't clear if this is a standalone app, or just an extension of the photo/videos features inside Twitter's mobile apps. Photo functionality is limited to filters and cropping right now and Twitter only added native video capture on mobile this year. Nonetheless, it looks like you might soon be able to add stickers, your own doodles, text and more to photos and short video clips.
OMG @taylorswift13 with these new photo tools. #icant#boom#VMAs#VMAs#VMAs@AmbuLance@jinenhttps://t.co/5m5GvuBOqf

— lara cohen (@Larakate) August 30, 2015
So what is Twitter cooking up? Only time will tell, but here are some of the video clips and photos that Swift & Co. created:
When you realize #WildestDreamsToday !!!!!!!! pic.twitter.com/IaOGlHNBpC

— Taylor Swift (@taylorswift13) August 30, 2015
Headed to red carpet…. #VMAs #squadUP pic.twitter.com/NuubLARzSB — Taylor Swift (@taylorswift13) August 30, 2015
Nice meeting you @ddlovato✌???? #VMAspic.twitter.com/NtZXuaWSf5

— Pharrell Williams (@Pharrell) August 31, 2015
Can't wait for the #usopen to start! @Simona_Halep pic.twitter.com/ArpvGnYf3d

— US Open Tennis (@usopen) August 29, 2015
I don't know about you, but my eyes are alight with future job advertising opportunities!!!!
2015's Toughest Interview Questions: UK vs USA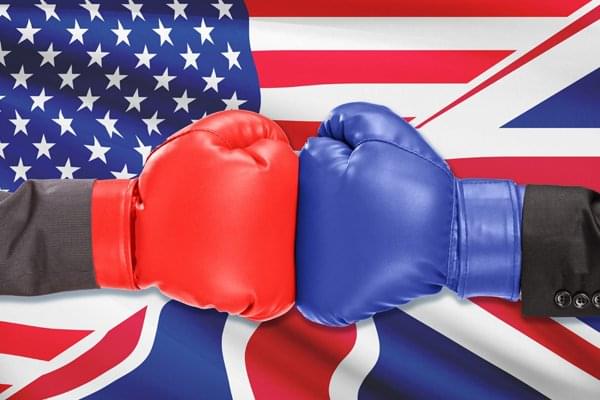 The toughest job interview questions of the year for both the UK and America (as compiled by Glassdoor) have been revealed! So if you're looking to give your clients the low-down on the latest interview topics to wow prospective employers, stay tuned.
Joe Wiggins is the Head of Communications for Glassdoor in the UK, and in an interview with The Independent he explained that the purpose of such questions is "to see how you react under pressure. It's to see what happens when the rug is pulled from under you – how do you prepare for the completely unexpected?" Wiggins added: "The message for candidates is to be prepared for anything and try to practice these sorts of questions, but not to worry too much. No one is going to know the answer to these things."
The 10 Toughest UK Interview Questions in 2015:
1.      "Can you calculate how many tennis balls are used during the course of Wimbledon?" – Accenture
2.      "Estimate the total number of cars in the UK." – Barclays Investment
3.      "How many calories are in a grocery store?" – Google
4.      "How would you sell a fridge to an eskimo?" – Harrods
5.      "What would you take to a lonely island with you and why?"– Urban Outfitters
6.      "Is Batman a super hero?" – AlphaSights
7.      "You have 17 red and 17 blue balls, and you remove 2 at a time. If the two are the same colour, add in one extra blue ball. They are different colours, add in an extra red ball. What colour is the final ball removed?"– Geonomics
8.      "What cartoon character would you be and why?" – ASDA
9.      "What is the wildest thing you have done?" – Metro Bank
10.  "What was your opinion of the film Blair Witch Project?" – Jefferies & Company
The 10 Toughest US Interview Questions in 2015:
1.      "What would you do if you were the one survivor in a plane crash?" – Airbnb
2.      "What's your favorite '90s jam?" – Squarespace
3.       "If you woke up and had 2,000 unread emails and could only answer 300 of them how would you choose which ones to answer?" – Dropbox
4.      "Who would win in a fight between Spiderman and Batman?" – Stanford University
5.      "If you had a machine that produced $100 for life what would you be willing to pay for it today?" – Aksia
6.      "What did you have for breakfast?" – Banana Republic
7.      "Describe the color yellow to somebody who's blind." – Spirit Airlines
8.      "If you were asked to unload a 747 full of jelly beans, what would you do?"– Bose
9.      "How many people flew out of Chicago last year?" – Redbox
10.  "Who's your favorite Disney Princess?" – Cold Stone Creamery 
Want to keep up to date?
Join our 75,000+ subscribers who do!