7 Flawless Tips for Making a Good Impression on an All-Star Candidate
First impressions really count. One situation where they can have a huge impact is when you're trying to attract top talent to your company. Here are seven tips for making a good impression on an all-star level candidate:
1. Think About your Employer Brand
Develop a strong and attractive employer brand and you could make a good impression on that all-star candidate before they even walk through the door. The best brands are known as great places to work – they have excellent resources, dynamic workforces and great projects to work on. They also know how to sell these attributes to prospective employees.
2. Develop an Efficient Recruitment Process
Your recruitment process may be the first real contact a candidate has with your company. It needs to be efficient and professional. Make sure the left-hand knows what the right hand is doing. Adhere to timescales wherever possible. Try and ensure the recruitment process is fast and effective.Many good candidates have been lost or poached because company recruitment has been too slow.
FREE EBOOK
The Ninja's JUMBO Guide to LinkedIn (Part One)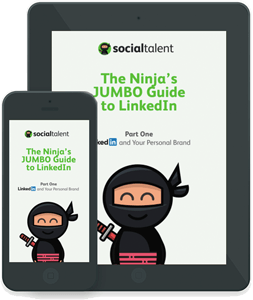 3. Maintain Good Communication
Sometimes though, it isn't always possible to speed through the recruitment process. Managers need to be consulted or references need to be checked. Whatever happens, keep your all-star candidate up to speed with developments. Good communication is a characteristic that employees value in their employers. It could also make the difference between your candidate patiently waiting for more news or starting to look elsewhere for their next opportunity.
4. Be Flexible About What You Offer
Most candidates will want a good salary and the opportunity for job progression. But you may also have to be flexible about what you offer if you want to impress the best. Some candidates may value flexible working. Others will want their own office space. More still will want the chance to develop their own creative ideas that could be of benefit to the business. Work to understand what your candidate is seeking from the job and then try to be flexible in offering it.
FREE EBOOK
The Ninja's JUMBO Guide to LinkedIn (Part Two)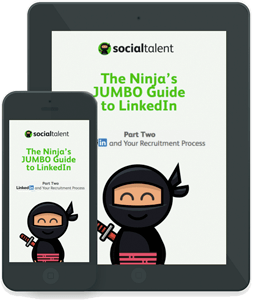 5. Offer Employee Perks
Employee perks show candidates that you value your employees and the work they do. They also show that your company offers more than just a pay packet. Perks could include a good vacation allowance or health insurance or a gym membership. The most important thing is to tell your prospective employees about the different perks you offer during the recruitment process.
6. Create A Positive Office Environment
When your candidate comes to interview, they will get their first look at your office environment and culture and this can affect their impression of the job and position.Offices should have lots of natural light, comfortable desk spaces and areas in which to take breaks and relax. Even on a short visit to an office, it's possible to discern whether the atmosphere is positive or negative. Foster good relationships with and between teams to ensure a healthy and happy work environment.
7. Get Feedback from Current Employees
To really hone and perfect your recruitment process and your first impressions, seek the opinions of your current employees. They could give you an insight into where and how things could be improved by remembering their own experiences of the process. By incorporating these improvements into your recruitment, landing all-star candidates next time round will be quicker and easier.
When it comes to all-star candidates it is important that they impress you. But you also need to be conscious of impressing them too. Make a good impression during the recruitment process and you could soon be making that prospective employee into an integral, essential and successful part of your team.
Rachel is a mother of 2 beautiful boys. She loves to hike and write about travelling, education and business. She is a Senior Content Manager at Bizset.com – an online resource for relevant business information.
Want to keep up to date?
Join our 75,000+ subscribers who do!