Keep up with the latest hiring trends!
/
/

Twitter: 7 Things EVERY Recruiter Should Be Tweeting About
Twitter: 7 Things EVERY Recruiter Should Be Tweeting About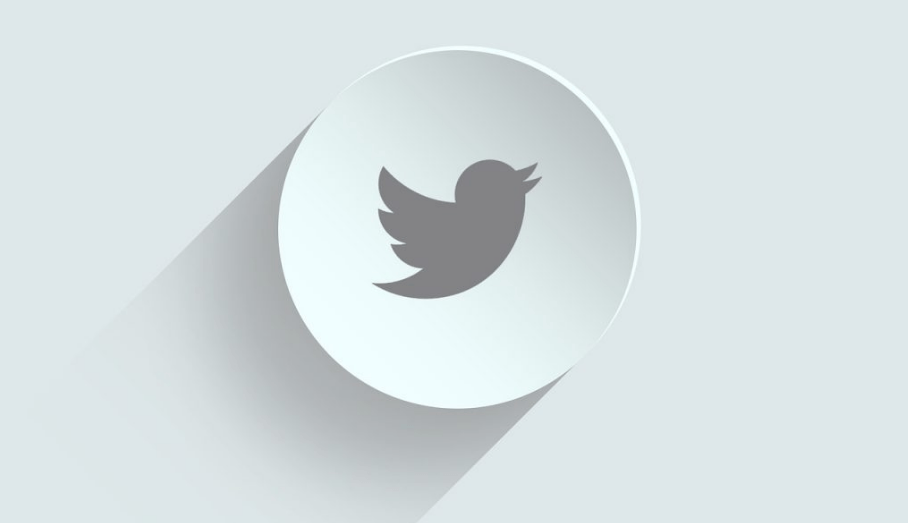 Does the idea of tweeting as part of your daily work make you want to run for the hills? Have you resigned yourself to the fact that you're 'just not a Twitter person'? Sure, Twitter can be daunting if you've never used it before, but it can also be one of the best ways to build your personal brand and make a name for yourself in the recruitment industry. Today, we're sharing our top tips to help you get tweeting, so you'll be thinking in 140 characters or less in no time!
Why should you start tweeting?
First things first – why should you be tweeting about recruitment? Surely Twitter is simply a place to share your personal thoughts and comedic observations, right? Well yes, but there's also plenty of room for you to add interesting insights about your industry into the mix. Remember, you're an expert in recruiting and sourcing. Because it's the norm to you and your colleagues, you might have a skewed reality about the expertise that you actually have as a recruiter, but the candidates that you are trying to recruit actually do have an interest in what you have to say. But isn't that more so something that the brand should be doing as opposed to the individual? Believe it or not, it's actually much easier to get engagement from candidates when you speak as a real person rather than just a brand.
Think about the candidates that you work with on a daily basis. What kind of tweets do you think they would appreciate? Posts about every job that lands on your desk? Probably not. Endless internet memes? Probably a little wearing after a while. It's all about balance. Here are some ideas on the type of content that you can start tweeting:
1. News-Driven Tweets
Try to share any recruitment pieces you find online that are specifically news-driven. For example, if LinkedIn releases a new report on recruiting trends, or if a multinational announces a new quota for diversity within their company, post about it! Staying on top of the latest news demonstrates that you have a genuine interest in your industry. Check out our weekly news round-up every Monday for the top recruitment stories that are making headlines, and feel free to share!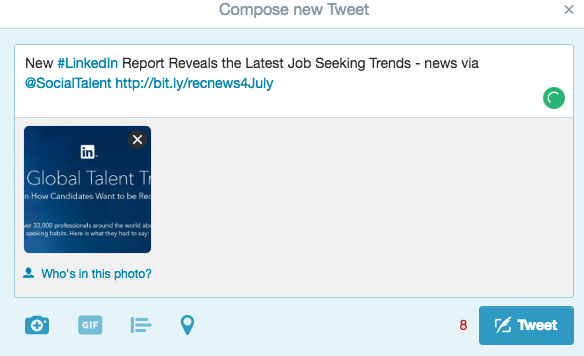 2. Your Personal Interests
It's every bit as important to tweet about the things that interest you outside of work as much as it is to share what's going on in the recruitment industry. Not only is it a way for you to show your personality, but if a candidate can find something that they have in common with you (that's deemed to be uncommon amongst the general population) they're far more likely to be influenced by what you have to say.

3. Twitter Chats
Take part in Twitter chats and Q&A sessions that are taking place around the subject of recruitment. Get involved by asking questions and tweeting your comments on the particular. Don't forget to use whatever the official hashtag for the session is in your tweets. Even if you don't have a question to ask, you can easily take part just by quoting the main points that are being made in the chat. If you're looking for somewhere to start, we host a webinar every month and live tweet using #SocialTalent during the 30 minute session. Sign up and feel free to join in!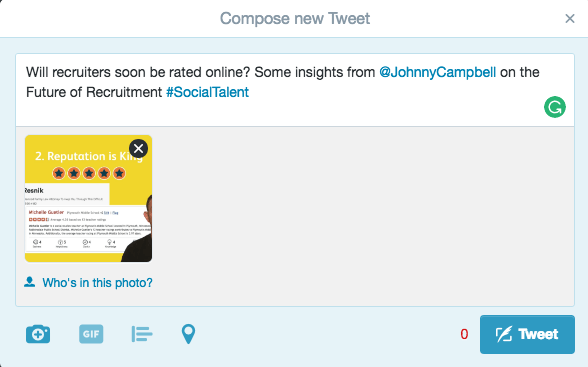 4. Interesting Articles
Spend some time looking through popular recruitment websites for articles that interest you. Some of our favourite websites for this include Recruitment Grapevine, ERE, SouceCon, and Undercover Recruiter (as well as our own blog of course!).
When you find an article that you'd like to share, rather than just copying and pasting the link, change it up – tag the author and add a personal comment. Essentially, tell us why you're sharing the piece.

5. Offline Questions
If you've answered a question from a candidate offline, share the answer online. You've already answered it to one person so why not leverage it for the masses?! Chances are that if one person has thought of that question, plenty of other people have too. Remember, you have this wealth of knowledge about recruitment – there's no reason why you shouldn't be sharing it!

6. Events
Whenever you attend a recruitment event, be sure to find the official hashtag and include it in any tweets that you post. Take lots of photos and include them in your tweets. If you attend any talks as part of the event, tweet along quoting any key takeaways and don't forget to tag those speakers. This is an excellent way to grow your followership and to network with your peers in the recruitment industry.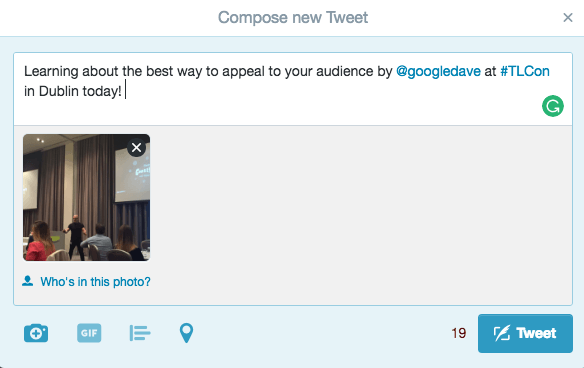 7. Job Openings
Finally, job openings. It's perfectly fine to tweet about the jobs that you have available…but only if you're also doing all of the above! Candidates simply aren't interested in following people on Twitter whose timelines look like a stream of job board postings. You need to think about Twitter as a community, not as a broadcast list. So when you do post job openings on Twitter, don't just leave the generic job title and link, make sure that it's clear that you have composed the tweet and that you are looking to your network for help in filling this position. It's also worth adding in something like 'Please RT' to encourage your followers to share the tweet.

So what do you think? Are you ready to start tweeting yet? Here's an exercise to put what we've said into practice.
We challenge you to post 3 tweets today.
1 – Find a piece of content that you like that is relevant to recruitment and retweet it, adding your own comment to the tweet.
2 – Find another article online and share it, but in your own words.
3 – Ask your network for help with a job, be friendly, personal and ask your followers to RT.
Try it out and let us know how you get on. Remember, you can tweet (or retweet) us anytime! Find us on Twitter here.
Find out how the likes of IBM, IKEA and Siemens
drive hiring excellence with SocialTalent
---