How to: Add a LinkedIn Button to Your Gmail Signature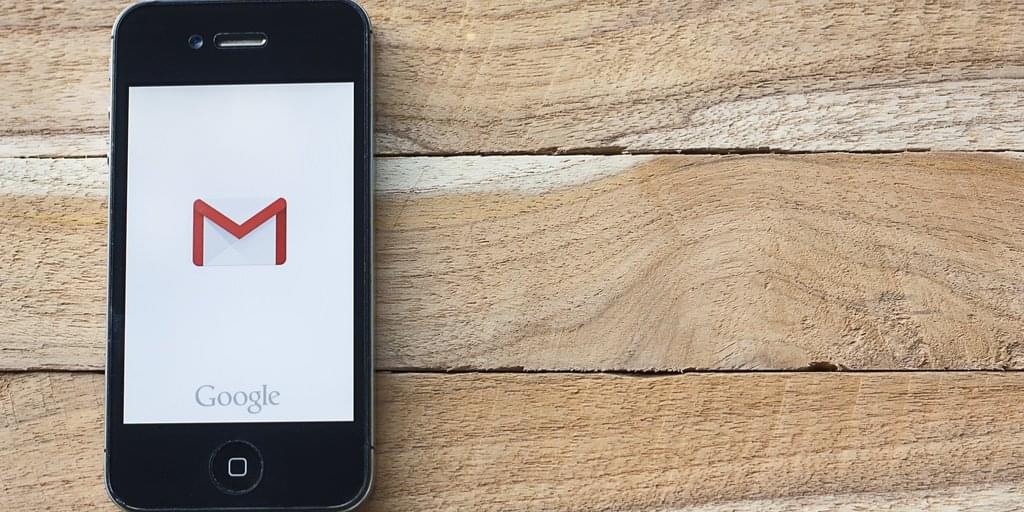 Make your email signature work just that little bit harder for you by adding a link to your LinkedIn profile in the form of a LinkedIn button. Here's our step-by-step guide for how to do so:
Step 1:
Go into your Gmail account and open up your Gmail settings by clicking the cog icon in to top right hand corner of your Gmail dashboard, and selecting the Settings option: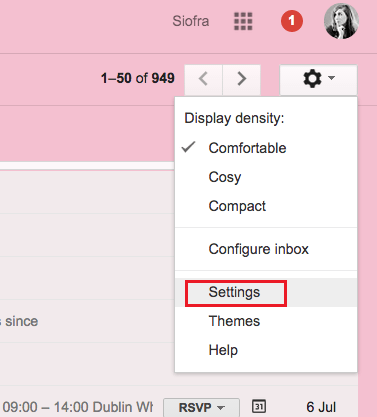 Step 2:
Once inside your Gmail settings, scroll down to the Signature option: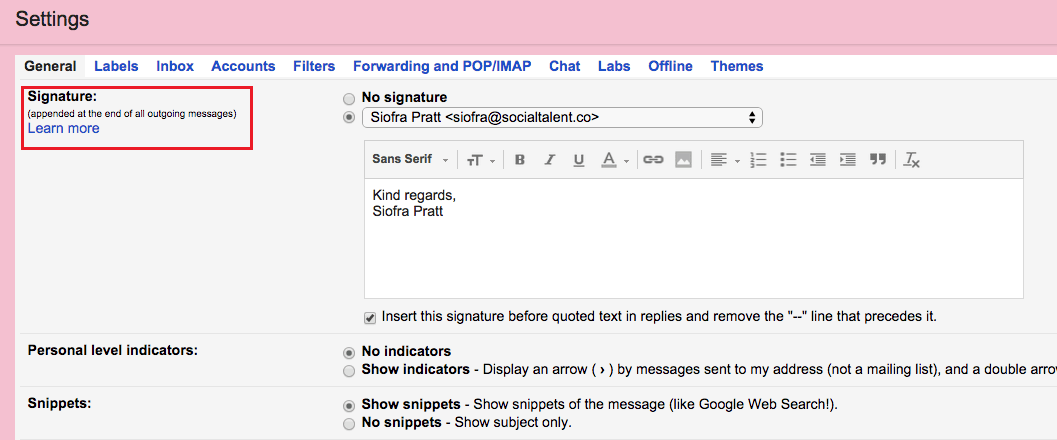 Step 3:
Open a new tab in your internet browser and go to your LinkedIn account. Once on LinkedIn, open your LinkedIn settings by hovering your cursor over your thumbnail photo in the top right hand corner and selecting the Privacy & Settings option from the dropdown menu: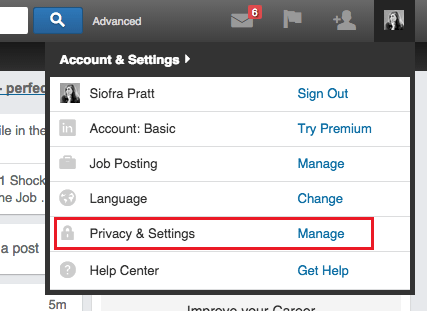 At this point you will be asked to re-enter your LinkedIn password. Please do so.
Step 4:
Once in your LinkedIn account settings, select the Edit your public profile option under the Helpful Links heading: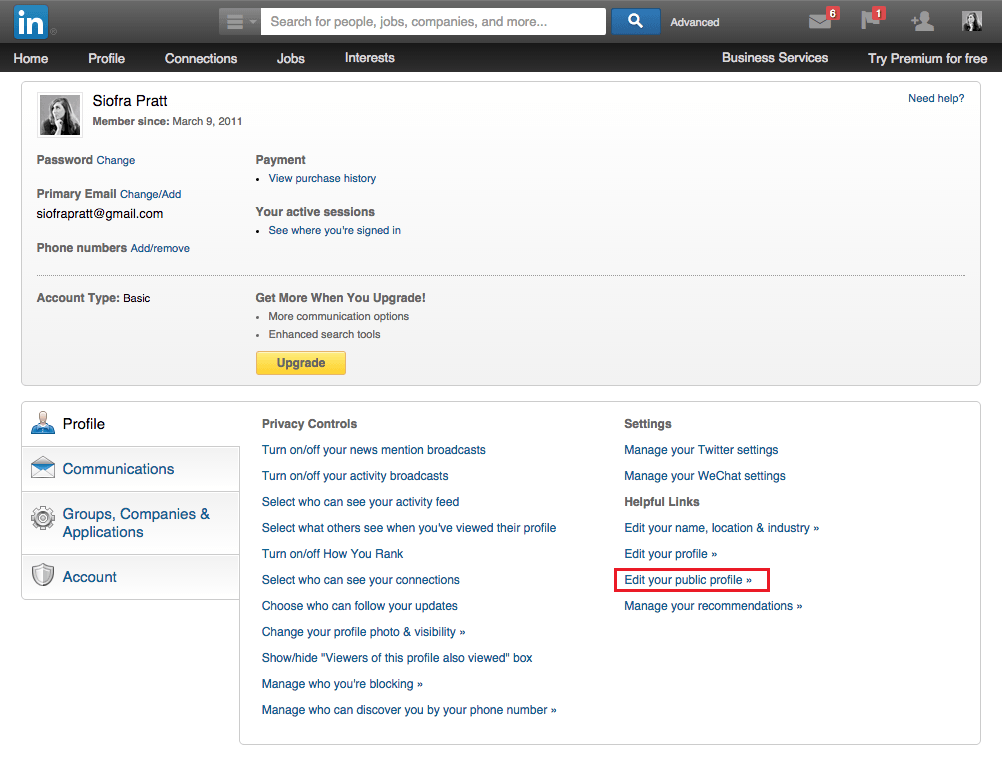 Step 5:
Scroll down to the Your public profile badge section on the right hand side of your Summary and select Create a public profile badge.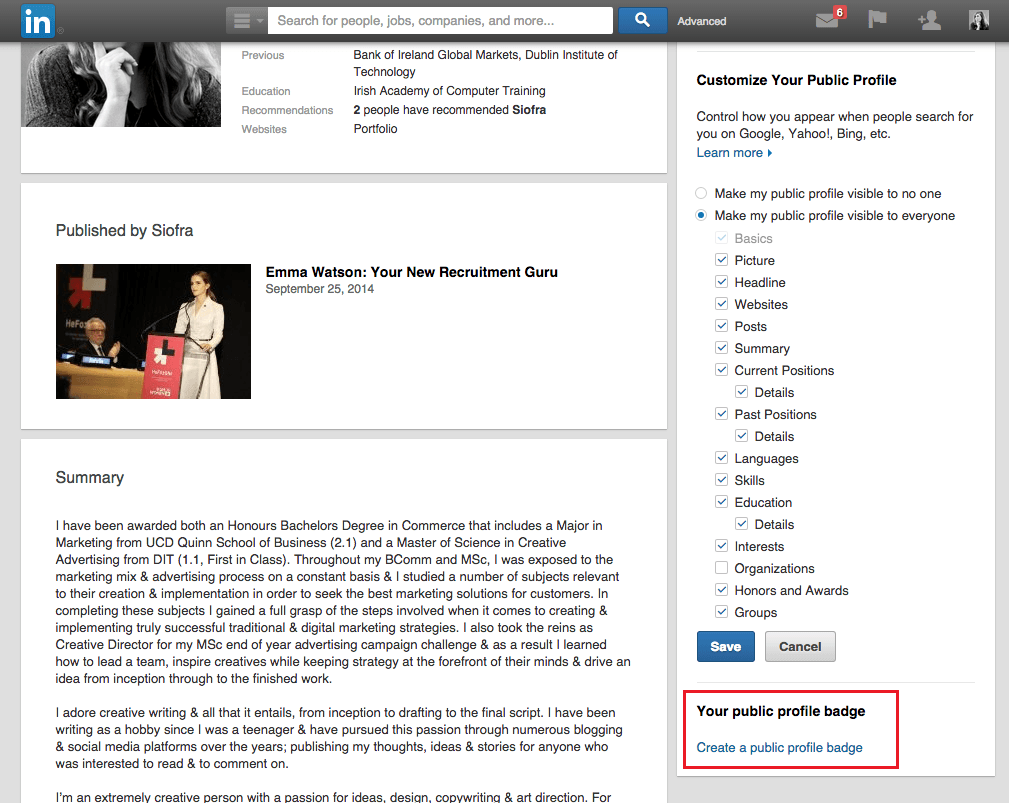 Step 6:
You'll be given lots of different options regarding buttons to choose. Decide which button most appeals to you (we recommend either one of the two (160×33) sized buttons or the (160×25) sized button), then copy the code associated with that button and paste it into a new TextEdit (on Mac) or NotePad (on PC) document, as shown below: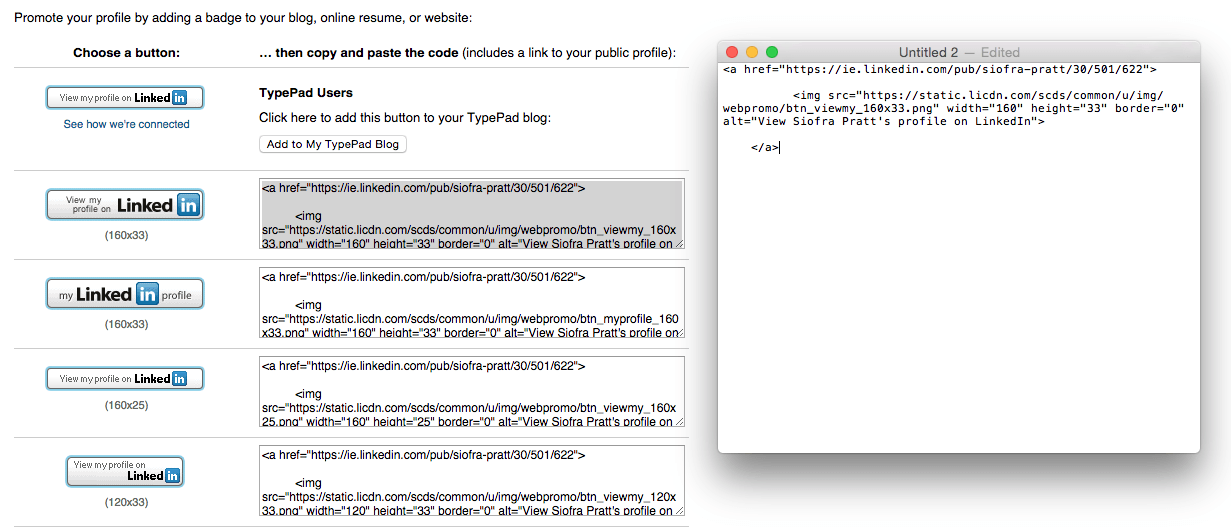 Step 7:
As we are adding this button to our Gmail signature and NOT to a website/blog, we do not need to use all of the code LinkedIn has supplied us with. At this point, we only need the image portion of the code – the URL starting in https://static.licdn.com and ending in .png. So highlight and copy it: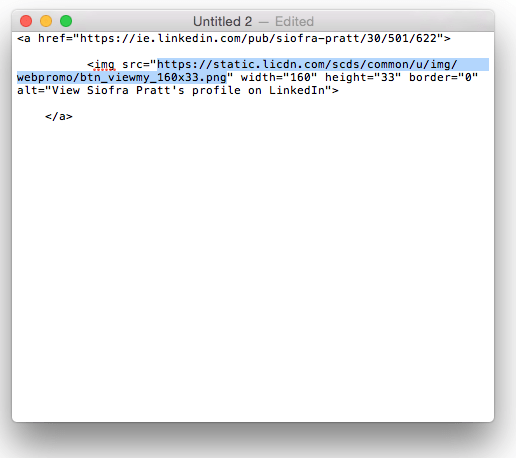 Step 8:
Go back into your Gmail settings now, and click the Insert Image icon in the Signature section: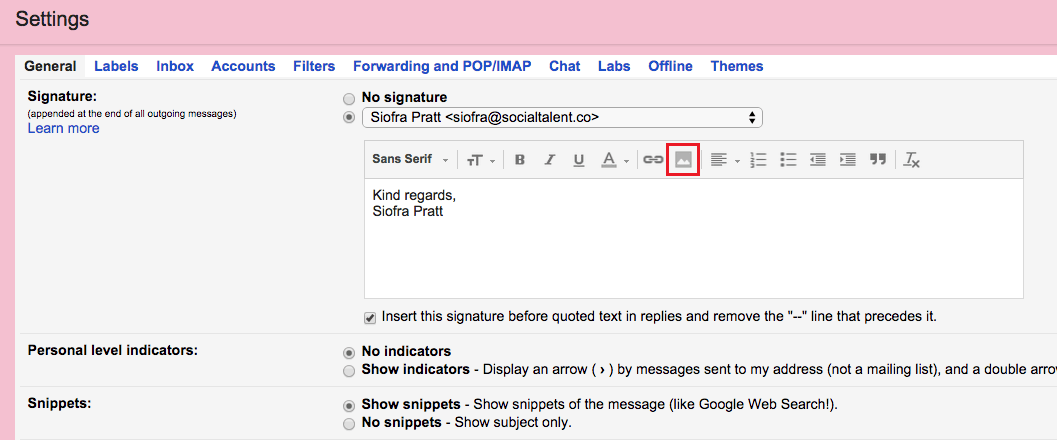 Select the Web Address (URL) tab and paste the image portion of code you copied from LinkedIn in here: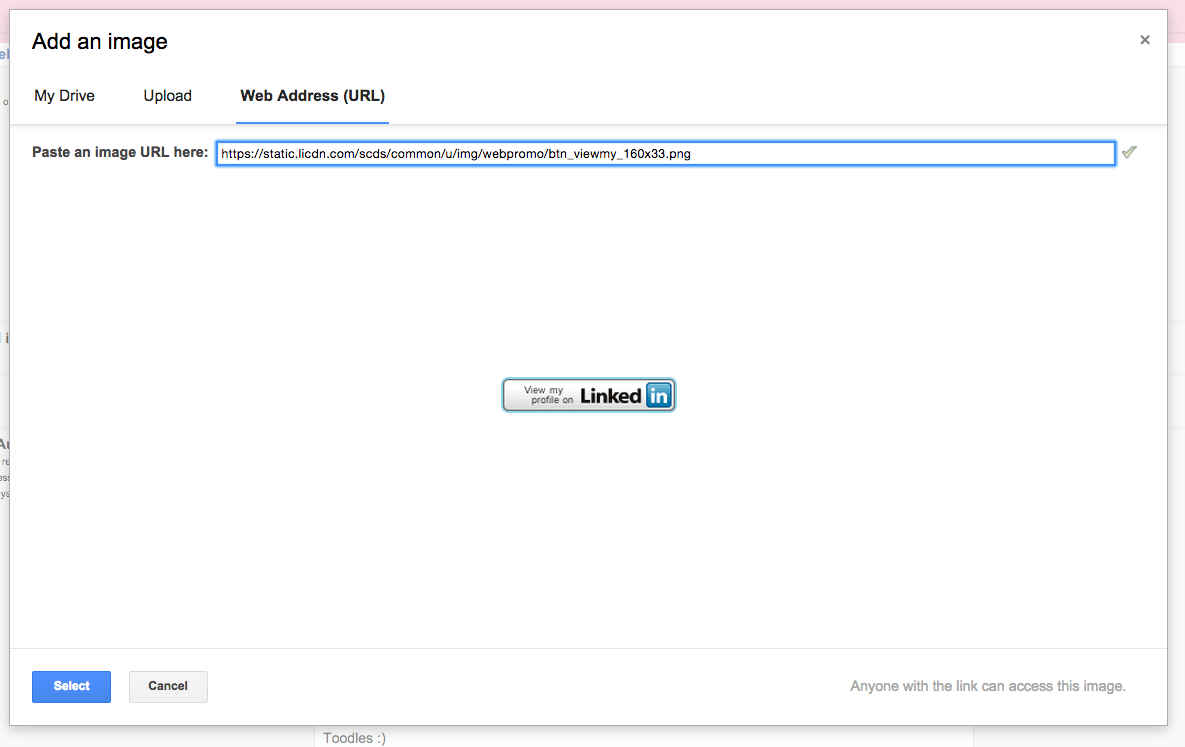 When Gmail displays a preview of the LinkedIn button you've chosen, click Select. That button image will now be inserted into your Gmail signature.
Step 9:
Now all you need to do is add a hyperlink to that image, so that when people click it, it brings them straight to your LinkedIn profile. To do so, use your cursor to highlight the LinkedIn button image in your signature so that the options Small – Medium – Large appear. Then click the Add Link icon:

The options associated with the image will change. Select the Change option from these new options:

Gmail will then ask you to enter a web address. That web address needs to be the URL of your unique LinkedIn profile: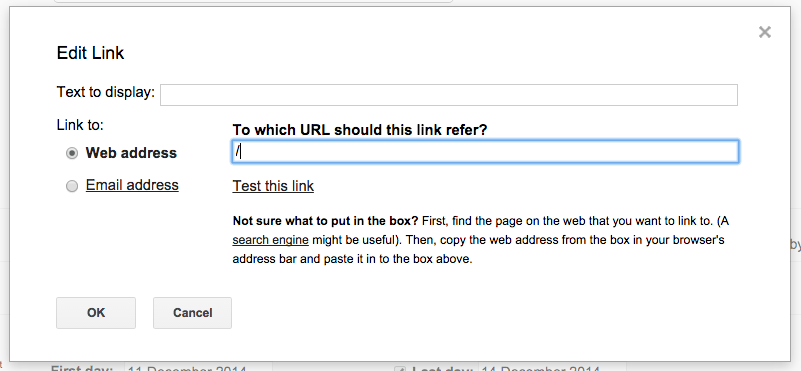 Step 10:
To find this URL go back to the code you copied and pasted into your TextEdit/Notepad document, and copy the URL relating to your LinkedIn profile: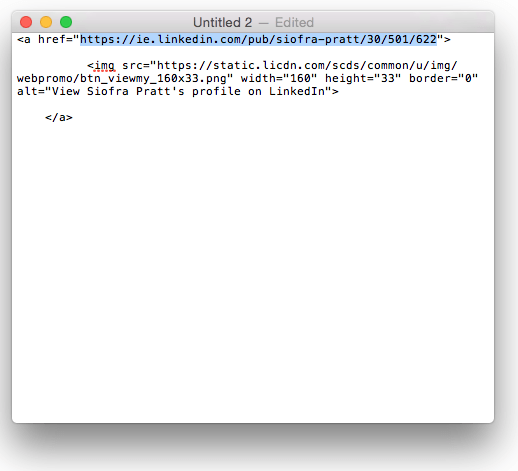 Then paste it into the web address box back in Gmail: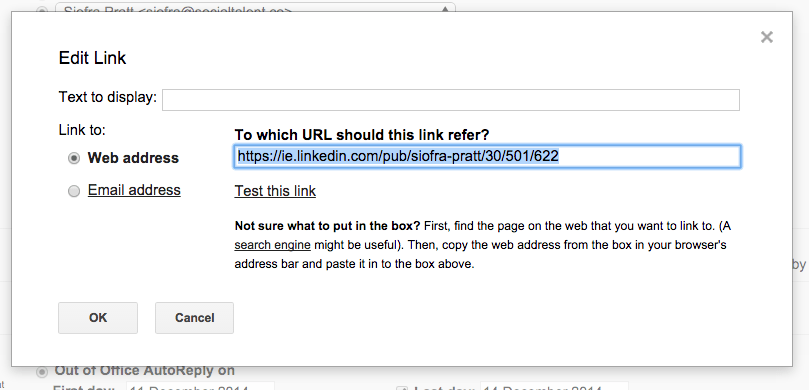 Click OK.
Step 11:
Now that your image has been hyperlinked, all you need to do is click Save Changes in Gmail settings and you're done!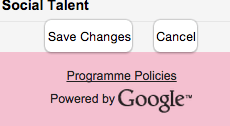 The next time you send an email to someone via Gmail the option to visit your LinkedIn profile in one click via a LinkedIn button will be available to them.
Now that you've added a LinkedIn button to your Gmail signature, it's time to spruce up your LinkedIn profile. Download our FREE guide now: How to Create an All-Star LinkedIn Profile
Want to keep up to date?
Join our 75,000+ subscribers who do!