Keep up with the latest hiring trends!
/
/

How to: find candidates using Facebook
How to: find candidates using Facebook
It's no secret that not everyone is on LinkedIn, but pretty much everyone is on Facebook (1 in every 9.25 people in the ENTIRE WORLD has a profile). Never before has the world subscribed to the one social network in such numbers. And yet, businesses and hiring managers are scared to source from it. A recent Jobvite.com survey found that 95% of US businesses that anticipate increased hiring this year intend on investing in Social recruiting, with 80% of companies already using social networks to recruit (predominantly LinkedIn). Now is the time to look at Facebook as your hiring source, not just a fan-source.
Why be so scared to recruit using Facebook?
More than likely, you have a personal Facebook account. What you put on that account would generally be personal, with updates from your friends and family, photos from events you attended, and personal relationships and conversations with actual friends. Increasingly though, we are seeing more businesses or fan-page updates in our Newsfeed than we are seeing updates from actual friends. This is not an accident. Facebook has geared its EdgeRank algorithm (which determines what gets in to ones newsfeed) more towards brand pages than ordinary people. So really, Facebook users are already seeing more business-focussed updates, so why be scared to approach potential candidates on Facebook? It's no longer a purely personal space.
Methods to source Candidates
In our webinar on How to Source Candidates using Facebook (which you can watch by clicking here) we demonstrated how to source candidates using a few tools that gets you around the myriad of privacy settings that users have set around their account. Now we're not advocating stalking, and nothing we can do will allow us to see your Friday-night-out photos or get your phone number without you allowing us to do so, so please don't worry!
Firstly, if you haven't done so already, you should set up a business profile on Facebook and gather fans. If your organization is a recruitment consultancy or if you hire in-house, having a fan-page which allows you to update regularly to your fans what's going on in your business can only be an advantage. Anyone who comes through your doors should be encouraged to Like you on Facebook. Facebook also want you to advertise with them to gain more fans, and this is really simple to do and can prove to be very effective. In our own experience of Facebook advertising, we've learned that advertising to like a Facebook page rather than click out to another external website proves much more effective and we achieve a higher Click-Through-Rate and conversion to a "Like" by doing this. Anyone who likes your page, you can aim to convert them in to a potential candidate by messaging them (completely free) from a personal Facebook account. Sadly we cannot message random people through brand-pages, and brand new accounts with no friends and photos and activity will not be allowed to message people either. It must be a real-life account – but your privacy settings around photos, updates and details still remain once you message that person.
There is another tool that is perfect for recruiters to search profiles using keywords and filters that will find people who live in a certain area and work at a certain company. This app is called "Advanced Search 2.2 Beta", and it's free. To access this tool, search in the top box in Facebook for "advanced search 2.2 beta" and allow it access to your profile.

Then, within the app you can search profile data like Workplace, School/College/University, location, age, gender and very much more to come up with results of profiles on Facebook from which you would like to source.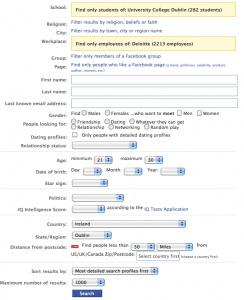 Unfortunately this app can appear a bit spammy, and it asks you to "Post to your Wall" (click X on the top of the box to exit, ignore it) and you can view a potential candidate's profile and send them a message.
A great tool within Facebook (and built by Facebook) is the Friend Finder. This will allow you to search for people using specific filters like Workplace and Education, from which you can view results, view their public profile and send them a message. To access this tool, on your left-hand panel in Facebook Newsfeed, click on Friends > Other Tools > "Find Friends, classmates and coworkers".
From here then you can enter free-text to search for people in your extended network that match specific data you request, like location, workplace, age, gender, university etc.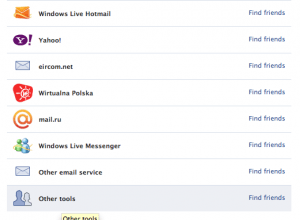 The handy thing is when you input the employer you're looking to source from, you'll be prompted to select from a range of specific employers with that name that other people have signed up to. While this is not built for recruiters, it is a very powerful tool to source people from Facebook.
Methods to connect with these new-found profiles
In the top left of each person's profile will normally be a "Send Message" button (unless they're part of the 10% of profiles that have disabled this function). Click on that button and a message box will appear, you can attach a file or a movie clip (although we recommend you avoid doing this until you have established contact with the person, and only then attach the job-spec for example). Facebook is a personal network not a professional one, so one must respect the medium when contacting potential candidates. It is almost always better to simply message them and ask them for a referral than it is to try and interest them in a job. As we stated before, you cannot message people from a brand new account, so be approachable and write in a way that is friendly and casual. Believe it or not, smiley-faces are the norm!
So tell us – have you begun recruiting through Facebook yet? What was your response-rate like? Did potential candidates appreciate being contacted through Facebook at all? Tell us your experience in the comments.
Also, our Autumn season of Weekly Wednesday webinars begins next Wednesday August 31, 4pm UK time (11am Eastern, 8am Pacific) and we kick off with Online Candidate Referral Tools with JG Archer of SocialReferral.com. Register by clicking here for the free webinar.
Find out how the likes of IBM, IKEA and Siemens
drive hiring excellence with SocialTalent
---