Keep up with the latest hiring trends!
/
/

How to: Source and Engage Candidates on Instagram
How to: Source and Engage Candidates on Instagram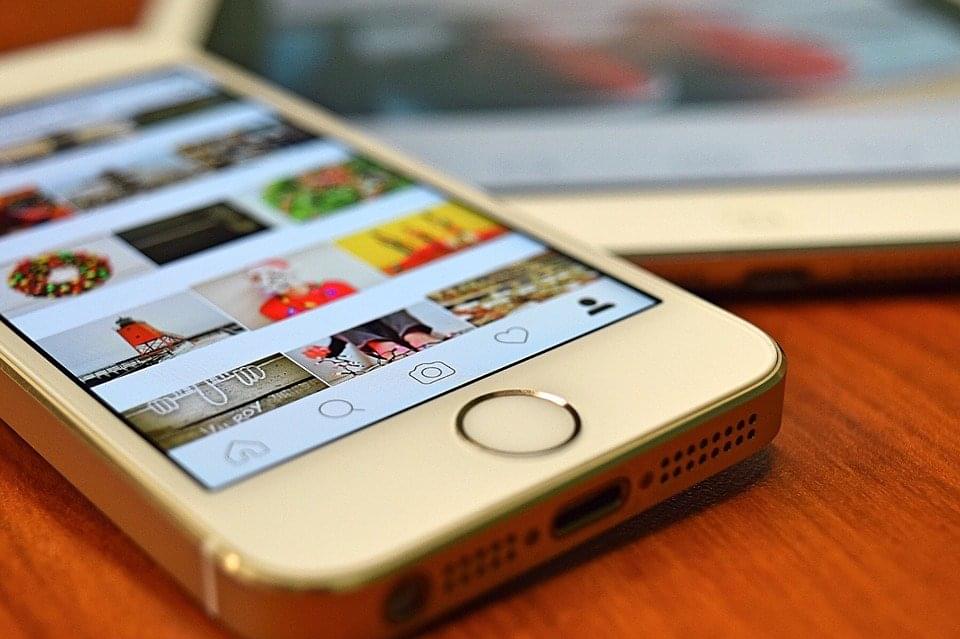 The image posting social site, Instagram, now has 400 million active users. 30% of internet users are using it, and over 60% of those 400 million users log in daily, making it the second most engaged network after Facebook. Oh, and a whopping 90% of users are younger than 35, making it one of the most popular websites among Millennials.
Yes, Instagram is currently the 15th most popular site in the world, and it's popularity along with it's users are growing by the minute. As such, Instagram is awash with potential candidates. But as a recruiter, I'm sure you're wondering "How do I find people on Instagram?!" Well, unfortunately there is no Boolean search capability within the People search section of the Instagram app or the desktop site (you can only search for people using one keyword at a time). So, how do we go about finding people on this much loved platform?
Answer: we need to use our Google x-ray searching skills.
[cta-blog]
1. Step One
To start an x-ray search of Instagram using Google, we first need to enter a very specific command into Google search box. That command is as follows:

There are no spaces between any of the above words or symbols, just one long search term.
Hit 'Google Search'. What comes up is all of the available web pages Google can search within Instagram.com – of which there are many thousands! Straight away you'll notice more official pages associated with Instagram like their Instagram for Business page where you can create ads to place on Instagram, but below that you will start to see actual Instagram profiles. The ones that appear in this initial search are some of the most popular profiles on the site: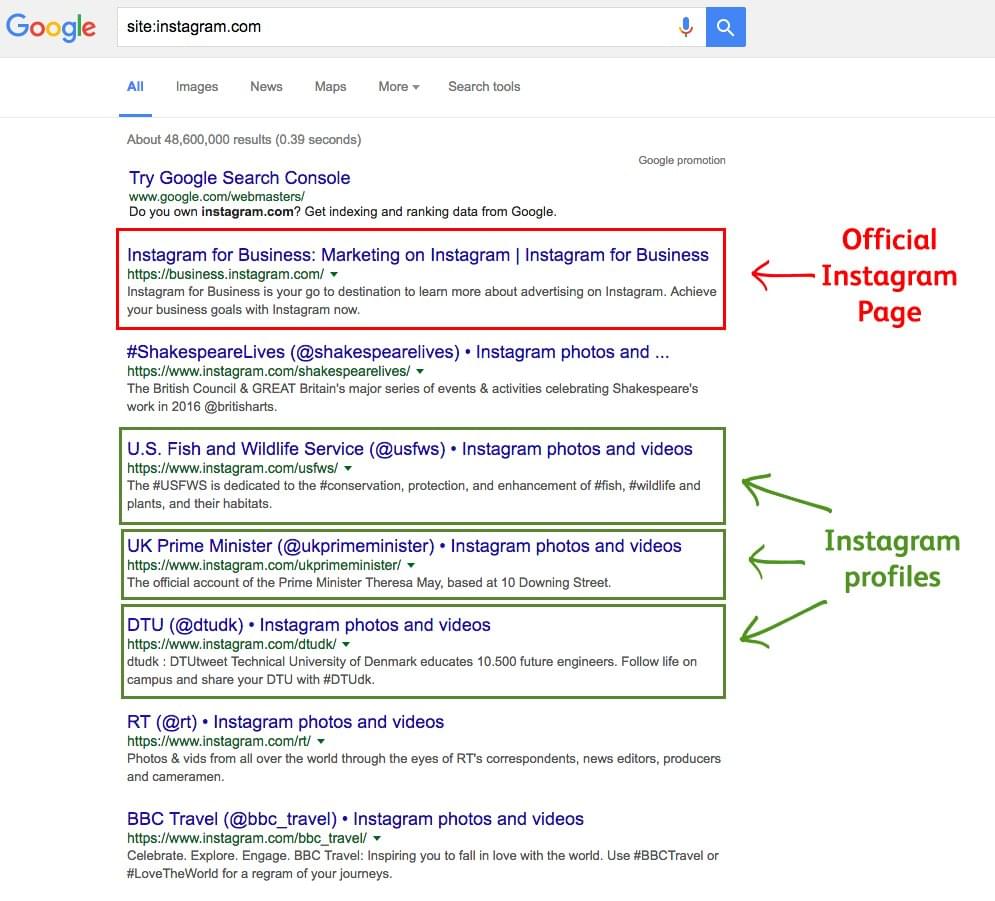 2. Step Two
Create a really simple Boolean search string containing all of the elements you're looking for. For example, if I was creating an x-ray Boolean string to look for a Content Marketing Executive in New York City, it might look something like this:
site:instagram.com ("content marketing" OR "inbound marketing" OR "content writer" OR "content executive" OR "inbound executive") ("new york" OR nyc)

When I run this search in Google it will bring back results of Instagram users who have any and all of the above keywords included in either their bios or on their posts: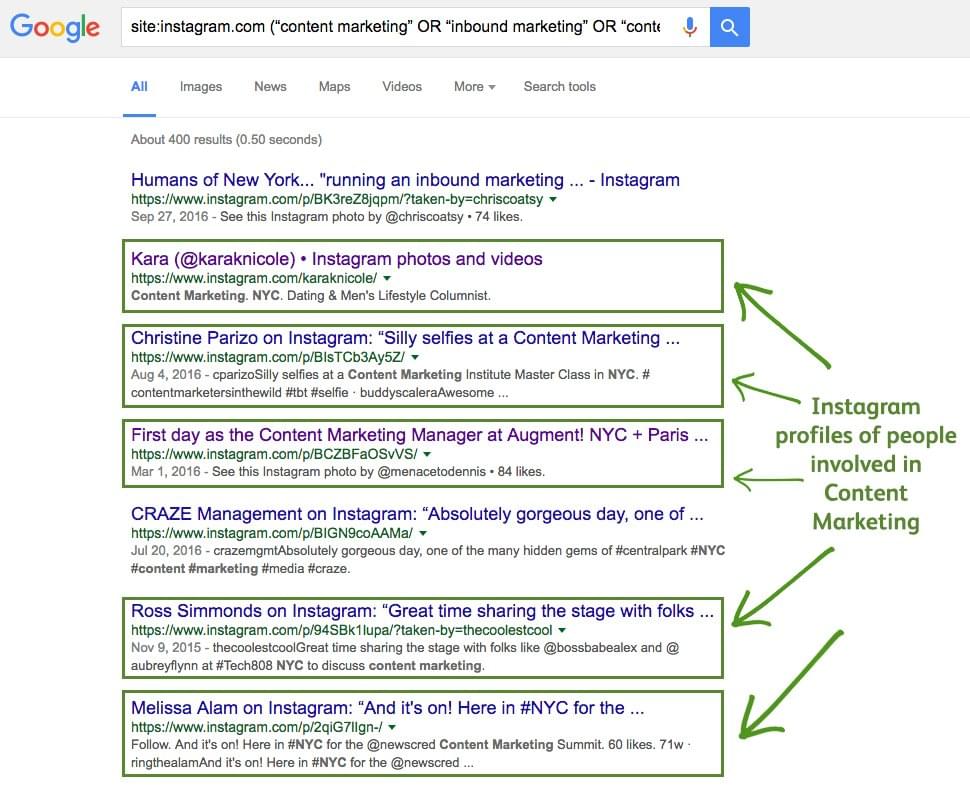 3. Step Three
After you've found the candidate you're looking for on Instagram, it pays to follow these best practice tips when it comes to engaging them successfully:
Reach out to people via the comments section
There are two ways to reach out to Instagram users on the site itself. The most visible and the most common form of communication on the site is comments left on photos. The second is private messaging. We recommend contacting candidates via the comments section first as they are more likely to notice you here. Also, if you are commenting on one of their photos (especially if it's a photo of their work), you will have a natural ice breaker with which to strike up a conversation: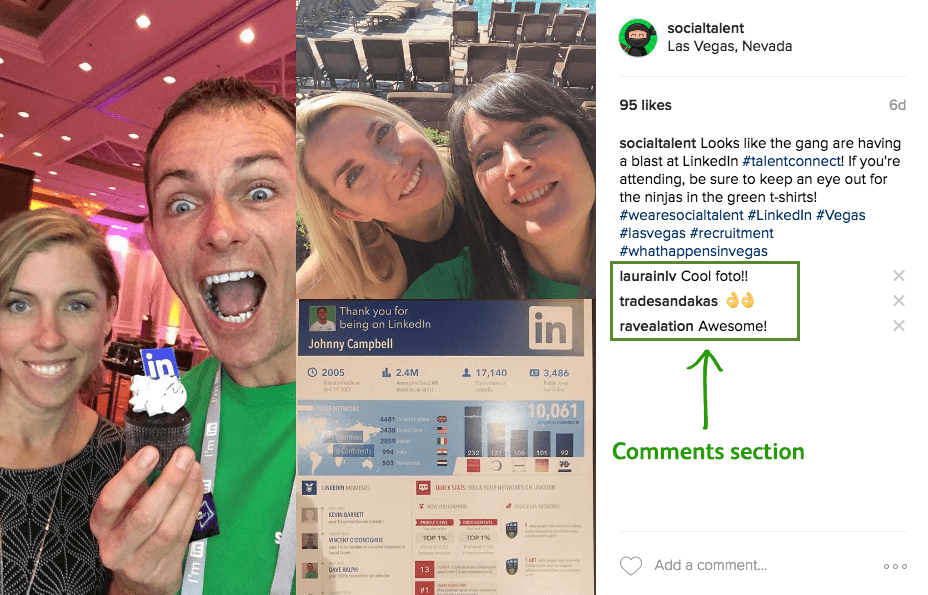 But if you prefer to jump straight into a private conversation, you will need to click through to their profile and click the 3 dots located beside their username, then select the 'Send Message' option from the dropdown menu: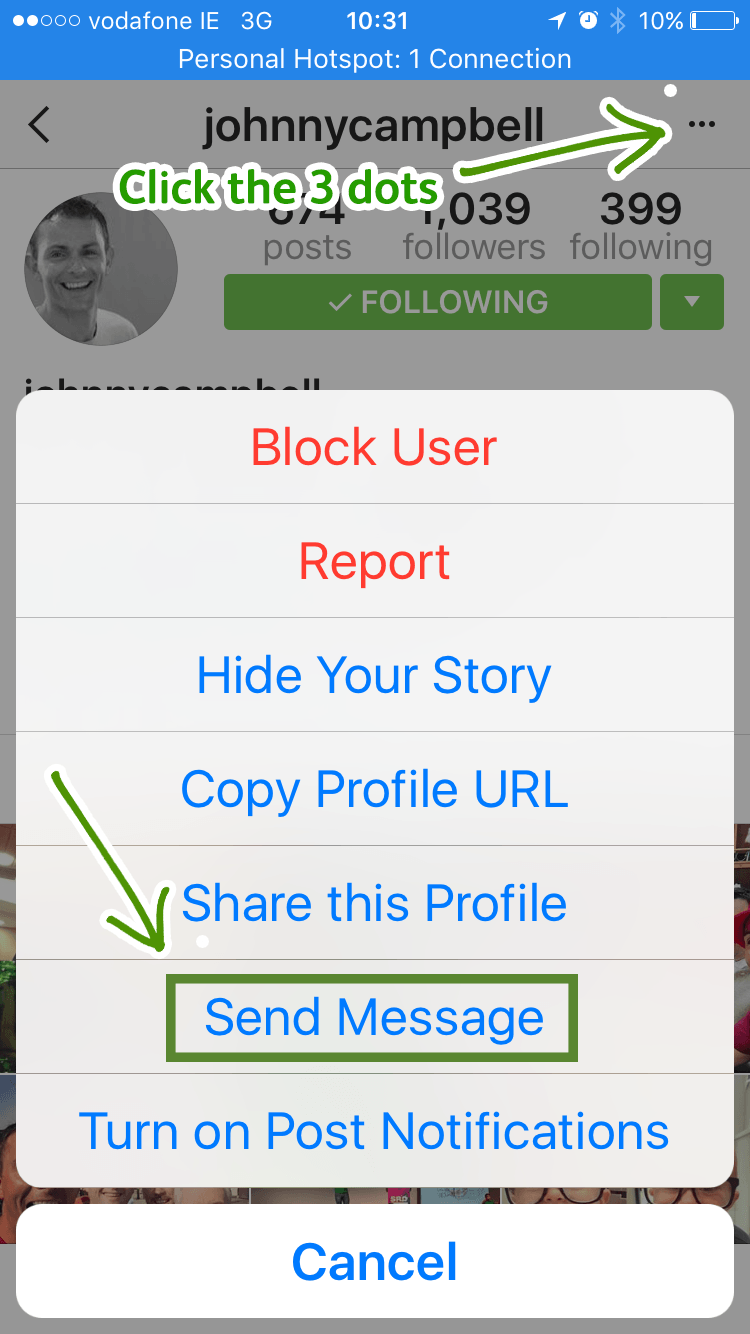 Keep your conversation casual
Instagram is NOT a professional network. People are not expecting to be approached about their work or a job opportunity here, so you need to introduce yourself and the idea very conversationally.
Move it offline ASAP
After making your initial approach via the comments or private messaging feature, try to move the conversation offline and to a more suitable place to discuss a job opportunity, as soon as possible. The best way to do this is by giving the candidate your email address or your phone number and arranging a time to get in touch.
If possible, contact them on LinkedIn or Twitter
If a candidate has included a link to their LinkedIn or Twitter account in their Instagram bio, we advise skipping contact on Instagram and instead, moving directly to LinkedIn or Twitter to reach out to them. Why? Well, as I previously mentioned, many people won't feel as comfortable discussing a new job on a platform like Instagram. It's just too casual/personal a space. They are much more likely to feel comfortable and willing to talk about your offer on LinkedIn or Twitter, plus there are also much better ways to communicate with candidates on these platforms than on Instagram.
So there you have it, three quick and easy steps to finding and engaging the very best talent Instagram.com has to offer. As always, we're keen to find out if this method works for you, so don't hesitate to get in touch. You can find us on Instagram at instagram.com/socialtalent or on Twitter @SocialTalent. Or if you have any alternative tried and tested methods of finding candidates on Instagram, that you think we should know about, let us know about them in the comments below or by emailing [email protected]
Find out how the likes of IBM, IKEA and Siemens
drive hiring excellence with SocialTalent
---