Keep up with the latest hiring trends!
/
/

New LinkedIn Company Updates
New LinkedIn Company Updates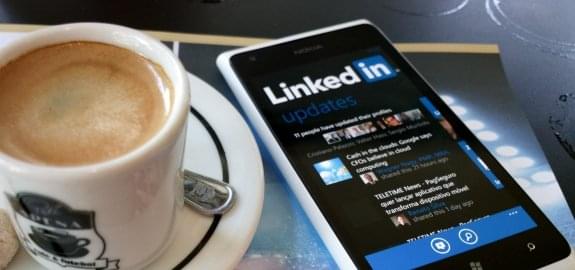 In the past, we have spoken at length about how important a LinkedIn company page can be when it comes to growing your business, widening your networking base and getting your brand seen by the right people. We've given you tips on how to get started with setting a company page, how to pimp it and ways to improve your company's visibility on LinkedIn. Today we're bringing you news of the latest updates to the LinkedIn company page service and how they can help you improve your LinkedIn company experience.
1. Post and 'Like' as Your Company
Previously, as a company page administrator you were required to comment, reply to comments and 'like' other posts and comments using your own personal page ID. This update now allows you to act as the voice of your company brand and comment and 'like' as your company. The new feature will undoubtably give marketing and social media managers greater control over their brand and how they engage with both new and existing customers. It will also allow companies to better align themselves with networks and groups they wish to have a strong presence in.
2. Pin Posts
Company administrators are now able to pin chosen updates to the top of their company page in the Recent Updates section. As you can probably already imagine, this is extremely useful to any company wishing to ensure a particular post is the first thing people see when they enter their page; job openings, calls to action, special events announcements, whatever it may be. Posts may only be pinned for a maximum of 14 days and pinned posts can be unpinned at any time.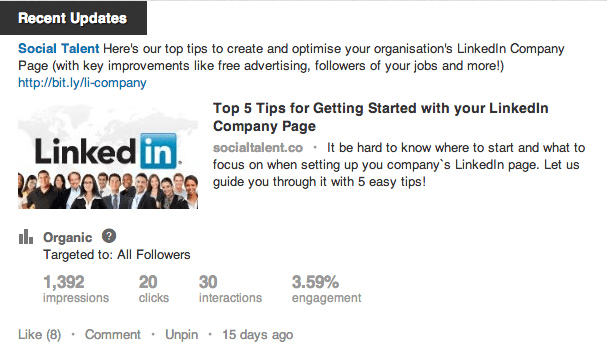 3. Sponsored Updates
Introduced on Monday, but still currently in Beta, are LinkedIn Company's Sponsored Updates. Sponsored updates will allow companies the opportunity to run promotional ads that will appear in users' news streams, just as they do on Facebook in peoples' news feeds. When it's rolled out, this new feature will ensure your content gets distributed directly to relevant professionals beyond just your followers and place it in the same stream they already search for and consume industry content in. Any segment of users can be targeted across LinkedIn's 225 million members and LinkedIn say the updates will be available to all company pages by the end of this month. A comprehensive analytics package to accompany sponsored updates will also be available and should make managing your sponsored updates easier.

4. LinkedIn Signal Scraped
Unfortunately, among all the nice new beneficial updates there is one not so helpful one. From July 23rd, LinkedIn Signal, the tool that allows you to search status updates and save them, will no longer be supported. LinkedIn aren't currently giving any information as to whether or not the feature will be incorporated into another product.
So now you're up to date, how to you think the new updates will benefit you and your company? Let us know in the comments below and if you feel you're in need of refresher with regards to LinkedIn Company Pages, check out Johnny's video below. If you would like to learn more about LinkedIn and how to utilise it properly for sourcing great candidates, then why not sign up for our Blue Belt In-person Internet Recruitment Training Day on August 6th to be hosted in Dublin.
Find out how the likes of IBM, IKEA and Siemens
drive hiring excellence with SocialTalent
---