Keep up with the latest hiring trends!
/
/

Social Recruiting Round-Up – July 2014
Social Recruiting Round-Up - July 2014
Hello and welcome to the first ever Social Talent Social Recruiting Round-Up, a collection of the best blogs, infographics and new stories posted on the Social Talent blog this month. We produce content for you guys to read, enjoy and learn from 5 days a week and we thought that sometimes it's just handy to have all the best bits put in one place:
Top Blogs in July: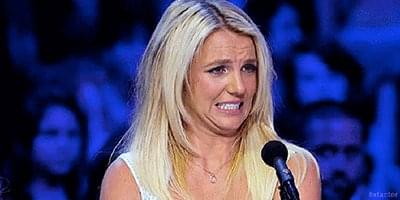 Back on July 1st we discovered that when job advertising goes wrong, it can go horribly wrong! And boy did it go horribly wrong for Apple. We explored just what made their latest attempt at job advertising so awful, and provided some suggestions for how you could avoid following the same path.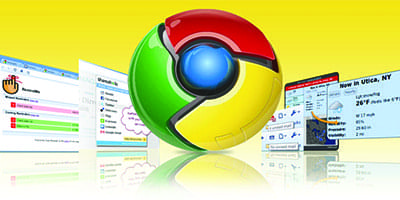 We love our Chrome extensions here in Social Talent Towers (we'll even be launching our own in the not too distant future!), so we wanted to share the love with you guys and let you in on a few technological secrets that'll help your working day be more productive, more efficient, easier to navigate, less stressful and a lot more pleasant!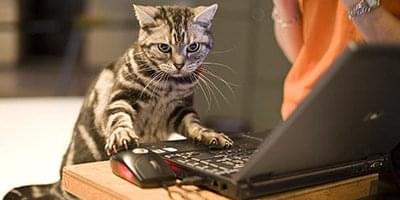 LinkedIn began opening up their publishing platform to the wider public this month and in order to help you get started sharing your experience and opinions on the platform we gave you 7 steps to LinkedIn publishing success.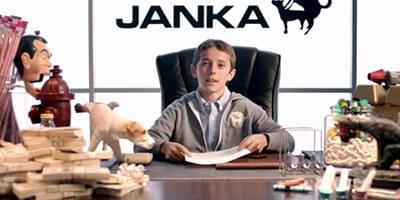 Job postings with video icons are viewed 12% more than postings without a video icons and they receive a 34% greater candidate application rate. These companies took major advantage of these stats and created some of the most legendary employer branding videos in the land!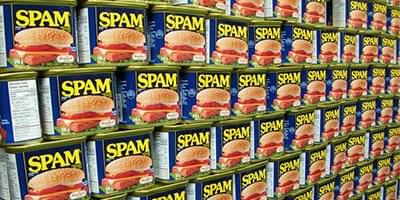 On Thursday 10th July, much to joy of Sourcing Ninjas everywhere, LinkedIn announced they were is cracking down on lazy recruiters using their InMail service. Recruiters with an InMail response rate of less than 13% would now have their bulk InMail-ing privileges removed from them. So to ensure you weren't about to suffer the same fate we provided a 3 step framework to help stop you becoming branded as a LinkedIn spammer.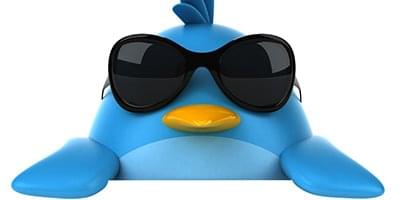 If you're looking to take your sourcing efforts up a notch on the world's most popular micro-blogging site, these 4 free-to-use online Twitter products will help you do just that!
Top Infographics in July: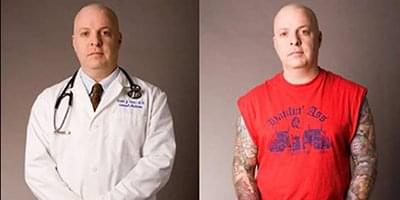 First impressions play a huge part in the hiring process. Most hiring managers will decide if they want to hire you within the first 90 seconds of meeting you. So be prepared.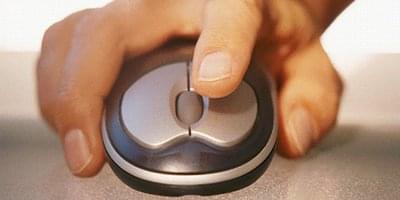 97% of recruiters use LinkedIn to recruit. As a job seeker, it is essential that you put your best foot forward when it comes to your LinkedIn profile. These are the top 5 reasons recruiters don't bother clicking through to your LinkedIn profile in it's current state.
We've said it before and we'll say it again; really great tech talent is REALLY hard to find. But that's where this infographic from TalentPuzzle comes in. It takes you through the challenges associated with tech recruiting, how to troubleshoot the current talent shortage, what works when trying to entice tech gurus to come and work for your organisation, and details the techniques used by the most successful tech recruiting companies.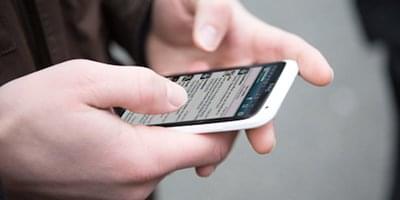 The mobile job search rate is as high as 83% in some countries and more than half of the applications Indeed.com receives each day are via mobile devices.
Top Recruitment News Stories in July:
Monster Re-Brand & Launch New services in the US
Monster's brand spanking new approach to recruiting went live on Tuesday with the launch of 2 new services and a self service CRM which incorporates the search power of its 6Sense technology with a messaging and advertising capability.
The services, the first of those associated with sweeping overhaul Monster announced back in May, have been in beta use for weeks, but Tuesday finally saw the launch of TalentBin by Monster and Monster Twitter Cards and the self service CRM named Monster Talent CRM.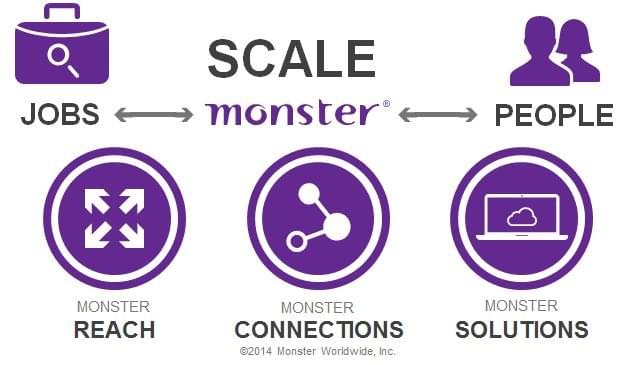 As reported by ERE.net, TalentBin is the most directly competitive of the 3 services as it will be going up against fellow talent aggregation sites Entelo, Dice's OpenWeb and Gild. Monster Twitter Cards, according to the announcement, may include a media element and information such as employer name, job title, salary, location, job description, and hashtags. Using the service, says Monster, recruiters can send between 2 and 10 branded job announcements and one summary tweet with a link to all open jobs each business day to followers of their Twitter handle(s). And using the new Monster Talent CRM, recruiters can source candidates, build a group with whom they want to communicate, then create and send a message to the group.

Accompanying the announcement is a brand new logo '¬€œ a purple flag with the company's name on it.
The new services are to be launched in the UK on October 1st and in other markets from January 1st next year.
Rapportive To Remove Functionality on July 31st
Oh no! One of our absolute favourite Chrome extensions and the most helpful for email widgets, Rapportive, is about to receive a make-under from it's owners LinkedIn.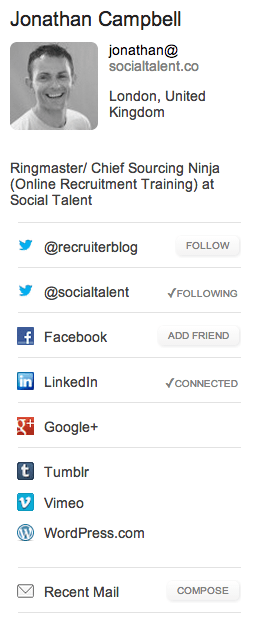 For those of you who don't use Raportive on a day-to-day basis (shame on you big time!) the Gmail sidebar was the CRM-for-everyone. It instantly let you see things like a person's job title, recent social updates and accounts from across the web, as well as a click to connect button. But it's about to change. Not only will the opt-in widgets from sources like Github, Klout, Kred and more, be discontinued along with the ability to add notes to an individual, but neither Facebook or Twitter functionality will even be displayed in the sidebar unless the contact in question has those sites listed on their LinkedIn profile. And no one is going to attach their Facebook to their professionally minded LinkedIn account now are they?
In addition, even though Facebook and Twitter are present on a contact's Rapportive profile, they'll no longer work the way they did before. You won't see the user's recent tweets or Facebook status updates, for example. And you won't be able to just click a button to follow them on Twitter or add them as a friend on Facebook. Instead, you'll have to click through to view their profile on those competing networks and friend or follow them from there.
The whole point of Rapportive to begin with '¬€ and what made it so great '¬€ was the fact that it aggregated access to many networks in one spot and gave you simple tools to connect with contacts from a single widget. But as Techcrunch put it, LinkedIn isn't interested in what made Rapportive so great for users; it's interested in how Rapportive can be so great for LinkedIn. The changes will be implemented on July 31st so we suggest you enjoy it while it lasts!
Welcome Change to LinkedIn Recruiter InMail Policy
In a long overdue statement, LinkedIn have announced that they'll now refuse recruiters who wish to send InMails if their response rates are consistently below 13%, regardless of your account type.
In the official press release, LinkedIn stated; Most recruiters know that personalised InMails garner higher response rates. But a handful of Recruiter users (less than 2%) still send thousands of generic InMails per month. 94% are bulk InMails (one InMail to two or more members) that aren't personalised to each recipient. Since these InMails are impersonal, they garner low response rates, create a bad member experience, and cause some members to be less responsive to other recruiters' InMails, which can decrease overall InMail response rates. Long story short, everyone loses.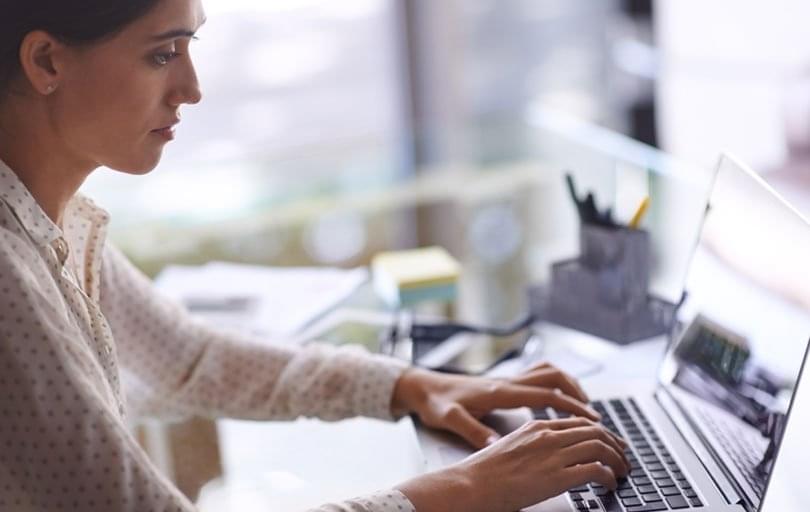 So in an effort to combat a plague of lazy recruiters, LinkedIn will be notifying Recruiter users that if their InMail response rate drops below 13% on 100 or more InMails sent over a 14-day period one of 3 things will happen:
The first time this happens, LinkedIn will send the Recruiter tips to help them increase their response rate.
If the user continues to have a less than 13% response rate after they have received these tips, they will only be allowed send one-to-one InMails for a 14-day period.
After that 2 week period, users who raise their response rates will have bulk InMail message restored, but those who don't won't be able to send bulk InMails for yet another 14-day period.
LinkedIn say that more than 98% of Recruiters users won't be affected, but we're not so sure! This could put the cat among the pigeons and sort the men from the proverbial boys!
View your current InMail response rate here and for more information on how to ensure LinkedIn doesn't block you from sending bulk InMails, learn how to craft the perfect message with our Black Belt Networking & Engaging module as part of the Black Belt in Internet Recruitment online training course.
Twitter Releases New Analytics Tool for Organic Tweets
Finally! The day we've all been waiting for is here! Last Friday, Twitter released a brand spanking new analytics dashboard for advertisers, Twitter Card publishers and those lucky enough to be considered as verified Twitter users. While company have been providing advertisers with data relating to their tweets for some time now, the only data available was that relating to tweets the advertiser had paid to promote. The data covered things like impressions, replies and link clicks but the same data for regular everyday, non-promoted tweets was non-existent. The new dashboard offers the user a broader view of their account's progress and effectiveness and includes really important data like total impressions, total engagements, and engagement rates for each tweet. It also aggregates that data for the past month and shows you in a visual graph format, how you've been doing compared to previous months.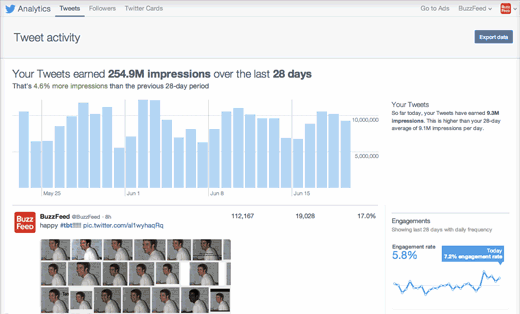 With the new dashboard, you can:
See how your Tweets are performing in real time.
Compare impressions (times a Tweet is viewed by anyone on Twitter web and Android or iOS apps, including logged-out users), total engagements and Retweets month over month.
Use the Tweet details page to see how many Retweets, replies, favourites, follows, link clicks and embedded media clicks each Tweet received.
Export your Tweet performance metrics into a CSV file, which now includes both organic and promoted data.
Along with their official press release announcing the arrival of the new dashboard, Twitter also released their Best Practice guidelines for using the dashboard to improve your content strategy. This is what they had to say:
Pay attention to when you tweet. Note which time of day and day of the week yields the highest engagement and impressions.
Analyse the frequency of your Tweets. Use your new insights to determine your Tweet cadence.
Identify what Tweet mechanics work, and which aren't as effective. Keep an eye on elements like different calls to action, the inclusion of rich media and copy length.
If you're not a verified account holder or a Twitter card user (shame on you!), just register for an Ads account on ads.twitter.com here.
Glassdoor Releases Job Explorer
Glassdoor have just launched a simple but really clever new feature. Job Explorer, a free interactive job search mapping tool, is set to bridge the gap between those looking for work and those with jobs available. And just in the nick of time to, because although there are nearly 5 million job openings in the US and almost 10 million unemployed Americans, roles are still not being filled.
By mapping job opportunities (currently only in North America) and showing you where there is demand for your skills, Job Explorer allows job seekers to pinpoint the best job opportunities by city, county and state and to explore what other jobs they may be qualified for. In other words, it helps job seekers identify where they have the best odds of finding a job.
There are two key features that make up Glassdoor Job Explorer:
Job Map & Opportunity Scale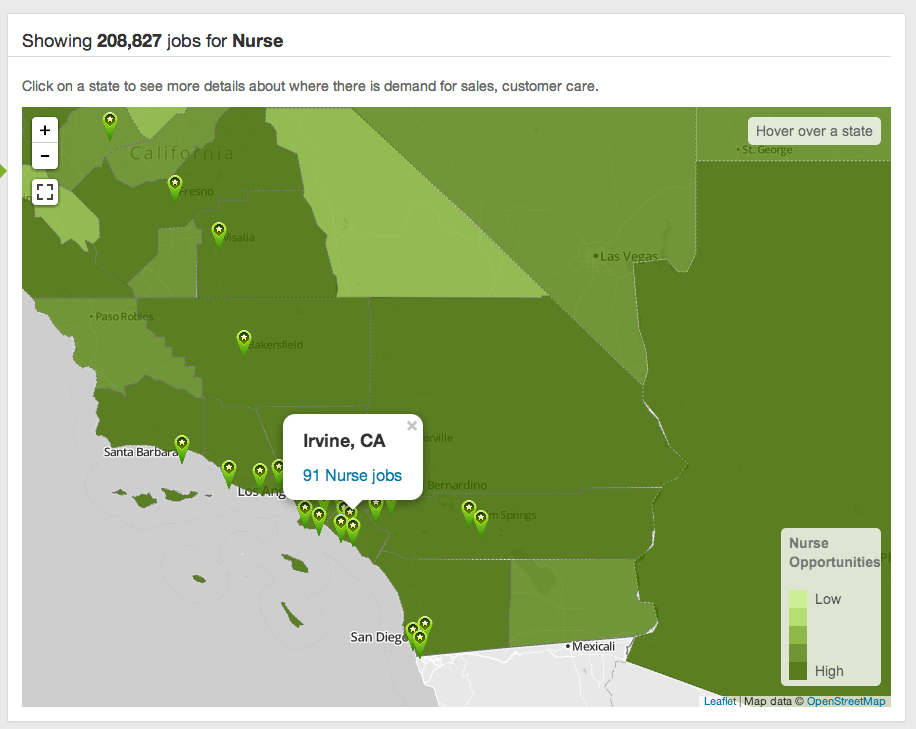 As the example above illustrates, the job map and opportunity scale displays the level of job opportunity in each area based on number of job listings and other key factors like unemployment rate and population in each area. The darker the highlighted region on the map, the greater the opportunity to find work.
For dual-income households, Job Explorer also allows job seekers to determine the best location for the couple, based on two job searches at the same time. In the example below, you can see that nurse jobs are more widely available in the blue regions, teacher jobs are more widely available in the yellow regions, and both jobs are more available in the green regions.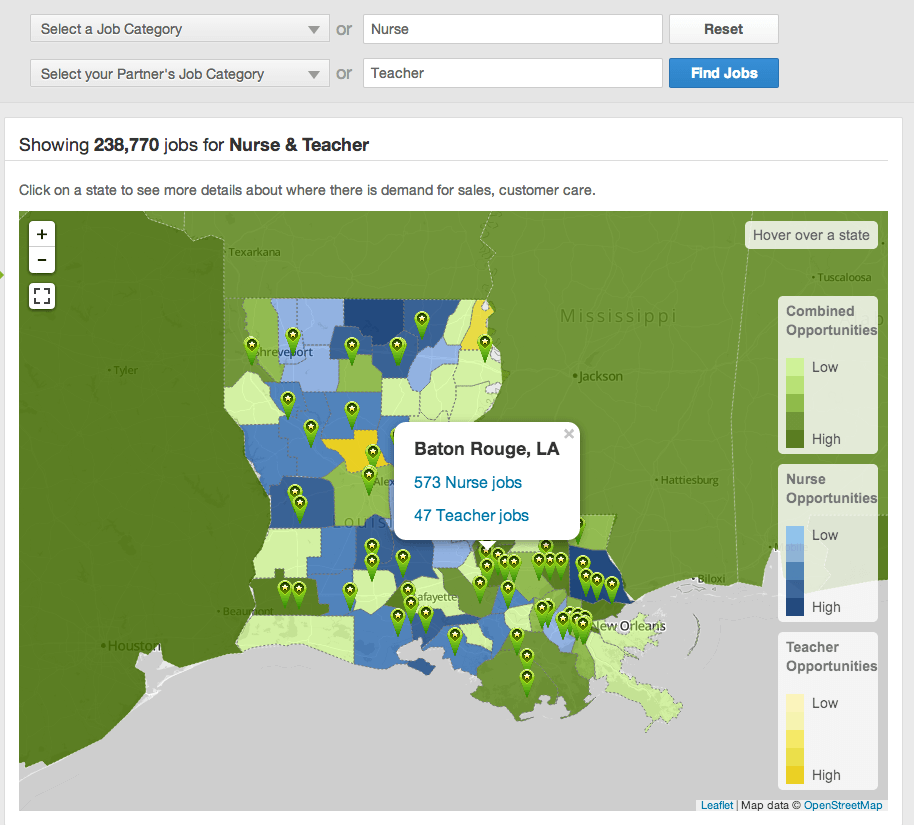 Using Glassdoor's resume database, the career progression tool suggests similar jobs the job seeker could apply for based on the career paths other job seekers with the same skills have taken. It also provides job seekers with practical information like the base salary they can expect in these alternative roles and the percentage of people with their skills who successfully made the transition to that type of role.
For more information on this ingenious product, watch the video below:
 If you've enjoyed this month's content then there's plenty more where that came from on our
Black Belt in Internet Recruitment online training course
. From job advertising to employer branding and LinkedIn sourcing to networking and engaging with candidates, we teach you how to target, find, attract and secure the best talent.
Download a prospectus
today and discover how you too can become a
Sourcing Ninja
.
Find out how the likes of IBM, IKEA and Siemens
drive hiring excellence with SocialTalent
---