Keep up with the latest hiring trends!
/
/

Social Recruiting Round-Up – August 2014
Social Recruiting Round-Up - August 2014
Hello and welcome to August's Social Recruiting Round-Up – a collection of the best blogs, infographics and new stories posted on the Social Talent blog this month. We produce content for you guys to read, enjoy and learn from 5 days a week and we thought that sometimes it's just handy to have all the best bits put in one place:
Top Blogs in August: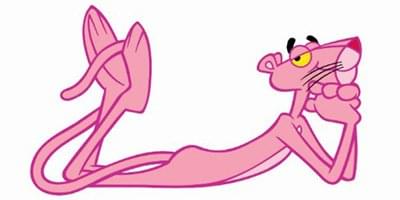 It turns out that little white lies in the form of fake references, are big business and there are now several websites providing the service to those job seekers who come looking for it. Thousands of companies are being routinely targeted in Britain alone on a daily basis, and as a result, thousands of jobs are going to the wrong people and the right candidates are losing out. So we asked the question: Could YOU spot a fake employment reference?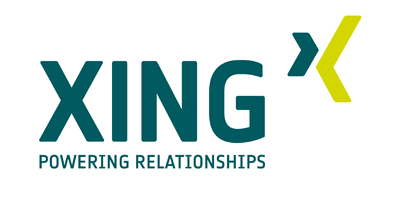 Anyone recruiting in the DACH (Germany, Austria, Switzerland) region, or hunting for German language candidates are probably wasting their efforts in looking on LinkedIn. That is because the most popular professional social network in DACH is Xing.com. And in this blog from August 6th, we showed you exactly how to x-ray search it effectively.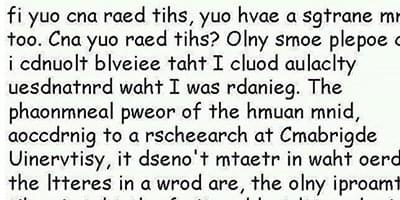 If the first and last letters are were they should be, it doesn't really matter what goes on in the middle! And the same can be said about sourcing really great candidates. Find out how…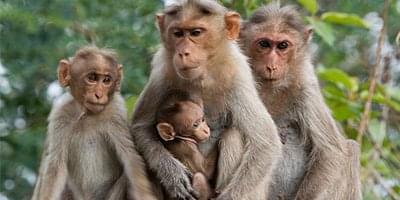 "If you pay peanuts, you get monkeys!" goes the old adage – well, when you only have peanuts to pay, how can you recruit great talent when your competition have much deeper pockets? We explore three ways to get past a low-salary obstacle.
Top Infographics in August: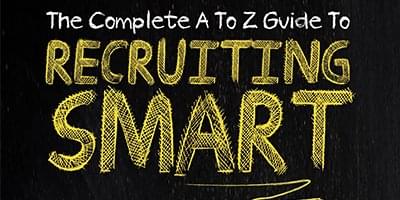 According to this incredible infographic we posted on August 12th, recruiting smart in 2014 is as easy as A, B, C! But we told you to pay particular attention to the letters B, C, E, F, J and T. See why, after the jump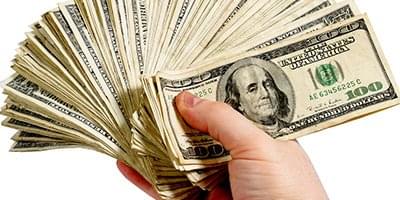 Discover what the best paid careers across the globe are, what the best global salaries are, what the pay gaps between the different regions are, and ultimately, whether or not you chose the right career 😛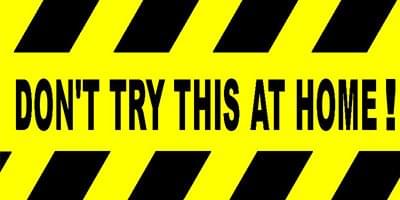 We know job interviews are one of life's most stressful occurrences and that the need to sell yourself on cue is more than a little daunting to a seasoned job seeker, never mind someone who's new to the process! But please God don't try any of the following!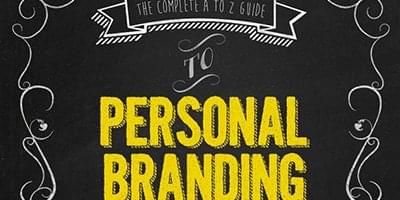 Your authenticity, credibility and trustworthiness as a social recruiter depends on the power of your personal branding efforts. So in order to help you get it right, we brought you this incredibly insightful infographic and told you to take note of A, C, J and M specifically.
Top Recruitment News Stories in August:
LinkedIn Announced Q2 Earnings
The beginning of August saw the release of LinkedIn's financial results for the second quarter of 2014 and, boy, did the company beat the analysts expectations!
Revenue for the second quarter of 2014 was $534 million – an 47% increase from this time last year! Premium subscriptions, such as LinkedIn Recruiter, made up $105 million of that total and marked a 44% increase in premium subscription income from Q2 2013. Talent Solutions products accounted for 60% of the revenue total at $322 million. Analysts had been concerned that the growth rate was going to decelerate, but it accelerated quite significantly!
The official statement from CEO Jeff Wiener reads:
"LinkedIn delivered strong financial results in the second quarter while maintaining investment in our member and customer offerings. We made significant progress against several key strategic priorities including increasing the scale of job opportunities on LinkedIn; expanding our professional publishing platform; and continuing the strategic shift towards content marketing through Sponsored Updates."
The professional network now has over 316 million members and their newly opened publishing platform sees about 30,000 new posts weekly. The company's revenue growth year-on-year can be seen in the graph below: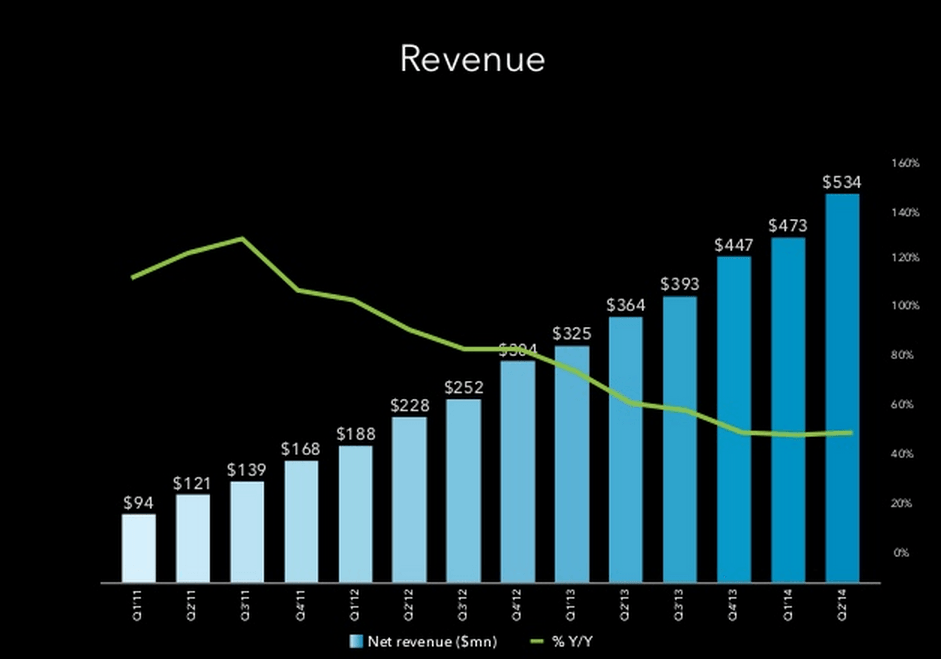 You Know eHarmony, the Dating Site? Yep, entering the Recruitment Race too!

eHarmony, one of the largest and most popular dating websites in the world with over 600,000 marriages over 14 years, is officially entering the Jobs space. They'll be launching a dedicated site called Elevated Careers in December, after over a year of hard work.
According to Business Insider, CEO of eHarmony Neil Clarke Warren believes that their remarkable success in finding perfect couples (with a divorce rate of just 3.8% over 7 years) can be used to help job seekers find companies in which they will thrive, flourish and stay with long term. Seems perfectly plausible! In fairness, we've predicted a sort-of Match.com takeover of the recruiting world for ages, so it's only logical that Match.com's most immediate competitor actually make a move.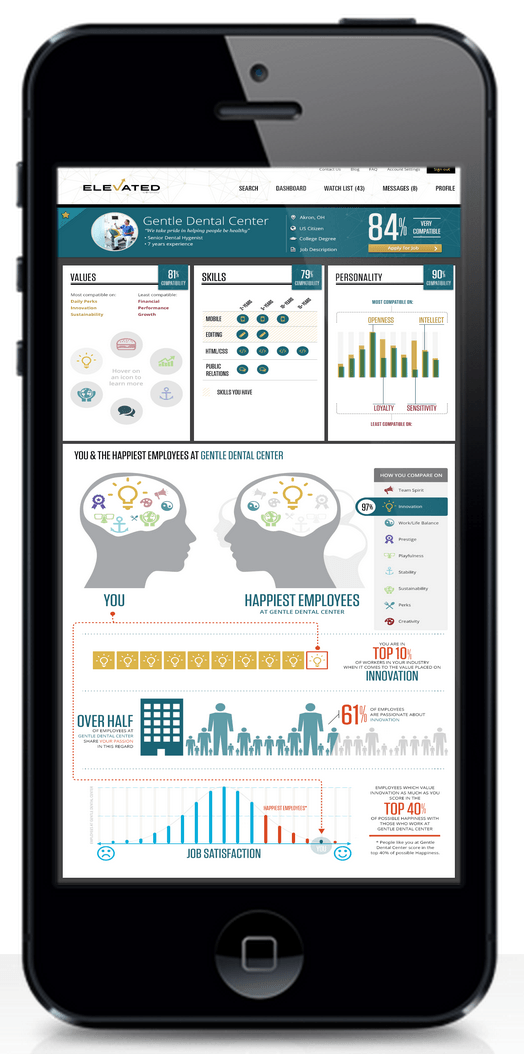 Here's what Neil Clarke Warren had to say in an interview with Business Insider:
"We decided to turn this company back into a relationship company. So we had the core product '¬€ we've had 600,000 marriages now and our divorce rate over a 7-year period is only 3.8 percent. We've done really well with matching people for long-term relationships. We think no one has done as much matching of personalities as we have, and we have very specific ideas about how we can be a successful participant in [the careers] space. We think we can do it better than some of the other companies like Monster and LinkedIn.

"…We have spent way more time thinking about personality fit. We've spent way more time thinking about relationships, what is required to make a relationship great. People on eHarmony stay together, have a more satisfying experience, and the divorce rate is way lower than it is for people who meet in virtually any other way. We think we're better at matching people, we've spent more time at it. You don't find in these other companies anybody who has spent that much time."
Finally! A Rapportive Replacement has Arrived
We were shocked and oh-so disappointed last month to learn that our beloved 'Rapportive for Gmail' Chrome extension, was no longer going to have the functionality we once loved it for. But, you know what they say, "all good things must come to end", and that was certainly true of Rapportive once LinkedIn had had their wicked way with it.
But wait! Is that a light at the end of the tunnel I see?! Why yes, yes it is! Turns out, recruitment fans, that Rapportive has itself a twin brother (one that hasn't been bought by LinkedIn) and he goes by the name of Rapporto.
Rapporto "shows you everything about your contacts right inside your inbox" including the contact's job title, their Facebook profile, their Twitter account, their LinkedIn, their Google+ and a few more besides. Reviews of the product are really good so far with many people saying they have gone ahead and replaced the "broken" Rapportive with it's "solid replacement", Rapporto, and are "very happy and satisfied" to do so. Some users even went on to say "this is actually better than Rapportive"!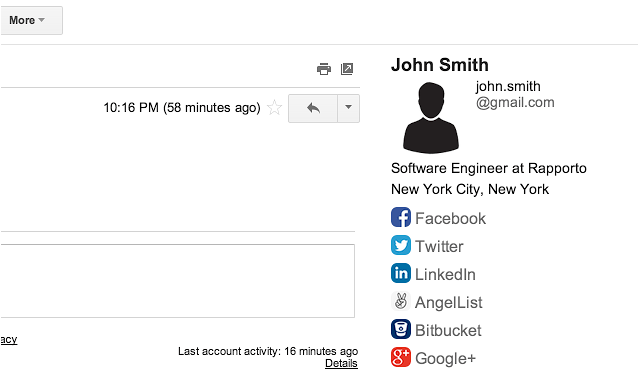 It's little less slick then Rapportive was in it's heyday in our opinion, but hey, it works!
Download Rapporto here.
Pinterest Take on the World of Messaging
If there's one thing we thought the app store didn't need right now, it'd be yet another messenger app. I mean we already have WhatsApp, SnapChat, Hangouts, Line, Kik and Facebook's new Messenger app, so why would Pinterest (most famous for it's visual content than the written word) spend time building and releasing a Messenger app of their own?
Pinterest users send 2 million pins to their friends, colleagues and family every day. And up until now there has never been a native way for responding to the those pins, short of sending your friend/colleague/sister an email. And that's where Pinterest's latest venture, the Pinterest Messenger, comes in. Unlike Facebook's new Messenger app which just let's you send a quickly hello, Pinterest's messaging service pins (use the pun) conversations around an object. "We see it as heavier weight than a Facebook Messenger" says Tom Watson, the product's designer. "It's more of a conversation around an object than just a quick hello."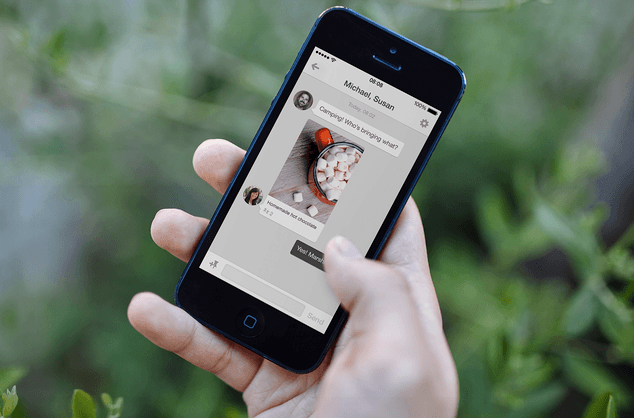 But the really impressive thing about Pinterest messages is that the pins you send within the app retain all the functionality of a pin you see anywhere else on the site. Anything you can do with a pin on Pinterest's web site, you can do inside a message: pin it to a board of your own, send it to another friend, or click the heart' to add it to your list of favourites. You can even drag a pin from the site into a message.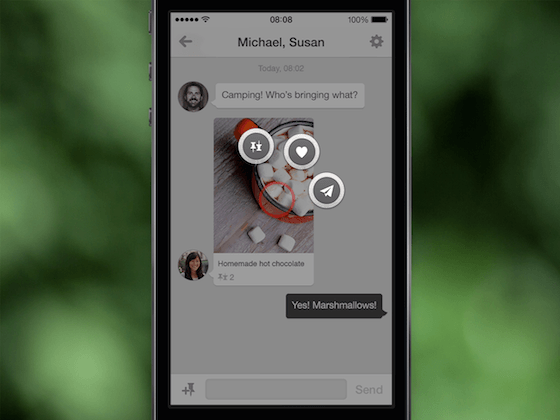 That might not sound like much, but it blows most other internal messaging products out of the water. Unless you're among the relatively few number of verified users, Twitter's years-old direct-message feature still won't let you send most URLs, even though sharing links is a core use of the platform. It was big news last December when Twitter DMs finally added the ability to send photos. Meanwhile on Facebook, shared links can be opened and not much else. Pinterest goes an additional step further by letting you send entire boards or user profiles to your friends using the message feature. It also includes group chat for up to 10 people!
To see more about how this ingenious little app works, watch this video:
To download the app for
Android click here
and for
iOS click here
.
Twitter Betas Promoted Videos for Advertisers
Developments are happening thick and fast when it comes to Twitter's advertising platform between promoted accounts, promoted tweets and Twitter cards, there are some fantastic options now available to recruiters looking to advertise there jobs more cleverly and successful on Twitter. And Tuesday saw the announcement of yet another fantastic Twitter advertising product: promoted video.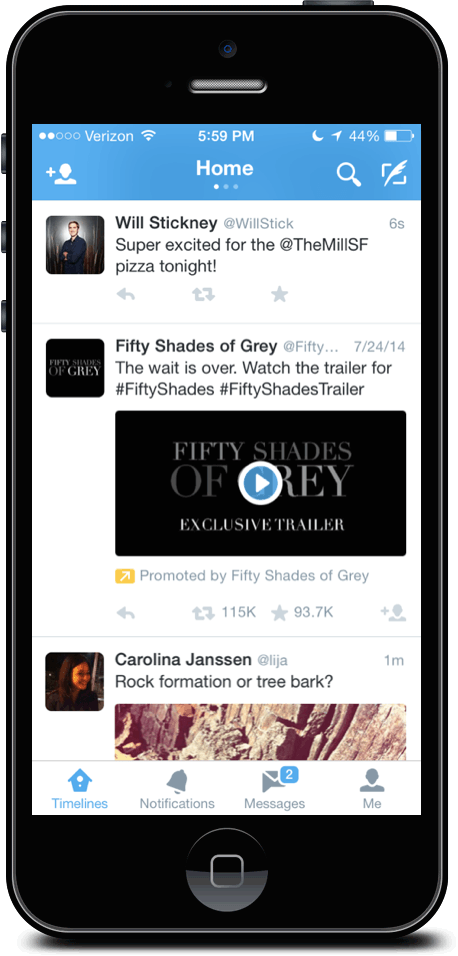 Yes, the beta launch of promoted video that allows advertisers (Read: Recruiters) to upload and track user (Read: Candidate) engagement is here. On their official blog Twitter stated "Earlier this year, we began testing a new Twitter Video Card that streamlines video playback and brings a one-tap viewing experience in our users' timelines. These tests have shown that Tweets containing native Twitter video generate better engagement and more video views than before. After months of experiments and feedback from users and brands, we're excited to announce a beta test of Promoted Video on Twitter!"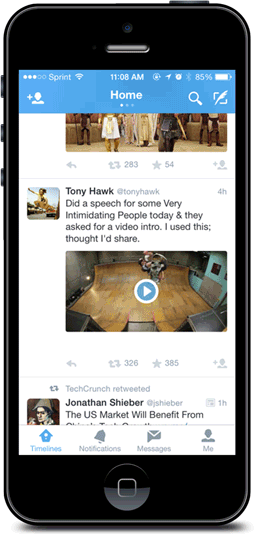 They also went on to point out that advertisers using promoted videos will have access to "robust video analytics" including video completion percentage and a breakdown of organic versus paid video views, and that advertisers will have the ability to run ads with a new Cost Per View ad buying model which means they will only get charged for placing the advertising video when a user starts playing it.
The beta is currently only open to select content publishers and users with verified accounts, but somehow we don't think it'll be too long before we see this capability being released to the public.
LinkedIn Want to Make You Look "Really, really ridiculously good looking"
There's a brand new profile makeover on it's way and it's touted to make you (in LinkedIn's own words) "ridiculously good looking" in meetings that is!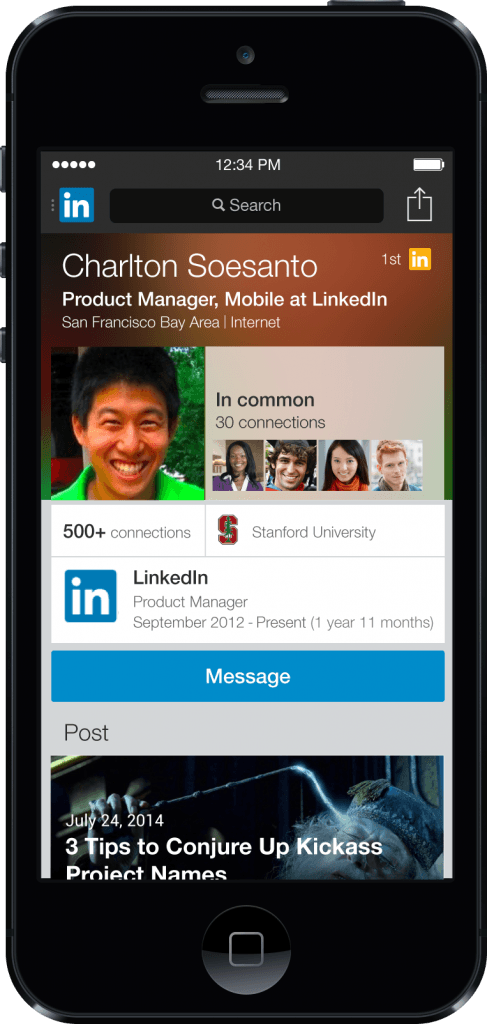 The new new look profile, which is currently only available to see and use on mobile, is designed act as a personal assistant who can "whisper in your ear" and remind you of not only where your candidate/connection works currently and what their job title is, but also who you have in common with them, whether you overlapped any years at school or if you ever shared the same company. And it's designed to do so, so that the first conversation to have with that candidate/connection is truly meaningful and sparks a lasting relationship.
So if you fancy looking "like the smartest person in the room because [you] know what you have in common with people you're meeting for the first time" then download the latest version of the LinkedIn mobile app for Android here and for iPhone here.
SlideShare PRO Features For Free!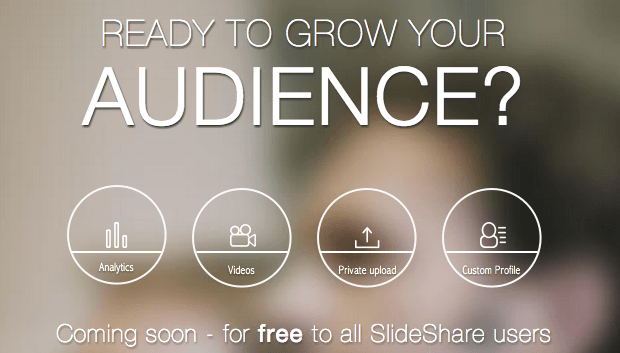 Yep! You heard correctly, last Wednesday SlideShare decided to make their most popular PRO features available to all users at no cost, with immediate effect! Meaning that the following features will be available to all users in the coming months:
Smart Analytics
View traffic sources, geographic details and more to determine where your views are coming from.
Measure the engagement for each upload with download details, likes, comments and email shares.
Easily see which content takes off so you can analyse your data and feed it back into your content strategy.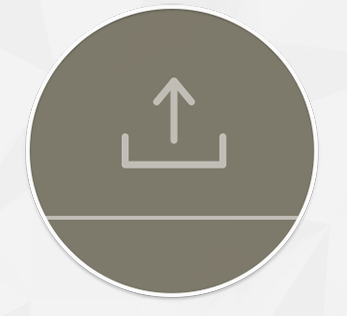 Private Uploads
Upload and share privately with only the people you've sent a link to before you share publicly.
Embed your SlideShare only on certain domains, like company intranet sites.
Schedule your SlideShare's to publish openly when you're ready.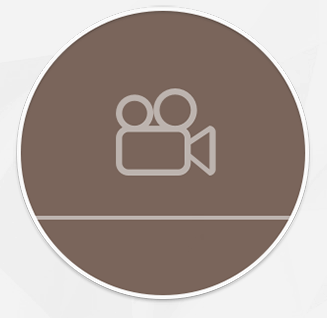 Video Uploads
Showcase conferences, marketing tutorials, product demos and videos alongside presentations, info graphics and documents.
Add high-definition videos up to 55MB.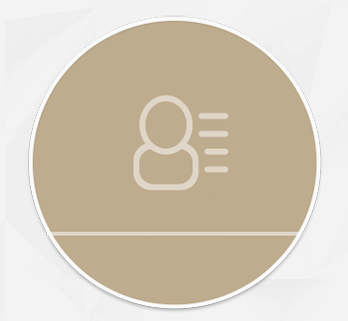 Profile Customisation
Create a distinct brand identity with a custom banner image.
Choose how and where your favourite SlideShares appear on your profile.
As part of this effort to make more features available to more people, SlideShare say they will be "discontinuing some smaller features" in order to invest their resources towards creating "even better experiences for you on SlideShare".
What the change means for you:
Don't worry, your account settings won't change and your profile and analytics will remain untouched.
Your existing lead campaigns will continue to run as normal, however, the Leadshare form will be moved to the end of presentations to make the "viewing experience better". And for now, your leads will be free of cost.
Your pro subscription will be cancelled immediately and your credit card will no longer be charged. If you paid for an annual prescription, SlideShare will issue a pro-rated refund from August 20th.
A detailed list of all the feature changes can be found here.
National Average for Time to Fill Open Positions is now the Longest Since 2001
25 days – that's the national average for how long it takes to fill an open potion these days, and is the leggiest job vacancy period since 2001 (13 years ago).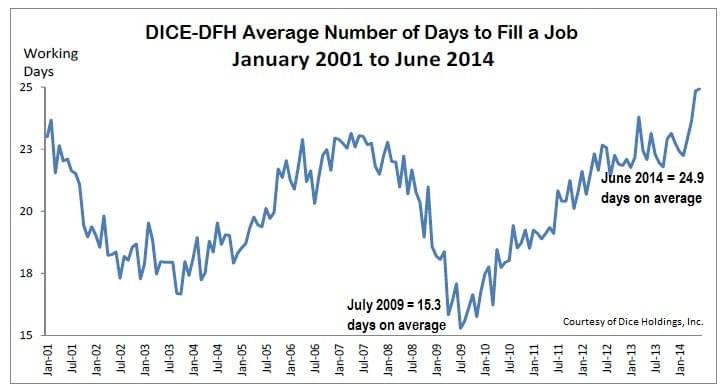 In the report, produced by Dice Holdings Inc., it was shown that on average it took 24.9 working days (Monday – Saturday) in June to post, source, and eventually hire a new employee. That's a whole 9 days longer than it took back at the height of the recession in 2009! With jobs in the Information sector (which includes the notorious tech industry), and the Financial Services sector vacant for the longest periods. And the hiring delay is longest at the US's largest companies (those with 5,000 employees or more), where the time it takes to fill a job is 58.1 working days.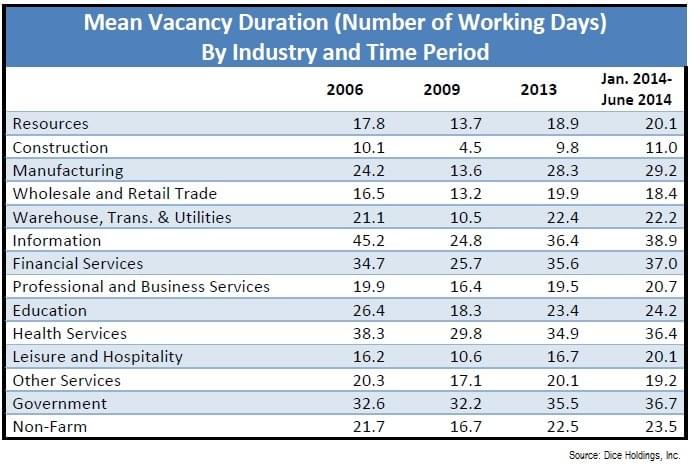 LinkedIn's Head of Products and User Experience Resigns
Dipchand "Deep" Nishar, a LinkedIn senior vice president who helped the professional social network expand internationally and on mobile devices, is resigning to pursue a chief executive post, according the to the Wall Street Journal.
The man credited with helping "transform" the company, particularly through new products, will see his resignation effective as of October 3rd, but according to Nishar's LinkedIn page, he will remain an adviser to the company going forward.
LinkedIn had 30 million members when Niskar joined the company back in 2008. Today it has about 313 million. Among his achievements with company, helping redesign the look of the LinkedIn home page is included, as is guiding its mobile strategy and helping its expansion into places like China, where it has "made a big push" LinkedIn have said.
In a LinkedIn post entitled "Next Chapter", Nishar has said he "looks forward to the possibilities that the future holds," and hopes for a "three-peat" at another successful startup. "Or, as my cricketing buddies would say, a 'hat-trick,' " he added.
Find out how the likes of IBM, IKEA and Siemens
drive hiring excellence with SocialTalent
---