Keep up with the latest hiring trends!
/
/

The Number One Way Businesses Can Support Recruiters
The Number One Way Businesses Can Support Recruiters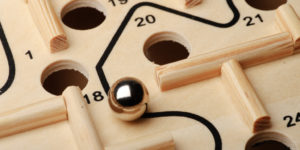 The flurry and fuss that accompanies working in a reactive mode are, unfortunately, all too familiar for most of us.
Chasing information, rushing processes, submitting work that you wished you could have reviewed two or three times. There are cases when time seems like a luxury nobody can afford.
What is Workforce Planning?
Workforce planning is the practice of forward thinking and understanding what talent your company needs in 12 months time. When businesses have a clear idea of the way they want to shape their workforce they can begin to start actively recruiting for these positions. This is also known as recruitment forecasting and is the pinnacle of achieving a proactive recruitment process.
What Are The Benefits of Workforce Planning?
If you get to a stage within the recruitment process when you can combine market insights with Talent Acquisition then your recruitment process can become a truly strategic operation. It will allow recruiters to create an accurate job spec and source appropriately. Time allows you to focus on quality and develop a structured plan for reaching out to passive candidates, who will need more nurturing than active candidates.
Workforce planning allows recruiters and hiring managers to form a close relationship. By involving all the stakeholders of the hiring process, recruiters can avoid common mistakes that arise from poor communication with hiring managers.
Related: Four Reasons Hiring Managers Want MORE Candidates
Recruitment forecasting means you can lay the foundation and plan the resources required for a successful hiring plan.
Even a recruitment team is that is successfully smashing targets can't be seen as proactive unless they are being truly competitive and engaging with talent before any of their competitors.
Leading The Way
Investing in workforce planning and learning how to approach it will show a huge return on investment. The months of planning, focussing and teasing out the finer details of the future of Talent Acquisition will provide solid pillars when constructing brand awareness campaigns, engagement strategies and recruitment drives.
Hudson RPO published Workforce Planning: A critical differentiator for businesses, a study that delves into the importance of a carefully maintained workforce planning strategy.
People are a company's most important asset. It's perplexing that so many business leaders are comfortable with addressing people needs as they arise rather than developing a well thought-out plan in advance. People are what bring a new strategic initiative to life. If the initiative does not take into account the volume and types of employees necessary to bring the plan to fruition, it will lose momentum, cost more than expected, and possibly fail to achieve the intent.

Getting Workforce Planning right requires a smart balance of technology tools, scenario planning, advanced analytics and strategic insight.
Lori Hock, CEO, Hudson Americas
Hock makes the clear point that in order for a company to achieve the goals it sets for itself, it must inspect how these targets are achieved. Without a carefully shaped and engaged workforce ready to carry out relevant KPIs, the growth and scale of a business could be in jeopardy.
The much revered Deloitte Global Human Capital Trends Report 2018 illuminates more insights that become apparent when businesses dedicate time to workforce planning.
The survey suggested that the composition of the modern workforce was set to change drastically by 2020 "The traditional employer-employee relationship is being replaced by the emergence of a diverse workforce ecosystem—a varied portfolio of workers, talent networks, gig workers, and service providers that offers employers flexibility, capabilities, and the potential for exploring different economic models in sourcing talent."
Why Your Company Needs to Start Workforce Planning Now
There are plenty of technical disadvantages to ignoring the need for workforce planning within your business. Of course, you can miss out on potential all-star talent if your competitors have the benefit of extra research and insights, but the loss doesn't stop there.
A Talent Acquisition team that neglect to build a recruitment forecasting strategy can expect to have:
High agency spend
High cost per hire
Above average time to hire
lower quality of hire
poor candidate experience
Low approval ratings with hiring managers
Misalignment with broader company goals
This cocktail can lead to a recruitment team that is stuck firmly in the reactive phase. Filling reqs that are already overdue and constantly scrambling to keep abreast of a never-ending process. If this continues it can cause damage to the team's relations with the business.
Getting Started
Although it may seem a daunting process at first it's clear that investing in a workforce planning strategy is the best option for your business AND your recruitment team.
One of the main barriers to workforce planning success is lack of ownership. Danny Hodgson of Foresight has built his business on helping people automate the flow of recruitment forecasting. Hodsgon has outlined six easy ways to help you kick-start the forecasting process.
Stage 1: Define who is responsible for giving you the information you need. Typically this would be at team manager level.
Stage 2: Define the information that's going to add value in creating your recruitment forecast. Examples like; resignations, maternity leaves, retirees etc.
Stage 3: Ask for this information in an easy to read format.
Stage 4: Consistency of format is essential. it's key that everyone gives you the information in a consistent way so that you can use it appropriately.
Stage 5: Translate this data. This is where you combine everybody's information into one usable source.
Stage 6: Recognise that businesses change. Information will change. So we recommend that you repeat this process four times a year, every three months. So to capture any business information change. Unfortunately, this is where most people start to fall down.
These are simple steps to help you frame the process, the real return from the work comes in the maintenance of the plan. It may be worth your time investing in external resources to help your company initiate workforce planning for ultimate success.
Start your proactive recruitment strategy by learning how Microsoft and Cisco used workforce planning to their advantage. Find out how they did it on the SocialTalent Platform!

Find out how the likes of IBM, IKEA and Siemens
drive hiring excellence with SocialTalent
---