Keep up with the latest hiring trends!
/
/

Why Are Employee Referrals So Valuable? (Infographic)
Why Are Employee Referrals So Valuable? (Infographic)
Employee referral programmes have grown within companies in recent years with employees receiving benefits in exchange for referring someone they know. Companies today encourage their workforce to recruit their friends, family or anyone they think would be a good fit for the role in hand. And why not? Employee referrals are nearly 55% faster than those who are screened on a job site.
Furthermore, there's a stronger chance for those who are referred to stay over the 3-year mark. In simple terms, employee referrals are a cheap and effective way of recruiting top talent. So all signs point in the direction that referrals are the way to go when it comes to recruiting.
Jobvite has recently put this top-notch infographic together outlining how valuable employee referrals are. If you're stuck in a rut and looking at alternative ways to hire talent, then this infographic will give you a few pointers on what to do! And if you're looking for some top tips on how you can implement a flawless referral programme, then see here for more information.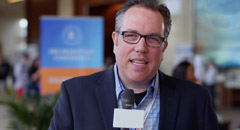 Become a Trusted Talent Advisor!
Learn ALL the insights needed to earn the trust of Hiring Managers.
Find out how the likes of IBM, IKEA and Siemens
drive hiring excellence with SocialTalent
---