Would you pay $1,500 for one Tweet? There's a 3 month waiting list!
Would you pay US$1,500 for me to tweet your job out at 3pm and 6pm today? Yes, I said $1,500 for two tweets. That's a max of 280 characters including the link to your job or career site; i.e. just under $6 per character!  Sounds crazy, yes? Well in Austin, Texas there's a 3 month waiting list to do just that.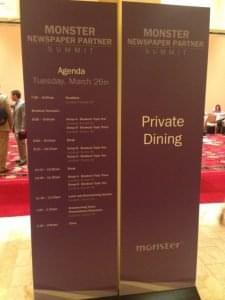 I've just returned from Las Vegas where I was speaking at Monster.com's Annual Newspaper Summit, an event where Monster's newspaper partners from all over the US come together to discuss recruitment advertising in the context of an ongoing decline in print and the never-ending growth in online. I got to meet some great people who are part of our industry but whom I rarely get to speak to; the vendors who sell ad-space to hiring companies and staffing agencies alike. I remember them from the old days, maybe 10-15 years ago when recruitment advertising meant booking expensive display ads in the Business section and fighting for your space in the lineage classifieds every week. In an age of online job boards and social meda, I'd actually forgotten about them. Well it turns out that the print media industry didn't just bury their head in the sand when us recruiters started to move away from print, they got their act together and started cashing in on the explosion in online spend. The publishers I met in Vegas this week sell their customers everything from traditional print ads (yes, they can still work) to job postings on Monster, banner ads on their own sites and 3rd party sites, resumé database access, ATS systems, mobile career sites and employer branding consultancy. Newspapers have, unbeknownst to me, re-positioned themselves as one-stop shops for talent acquisition.  This in itself is nice to know, but to be honest, wouldn't ordinarily merit an entire blog post (especially as I am jet-lagged and stuck in Heathrow waiting on my final flight home which is delayed by 2 hours due to snow in Dublin!). In the break-out/ brainstorming session on Tuesday I met a lady called Karlee Steele from Cox Media Group, who own several publishing titles in Austin, TX, the fastest growing city in North America, including the Statesman and Austin 360. It's her story that I wanted to share.

Many companies struggle with the challenge of how to monetize social media and many have given up, deciding that social media is all about awareness and branding, the wooly stuff that eventually leads to sales elsewhere. Not so with the Statesman and Karlee's advertising sales team. Primarily through two brands, the Statesman and Austin 360, the company has built a base of over 120,000 followers on Twitter. Both Twitter accounts, @statesman and @austin360 have strong Klout scores (some say an arbitrary measure of a brand's engagement on Twitter, some say a fairly accurate one) and like most followers of newspaper/ publisher accounts on social media, their followers are massively interested in the consumption of news. One of the most interesting phenomenas regarding the move from print news to digital news is that we consume more of it! The mass availability of news through web-sites, apps and social media has served to increase our consumption of it, to the point of obsession in some cases! No longer are we happy to wait to watch the evening news on TV or even read tomorrow morning's newspaper, we need to know what's happening RIGHT NOW, as it happens.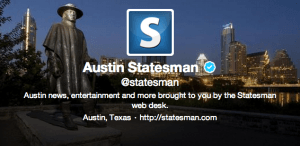 The Statesman recognised that their audience were highly engaged in their twitter updates, all of which linked back to original content on one of their many digital properties. They saw Twitter, in particular, as an extremely important distribution tool to reach Austin's unusually tech-savvy, wealthy (well, at least wealthier than the average US city) and relatively young audience, an advertiser's wet dream! Most companies would be content to let these engagement stats serve as justification for charging more for display ads on the content that was being linked to but not the Statesman. They saw Twitter as a separate opportunity that could be monetised directly. Their Twitter accounts have trust and affinity with their audience. A normal advertiser could go out and run a promoted tweets campaign which gets their tweet in front of the right audience but still relies on the consumer to trust the Twitter account that they see being promoted and click on the link being shared. That takes more than a simple promoted tweet to do. The Statesman are selling that trust to advertisers at $1,500 a day. They only allow one advertiser to promote their link and tweet in any given day and they give them two shots to reach their audience, at 3pm and 6pm each day. The advertiser can link to anything they want; their own career page, company page, job posting, social site; it's up to them. Karlee told me that on average, recruitment advertisers were seeing approximately 30 reactions to each posting (re-tweets, favorites and replies) and this led to between 300-400 click-throughs. If you're not impressed by those numbers, remember this is all in one day, on the day of the tweet. It's hard to ensure a faster turnaround on anything else in the digital recruiting world!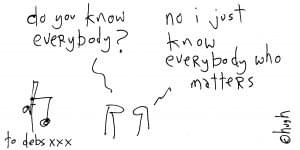 There's currently a 3 month waiting list to promote your tweet on the Statesman or Austin 360, such is the success of the product. A greedier company might decide to let two advertisers a day run their tweets but they have, quite smartly, decided to keep it to one a day so as not to dilute the value that their followers received from the company's postings. This got me thinking about our own Social Talent account. We tweeted out that we were looking to hire an intern two weeks ago and received just under 100 clicks on the job we shared. From that we received about 25 applications, which we shortlisted to just under 10 people. This from one tweet!! I spoke to a close friend in the social recruiting space yesterday morning who told me how she spent about 6 months building a network of UX (user experience) followers on Twitter when she first moved from hiring accountants to IT people and when she eventually took the step to ask her community for help with a UX job a couple of years ago, she received an application that same day via Twitter that led to a $20,000 fee placement. I will leave her name out of this article as she has promised to blog about the success herself in the next few months but the power of an engaged, trusting community on Twitter cannot be under-estimated. If we were to offer advertisers the opportunity to post Recruiter ads on our Twitter account, I have no doubt whatsoever that it would work. We're not going to as we have a strict policy of not re-selling any third party products or endorsing anyone for money, but it's tempting!
So here's another idea: What if there was an ad exchange that represented hundreds (if not thousands) of companies who have strong, engaged, niche followings on Twitter, whereby you could place an ad with the exchange who in turn would pass it on to the appropriate community owner who would post the tweet out twice that day to their community; max one a day. The ROI is extremely transparent as you would just have to use a trackable url shortener for the link and you would know how many visits/ click you received instantly. I'm pretty convinced that there are a lot of hiring companies who would pay good money for that type of service! If anyone is interested in trying to put this together, let me know, as I'd love to help!
Until then, if you are still new to Twitter and have yet to see a return from it for your recruiting efforts, check out this free webinar on Twitter hiring we made last year or sign-up for our Orange Belt in Internet Recruitment course online which has a crash-course in everything you need to know to get started on Twitter.
Want to keep up to date?
Join our 75,000+ subscribers who do!