Keep up with the latest hiring trends!
/
/

Your Best Recruiters are Your Employees
Your Best Recruiters are Your Employees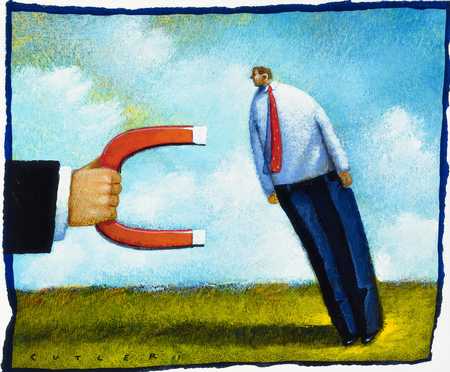 It's a well known (annoying) fact that candidates don't really trust us recruiters. They think we're strange little people intent on ripping them from their cosy jobs and their current workplace friends and placing them somewhere they won't like or be happy in, all for our own financial gain. So how do you attract potential employees to come and work for your company when they are naturally suspicious of our motives for doing so?
You get your current employees to attract them for you, of course!
Potential employees trust current employees. And why shouldn't they? After all, these are the people on the ground floor of your company, experiencing the daily grind as it really happens and living the company lifestyle as it really is. If candidates are interested in working for your company or are prompted to check out a company after a recruiter's approach, they will be especially curious to find out more about the job and the company from the people who know the most about it: the employees.
So why not get those candidates talking to your staff and why not encourage your staff to put themselves out there and talk about or even document their experiences with your company?
"That's not a new approach!" I hear the skeptic in you cry, and you'd be right. It is isn't a new approach, but it is an underused one and often a badly executed one. However, there are two companies that are currently pioneering the way forward when it comes to new ways to make your employees your best recruiters and we can all learn a thing or two from their stories:
PathMotion
Pathmotion's co-founder & CEO David Rivel couldn't have put it better when he said: "Employees are the most valuable asset of an organisation engaged in the war for talent, as they are best placed to explain what it means to work for the company and represent the aims, beliefs and culture of the organisation."
So in order to leverage the power of an organisation's staff members as brand ambassadors, PathMotion created a platform which allows a company's employees to centrally answer questions from their company's candidates either through Facebook (the Career Inspiration app) or any web environment. The platform allows potential candidates to gain real insights into the inner-workings of the company by letting them explore various aspects of your staffs' jobs and ask questions regarding their position and their experience.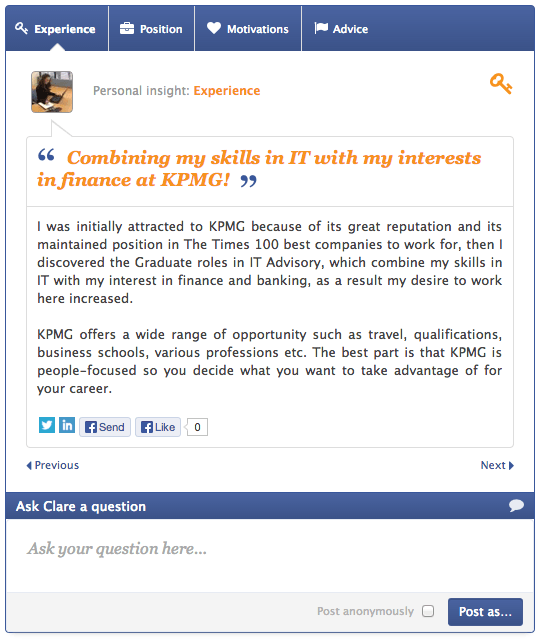 So how does it work? Well, using the Career Inspiration Facebook app, "Insiders" (your staff) can be invited to join and create a professional profile (without involving their personal profile) which can then be managed by you the recruiter. Candidates can enter the platform and browse through the relevant "Insiders" and select to learn more about what they do and what they think of the company. For potential candidates, this app provides them with a unique opportunity to interact with employees whose career intrigues them or inspires them. Staff ambassadors are encouraged to speak freely and openly about their careers, the business, their motives and provide any advice they feel is relevant.
The platform seems to be working well for a number of organisations including KPMG and their app can be viewed here: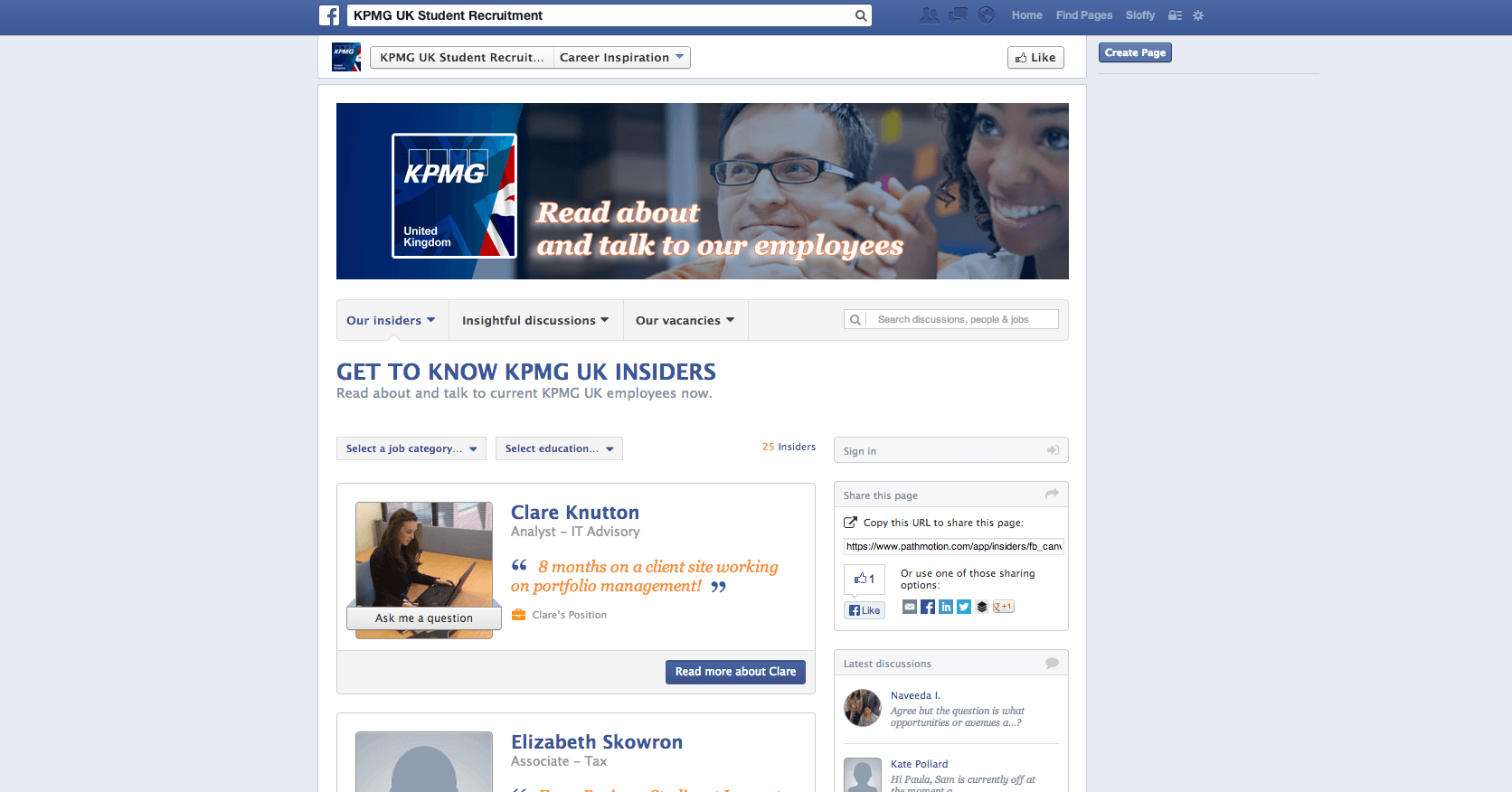 Deloitte
Deloitte have decided upon a different yet slightly similar approach to employer branding than PathMotion and one which I can see really taking off in a lot of industries if it is executed well.
To draw attention to their graduate intern placement programme, Deloitte have employed an intriguing 'immersive branding' technique called Up Close And Personal. Each of Deloitte's six new interns have had a mini documentary filmed about their experience with the Deloitte internship process so far and what they hope to achieve from it, with each documentary available to view and comment upon on Youtube. Each video provides the viewer with an insight into the day-to-day life of a Deloitte intern including snippets of the work, the offices, the desks, the equipment and the general look and feel of the Deloitte environment. Not once is Deloitte's branding or cultural message shoved down your throat or forced upon you. If anything I wanted to learn more about each of interns and their Deloitte experience! It's about the employee's journey, not the company's top-down "why our culture is great" strategy that employer branding efforts often end up being.
In addition to the videos, each of the six interns (all from different sectors within Deloitte) have been encouraged to set up and manage a Facebook page that documents their internship experience on a daily basis and allows the public to ask the interns questions about the experience and how it's going for them. Paul Jacobs, the recruitment, social media & employer branding specialist who ran the campaign for Deloitte, says "Each video was posted to Facebook with additional stories/infographics around each of the featured grads – these flowed through to print media and careers events. We noticed direct conversation between the grads in the videos and the students – e.g. answering Facebook queries, responding to comments." "We've been moving away from an employee/culture branding approach per se to an immersive branding approach, where the brand story becomes more about the student and their wants and needs, even using social to give them a sense of what it's like to work in the firm, without physically walking through the doors."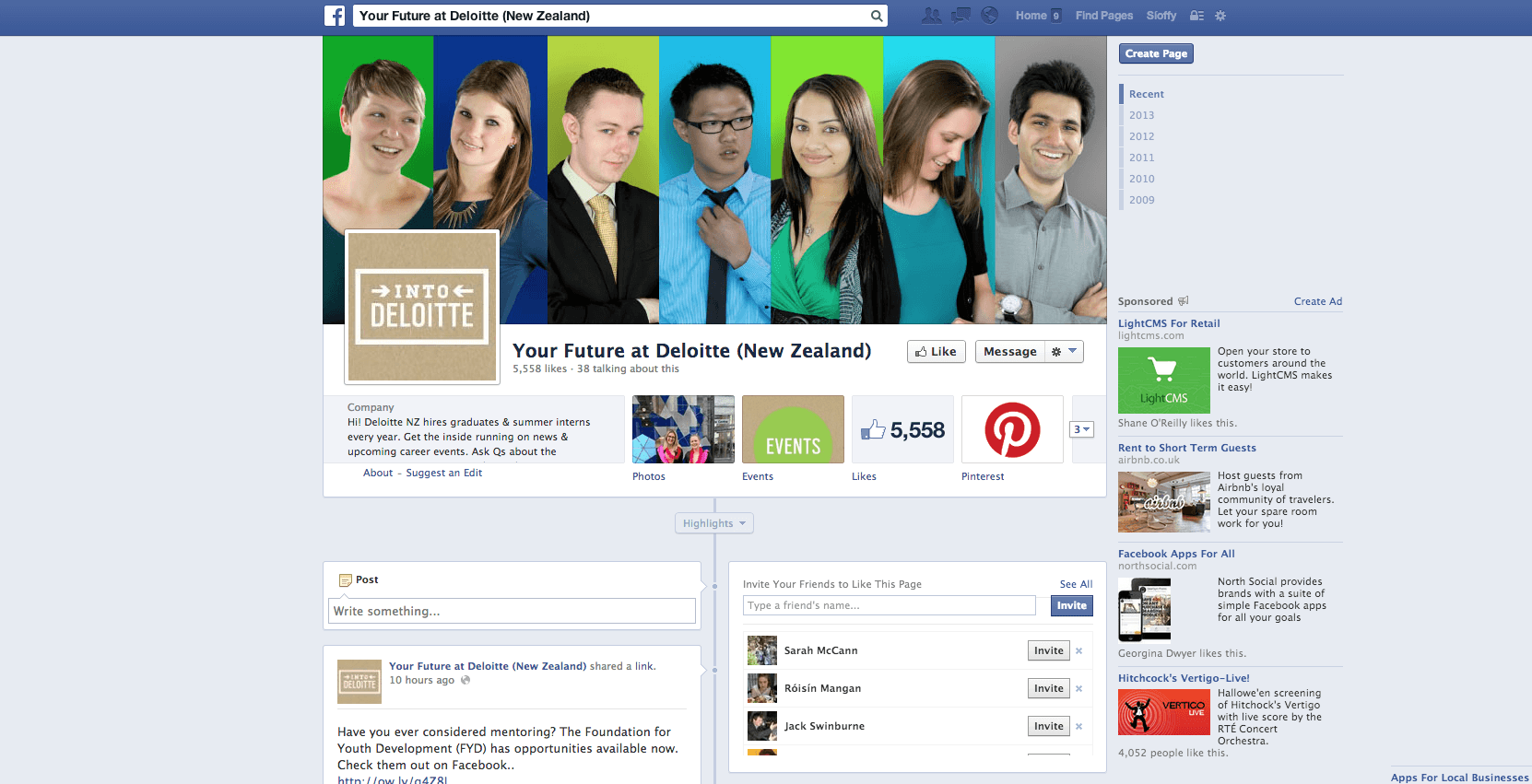 In both cases, employees (and interns) were encouraged to talk freely and openly about their experiences with the company and answer any questions posed by members of the public (read: potential candidates) honestly. In our humble opinion, this is an excellent approach to candidate attraction and one which all in-house recruiters can take inspiration from and mould to their own needs.
So there you have it, two different ways to humanise your brand by encouraging and engaging your staff to do the candidate attraction for you. After all they are best placed to do it, so why not get them involved? What efforts have you taken towards employer branding in your company? Have you employed similar methods? Let us know in the comments below.
Find out how the likes of IBM, IKEA and Siemens
drive hiring excellence with SocialTalent
---