Keep up with the latest hiring trends!
/
/

9 LinkedIn Privacy Settings You Need to Change IMMEDIATELY
9 LinkedIn Privacy Settings You Need to Change IMMEDIATELY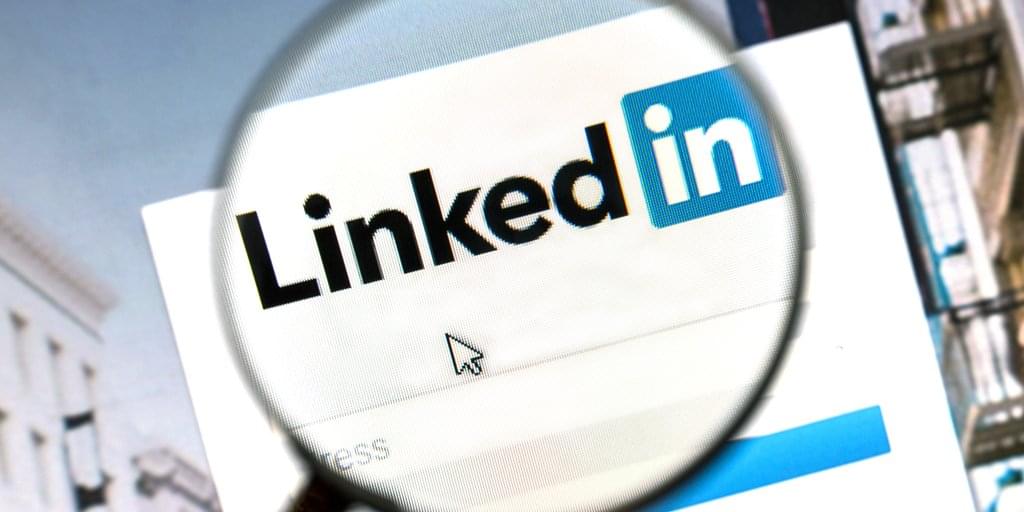 UPDATED: 4/7/2016
Whether you're brand new to LinkedIn, or you've been on there for years, there are default settings on your account that you may or may not be aware are already there – settings you may want to change depending on what they do and how it affects you and your sourcing activities.
So today, we're going to take you through what the core settings associated with your LinkedIn account are, what they do, how to change them, and our recommendations in relation to these settings. So go on, open up your LinkedIn account and make any relevant changes to your profile as we go along:
Finding Your Settings
To find your settings, log in to LinkedIn and click the picture of yourself located in the top right hand corner of LinkedIn's navigation bar. Once clicked, a dropdown menu will appear. Select Privacy & Settings from this menu: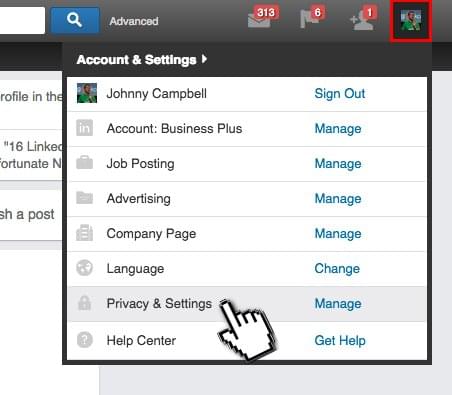 LinkedIn will then ask you to authenticate your account by re-entering your email and password, after which you are ready to start amending your settings.
Your LinkedIn Privacy Settings
Activity Broadcasts
When you make a change to your LinkedIn profile, such as updating your skills, changing your employer, or changing your job title, a notification saying that you have done so, is posted out to your network of connections (and potentially more people). But it doesn't have to be that way.
You can turn this setting off so that when you make these changes, they are not seen. To do this, go into your Privacy & Settings (as explained above), select the Privacy tab in the centre of the screen and click the Change option under Sharing profile edits: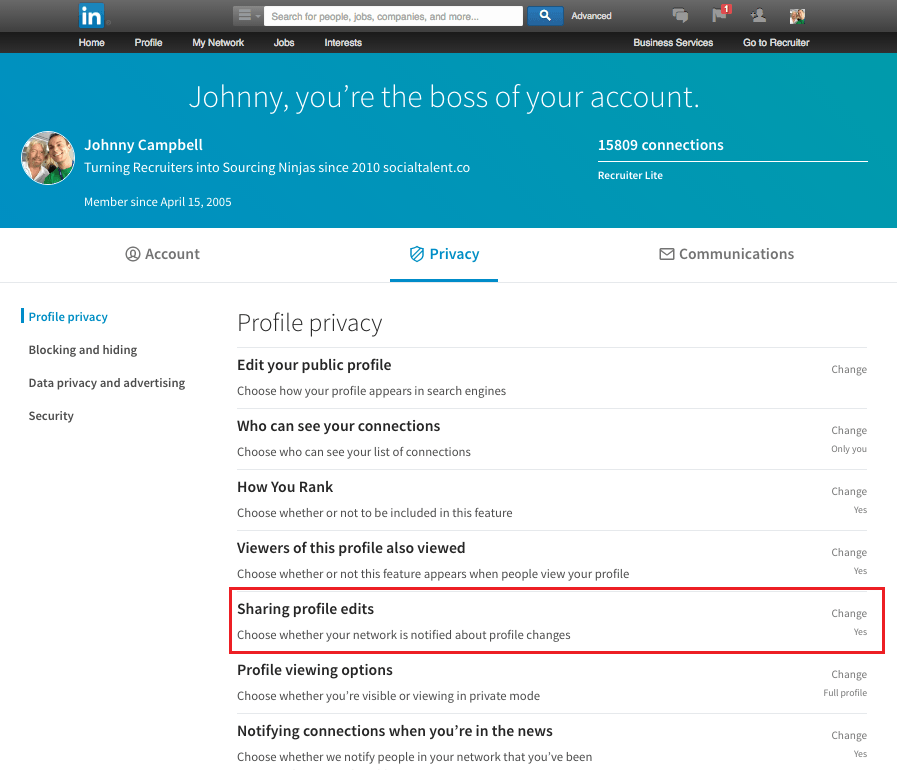 Then slide the slider button to No:

Our recommendation:
If you're making a lot of changes to your profile e.g. you might be doing a profile Spring clean, we suggest that you turn this setting off, as every single change you make will be posted out to your network. As you can imagine, that might begin to annoy your network and could even result in someone choosing to disconnect with you.
But, once you're finished making your edits, turn this setting back on. Why? Well, you might want to re-engage people from time to time with subtle updates such as adding a new skill or adding a new job you have available. By having this setting switched on you remind your network that you're still there.
Activity Feed
When you're on someone else's profile you can check what's known as their Activity Feed – a list of all the updates including articles they've published, group discussions they've started, posts they've liked, posts they've commented on, profile changes they've made, and any status updates they've shared on LinkedIn in reverse chronological order – regardless of whether or not you follow them or not. And guess what? Other people can see exactly the same information about you and your LinkedIn activity. And they can do so by clicking the dropdown arrow at the side of the Send InMail/Connect , Send a Message or View profile as button on your profile page, and selecting the View Recent Activity Option: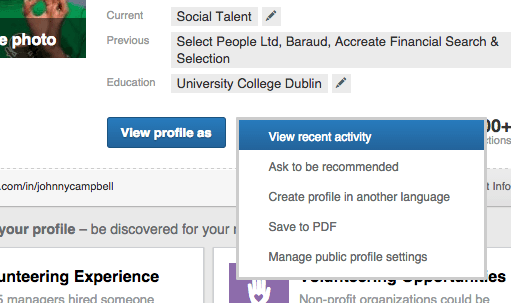 To stop people who are not your connections seeing your LinkedIn activity, all you need to do go to your Privacy & Settings, select the Privacy tab in the centre of the screen and click the Change option under Followers in the Blocking and Hiding section:

Then select Your connections from the two options that appear. Choosing Everyone lets people outside your network follow your public updates. If you switch from "Everyone" to "Your connections," you'll lose any out-of-network followers you have now:

Our recommendation:
We suggest that you should leave this open to Everyone, so that people can look at the type content you share and the subjects you tend to share content on, or if they're looking for a good article you've shared in the past. Leaving it on and making your activity public, adds to your credibility and by being seen to post, comment, like and discuss specialist topics that are relevant to your recruiting sector you will also boost your industry authority.
Viewing Profiles
One of the most loved and most used features of LinkedIn is arguably "Who's viewed my profile". It allows you to check out who's been viewing your LinkedIn profile and it allows others who you have viewed to see that you have been viewing them. And you're probably used to seeing this stat appear next to the right hand side of your profile: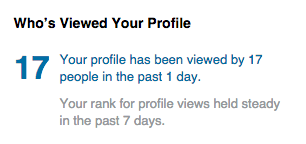 When you click this stat you are usually presented with three different types of information about the people who have chosen to view your LinkedIn profile in recent days:

Full information
Anonymous Information (with visible characteristics about that person)
LinkedIn Member (no information available to see)
What's going on here? Well, you can change the settings in your account so that when you look at somebody else's profile you can define what they will see about you as another LinkedIn member who has viewed their profile. You can do so by going to your Privacy & Settings, select the Privacy tab in the centre of the screen and click the Change option under Profile viewing options:
It will bring up three options: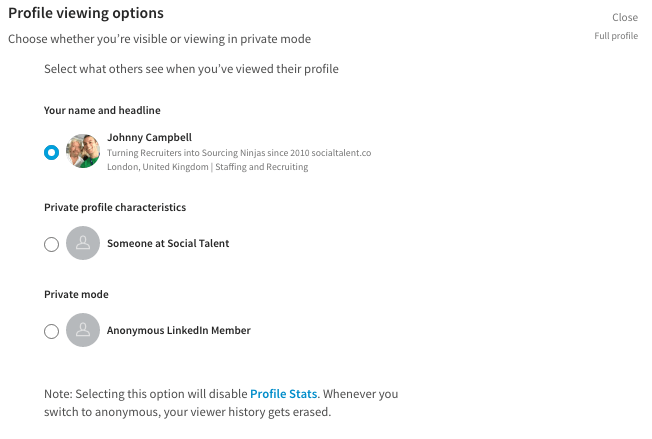 1. Your name and headline (Recommended) – this option ensures your full information will be available to those who wish to see it and they can click on your profile to view it.
2. Private profile characteristics – this option will hide your name and photo, but will give them an idea of the industry or company you're in and your job title within that industry. People will not have the option to view your profile.
3. Private mode – this option ensures none of your details will be shared with that person whatsoever, you will be totally anonymous. People will not have the option to you your profile.
But be warned, selecting the anonymity based options – 2 or 3 – will mean that your own viewer history will get erased i.e. you will no longer be able to see anyone who has viewed your profile. Choosing to be anonymous yourself means that you turn off your "Who's viewed my profile" feature and loose any data relating to anyone who has viewed your profile. Not ideal if you're a recruiter!
Our recommendation:
We recommend that you set this to show your name and headline so that you have the ability to gather leads about the people who choose to view your profile. Think about it: when you run a search and you've looked at maybe ten people, if two of those ten people see on their profile that you've viewed theirs and they decide to check you out, what is that? That's a signal. A signal that they want to know who this recruiter is that's viewed their profile. And to me, that says they may want to talk to you and about a job you may have on offer. So keep your name and headline visible – it's a great way to gather leads on potential candidates.
How You Rank
Ever wondered how you rank in searches? Would your profile appear towards the top of list or towards the bottom? Well, LinkedIn allows you to make a pretty good guesstimate, by telling you how your profile ranks in relation to your connections. To view how you rank right now, go to your profile and, on the right side, select the option listed under the "Who's viewed your profile" feature: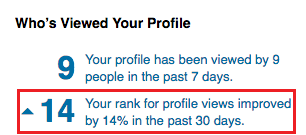 In there, you can see exactly where you rank in the percentage of all your connections and what number you are out of all your connections, your company, and professionals like you. LinkedIn will also give you some tips as to how to improve your ranking:

It's quite a bit of fun to check out where you stand and who's beating you, but of you want to turn this feature off go to your Privacy & Settings, select the Privacy tab in the centre of the screen and click the Change option under How You Rank: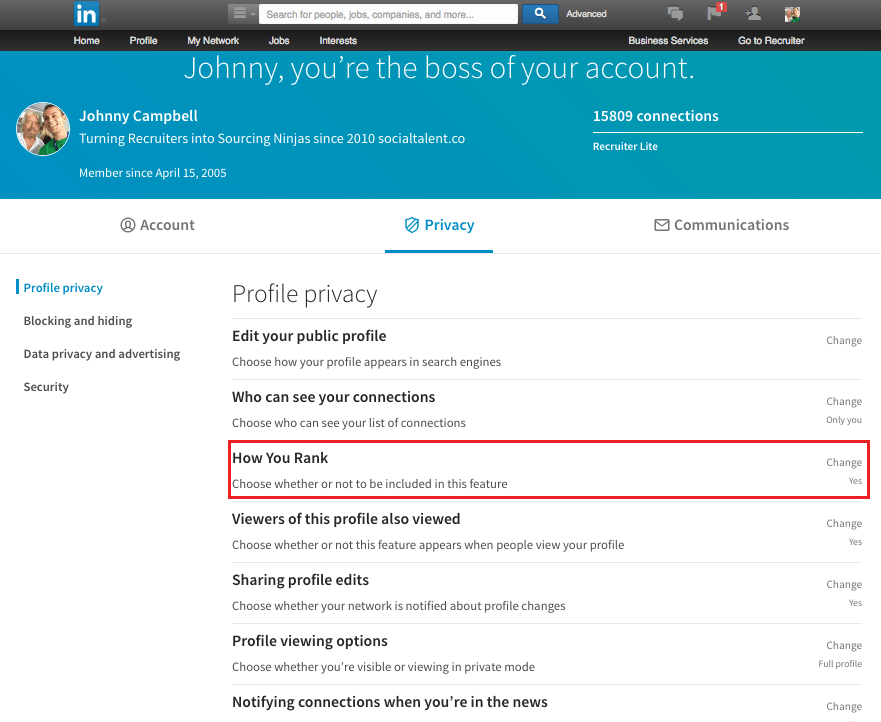 Then just simply slide the slider to yes or no:

Our recommendation:
Leave it on. It's not essential, but as we said earlier, it can be a little bit of fun to see how active you are on LinkedIn and how well you're using it.
Connections
Chances are you've spend a lot of time building up a good network of colleagues, friends, people you've worked with, people you've done business with, and candidates you've met on LinkedIn and in doing so you've built up a really strong network of connections. But the question is, do you just want to give that away? I'm thinking you probably don't!
Why do I ask? Well, at the moment one of the default settings on your LinkedIn profile is making your connections available for anyone to see. How can they see this? All they need to do is click on the number of connections you have, as detailed on your LinkedIn profile, and they will be brought to a list of all your connections where they can view and search them: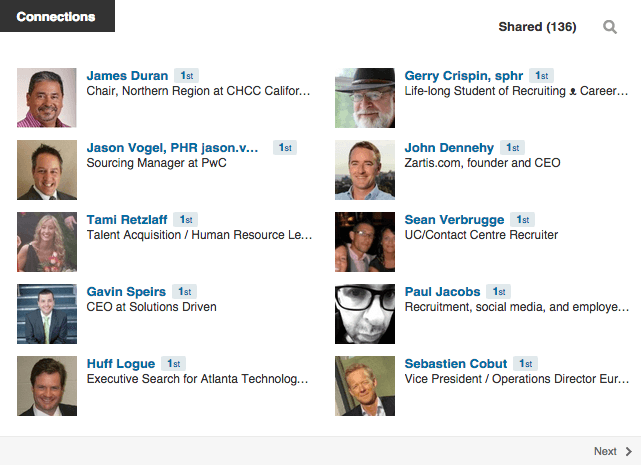 To stop other people viewing your list of connections, go to your Privacy & Settings, select the Privacy tab in the centre of the screen and click the Change option under Who can see your connections: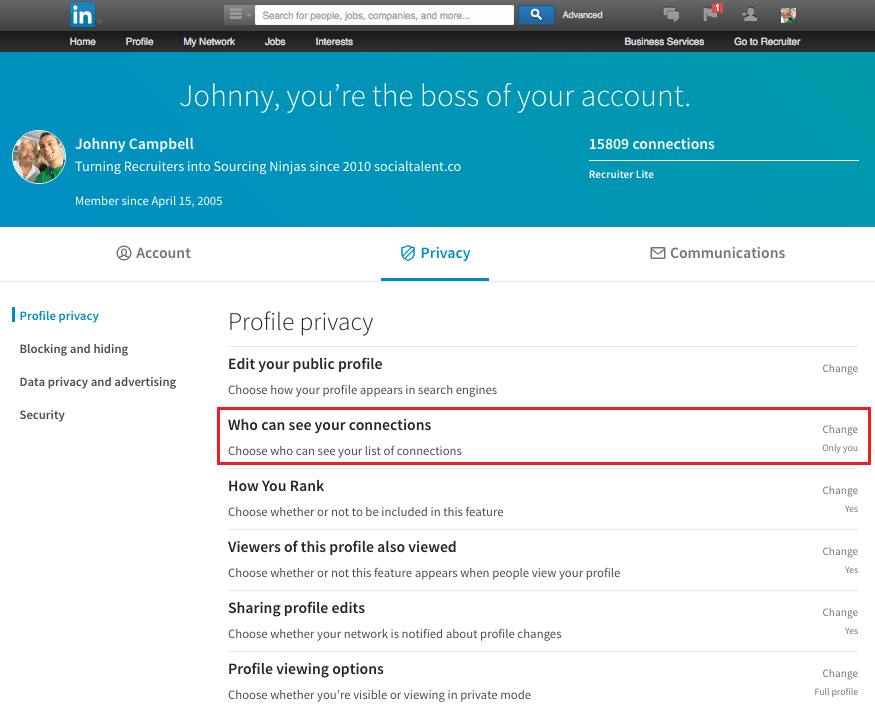 From the dropdown menu, select Only you:

Our recommendation:
Leaving your valuable network of connections available for anyone to view is of no benefit to you. You've spent the time building this network and only you should reap the rewards for doing so. So we recommend disabling this feature and making your connection visible to you and you alone.
LinkedIn Emails
Like me (and any other linkedIn user on the planet for that matter) you probably receive tonnes of emails from LinkedIn on a daily basis informing you what's been happening in that group you're a member of, who has liked your posts, that a connection has published a new blog post, that someone has commented on your blog post, that someone else has endorsed you, the list goes on!
But the good news is, it is within your power to fully control which emails you get from LinkedIn and when you get them. To change your email settings could to your Privacy & Settings, select the Communications tab on the right hand side of the screen and click the Change option under Email Frequency: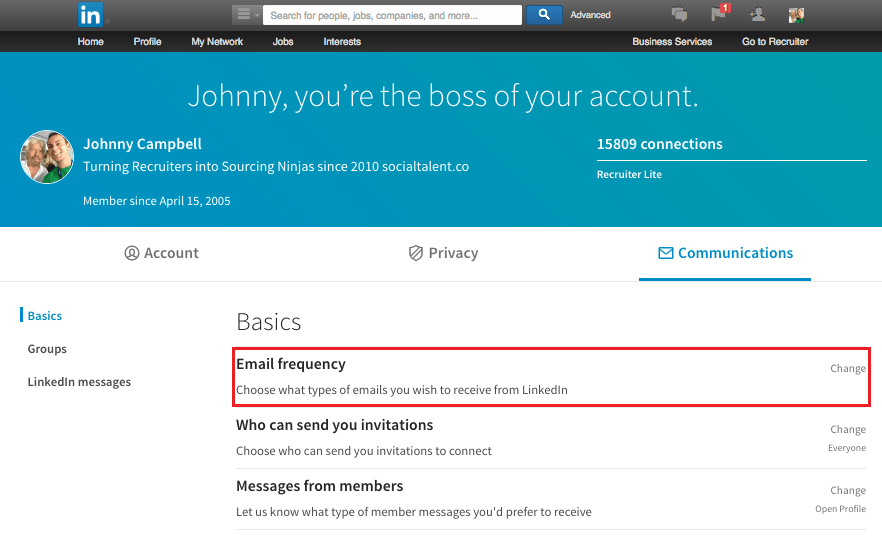 When a list of new options entitled Which emails do you want to receive?  appears, use the sliders to select which emails you want to receive from LinkedIn and which emails you'd prefer not to receive: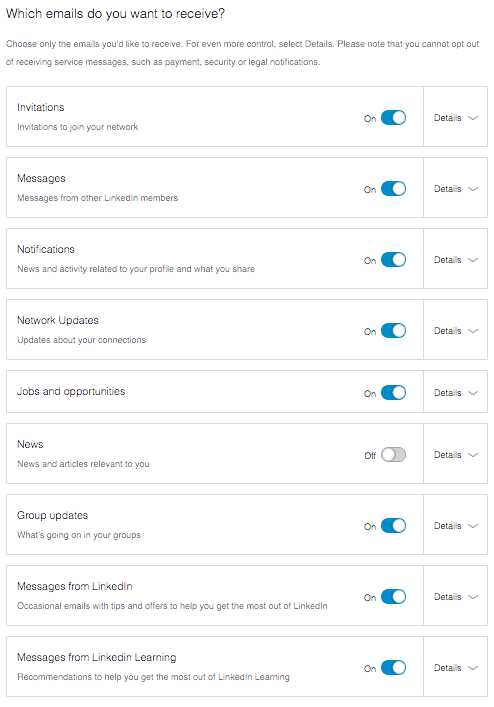 For more granular details, click the Details option next to each email categories and select from a variety of options. For example, within my Invitations category I can see all the different types of emails LinkedIn can send me in relation to this category including invitations to connect and invitations to join groups. I can also select how often I'd like to receive these emails e.g. as an Individual Email or as a Weekly Digest Email: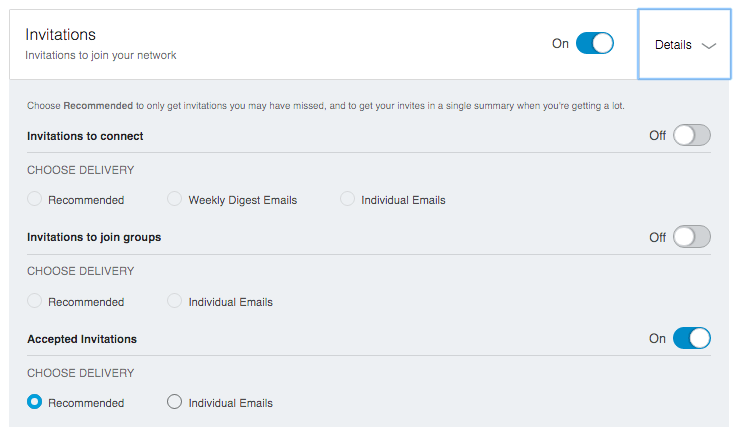 Our recommendation:
Turn on Individual Emails for Messages, InMails or Introductions that you receive on LinkedIn. You definitely want to know when someone adds you as a connection or when someone sends you a message or an InMail, or requests an Introduction!
You will also want to know when anything important happens on LinkedIn like if someone has accepted your connection request, so be sure to set Individual Emails for most the Activity Notifications. Just go through the list and single out the ones you think are most relevant to you. Have a think about it, and if you're unsure, turn off the emails – you don't need the extra spam!
Member Communications
When you're searching LinkedIn and you check out a member's profile, have you ever noticed the section that shows you what kind of messages they're willing to receive? Well, you have one of those on your profile as well, and when you reach out to a candidate they may check to see how should they reach out to you.
So here's how to amend those settings on your profile to ensure those candidates have the best information available to them about you. Go to your Privacy & Settings, select the Communications tab on the right hand side of the screen and click the Change option under Messages from members:
When presented with a list of options make sure every relevant option to you is ticked and your personal custom advice message is filled out: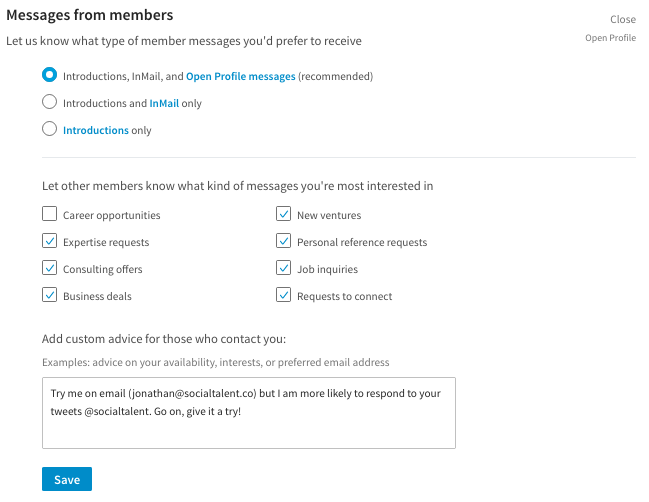 Our recommendation:
Under Messages tick Introductions, InMail, and Open Profile messages, and under the messages section tick everything except Career Opportunities. (A recruiter looking for a new job while contacting candidates may give off the wrong signals!)
Always include a friendly, personalised piece of advice – it's your opportunity to grab their attention and it helps them when they're trying to reach out to you, remembering of course that if that person doesn't have a paid LinkedIn account or they're not connected to you they can't actually message you via LinkedIn, so they have to do so elsewhere. make it easy for them. Check out Johnny's example above.
Hiding Photos
When you're searching LinkedIn and looking through your search results or viewing a member's profile, by default LinkedIn will show you any photographs that are available to view. However, there may be certain reasons why you may not want to see peoples' photos on LinkedIn – for example, OFCCP Compliance in the US – so you can be sure no one can say your shortlisting/hiring decision was biased based on how somebody looks., their ethnicity, their gender etc. And it just so happens that LinkedIn can help you do this by choosing to essentially turn off the ability to see other peoples' photos.
To turn off photos on LinkedIn go to your Privacy & Settings, select the Account tab on the left hand side of the screen and click the Change option under Showing profile photos: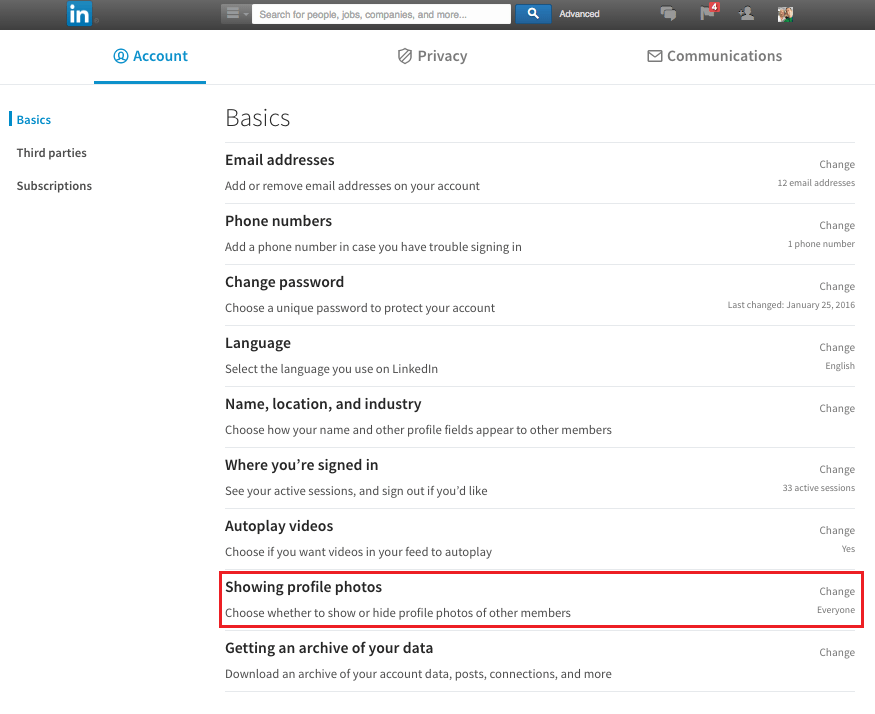 Select No one from the resulting dropdown menu:

Our recommendation:
For compliance reasons, if you feel it applies to you, your jurisdiction or within your company, we recommend you select the No one option when using LinkedIn to search for candidates.
Default Emails
On LinkedIn, everyone has one default email address. It's the address you probably log in with and it's the email address by which LinkedIn will send you all those messages we mentioned earlier on. But what if you change jobs and therefore your email address, you forget you password and can't access that email account anymore, or you simply want to change where LinkedIn sends you messages? Well, it's a really good idea to have a back up email account(s) stored in LinkedIn just in chance any issues arise.  And this is how you do just that.
Go to your Privacy & Settings, select the Account tab on the left hand side of the screen and click the Change option under Email addresses: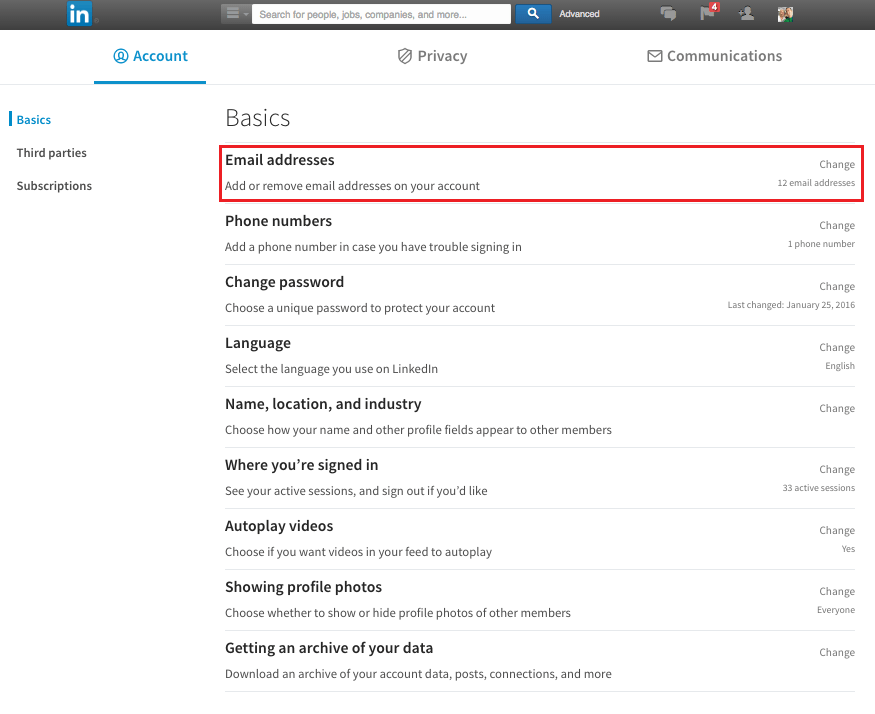 This will open a dialog box with a list of email addresses LinkedIn already has for you, and from here you can easily make a different email address your primary address, add a new email address (remember you will need to verify it), or remove an email address:

You may be surprised at just how many email addresses LinkedIn actually has against your name when altering this section. This is because whenever you click on a LinkedIn invite that's been sent from a different email account and you're already logged in on LinkedIn, LinkedIn makes the connection between you and that alternative email address and adds it to your email list automatically.
Our recommendation:
Always back up your LinkedIn account with a second and possibly third email, especially if your LinkedIn account is connected to a work email address. You don't want to loose all your hard earned connections if you happen to change jobs and no longer have access to your work email account.
---
For more useful tips like this check out the SocialTalent Recruiter Academy and become a savvy recruiter with productive super powers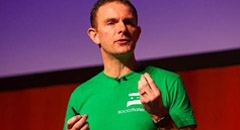 SocialTalent Recruiter Academy
A full library of videos that can help your team transform their hiring process
Find out how the likes of IBM, IKEA and Siemens
drive hiring excellence with SocialTalent
---