Keep up with the latest hiring trends!
/
/

Want to improve employee engagement? The moment is now
Want to improve employee engagement? The moment is now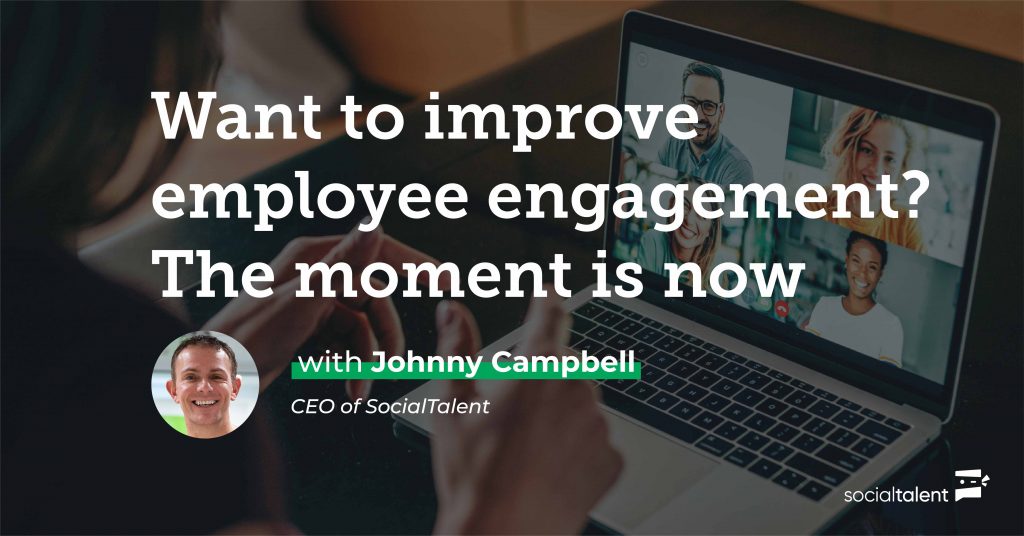 Leaders in every industry agree that employee engagement is becoming an increasingly difficult job. As the pandemic shifted priorities and workers found renewed agency, the formula for engagement most definitely altered. But I wonder how many organizations have actually accounted for this?
According to a recent Gallup survey, as much as 85% of the world's workforce is disengaged at the moment. It's a shocking statistic. But I'm not wholly surprised by it either. Work became a secondary concern for so long, and in the midst of the current global crises, it's hard to find a moment to breathe, let alone be completely engaged in daily tasks.
And that's why it's our job as leaders and organizations to ensure we are doing everything we can to keep talent content, focused and flourishing, especially if we want to get the best out of them and earn their dedication.
So, what are a few of the things that come to mind when thinking about how to boost employee engagement? Perhaps it's: 
Flexible working options

A competitive salary

A defined mission

Respect and inclusion
To be honest, I don't think these are the tools that drive increased engagement. These are the non-negotiables. Employees can get these elements in countless organizations – so what makes yours truly stand out? Remember: according to research, it takes more than a 20% pay increase to lure most employees away from a manager who engages them, and next to nothing to poach disengaged workers.
What can organizations do to differentiate themselves? 
Personally, I buy into Dan Heath's theory on The Power of Moments. Dan is a New York Times bestselling author and we recently partnered on content for the SocialTalent platform. It has inspired me to look at employee engagement through a whole new lens. Dan believes that in order to keep employees engaged, you have to leverage, what he calls, "peak moments" to the utmost of their potential. It's about creating memorable experiences and scattering them throughout company culture, the work day, or wherever there is opportunity. And it's these positive moments that directly feed into how employees feel valued, appreciated and proud.
Reflecting on Dan's training changed our focus as a company. While we remain committed to ensuring that the scaffolding of the workplace remains strong, we wanted to start incorporating more of these moments to truly make SocialTalent a place that walks the talk in terms of employee engagement. Here are just a few of the moments we created. 
The ski trip
Now this was a PEAK moment! In February of this year, we took the SocialTalent team for a skiing holiday in Austria. The impetus for this came from a very lofty stretch target created in 2021, that we amazingly managed to hit! After so much uncertainty and scrambling in the previous year, we wanted to do something slightly outrageous to thank our employees and share an experience. In his training, Dan Heath says that we need to "beware the soul-sucking force of reasonableness." And true to form, there were a million reasons not to do this trip, from costs to organization arrangements, but in the end, it was absolutely worth it. To be able to reward the team for their incredible hard work, toast their success and build a memory together, it was invaluable.
The mug
From something ostentatious, to something small. Dan Heath talks about the importance of being responsive and finding opportunities to make a moment special. We had a boomerang hire in the company recently. After being devastated to see this person go at the start of the pandemic, when we had the chance to get them back, it was important to mark the occasion, so the team had a mug created that read: "so good, we hired you twice."
It was a great touch! Something personal and specific, but again, it created a moment and conveyed how happy we were to have this employee back. Personalization makes people feel noticed and valued, and even small things can have a big impact on how we keep teams engaged.
The virtual Christmas party
As SocialTalent pivoted during the pandemic to become a remote-first company forever, it has taken a lot of trial and error to create engaging experiences virtually. It's a new world, but we know it can be done, because our 2020 Christmas party proved it! With precision planning, we arranged for boxes to be delivered to every employee before the event, with strict instructions not to open them until asked during the group call. Inside were twelve individually wrapped packages – each one was either a tool for a game we were playing, a drink or sweet treat, or an actual gift. 
The goal was to bring some physicality to the virtual. To create a sense of togetherness from afar, and it worked! It showed that with the right tweaks, it's possible to create peak moments through this medium. We laughed and joked and enjoyed the experience, and still talk to this day about what a success it had been!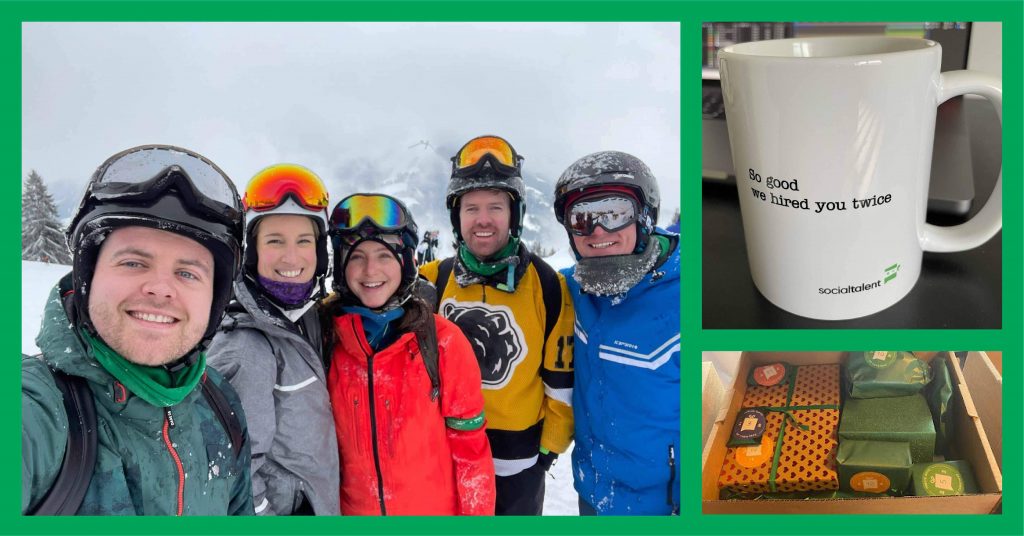 Employee engagement in 2022
Moments like these create peak memories for your employees. They're unique situations, fostered entirely to give-back, to highlight appreciation and value the work. But it's important to recognize that I'm not talking about "beer and ping pong" here – that will not solve your engagement issues. Instead, it's about understanding the importance of going that extra mile. It's about ensuring you have the essentials covered off in terms of flexibility, pay and clarity. It's about realizing that you have the power to do more. As Dan Heath says:
"You can create peaks, and can elevate people. You can spark insight, instil pride and connect people together."
Focusing on creating moments could be the difference-maker, especially at a time when retention is becoming a systemic issue. Finding ways to create an experience, celebrate milestones and drive purpose, even in small ways, can pay dividends in terms of engagement. And it's never been more imperative to invest in this kind of thinking. The world of work is changing; engagement is no longer a buzzword to consider lightly. It is a fundamental reflection on the health of your business and its employees.
Luckily, we'll be speaking about this topic even more during our next SocialTalent Live event. Taking place on May 5th, we'll be hearing from a range of speakers, including Dan Heath, about the tactics they use to keep employees engaged. Follow this link here to register now and find out more information.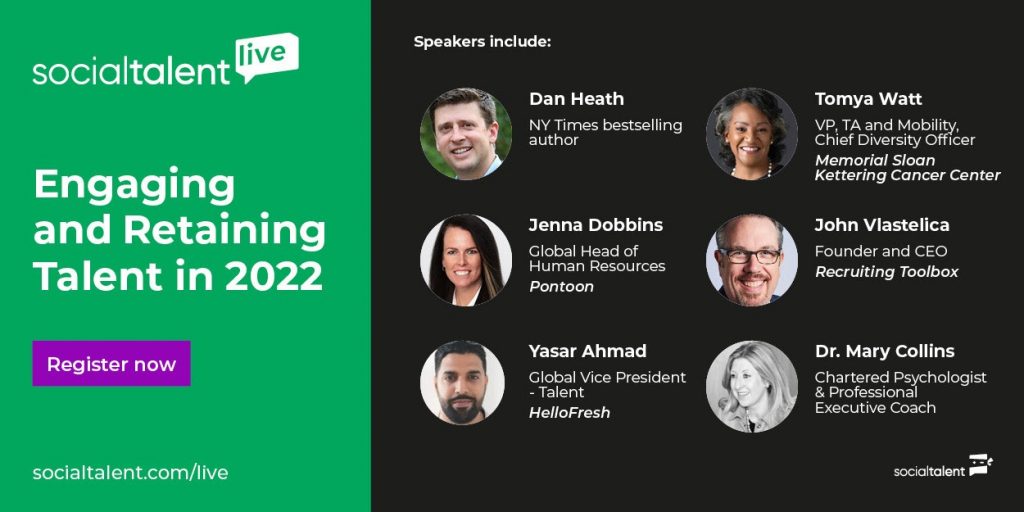 SocialTalent Live: Engaging and Retaining Talent in 2022 is taking place on May 5th. Click here to register now.
Find out how the likes of IBM, IKEA and Siemens
drive hiring excellence with SocialTalent
---