Keep up with the latest hiring trends!
3 Great Tips for Building your LinkedIn Network
The last two weeks has seen some strong recruiter revolt over the prohibitions of LinkedIn and not allowing people view the full profiles of LinkedIn members who're a 3rd degree connection. We wrote a blog here about how to get around these profile visibility limits on Monday, and the feedback we've had from recruiters all around the world was almost without exception filled with vitriol and anger at LinkedIn's opportunist behaviour.
However, in the spirit of being fair – LinkedIn is about building connections with people. You get 3,000 opportunities to invite someone to connect to you, and you're able to hold a network of 30,000 connections. The more you connect with other people on the network, the more of the network you're able to see. In effect, less and less people will be in your 3rd degree or farther connection bank.
So, follow these tips to grow your LinkedIn network and decrease the pool of LinkedIn members outside of your reach!
1: Put your Connection link in your Email signature & other online places
By this we mean create a one-click invitation link to the actual page in which I'm brought straight away to this page: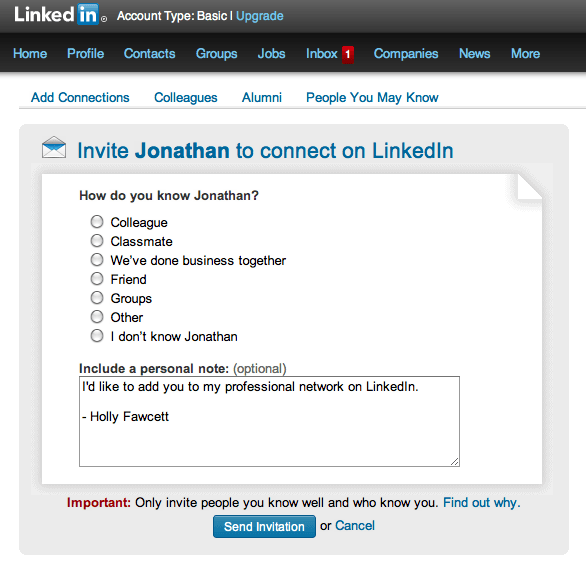 Create your own one-click connection link by following Stacy Donovan Zapar's step-by-step tips on her blog here.
2. RECRUITERS – CONNECT TO OTHER RECRUITERS!!!!!
Yes, we really are encouraging you to actively connect with other recruiters. "Why?" I hear you ask. Because recruiters generally have large networks of connections. If you're included in that network, then your network by proxy increases by the number of connections they have.
Now, I hear your concerns – but they're my competition and they can see my connections and poach my potential clients and hires No, that's not going to be the case. In your settings (click on your name in the top right corner of the screen, click settings and enter your LinkedIn password), choose "Select who can see my connections", and change it to "Only you". This way when you connect to anyone on LinkedIn, only the connections you share (1st degree) can be seen, and no one else.


To instantly grow your network, connect to us here in Social Talent – Jonathan (who has over 4,500 connections), Holly (over 1,000) and Nicola (over 1,000). Connect to others who mark themselves as LION (LinkedIn Open Networker).
Remember – the larger your network, the less and less 3rd degree or even farther removed people there'll be for you on the network!
3. Install Email Apps that connect you to LinkedIn
There's some really great email applications that you can install (for free) that show up the LinkedIn and other social networking credentials of anyone who emails you. From within these applications that sit beside your email window, you can send a connection request there and then – and if you're a recruiter who has to input an email address for every connection request you send, you don't have to do that here. The app uses the fact that you're currently emailing them to bypass this requirement.
Apps we recommend:
Rapportive for Gmail/Google Apps for Business
This is an excellent app built by three chaps from Cambridge and recently bought out by LinkedIn. The app works for Gmail and Google Apps for Business, and a little window pops up with a brief synopsis of their LinkedIn profile (headline, pic, location), as well as buttons to connect to them across any social network in which they use that email address.
Xobni for Outlook
Xobni (Inbox spelled backwards) is another free app that works in both Gmail and also Outlook, as well as mobile (iPhone, Blackberry and Android). Exactly like Rapportive, it'll show you the social networks connected to a certain email address and enable you to connect with them over those networks.
LinkedIn for Lotus Notes
There aren't many plugins for Lotus Notes, however LinkedIn have created one and it works very similarly to Xobni and Rapportive.
Now that you have your plugin installed in your email, when you're emailing someone and their LinkedIn profile pops up and you see you're not connected to them, CONNECT TO THEM! Write them a personalised invite, and off you go!
Find out how the likes of IBM, IKEA and Siemens
drive hiring excellence with SocialTalent
---