Keep up with the latest hiring trends!
8 Industry-Rocking Recruitment News Stories this Week - 25th January 2016
In recruitment news this week:
The World Economic Forum On The Future Of Jobs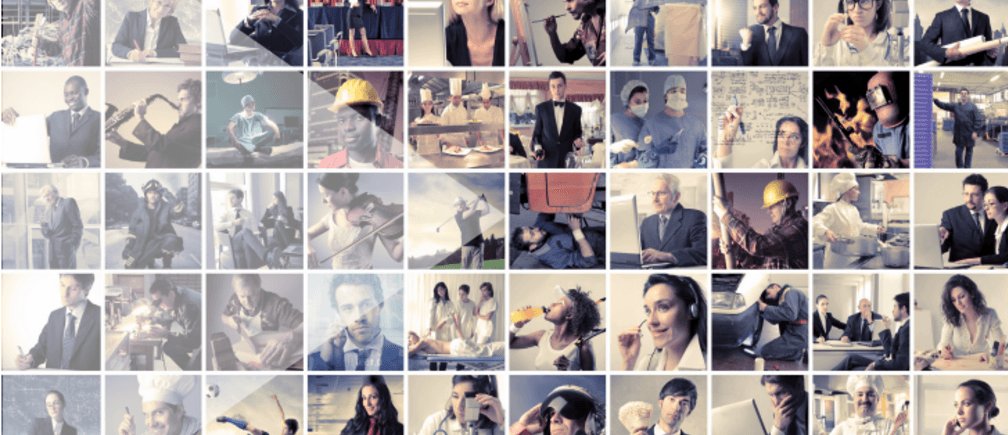 The World Economic Forum (WEF) has published an analysis  on the technological and sociological drivers of employment. The report, titled The Future of Jobs, validates the accelerating impact of technology on global employment trends, and also highlights serious concerns that job growth in certain industries is still very much outpaced by large-scale declines in other industries.
The report surveyed senior executives and chief human resources officers of various companies "representing more than 13 million employees across 9 broad industry sectors in 15 major developed and emerging economies and regional economic areas."
Executives were asked about employment trends and their drivers. The WEF summarises the trends with:
"According to many industry observers, we are today on the cusp of a Fourth Industrial Revolution. Developments in previously disjointed fields such as artificial intelligence and machine learning, robotics, nanotechnology, 3D printing and genetics and biotechnology are all building on and amplifying one another. Smart systems—homes, factories, farms, grids or entire cities—will help tackle problems ranging from supply chain management to climate change. Concurrent to this technological revolution are a set of broader socio-economic, geopolitical and demographic developments, each interacting in multiple directions and intensifying each other."
The WEF report also stresses that socioeconomic drivers such as changes in work environment (more flexibility, on-demand work, remote work), a growing middle class, and urbanization in emerging markets contribute as much to the changes in employment trends as technology.
Technological Drivers of Employment Trends
Of the technological drivers, specific technologies highlighted in the short term (2015–2017) are:
mobile internet
cloud technology
cheaper computing power
and large scale data storage ("Big Data")
While their relative impact is expected to be small in the near term, hardware and physical technologies like robotics and the Internet of Things are expected to contribute most of their overall impact after 2018.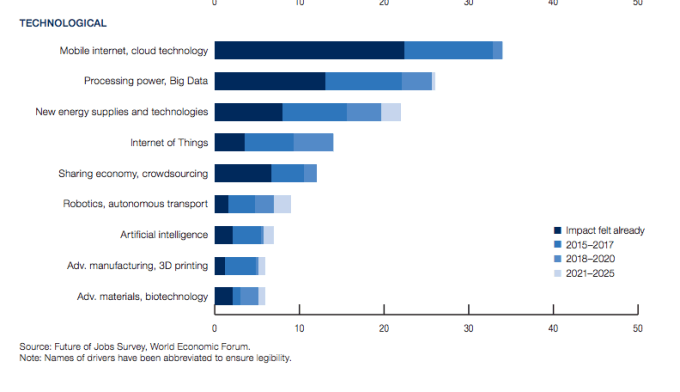 According to Techcrunch.com, the impact of these drivers on employment rates in various industries is both promising and concerning. While technological innovation often leads to greater productivity and prosperity, the speed of change will put an unprecedented stress on a transitioning labor force. On the impact of job creation, the report states:
"…current trends could lead to a net employment impact of more than 5.1 million jobs lost to disruptive labour market changes over the period 2015–2020, with a total loss of 7.1 million jobs— two thirds of which are concentrated in the Office and Administrative job family—and a total gain of 2 million jobs, in several smaller job families."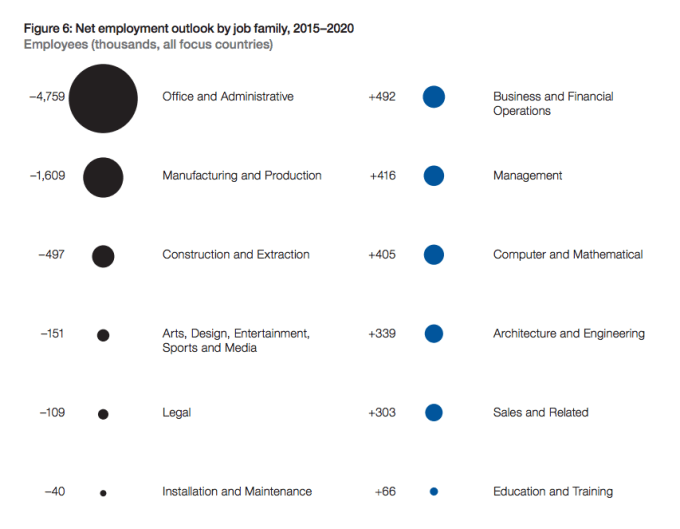 Diversity Recruiting Platform Jopwell Raises $3.25M
Jopwell, the Y-Combinator-backed diversity and hiring recruiting platform dedicated to helping blacks, Hispanics and Native Americans get jobs in tech, has raised a $3.25 million seed round from Magic Johnson Enterprises, Andreessen Horowitz, Kapor Capital, Omidyar Network, Valar Ventures and others to scale its operations and product capabilities. This round brings its total funding to more than $4.22 million.
"For over 30 years, I've helped major corporations with their diversity challenges," Magic Johnson of Magic Johnson Enterprises said in a statement. "Investing in Jopwell fits into my mission to support, empower and strengthen underserved communities. Jopwell optimises the search and hiring process. It gives people the tools they need to become successful. When you look at the portfolio, the investment was a no-brainer. We're excited to help Porter and Ryan take Jopwell to the next level."
In the last year, Jopwell has brought on 40 additional corporate customers. Its current client roster includes Facebook, Box, Trello, Khan Academy, MasterCard, BuzzFeed, Jet and Etsy.
"We are incredibly selective on the companies we partner with," Braswell told me in an interview last month. "We partner with companies that want to increase workforce diversity across divisions."
On average, recruiter searches yield 250 qualified candidates from underrepresented ethnic minority groups. From a gender standpoint, 50% of the people Jopwell identify as female, 49% identify as male and 1% identify as non-binary.
Jopwell does not disclose the number of hires facilitated through the platform, but the company says it has facilitated over 6,000 connections between companies and potential job candidates. In Q4 2015, Jopwell saw employer searches for candidates triple.
MyState Wants To Let You Know When It's Good To Call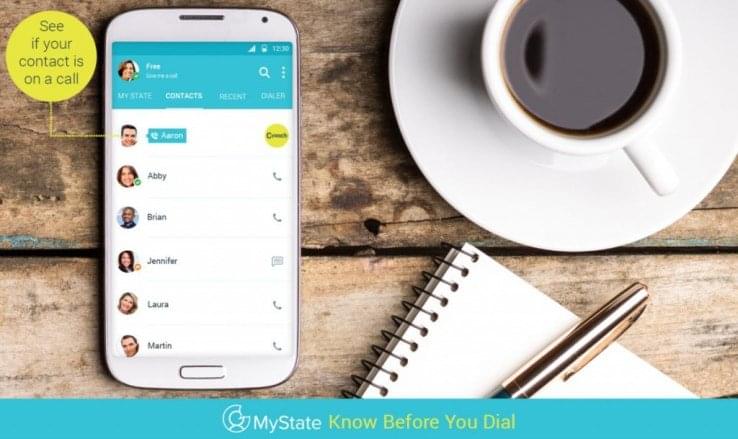 Yes, you read that correctly, MyState wants to solve the pesky recruiting problem of knowing when it's good to call. The mobile app, which launched last Wednesday for iOS and Android, provides what is essentially a smarter contacts book, with icons next to each contact letting you know their current communications status.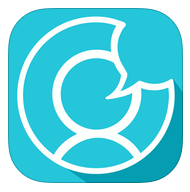 "The problem we are trying to solve is the 'communication blindness' people have when trying to reach someone on the phone," MyState co-founder Assaf Pney-El tells Techcrunch.com. "When you call someone, you often get a busy signal, or interrupt them during an inappropriate time like a meeting, which wastes your time and can also bother your contact. Phones have evolved immensely throughout the years, but the same problem has always persisted: wasted time and frustration when you can't get a hold of your contact."
The MyState app attempts to solve the problem by letting you know in advance of dialling whether a contact is available or not. If your contact is on a call, MyState will notify you when they're available again, and let your contact know you're trying to get in touch.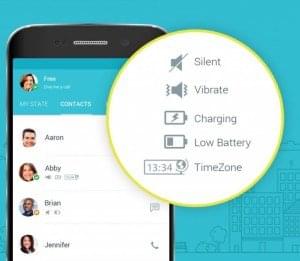 On both versions of the app, your current status can be changed manually and the app will display if a contact is offline. However, the Android version of MyState has a few other neat tricks up its sleeve. They include automatically being able to see if your contact is on a call, their phone is set on silent or vibrate, or has a low battery. The Tel Aviv-based startup says it's working on bringing these features to iOS too.
"We came up with MyState because one of the founders kept receiving phone calls he thought were urgent, but were in fact not. He wished that there was some way to let his contacts know that he was on a call, and that they should only call if it was urgent," adds Pney-El.
But, beyond the current MyState mobile app, the vision for the company is to become a "smart communication platform" to better coordinate the way people and businesses communicate.
We really like the sound of this! Has anyone tried it from a recruitment perspective yet? Let us know in the comments below or tweet us @SocialTalent.
Weibo (China's Twitter) MASSIVELY Increases Character Limit, Pressuring Twitter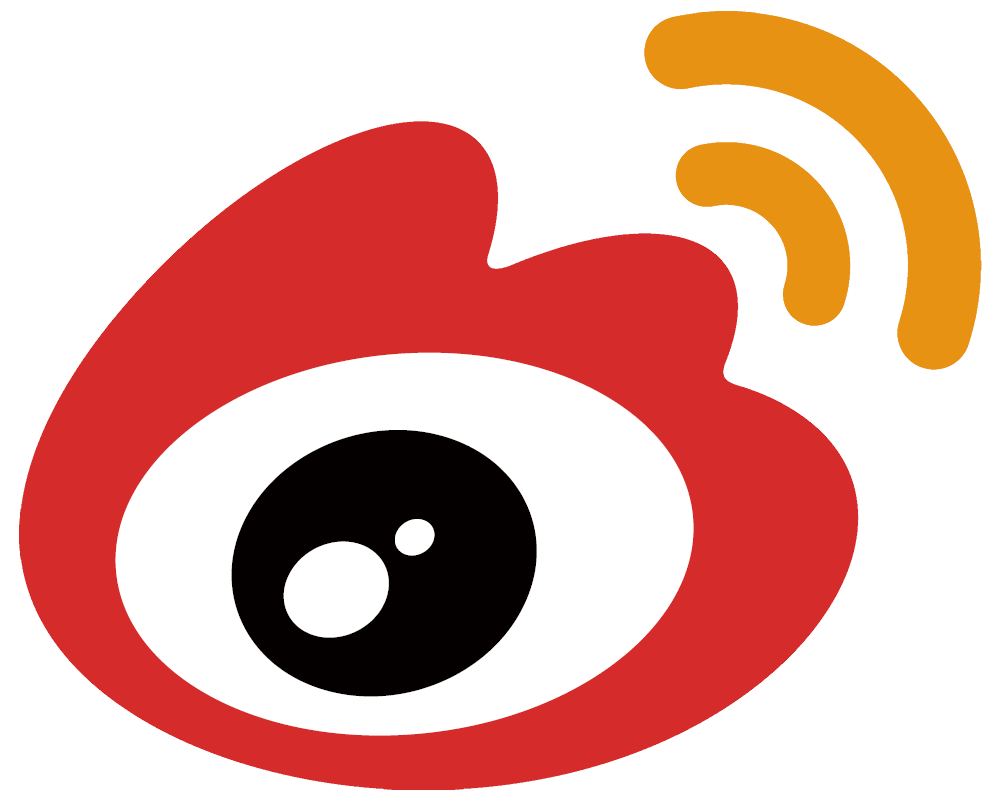 First 30 was the new 40, then orange was the new black, and now it looks like 2,000 characters is the new 140.
Weibo, China's microblogging platform that is often compared to Twitter, will reportedly expand its 140-Chinese-character limit on messages to as much as 2,000, according to the South China Morning Post.reportedly expand its 140-Chinese-character limit on messages to as much as 2,000, according to the South China Morning Post.
Weibo will launch a trial with the new character limit on January 28th, and a month later, the update will roll out to the rest of its 500 million users.
Much like Twitter's rumoured character expansion, Weibo's won't visually affect user timelines too much. Posts will show only the first 140 characters, and readers will need to click an "enter" button to see the full message.
"According to Weibo's big data, only about 10% of original posts surpass 120 Chinese characters," a Weibo spokesperson told the South China Morning Post. "But we are extending the text limit to offer greater choice and a better user experience. It will be available to our VIP members from January 28th and the rest of the public from February 28."
The idea of giving users more space for messages generated a lot of controversy considering Twitter's 140 character limit has been a defining feature since its launch nearly a decade ago. Twitter's new plan may (or may not) launch later this quarter. Only time will tell.
Two-thirds of UK CEOs to Increase Hiring in 2016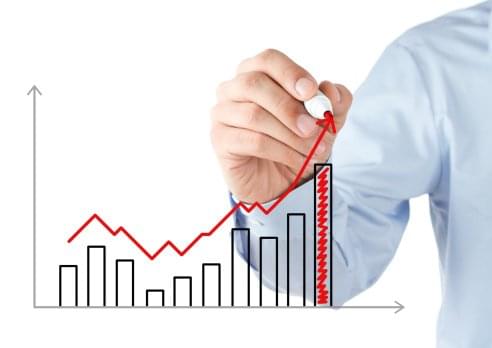 According to a survey by PwC, investing in recruitment and growth should increase in 2016 as UK bosses do their best to veto worries about rising global risks.
Yes, two-thirds of UK CEOs are anticipating a bigger spend in hiring than last year, and 64% are anticipating mergers and acquisitions in the upcoming year. While, 84% of UK respondents said they were confident about their firm's prospects this year.
PwC UK Chairman Ian Powell said: "It is encouraging that UK business leaders are holding their nerve against the uncertain global economic and geopolitical backdrop by planning to invest in creating new jobs and developing their people. This longer-term investment should position UK companies well in the future."
The survey also revealed that UK hiring plans are set to eclipse their European counterparts.
Not all were optimistic though. Over half of British bosses see more threats to their company now than 3 years ago. These include over-regulation, geopolitical uncertainty, and cyber security trepidations.
Top 25 Best UK Jobs for 2016 Revealed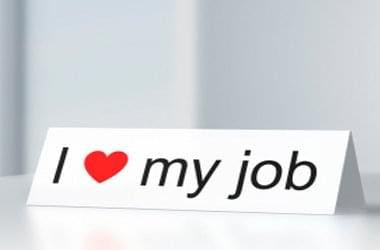 The HR sector is set for a positive year, with the role of HR Manager being the fourth best job in 2016, with a job score of 4.3 out of five. Recruiting Manager came in 13th with Recruitment Consultant just behind in 14th. Talent Acquisition Specialist was 21st on the list.
The list, compiled by Glassdoor using their unique Glassdoor Job Score, is determined by weighing 3 factors equally:
earning potential (median annual base salary)
career opportunities rating
number of job openings
The results represent job titles that rate highly among all 3 categories.
"For a job title to be considered, it must receive at least 30 salary reports and at least 30 career opportunities ratings shared by UK-based employees over the past year (8th January 2015 to 7th January 2016). The number of job openings per job title represents active listings on Glassdoor as of 8th January 2016. This report takes into account job title normalisation that group's similar job titles and a minimum of 100 job openings must be live per job title."
Speaking to Executive Grapevine, Diarmuid Russell, Glassdoor's Head of International, said of the findings: "The UK jobs market is in a buoyant mood with record numbers of people in employment and a good ratio of available roles per jobseeker. These results demonstrate that popular jobs in recruitment and HR mean UK businesses are placing greater importance on growing numbers and building teams. HR Manager has risen from 11th to fourth this year, showing how positive the sector is."
The full 25 can be seen below.
Business Development Manager– Glassdoor Job Score: 4.3
Finance Manager – Glassdoor Job Score: 4.3
Operations Manager – Glassdoor Job Score: 4.3
HR Manager – Glassdoor Job Score: 4.3
Marketing Manager – Glassdoor Job Score: 4.2
Business Analyst – Glassdoor Job Score: 4.2
Commercial Manager – Glassdoor Job Score: 4.1
Project Manager – Glassdoor Job Score: 4.1
Product Manager – Glassdoor Job Score: 4.0
Software Engineer– Glassdoor Job Score: 4.0
Marketing Analyst – Glassdoor Job Score: 3.912.
Account Manager – Glassdoor Job Score: 3.9
Recruiting Manager – Glassdoor Job Score: 3.9
Recruitment Consultant – Glassdoor Job Score: 3.9
Solutions Architect – Glassdoor Job Score: 3.8
Sales Manager– Glassdoor Job Score: 3.8
Brand Manager– Glassdoor Job Score: 3.7
Accountant – Glassdoor Job Score: 3.6
Business Development Executive – Glassdoor Job Score: 3.5
Consultant – Glassdoor Job Score: 3.5
Talent Acquisition Specialist – Glassdoor Job Score: 3.5
Design Engineer– Glassdoor Job Score: 3.5
Service Manager – Glassdoor Job Score: 3.5
Trader – Glassdoor Job Score: 3.4
Personal Assistant – Glassdoor Job Score: 3.4
7 of the Most Outrageous (and Clever) Lines Applicants Have Included in Their Resumes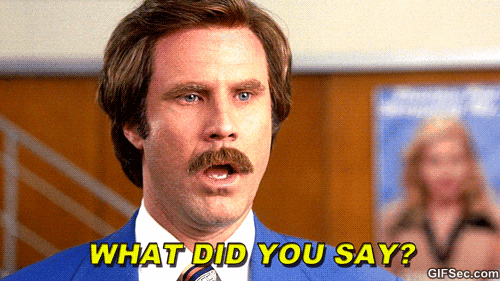 Quora have selected the 7 most amazing cases where job applicants understood that in order to get themselves noticed they needed to try something a little bit different! In these 7 cases, rather than go down the traditional professional route, they added a little bit of pizzazz to their CV, and provided a welcome respite from the serious work of hiring in the process.
1. The applicant who was his own biggest cheerleader (shared by Shruthi Nambiar)
One applicant named Eric included precisely one reference on his resume. It read: ""Reference: Eric. Who better to tell you about me than… me. Holla!"
2. The applicant who flouted a prestigious, if not particularly unique, honour (shared by Anirudh Wodeyar)
On one resume, in the accomplishment section, an applicant put Time Magazine Person of the Year, 2006 (shared). Prestigious, right? Well, maybe not so much. That year, Time Magazine named "You" the person of the year, as in everybody. The idea was that with the predominance of social media and wikis like Wikipedia, the individual was more empowered than ever before.
So, technically, the applicant was correct. But, then again, maybe it wasn't as great of an accomplishment as it might have seemed.
3. The one applicant who really got Christopher Nolan (shared by Subhojit Sarkar)
One applicant put "understanding Interstellar" – as in, understanding the plot of the Christopher Nolan movie Interstellar (which had perhaps one of the worst endings in history, by the way, but that's another story) ­– as a skill in their resume. Now, if they said they fully got Memento and Inception the first time they saw it as well, they probably would have gotten hired on the spot.
4. The heroic gamer who amazingly had time to apply for the job (shared by Sriram Ilango)
People love to hire candidates who overcome obstacles, and this applicant decided to play off of that. Under achievements, he wrote how he maintained a strong GPA throughout his entire college career ­– despite logging over 3,000 hours playing a soccer video game.
Now that's an accomplishment.
5. The applicant who was also an incredibly effective eater (shared by Mark Slack)
One candidate, under skills, wrote "always uses just the right amount of salt, no matter the shaker." Impressive, particularly considering the wide range and styles of saltshakers.
6. The applicant who was a gentleman at work, but Celine Dion in the bathroom (shared by Rajat Vashishta)
The interest section is often a source of, well, great interest. And one applicant, a recent graduate in computer science, was no different. Under interests, he wrote "bathroom singing." Unfortunately, he wouldn't sing in the interview, preferring to keep it exclusively to the shower.
7. The one candidate who mastered the art of the food metaphor (shared by Vijay Kalangi)
An applicant for a software developer position wanted to show how versatile he could be. In his resume, he described himself as "boiled white rice," because boiled white rice can be turned into lemon rice, curd rice and rice baat. He even made a diagram showing off his "white rice" skills: knowledge of core programming concepts, database concepts, server-side programming, etc. From there, he explained how his "white rice" skills could be turned into more exotic rice dishes, such as his understanding of core programming concepts could lead to Java development, aka a "lemon rice" skill. Or how his strong grasp of database concepts could lead to PHP developer, aka a "curd rice" skill.
LinkedIn Reveals Most Overused Recruiter Buzzwords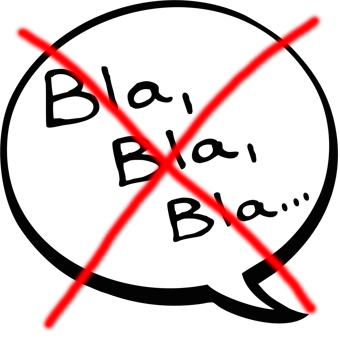 LinkedIn has compiled a list of the ten most overused words UK recruiters use on their profiles, by analysing the profile summaries of the UK recruitment sector.
Richard George, Corporate Communications Manager for EMEA at LinkedIn, urges recruiters to "ditch the jargon". He explains: "Social media has changed the search and hiring process, and therefore the way recruiters engage candidates. Recruiters now have a wealth of potential candidates at their fingertips, but recruitment is still about relationships. People respond better to those with a human touch, so it's important that recruiters feel comfortable ditching the jargon and being themselves."
The 2016 Top 10 Buzzwords of UK Recruiters:
Motivated
Track record
Strategic
Passionate
Successful
Dedicated
Driven
Leadership
Enthusiastic
Responsible
Find out how the likes of IBM, IKEA and Siemens
drive hiring excellence with SocialTalent
---