Keep up with the latest hiring trends!
8 Recruitment News Stories to Kick-Off the New Month - 2nd November 2015
In the news this week:
LinkedIn Price Hike Coming January 2016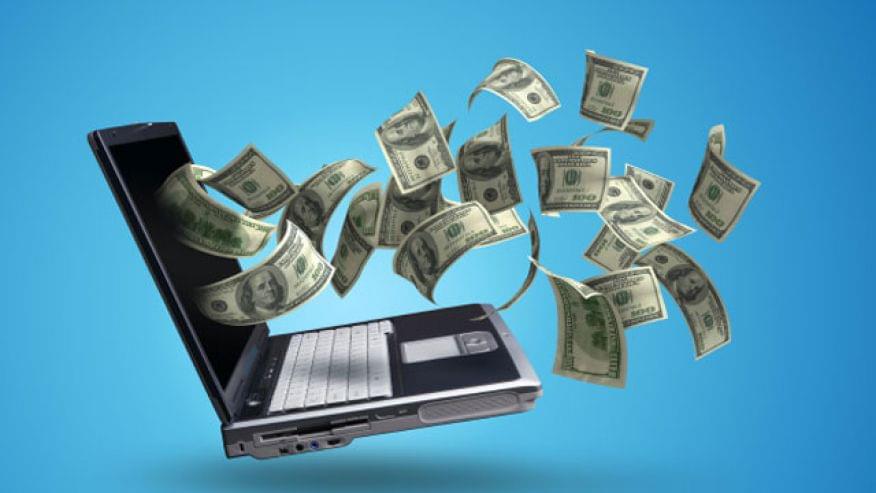 It's been just over a year since LinkedIn adjusted the prices of Recruiter and Job Slots and, as they so willingly point out to us in their latest announcement, they have launched more than 25 product enhancements – including "major upgrades to Recruiter search, an improved InMail experience, and a new Job Seeker app on Android" – all to help you "quickly and effectively recruit the best talent". Which is why they've decided to introduce a price hike. Albeit a small one.
On January 1st, 2016, the prices of Recruiter Corporate and Job Slots will be adjusted for certain North American customers. The price of Recruiter Professional Services will also be adjusted for customers paying in USD, CAD, GBP, or EUR. The average percentage price increase will be in the "single digits".
LinkedIn are encouraging anyone with questions, to contact their sales representative.
Companies Will Demand More From Recruiting in 2016…Without Spending More
According to LinkedIn, 62% of companies are looking to hire more people in 2016 than they did in 2015. Great news for recruiters right? Yes it is, but there's a catch – only 44% of those companies said they will be spending more on hiring in 2016 than they did in 2015. That means a whopping 56% of companies won't increase their recruiting budget but they will be expecting their talent acquisition teams to do more.
But how are we supposed to do more, without spending more?! LinkedIn think they have a 5-fold solution. But do you agree? Here's what they suggest:
1. Share your challenge with your company's leadership team
"If your company's leaders want you to do more without spending more, you need to include them in the solution. The best way to do that is to show them both the challenges in the labour market and the challenges facing your team, so they'll work with you to create a holistic solution to the problem."
We think: They do say that "a problem shared is a problem halved" so they might be on to something here.
2. Be wise with how you are using your team
"Melissa Thompson, the Executive Director of Talent Acquisition at Citrix, suggested getting creative with how you structure your team when the budget is tight. That means focusing on the most critical jobs first, and finding ways to make do elsewhere.
"We're considering a shared services model for next year," Thompson said. "For example, if four recruiting coordinators can accomplish what I was able to achieve with eight coordinators, then I can realign four coordinators for special high-touch projects."
We think: Easier said then done methinks…
3. Have marketing help you with your employer brand
"AXA Global Resourcing and Employer Brand Manager, Hannah West, says that often a tight budget means looking to other departments within your company for help. Specifically, West said she's worked extensively with AXA's marketing team to help build out the company's employer brand."
We think: We wholeheartedly agree with this one! A strong employer brand is one of the greatest assets a company can possess when it comes to attracting and retaining talent, which is why in 2015 nearly two-thirds of companies surveyed said employer branding was a top priority at their company: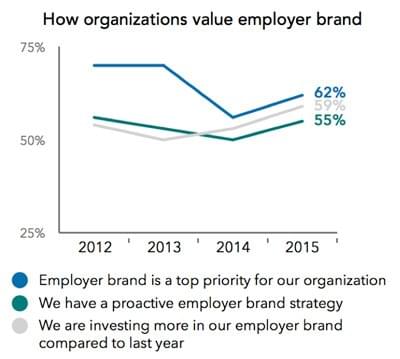 Marketing know your brand inside-out, so involving them in the recruitment process is therefore a bit of a no-brainer!
4. Use technology where appropriate
"With budgets and recruiters' time so tight, it's critical to automate any processes where possible. For example, a well-built piece of referral software can both increase the amount of referrals you get and cut down on the amount of time it takes to administer the program. Specifically, Rajeev Mendiratta, the Head of Workforce Management and Overseas Operations at Wipro Technologies, said he looks to technology to automate as many labor-intensive processes as possible.
While it sounds counter-intuitive to spend money on new technology when budgets are tight, the fact is the right tools can make your team far more efficient and ultimately bring the type of sustainable savings your organisation needs to stay competitive, he said."
We think: We are huge advocates of any technology that makes what we do as recruiters easier on a daily basis, but there are loads of free tools out there that you can start using right now, that won't cost you a penny and will improve your productivity just as much. Check out our lists:
5. Turn your employees into recruiters
"One of the best ways to save money while hiring is to have all your employees working as recruiters for your company, not just your talent acquisition team. How do you do that? Build a great referral program that turns all your employees into recruiters. Not only is this an inexpensive way to bring in top talent, referrals are generally the best source of high-quality hires."
We think: Referrals will be BIG news in 2016. They're already the number one source of hire for the vast majority of businesses, but with the likes of LinkedIn's new Referral product, we reckon referrals will be it will become an even more important source of hire in 2016. Time to start strategising recruiters!
(RELATED: 4 BIG LinkedIn Product Changes That Will Change the Way You Recruit Forever!)
Twitter Unveils A New Set Of Brand-Centric Analytics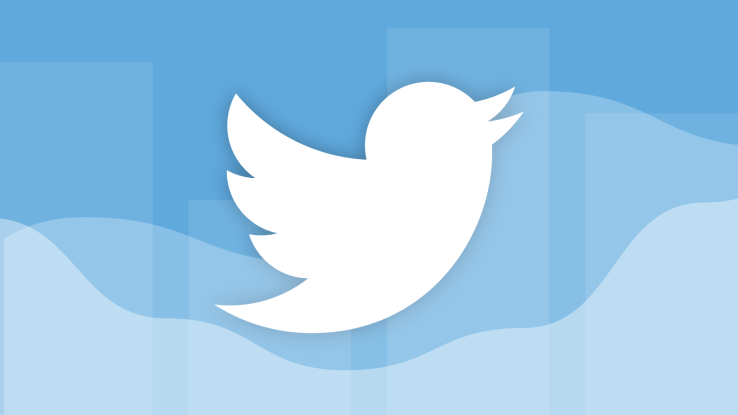 Twitter is expanding its analytics product with the launch of what it's calling the Twitter Brand Hub. And it has some REALLY interesting new metrics that recruiters can use to access their candidate pool on Twitter.
Yes, even though the "Brand Hub" is for Twitter advertisers, it's actually less focused on specific ads or campaigns and more on the broader conversation being had around your brand and/or your products. For example, Twitter have introduced a "TrueVoice" metric, which represents how much of the social media conversation is about a given brand, compared to their competitors.
Here's how the company says it measures this: "We determine your brand's TrueVoice by first analysing Tweets about your brand and those about your competitors. Then, we identify what percentage of these impressions your brand owns":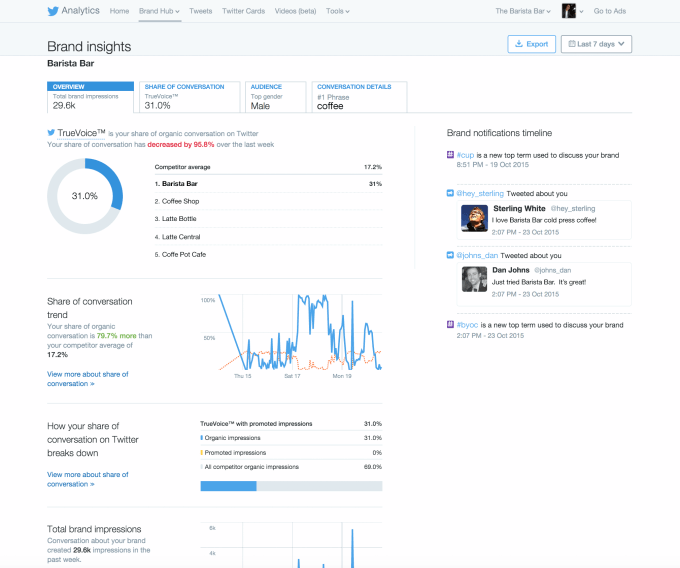 The Brand Hub also includes important demographic data — like gender, location and income level — about people tweeting about your brand/company, and lists the top "influencers" in the conversation. What an amazing way to get a glimpse into your candidate pool on Twitter right?!
It also includes additional information about what people are saying, like the top phrases or the level of brand loyalty implied in those tweets. Talk about perfect fodder for knowing which phrases and hashtags to use in your job tweets!
The company says it's currently making the Brand Hub available to large and medium advertisers in English-speaking countries, so if you don't have access to it already via your Twitter Ads account, sit tight!
(RELATED: How to Recruit Tech Pros on Twitter [FREE Whitepaper])
Connectifier Raises $6M More For Its AI-Based Recruitment Search

A couple of weeks ago, LinkedIn announced a new version of its recruitment product, giving HR teams the ability to look for new hires that most closely match the profiles of employees they already know and like. But LinkedIn was not the first to use search technology, machine learning and so-called "entity recognition" to update and improve the hiring process. A much smaller startup called Connectifier launched a similar product earlier this year, and now it is announcing a fund raise of $6 million to continue building out its platform.
Connectifier's growth (and LinkedIn jumping into the game alongside it) underscores an evolution not just in recruitment software but in the bigger area of vertical search. The crux of the change seems to be that, to be more competitive in areas where users are looking for something specific, those trying to meet that need are doing so by raising their game by using tech like machine learning, the latest advances in search and big data analytics to get the most accurate results.
In the area of recruitment search, LinkedIn may be the bigger and more established company, but Connectifier is hoping to stand out by virtue of its product. While LinkedIn is tapping its own database of 380 million+ users as its search pool, Connectifier — founded by ex-Googlers John Jersin and Benjamin McCann — has been trying something more ambitious and, well, Google-like.
"We have been working on some interesting things that we'd like to think we have done first," Jersin said in an interview. "It's flattering to think that LinkedIn may be taking cues from us."
The company essentially crawls millions of pages of social networks and other sites that post public information from individuals, and about individuals, to build profiles of people, using a host of algorithms to sift out older pieces of info to give more emphasis to current information to improve accuracy. Today there are about 370 million profiles that have been built in this way, with the number continuing to grow.
When recruiters are searching they can either do so by qualities that they know they are wanting to seek out — or they can upload profiles of people who are already working for them (or for others who they may not be able to poach), in hopes of finding others who are just as good. And so far, as a measure of its effectiveness, Connectifier has been growing fast. Sales are up 487% on an annual basis between Q1 2015 and Q1 2014; the company is now on a $10 million annualised run rate; the number of businesses using its services now at 482 from 107 a year ago; and customers include 40% of the Fortune 100, the company says.
Built by two engineers who originally conceived of the idea when lamenting their own recruiting headaches, Connectifier has had an especially early start in helping companies recruit engineers – a much in-demand field. But Connectifier's ambitions appear to be much wider, with other verticals where it's finding candidates including finance, sales, and healthcare — essentially a focus on all areas where recruiting top talent is very competitive.
"We've seen the market for our core product — technical recruitment — is really huge, so we'd like to use the funding to continue expansion there but also extend more into healthcare and finance, as well as covering more companies and data internationally," Jersin added.
ADP Drops Lawsuit Against Human Resources Startup Zenefits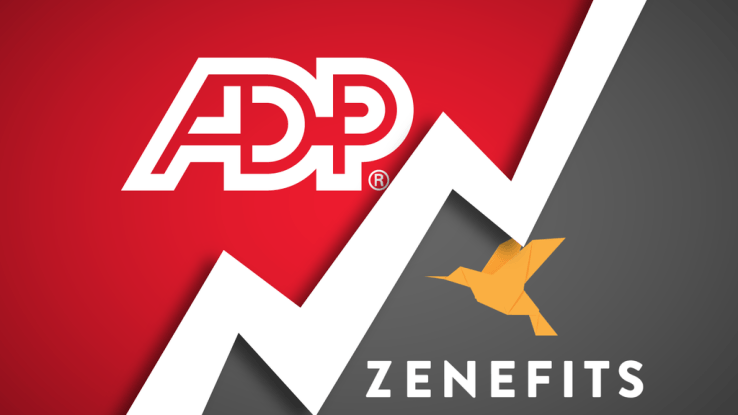 The legacy payroll company ADP on Tuesday dropped its defamation lawsuit against its quickly growing competitor, Zenefits.
In a major victory for the startup, a U.S. District Court for the Northern District of California dismissed the lawsuit with prejudice. Per the terms of the settlement, ADP stated it has no reason to believe problems exist with the security of Zenefits software. Zenefits said on the record it had no reason to believe ADP is unethical.
The settlement brings a months-long legal battle to a close. The dispute began in June when ADP, a 50-year-old payroll company, cut off Zenefits small business clients who were sharing data with the cloud-based startup from ADP's RUN payroll system. ADP stated that it blocked Zenefits due to security concerns because the company was not doing enough to protect personal identifying information, like Social Security Numbers.
Zenefits fired back with a blog post accusing ADP of cutting off the service because they were rolling out a competing product. ADP then sued Zenefits and its founder Parker Conrad, but on the same day launched a competing service called Opum. In July, Zenefits called ADP's lawsuit frivolous and called for it to be dismissed. According to those in the courtroom, a judge in September said it was clear ADP had no defamation claim, and the only question was whether the "lawsuit will die a slow death or a fast death."
Last Wednesday, the judge sided with Zenefits.
"While we are gratified by this legal victory, we are more pleased that we now can move forward and focus on serving our small business customers," Conrad said in a news release. "At times, this may mean competing with ADP, and at times, it may mean working with ADP. In either case, we at Zenefits are committed to making the hard work of administering HR as effortless and painless as possible."
ADP said in a statement that the settlement would allow them to put the case with Zenefits behind them. "At the core of our dispute were accusations that questioned our ethics and integrity," ADP said in an email to TechCrunch. "These are meaningful values to ADP and core to our culture. All we have ever wanted was for Zenefits to retract the baseless public statements they made. We withdrew the lawsuit after Zenefits satisfied that demand."
This is What Corporate Sourcers And Recruiters Are Earning In 2015
The 2015 SourceCon State of Sourcing Survey has revealed the difference between recruiters and sources when it comes to their remuneration: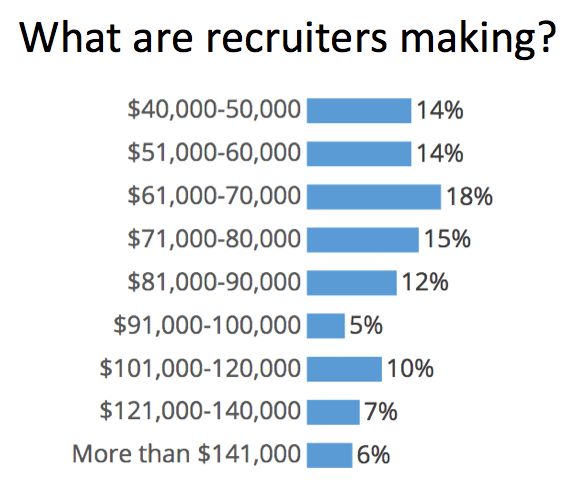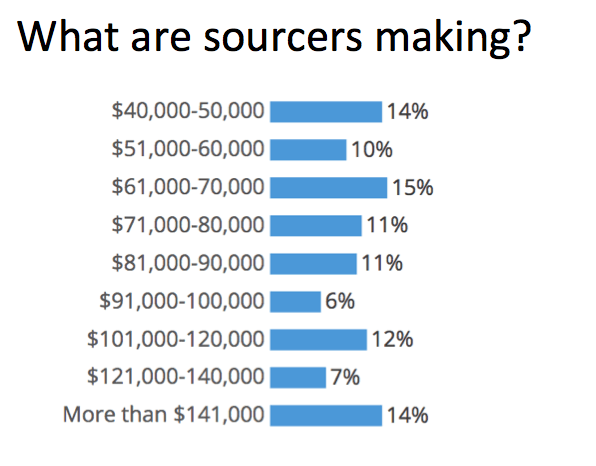 Do these numbers surprise you? Let us know in the comments below.
Top 12 Best Employment Brands are Revealed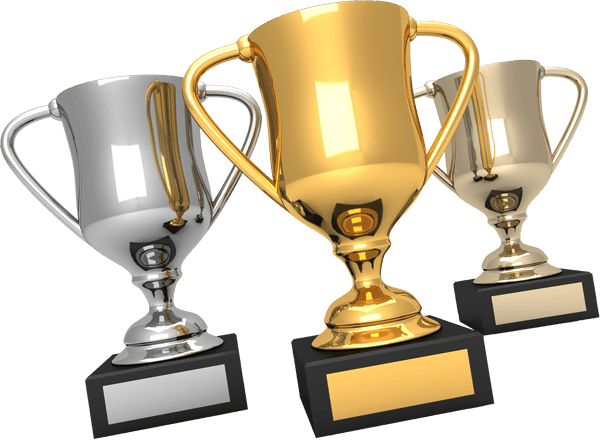 Last year, ERE.net published the first-ever rankings of the Fortune 500 employment brands in the U.S. And this year they've done it all over again. Yes, the 2015 Fortune 500 Top 100 Employment Brands Report is here, and filled with a quite a few surprises.
The biggest surprise? Google isn't at the top of the list. Shock-horror I know! That honour goes to Johnson & Johnson, the 129-year-old medical and pharmaceutical giant that runs some of the best-known brands in your medicine cabinet. Johnson & Johnson is engaging candidates — and its existing employees — in all the right ways.
Much the same way as they did last year, ERE.net looked at the various dimensions of the companies employment brand – career pages, job boards, employee reviews and candidate engagement, accolades, recruitment marketing, and social responsibility – to correlate the list. This year however, they also recognised the need to make adjustments to that correlation based on the ever-changing employment landscape which meant giving more emphasis to things like employee reviews and candidate engagement — the criteria that showcase the employee voice.
Top 12 organisations were:
Johnson & Johnson (79 points)
AT&T (72 points)
General Mills (71 points)
Coca-Cola (68 points)
Intel (67 points)
Southwest Airlines (66 points)
Google (65 points)
Salesforce.com (65 points)
P&G (64 points)
Goldman Sachs (64 points)
Nordstrom (64 points)
Coca-Cola Enterprises (64 points)
Each of the 12 companies "performed extremely well in two areas: recruitment marketing, and employee reviews and candidate engagement" and are doing "a good job of telling their story and encouraging employees to do the same." The top companies also demonstrated excellence when it came to career pages – which are often a candidate's first formal point of contact with an employer.
For more information as to what helped these brands stand out, read the original article here.
Snapchat Adds Slow-Mo, Fast-Forward, And Rewind Video Filters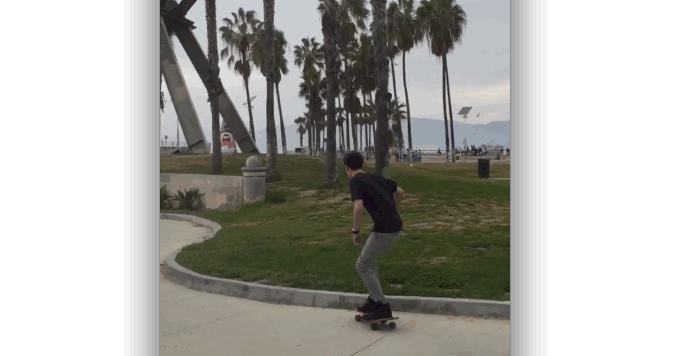 Snapchat is introducing a new set of filters called "Speed Modifiers" for videos you shoot on iOS or Android. They let you add slow motion, fast-forward, or rewind effects to your video. Just swipe sideways after shooting a video and you'll eventually see them applied to your snap.
What you see above is actually two videos stitched together. First, a clip in fast-forward, and then in rewind. Normally the Snapchat videos only go forward or backward, not both like Instagram Boomerang.
Snapchat is also adding 3D Touch capability for the iPhone 6S and 6S+ today. You can strong tap on your Snapchat homescreen icon to quickly reach options for sending a snap or adding a new friend. The features come in an update for iOS and Android that should be out soon if you don't see it yet.
The new speed modifiers try something a little different. Rather than just laying something on top of your snap, they actually change the content itself. In that sense, they're a bit like the slow-motion feature on some phones' cameras, or the new Instagram Boomerang back-and-forth video app: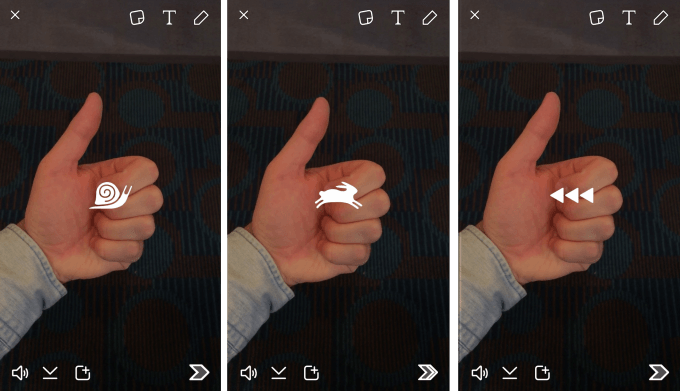 Here's how the new Snapchat filters work:
Slow-Motion – reduces the speed of your video so people can catch the little details, like a dog shaking off
Fast-Forward – makes your video play faster, which is great for sight gags of people falling, like in the example up top
Rewind – plays your video back at the same speed but in reverse, defying the laws of physics
This opens up tons of creative opportunities for personal users (and recruiters alike).
Come back tomorrow for our brand new SnapChat blog, exploring how SnapChat for recruitment has evolved dramatically over the last year.
Find out how the likes of IBM, IKEA and Siemens
drive hiring excellence with SocialTalent
---