Keep up with the latest hiring trends!
The next normal: hybrid offices and the future of work
Questions have always been raised about the effectiveness of the traditional office set-up and routine. Even Dolly Parton famously sang to condemn the practice of a staid nine to five job way back in the eighties! But with the advent of COVID-19, the future of work has been thrown into a state of unprecedented flux. 
Remote working instantly became the new normal for so many companies. Employees retreated to the relative safety of home offices, kitchen desks and makeshift alternatives to complete their regular tasks. Some thrived in these new circumstances. A Citrix survey, for example, found that 69% of American employees say they are more productive now than before the pandemic. But others have found the switch incredibly difficult, citing things like poor conditions and loneliness as hugely deleterious.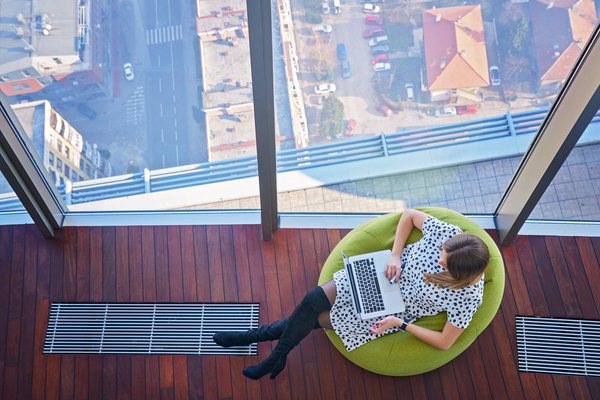 The concept of work has never been more nebulous, and as we look to the future, it seems like the only certainty is that things cannot stay the same as before. COVID has taught us to re-calibrate. Perhaps the solution lies in a flexible middle-ground, one that can cater to the needs, strengths and habits of each employee – the hybrid office.
What is a hybrid office?
A hybrid office, essentially, refers to having a small set of employees in the workplace while others remain home. It is a versatile working style that can take many shapes. For one company it could mean a fixed office building with open hot-desk spaces. For another, it could be a dynamic environment with alternating hours or rotating schedules. It caters to flexibility, allowing employees to choose where and how they want to work. In a recent survey of 400 Irish business leaders, it found that 40% expected an equal mix of remote and in-office work after COVID. Only 1 in 8 believed that all staff will be back in the office. If this temperature check is correct, then it seems like the industry is certainly leaning towards this best-of-both worlds scenario. 
What are the benefits of hybrid working?
According to Gulf Business, companies that 'recognise that the future is built on a foundation of flexibility are more likely to thrive.' When done right, the hybrid model combines the use of smart, physical space and digital technology to create an innovative and agile workforce that frees itself from the constraints of the four walls. It can take the best elements of remote and traditional work and allow businesses to exist more fluidly. They can tap into the increased 'work-from-home' productivity that has been well-documented in 2020 without entirely forsaking the known benefits of face-to-face engagement. It can also potentially bolster the company talent pool. With no absolute requirement for physical presence, a business can extend its recruitment policies into additional regions. And we all know the benefits that a diverse workforce can bring.

What are the challenges of the hybrid office?
The most immediate challenge, according to BCG, is looking at how to optimise the hybrid office. The goal is to ensure that both in-person and remote work will be two ends of the same spectrum. But this is exactly where difficulties can arise. In the latest episode of The Shortlist, Barbara Lee (SVP of Global Talent Acquisition at Nielsen) spoke about the need for businesses to re-think their processes. Whether that's an increased focus on collaboration when employees are in the office, or a greater emphasis on creating culture for remote workers, it all needs to be taken into account. The worst case scenario is the creation of an "us and them" mindset. HBR refers to it as 'proximity bias' wherein greater credence is given to employees in the physical office. Solutions, like using Zoom for all meetings regardless of geography, can certainly help this. But vigilance will be key.
The final word
Business.com believes that the future of work will focus 'on individuals and outcomes, not walls and water coolers.' But if 2020 has taught us anything, it's that there can be no certainties. Signs seem to signal a shift to embrace some form of flexibility though. Companies like Siemens, for example, have already implemented changes that set 2-3 days of mobile work per week as a new norm. A hybrid method like this does feel like a logical next step for many, but this isn't a one-size-fits-all solution.
Catch the latest episode of The Shortlist
here
with Barbara Lee to get even more information about the hybrid office. Or, if you're interested in the idea of blended working solutions for your business,
SocialTalent
has many training options available. Check it out.
Find out how the likes of IBM, IKEA and Siemens
drive hiring excellence with SocialTalent
---