Keep up with the latest hiring trends!
Use These 2 Google Tools To Recruit Smarter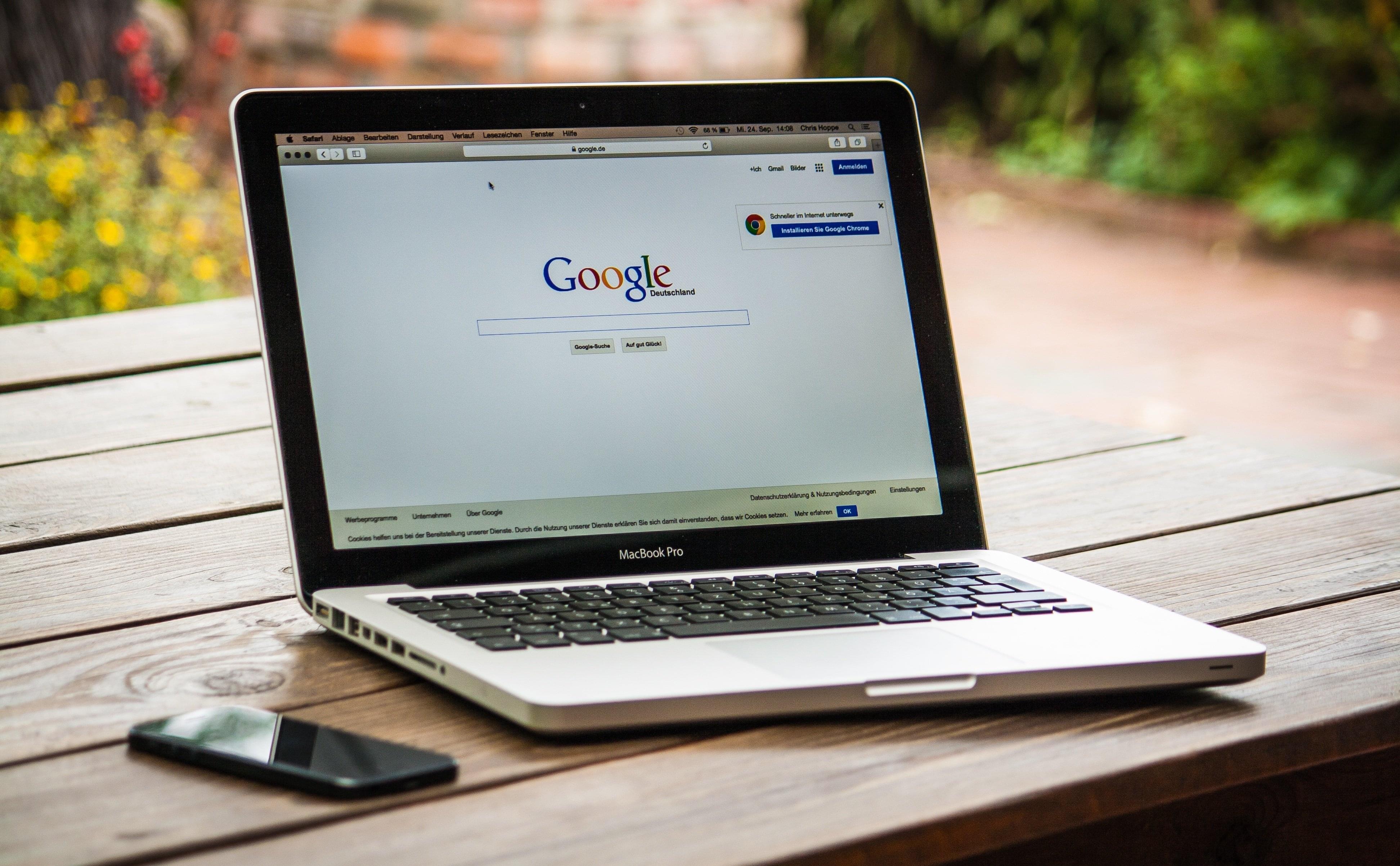 Today, recruitment is highly dynamic thanks to the evolution of technology, brand new performance drivers, solution providers, the list goes on! This means that the talent acquisition function should be compelled to embrace technology and incorporate it into their sourcing efforts, therefore adopting a more modern approach for attracting, engaging and converting talent.
There are myriad of tools out there that can help teams to do this. Today, we are going to focus on two Google tools that will enable you to map & identify skills gaps as well as analyse your top competitors in recruiting the best talent. Advanced techniques for the best recruiters!
1. Google Trends
We have previously covered Google Trends pretty extensively before and how it is a great tool you can use to find popular keywords that users typically use when searching for open positions. However, Google Trends is not only a valuable tool for finding keywords you can use (e.g. in your job titles), but also for getting insights on specific skills you are recruiting for as well as your main competitors.
What it enables you to do?
Using Google Trends, you can 'map' different trends over time which enables you to act as more of a consultant to your hiring manager. Based on these trends, you can see how popular a skill is that you are searching for. Is it in more demand now than it was the last time the hiring manager went to the market to seek someone with that skill set? This can be a valuable piece of information as the results can give you an insight into how new a particular skill set is, the demand for that talent and potentially salary range for that talent.
The second thing that you can do using Google Trends is see how popular your company name is. You can compare your popularity with that of your main competitors and see if you need to make improvements in terms of generating enough awareness of your employer brand.
Example
Let's just say you are looking to hire someone with marketing automation experience. All you need to do is go to Google Trends and enter the keyword 'marketing automation'.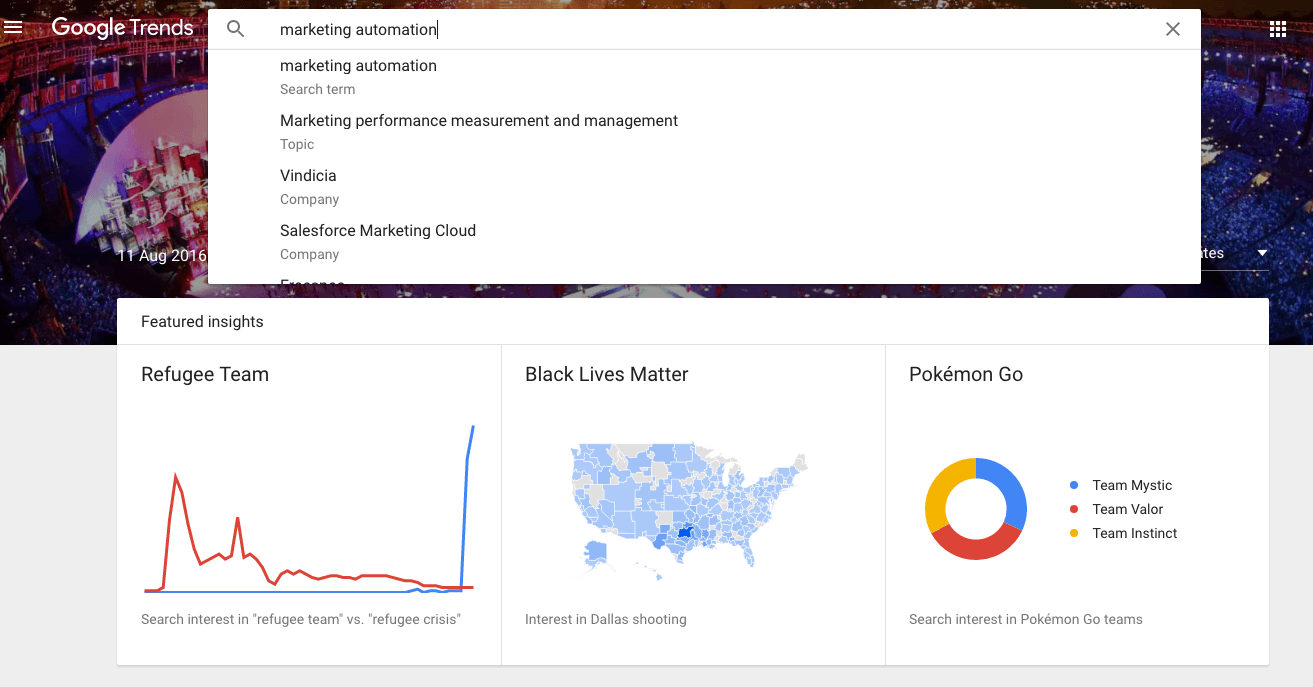 When you click enter, you can see the trend in searches in Google for 'marketing automation' over time. Popularity ranges from 0-100, with 100 being peak popularity for that search term. We can see immediately that the trend goes upwards around the 2010/2011 mark. This could be due to candidates looking for marketing automation roles and/or more articles on the topic of marketing automation.
So what can we learn from this? Well based on the results,we can see this particular skill has been growing in popularity since 2010/2011. The skill shot up in popularity in 2014, therefore we can presume that a candidate's potential experience with marketing automation will be relatively low.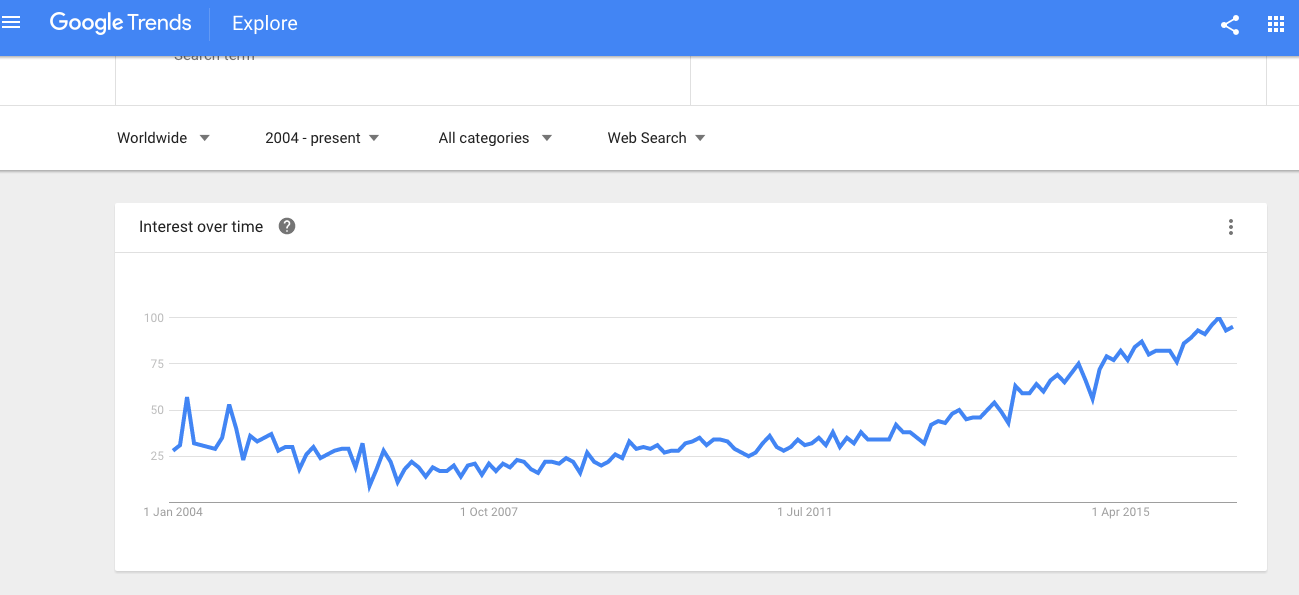 But that's not all! Scrolling down the page, you can get other insights on this particular skill. For example, we can see the countries where this skill is most searched for. The results show that people have more of an interest in marketing automation in India than countries like the U.S., Australia, Canada and the U.K.
Scrolling further down,  you can also see some related topics and queries to your search term that users also searched for. These sections have 2 views: top (for most popular related topics/queries) and rising (related topics/queries with biggest increase in search frequency since the last time period). In this example, you can see marketing automation companies like Marketo & Hubspot, and queries like 'salesforce marketing automation' and 'marketo marketing automation'. These topics and queries are great synonyms you can use in your Boolean search and enable you to work better with your hiring manager by working on these insights.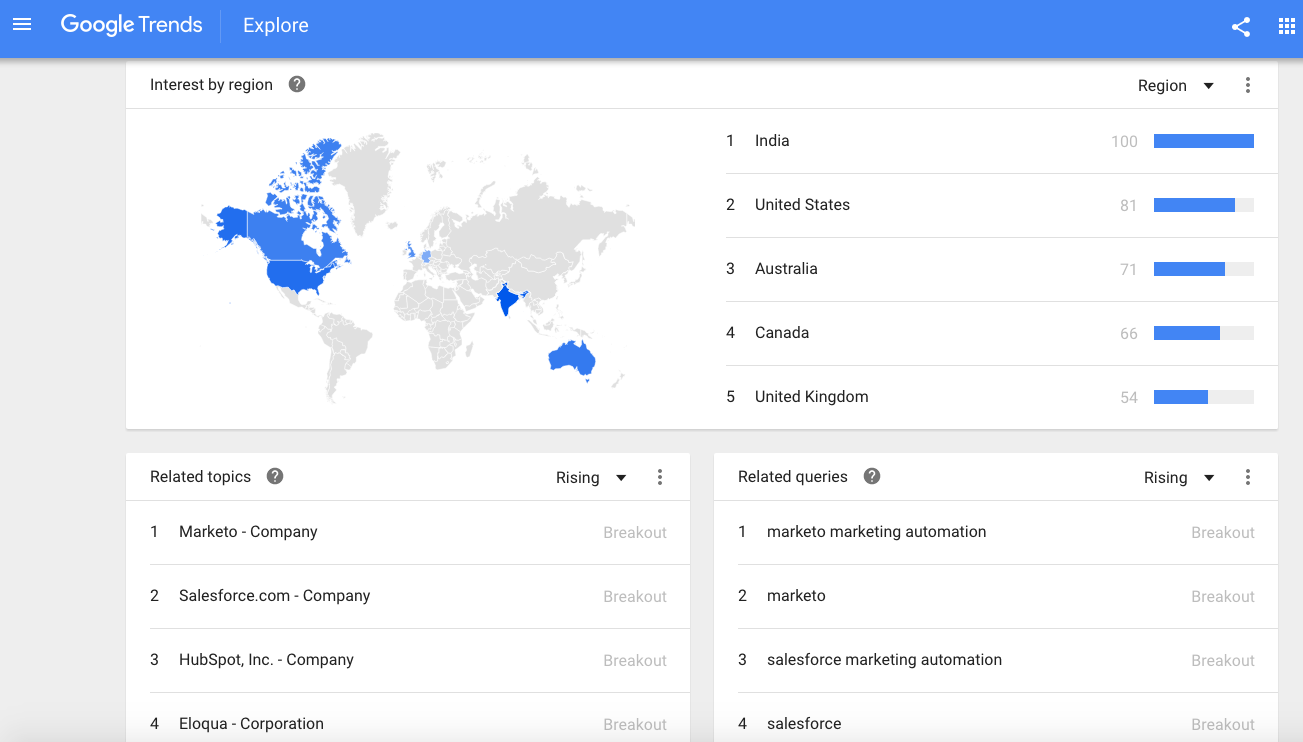 Going beyond popularity of a particular set of skills (Liam Neeson reference?), you can also use Google Trends to search for the company name you are hiring for and compare interest for them with that of your competitors. You can add search terms and compare up to 5 terms in one trends map. You can also regionalise the results by country and see how interest in your company and your competitors has changed over time. As an example, let's look at PwC and compare them to their competitors – EY, KPMG and Deloitte.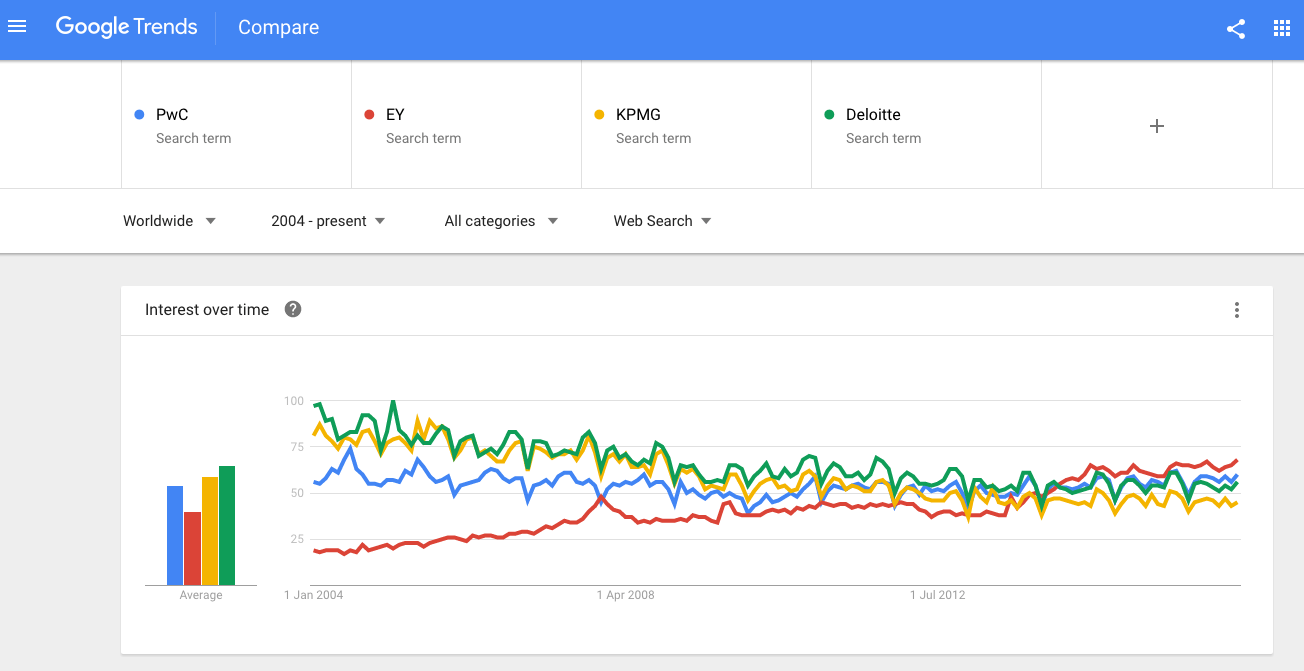 Again, this map shows the trend of each search term over time. Looking at the results, we can see that EY has become the most popular search recently whereas Deloitte was most popular before that. The popularity gap between Deloitte and EY has closed significantly since 2004, whereas all companies except EY have been on a general downward trend since 2004. There are also some good options to dive a bit deeper into this competitive analysis. For example, by clicking the 'Worldwide' drop-down, you can pick a particular country for these search terms. You can also adjust the time range and see popularity for the last 12 months only for example.
It's not an exact science but depending on your results, you can start reviewing and making decisions about your employer brand for example and try to generate as much awareness as possible so you can attract top talent. Certainly, you can see in this example that there has been a major shift in the last 10 years in terms of awareness of these top 4 firms so increasing your competitive intelligence can be vital.
2. Google Alerts
In case you're not using it already, Google Alerts is a tool whereby you enter a search term (similar to Google Trends), and you receive email updates of the latest relevant Google results (web, news, etc.) based on this search term.
What it enables you to do?
It's a powerful way for you to get real-time updates on developments within your industry such as new job announcements, skills and news. For example – using Google Alerts, you can be the first to hear about competitor job announcements or layoffs. It also allows you to keep up to date on skills and availability which can help you build different tactics around hiring available talent.  
Example
Continuing the example from Google Trends, let's develop a search string that will get alerts sent whenever competitors announce jobs or lay offs:
("new jobs" OR layoffs OR "hiring freeze" OR redundancies) 
(pwc OR ey OR ernst OR deloitte OR kpmg)
Copy and paste your string in Google Alerts and then create that alert by inserting your email. You will then get relevant alerts based on this search string!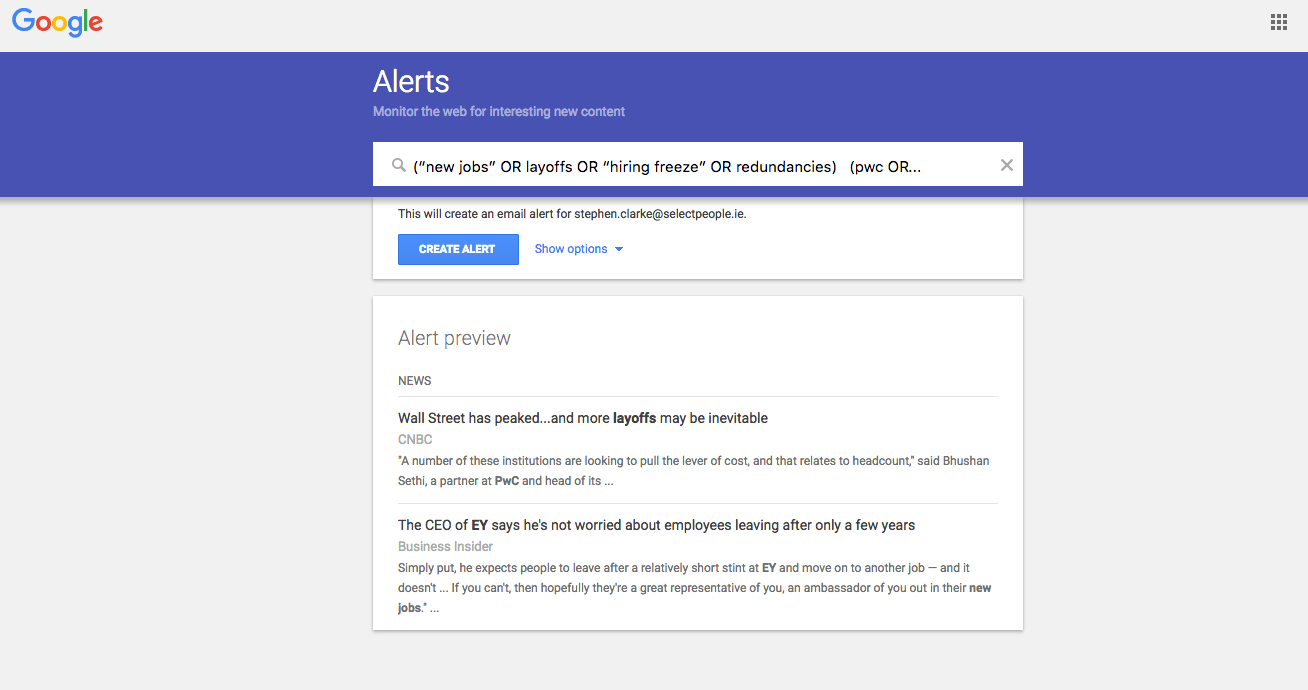 You can go a step further and refine your search so that you only get alerts from particular websites. For example, you can go on to your competitor's website, find their News or Press section and develop search strings around this. Let's do this for PwC and find their competitors' URLs for their respective Press sections:
site:https://home.kpmg.com/xx/en/home/media/press-releases.html OR site:http://www2.deloitte.com/global/en/get-connected/newsroom.html OR site:http://www.ey.com/GL/en/newsroom
("new jobs" OR layoffs OR "hiring freeze" OR redundancies)
This search string will alert you to new press releases on the websites of KPMG, Deloitte and EY. Instead of just entering the names of your competitors, this way you are actually drilling into their actual websites and building an alert out. When doing this, you will be given options around your specific alerts (see below). As a recruiter, we recommend that you schedule alerts for at least once a day and view 'all alerts'.
So these are two Google tools you can use to gain more intelligence about the skills you are recruiting for and the competitors you could be up against in recruiting for this talent. Knowledge is power and by using data like this you can make more informed decisions about optimising your recruitment strategy, making you a better recruiter!
Find out how the likes of IBM, IKEA and Siemens
drive hiring excellence with SocialTalent
---