Keep up with the latest hiring trends!
/
/

The importance of veteran hiring with Karin Childress-Wiley
The importance of veteran hiring with Karin Childress-Wiley
With Memorial Day having recently been honored in the United States, it invariably sparks a lot of patriotism for the veteran community. But when it comes to hiring ex-military, this shouldn't be the sole catalyst for diving into this unique talent pool. Upon exiting, veterans come with a highly attractive set of skills that can be of crucial benefit for any organization. And arguably, these particular skills are some of the most in-demand throughout the current job market. But, what are these skills? How can military-affiliated employees specifically benefit a company? And what are the best tactics to source veterans?
Luckily, we recently managed to speak with Karin Childress-Wiley, the Executive Director of the Veteran Center of Excellence at Randstad Technologies to help us dig deep into this topic!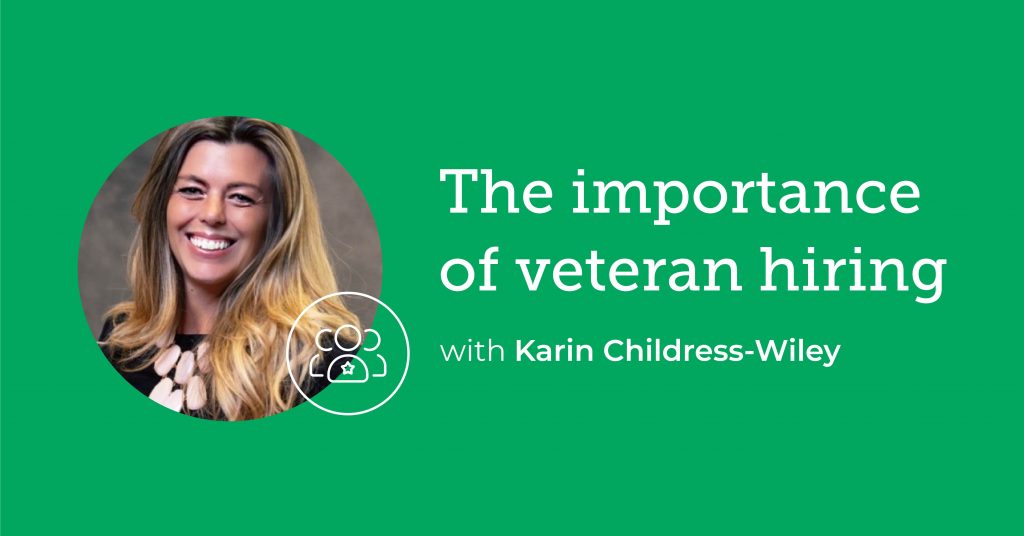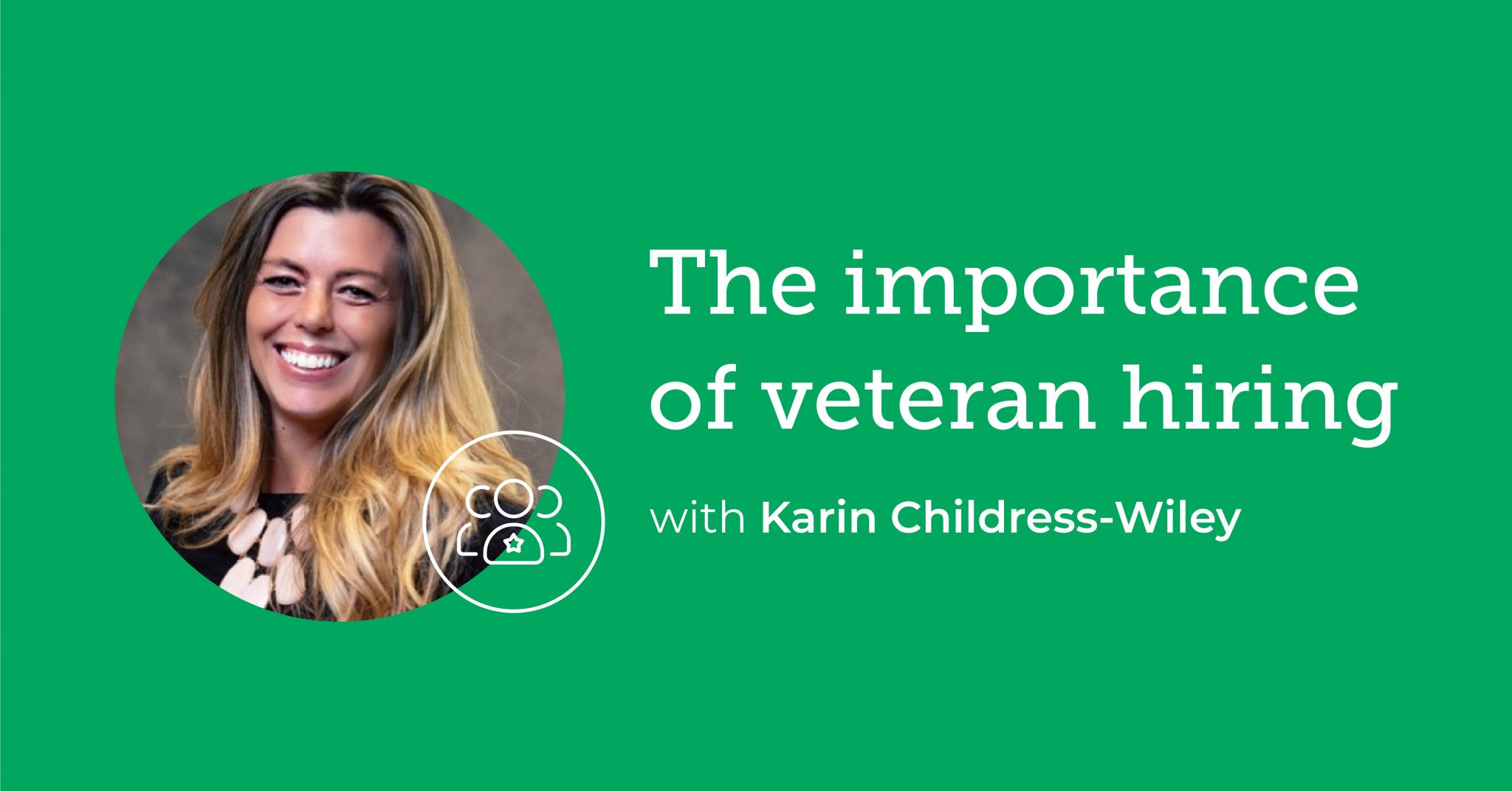 Skills machines
When it comes to possessing some of the most sought-after hard skills, veterans excel. According to Karin, as much as 25% of active military personnel today are in technology roles, while many more than this have a "tech-adjacent" skill set. It is one of the primary conduits that veterans pursue following service, with the others falling under the umbrellas of healthcare, transportation, distribution and logistics – all areas that, as Karin argues, are in-demand and difficult to fill.  And with over 200,000 veterans entering civilian life every year, the talent pools are swelling with capable prospects who have a wealth of real experience.
However, veterans also come with a litany of soft skills that any employer would (or should) value. And while the obvious traits, like tenacity, mission-focus and leadership, are all key characteristics for success, Karin identifies one that crowns all – trainability. Veterans are experts at learning and upskilling. And once inside an organization, this unique quality only propels them in one direction. They are constantly moving, eager to improve and drive results. Karin notes that because of this, veterans, and their teams, are often quicker to promote and companies that leverage this see higher profit margins and revenue. Looking at this, it seems like military hiring is a no-brainer. So what are the roadblocks to success?  
It's not me, it's you…
One of the toughest barriers to entry into employment for veterans actually lies with the employer. As Karin states, companies need "to do a better job, not translating veteran's skills, but understanding the transferability." There is a myth that it's on the veteran to essentially rebrand themselves to fit the stringent criteria of employment. And while in the past there may have been some weaknesses in how ex-military candidates approached CVs and interviews, there are processes in place to help with this transition. What veterans can't overcome, however, is rigid job descriptions, antiquated ATS systems and strict experience requirements. This isn't something that all veterans can, or should, adapt to. 
Karin emphatically pointed out that "it's on you." It's on the employer and recruiter to recognize these inconsistencies and change how they hire, change the criteria and solve these problems. If we know the benefit of military hiring, then employers need to build programs to ensure that there is a legitimate path to entry. One that doesn't exclude or miss out on excellent talent because the parameters are too confined. And, according to Karin, great strategies do exist. Boeing, for example, uses a skills translator to help service members match specific career opportunities. Or, Salesforce has an online learning platform that can upskill veterans and fill necessary gaps in their experience. Flexibility on this front, and understanding how skills transfer, can open up a whole world of recruitment possibilities within the military community.
How to source for veterans 
So we know why veteran hiring is advantageous. And we've looked at some of the issues that can impede progress. But what are the best avenues for actually sourcing people from the military community? Karin mentioned the following three areas:
Start on LinkedIn

: Service members who are nearing the end of their transition out of military life are all being coached on how to use LinkedIn like any other job-seeker. Karin does caution though that it's important to have a good understanding of the military community first so this can inform your specific search needs.
Staffing organizations

: Just like Randstad's Veteran Center of Excellence, these companies are designed to help you target veteran candidates.
Hire a specific veteran recruiter

: Having someone in-house who can 

specialize in this area is a huge advantage. It can help build up a veteran network and lead to more referrals from within the community which, as Karin states, is the ultimate source of candidates.
And while traditional ATS systems can often be an impediment to military hiring, Karin still advocates for technology. However, it's important to challenge these systems to create algorithms that cater to veterans and can help match military experience to jobs.
The final word
Hiring veterans can be a huge value-add for organizations. Whether you're trying to fill in-demand positions with capable talent or you recognize the wealth of soft skills that ex-service people bring, it's absolutely worth leveraging. As Karin said to us, when you invest in the veteran pool, you're hiring "veterans and…" While their previous job informs a lot of what veterans do, they are SO much more than this as well. And reorienting your approach to hiring in a way that opens it up to veterans is an important step in ensuring you don't lose out on this indispensable talent.
Watch Karin's full appearance on The Shortlist to hear more about veteran hiring:
Want to stay in the loop on all things SocialTalent? Subscribe to our newsletter here. SocialTalent is designed to help companies achieve hiring excellence. Get in contact with us today if you want to see what we can do for you.
Find out how the likes of IBM, IKEA and Siemens
drive hiring excellence with SocialTalent
---