Keep up with the latest hiring trends!
5 Trends That Will Define the World of Work in 2023
The world of work has changed more in the last 3 years than it has in the decade that preceded this. We've seen huge shifts in how and where we operate and the role of leadership has fundamentally transformed. Businesses are also putting a renewed focus on its people, and even employee needs have more impact on workplace decisions than ever before. So, to get a handle on this evolution, we hosted an event – SocialTalent Live: Workplace Priorities for CPOs in 2023, a free webinar that gave global CPOs a platform to discuss how they hope to optimize and improve in the year ahead.
During the course of the evening, we ran a number of polls with our 400 person audience of Talent, HR, and People leaders to get their take on some of the workplace trends they're witnessing. Let's take a look at the results.
1. What is the major priority for CPOs in 2023?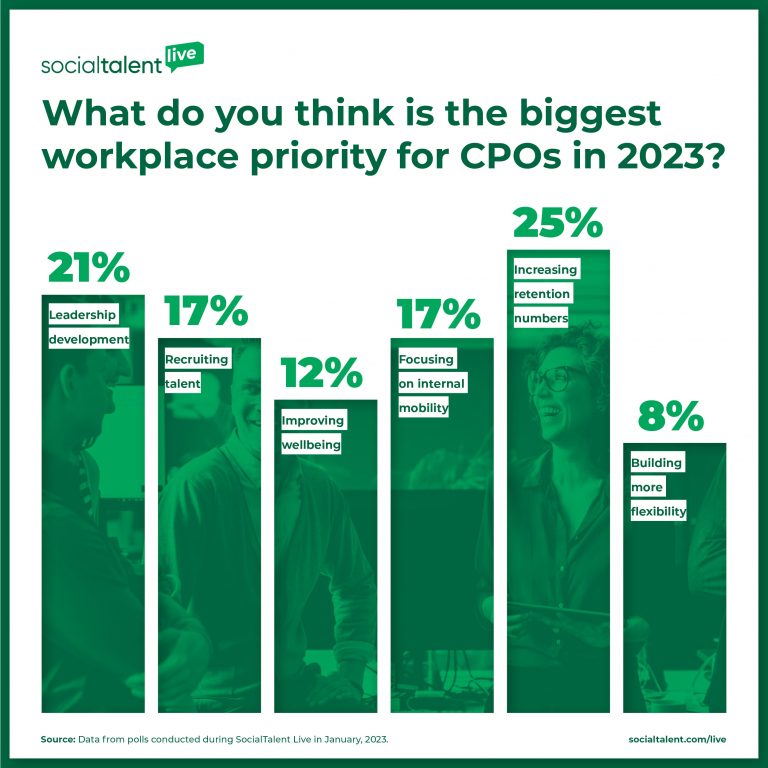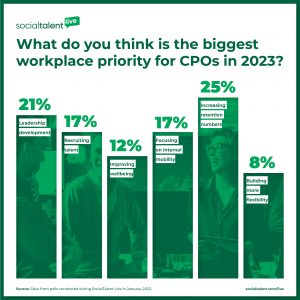 We started by asking a very simple question – what is your biggest workplace priority this year? But we were astounded to see such an even split in the response. Increasing retention (25%) and leadership development (21%) edged ahead of the others, but not by much. It signals how much change is taking place right now. And how important each facet is to drive success. Sara Andrews, CPO at the Acacium Group, alluded to this in her panel discussion. She stated that while retention was a key priority for her this year, all of the components listed in the poll are "holistically connected together" and driving improvement in one area will naturally impact another.  So it seems CPOs really do have their work cut out for them! 
2. What is the biggest roadblock to success?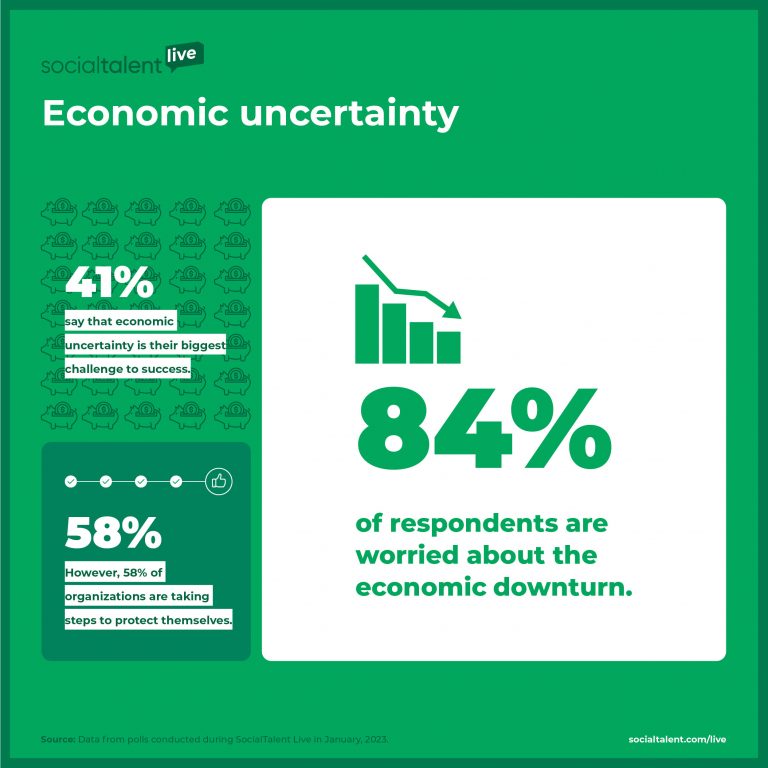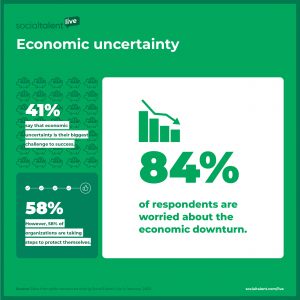 It wasn't surprising to see the outcome in this particular poll – 41% of our audience cite economic uncertainty as their most pressing workplace challenge. And in a later poll we ran, 84% admitted to feeling worried about this impending downturn. In this tense atmosphere, as we sit on the precipice, waiting to see if layoffs expand out from the tech industry and inflation rises, it's no wonder organizations are tentative about this. Perhaps the most heartening thing our survey showed, however, is that while a large portion of companies are anxious, they are taking steps to protect themselves (58%). The last few years have been tumultuous, but this immediate dose of hindsight has shown businesses what is most important in order to survive challenges. Supporting your people and optimizing processes are no-brainers, and should be the focus of all workplace planning for the coming year.
3. Has the pace of workplace change increased?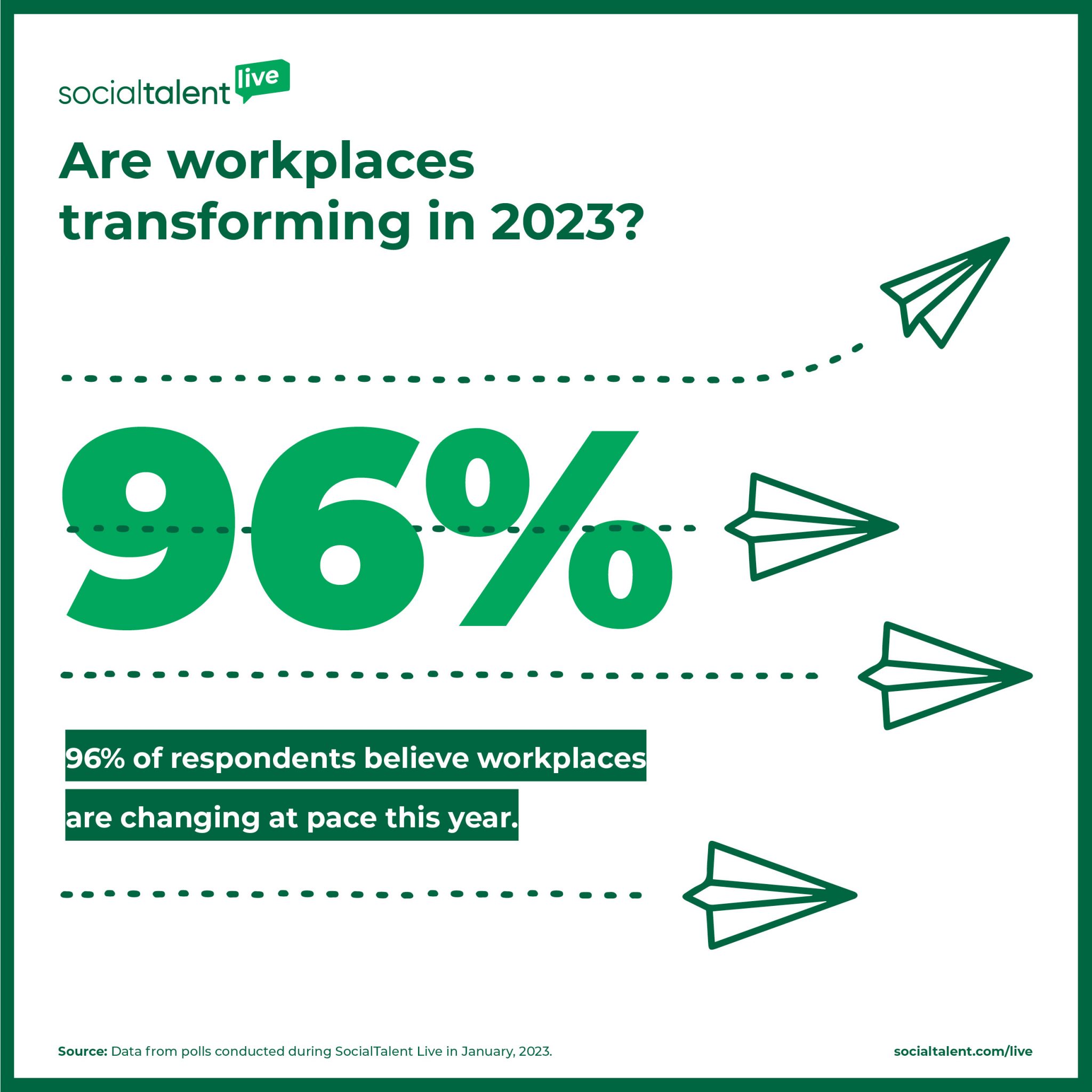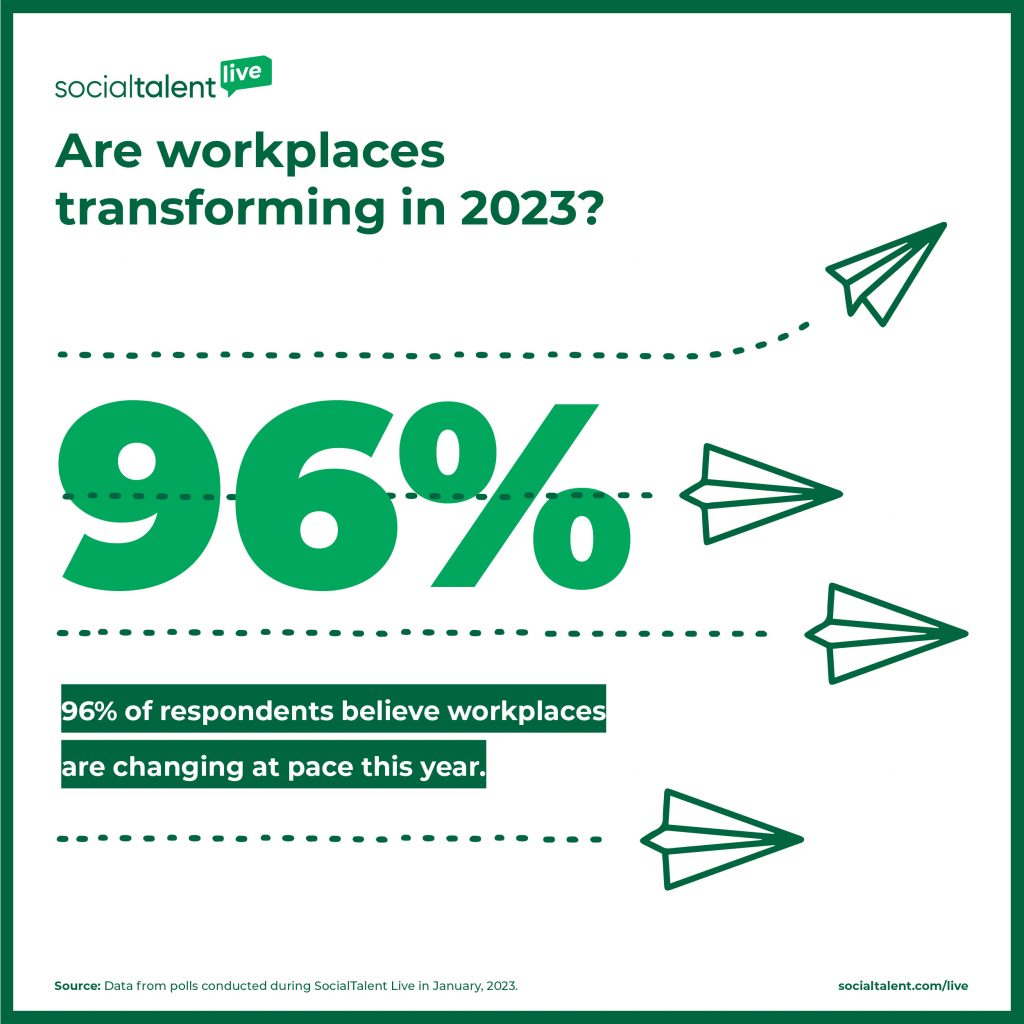 We asked this question to get a temperature check on how organizations are feeling at the moment, and the response was stark. 96% are currently dealing with change in their workplace, with 69% of these adding that it is only increasing. There has been a general sense in the media that we're grappling with a lot at the moment. And Lars Schmidt, the Founder of Amplify, referred to this during the event, stating that there are now three distinct fronts that CPOs must contend with:
Business strategy

People strategy

External realities of the marketplace, economy, geopolitical aspects, etc.
Workplaces are recalibrating to deal with these volatile times. And as a result, we're seeing an increased atmosphere of change, in every sector. Business needs have altered for sure, but so too have the requirements of the employees. Juggling all this puts us in an important moment of transition, teetering between the old ways of work and new.  
4. Do you regularly undertake leadership training?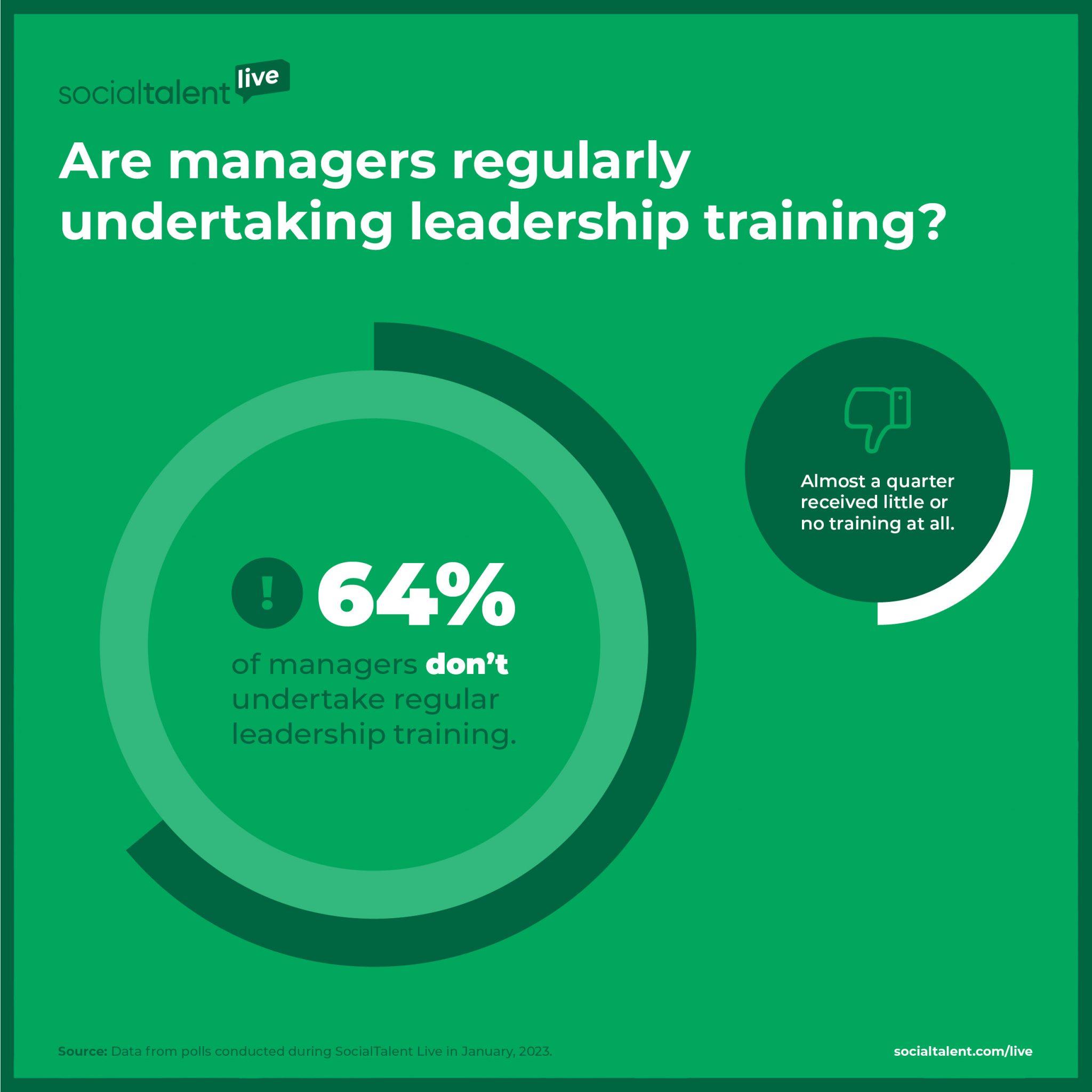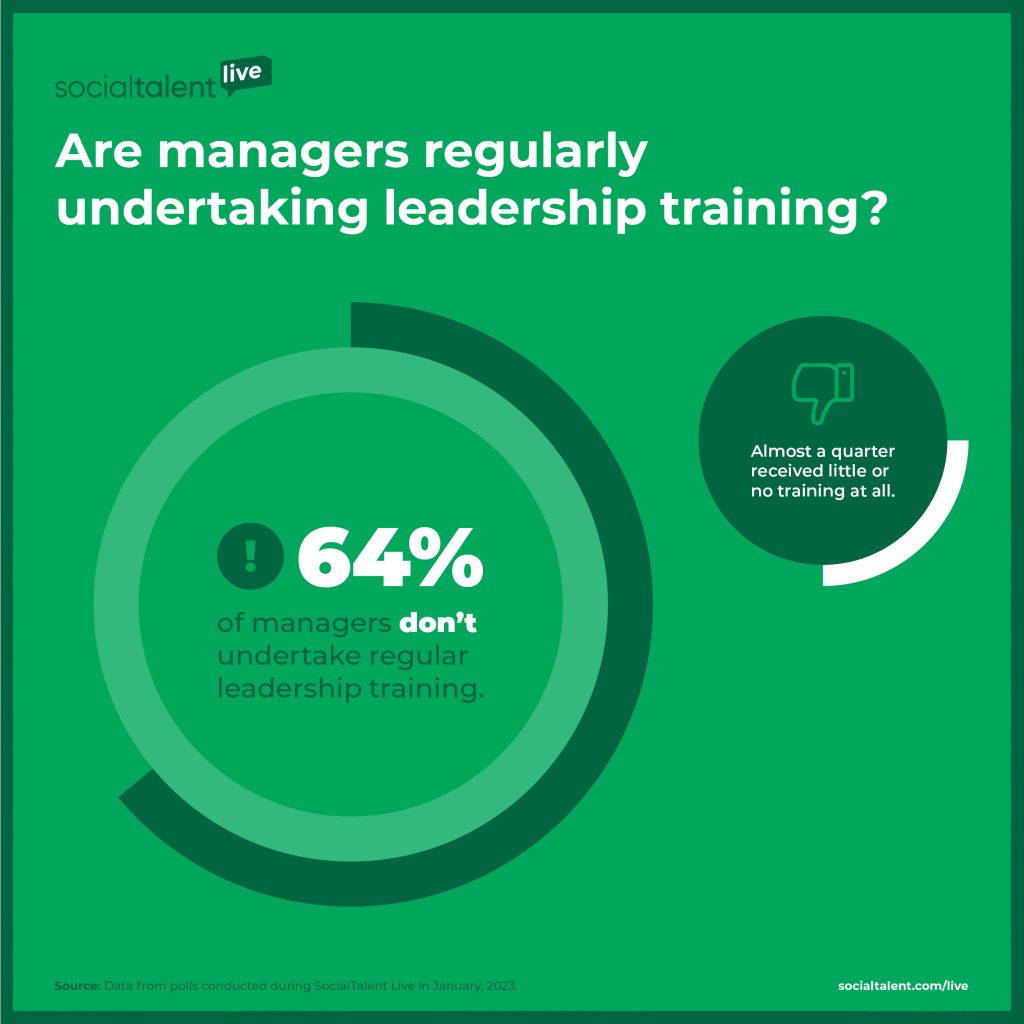 Leadership formed a big part of our discussion during SocialTalent Live. Pat Wadors, the CPO at UKG, called it out as the single most transformative function within a company. "It galvanizes," she told us, "it accelerates culture. Leaders drive vision and accountability across the organization."
Optimizing and supporting leadership was her #1 priority as a CPO in 2023. So with this in mind, it was quite telling that our poll showed only 36% of leaders are regularly undertaking leadership training. This is a huge area for opportunity. How we work has altered so drastically – it's vital that our managers and figureheads are equipped and supported to lead. Gartner even flagged this as their top HR concern for the year, finding that a quarter of development programs do not prepare leaders for the future of work. Leaders set the tone, so if we're not ensuring that this cohort understands what management best practices are in 2023, you're going to quickly find yourself in trouble.
5. Are you experiencing challenges finding and hiring talent?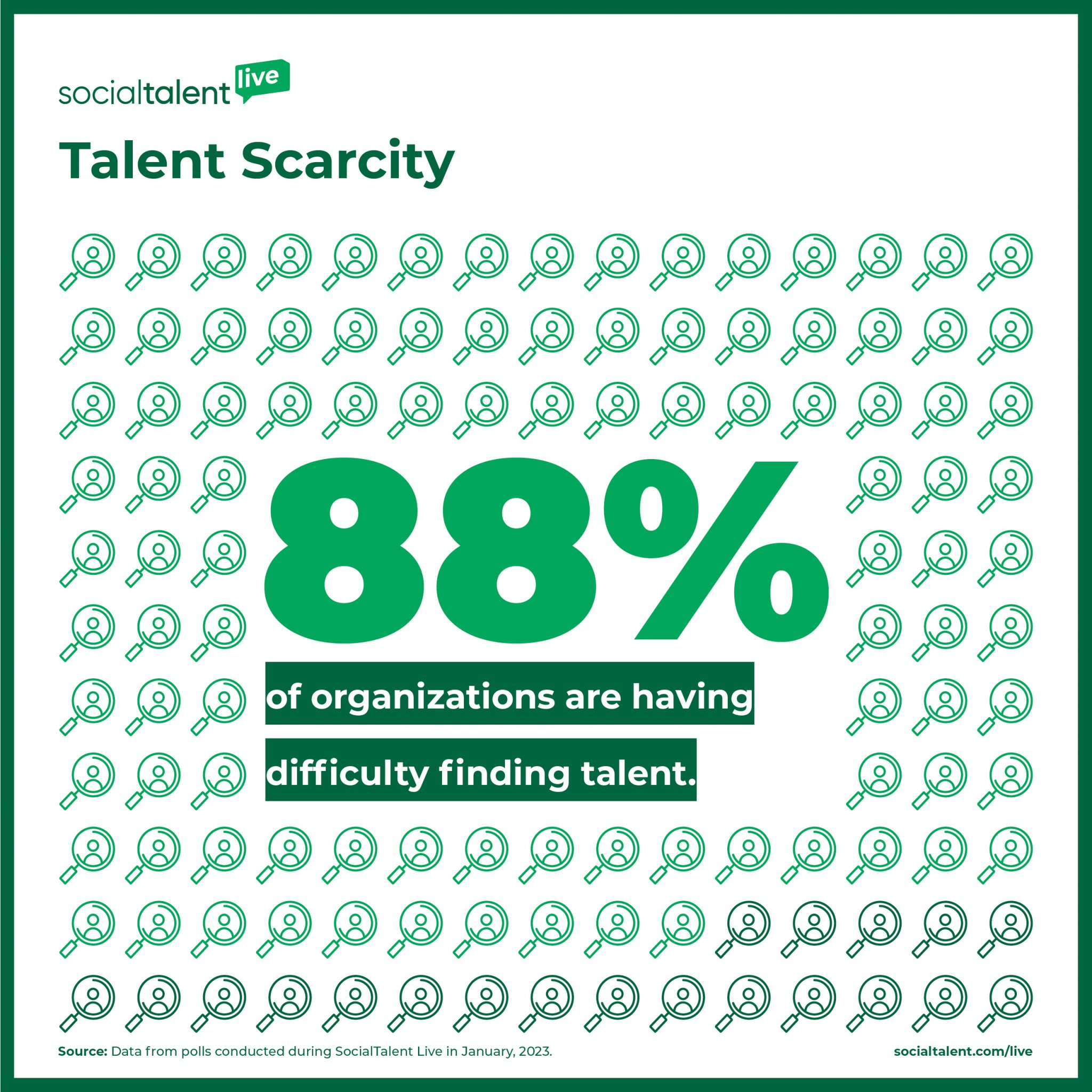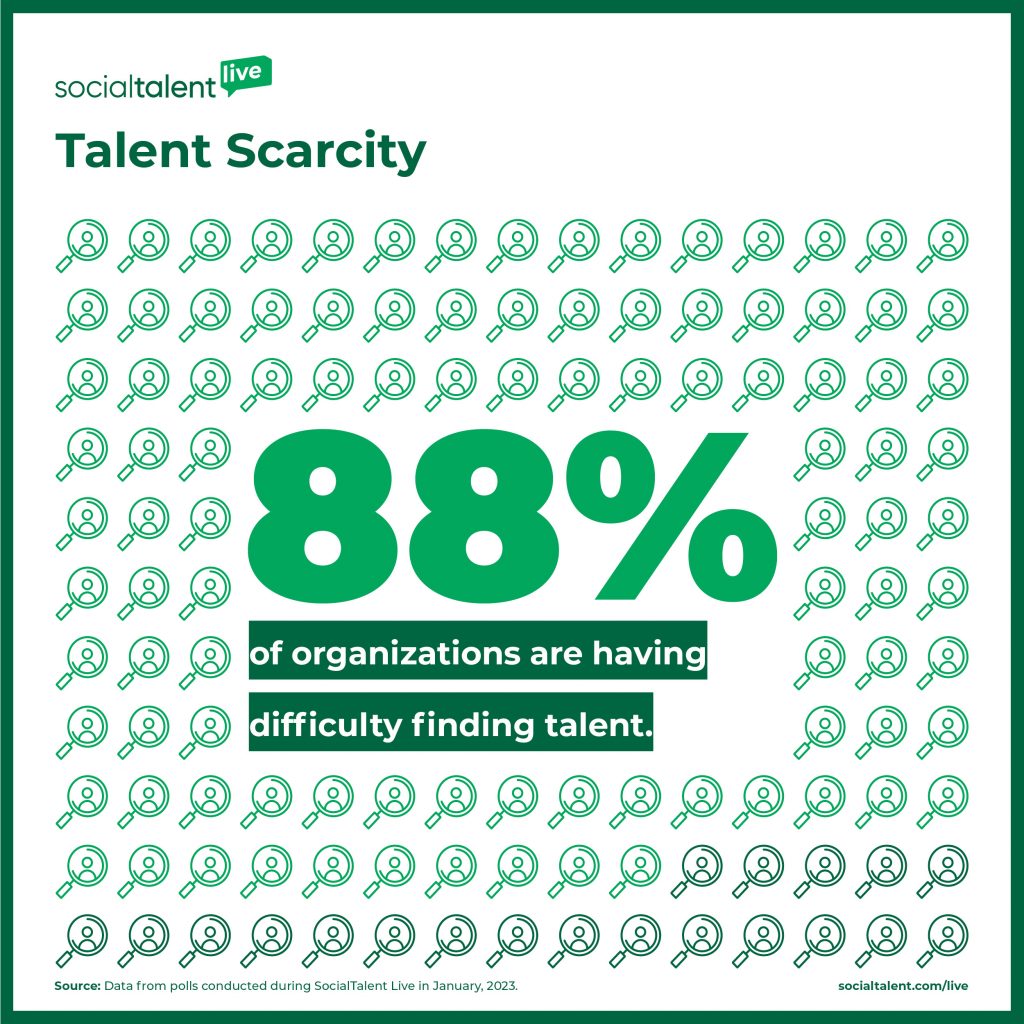 88% said yes. I'm sure this result shocked no-one! Even as we continue to rebound from the pandemic, it seems the demand for skills is not slowing down. In fact, Manpower Group released a report this year claiming that 75% of companies have reported a talent shortage – this is a 16 year high. And it's forcing many organizations to think outside the box when it comes to hiring – particularly earmarking internal mobility as a key area for development. It came up often during our event also; Zohra Yafai, Global VP of TA at Cisco, in particular spoke about this, saying that it's not just about increasing the number of recs filled with internal talent, it's about "understanding how employees feel as they go through the process and how do our leaders enable that." It's not enough anymore to just point employees to job boards – you have to understand career mobility and all that it encompasses.
There are so many conversations happening about the future of work and workplace trends right now. Will it be hybrid? How is the economy going to impact it? What does leadership look like in these iterations? How do we find and retain the talent that we need? Our poll results perhaps offer a glimpse of where we're at right now – a midway point between the old and new. There's clearly work to be done, but so much opportunity as well!
Looking for more insights on the workplace? Sign-up to our next SocialTalent Live event now. Taking place on March 30th, this free webinar will cover hybrid work!
Find out how the likes of IBM, IKEA and Siemens
drive hiring excellence with SocialTalent
---