Keep up with the latest hiring trends!
/
/

4 ways to gain advantage during the skills shortage
4 ways to gain advantage during the skills shortage
It felt as though we had moved beyond the point of talking about "unprecedented times". But as we teeter on the verge of recession and economic uncertainty, it seems we are once again in rather uncharted waters. At least from a talent perspective anyway.
According to the latest economic statistics, U.S. inflation rates are currently at 9.1% – this is a 40 year high. However, unemployment is only at 3.5%, the lowest it's been since December 1969. In fact, there are currently over 11 million job vacancies in the US, but only 5.9 million people who are unemployed. We've never experienced an economy like this. Despite such lofty figures for inflation, talent is still in high-demand, and there's one major reason for this – the skills shortage. 
The skills shortage has been reported on for years. Prior to the pandemic, McKinsey released a study stating that 87% of organizations are either experiencing skills gaps now, or expect them within the near future. Flash forward to today, and according to a survey of Fortune 500 leaders, talent shortage is currently the #1 threat to business success. Even as we creep into recession, companies are struggling to find (and retain) the people and skills they need to thrive.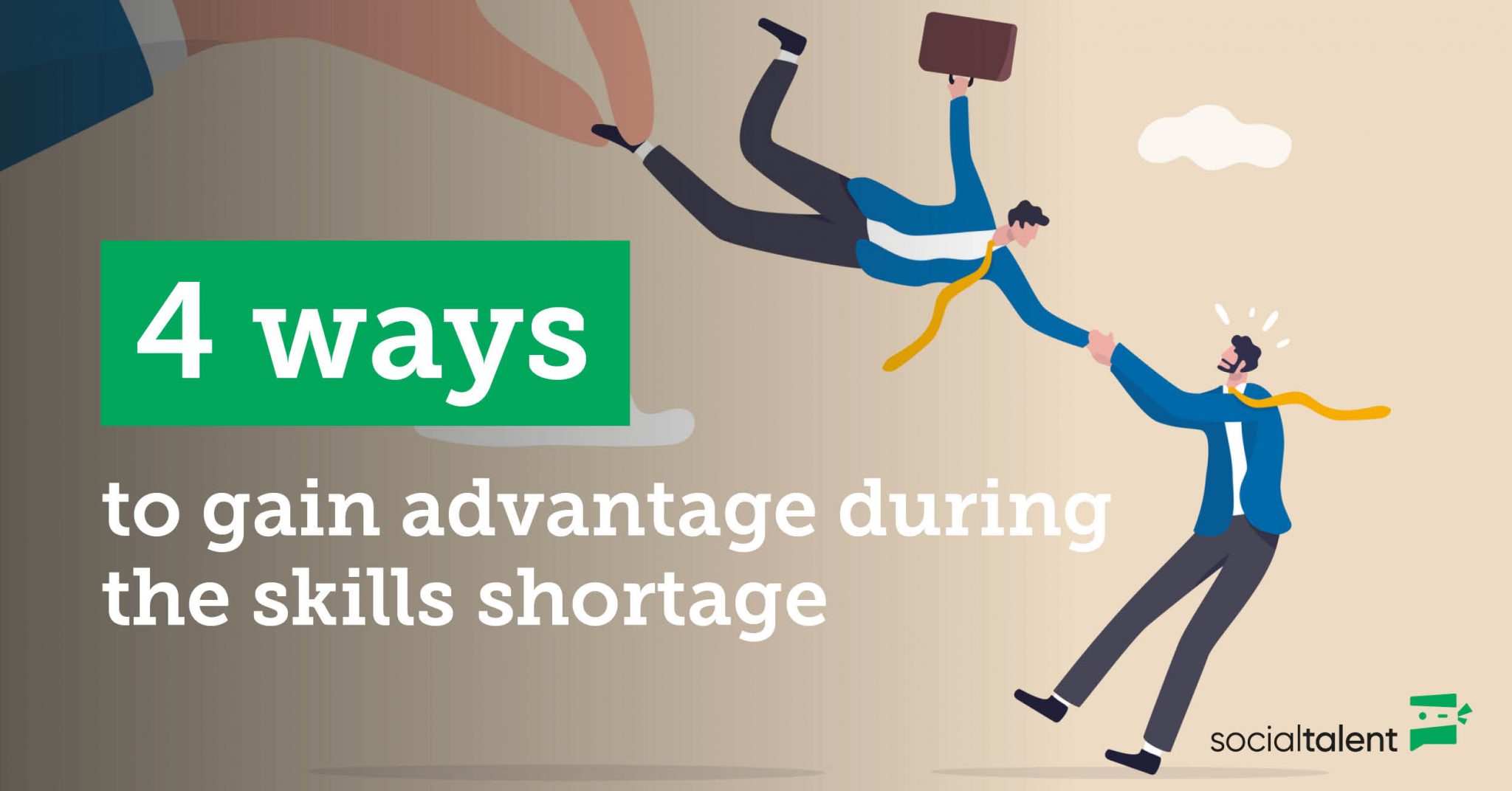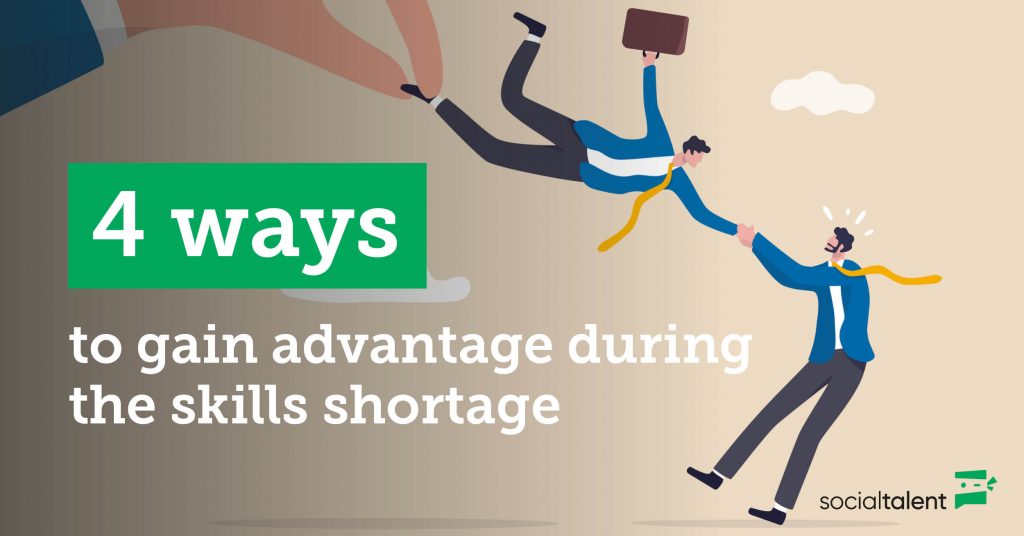 How can organizations overcome this skills shortage?
In that McKinsey research, they identify three areas of focus to close the skills gap:
Hiring and contracting

Redeployment

Building skills 
From a high-level perspective, these buckets are on the right track – but we need to dig deeper. Companies can't just hire their way out of this problem in a traditional sense. You have to look at talent sources outside the norm and offer new levels of flexibility. You must look inwardly too, identify the potential already within your ranks, nurture it, and enable movement. And finally, you have to create and embed a culture of learning and development to stay agile and bridge the gap.
Let's take an even closer look… 
1. Leverage diversity, equity, and inclusion
It won't come as a huge surprise, but it's so important to remember – the best talent doesn't always come from the most expected source. If your organization cannot find their people through conventional approaches, you MUST broaden your search. Focusing on DEI is no longer a 'nice-to-have' or secondary pursuit, it is a major reason why organizations are flourishing and will weather the storm of recession. One size fits all thinking will only lead to ruin in this climate.
According to S&P Global Ratings, over 600,000 women have not returned to the US workforce since the pandemic. Unemployment for people with disabilities is twice that of the general population. And 64% of unemployed men in their 30s have a criminal record – these are just some examples that illustrate where talent can be found if barriers were lifted. Finding, hiring, and engaging diverse talent requires a mindset shift. But if companies are willing to invest some effort, they can reorient their processes and tap these underutilized sources.
SocialTalent has dedicated diversity, equity and inclusion training, focused on helping organizations find, hire, and engage top diverse talent.
2. Don't ignore flexibility and remote working
Earlier this year, a SocialTalent survey of over 500 HR and TA leaders found that 'flexibility' and 'work-life-balance' accounted for a combined 69% of the vote on what is keeping employees most engaged at the moment. If organizations aren't offering hybrid solutions, then they're going to be on the backfoot when it comes to attracting talent. In fact, according to recent research from Robert Half, over 50% of US workers would rather resign from their positions than go back to an office full time.
Linda Jonas, a renowned expert on remote working, recently spoke to us on The Shortlist about this, stating that: "we need to go back to the drawing board and see how everyone gets their work done best." We all work differently and the arbitrary shackles of an office-based, 9-5 job does not guarantee success in any measure. And companies who are mandating returns are feeling the pushback. Thousands of Apple employees recently wrote an open letter to management stating: "let us decide how we work best, and let us do the best work of our lives." 
3. Provide opportunities to upskill and develop
Hiring isn't the only way to tackle this crisis. More and more, organizations are looking to grow their own skills – offering targeted education programs to upskill and reskill their workforce with the aim of filling urgent gaps in the business. Many large US companies like Disney, Walmart, and Starbucks have set up initiatives that will cover college tuition costs for its employees. Amazon has also created over 1,500 apprenticeships in the UK, specifically designed to grow a bespoke talent pool. 
Employment and education are a natural fit. But so few organizations are thinking long term about this issue. If you're struggling to find and retain the talent you need, surely it's a no-brainer to focus on how you can generate and sustain it yourself?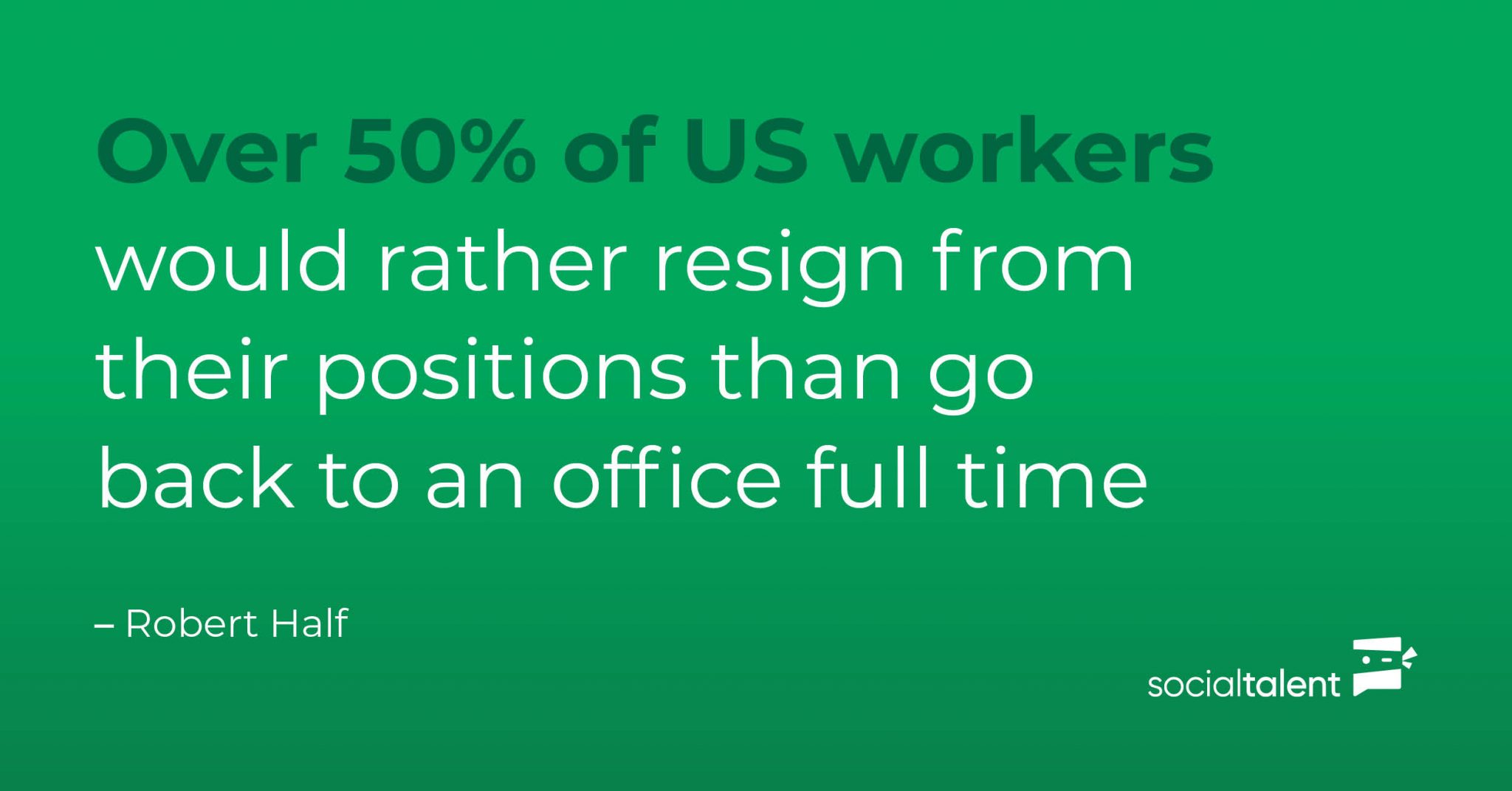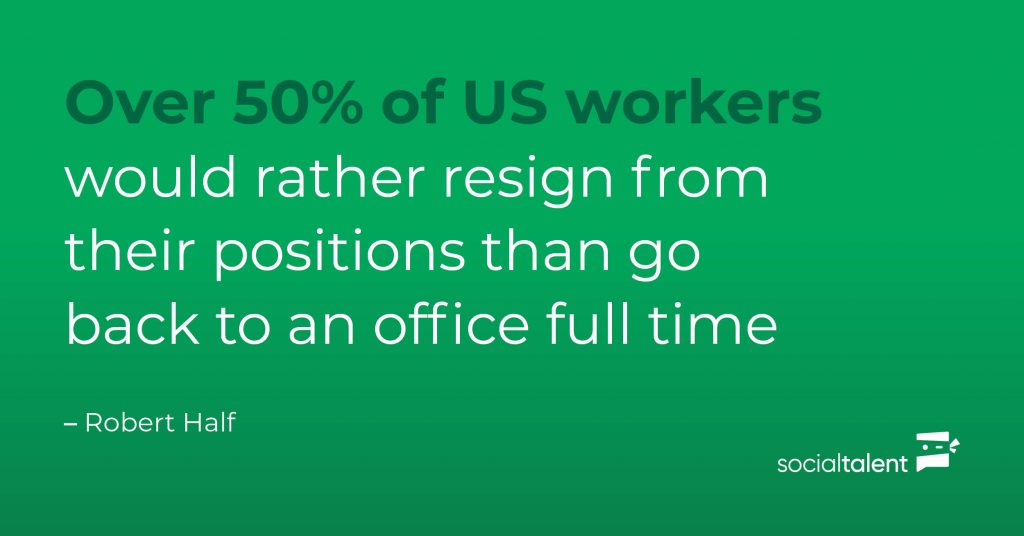 4. Optimize internal mobility
Sometimes the skills you need are right under your nose. Promoting internal mobility not only helps employers plug skills gaps, it also bolsters engagement and retention. But it's a MASSIVELY underutilized function. According to Gartner, only 33% of candidates who sought a new role in the last 12 months looked at internal opportunities. And recent Josh Bersin research showed that only 11% of companies actively promote a culture of internal mobility. This is despite it being cited constantly as a major plus-point from talent.
If economic conditions continue to decline however, it'll be the organizations who have active internal mobility programs that will flourish. Agile workforces that are encouraged to grow and develop within the company are a powerful source of stability and innovation. Look to Cisco's 'one company, many careers' approach – here employees are encouraged to use an active internal jobs portal to seek out new opportunities and build skill sets.
SocialTalent just released a new learning solution dedicated to improving internal mobility. Check it out!
Conclusion 
We are on the cusp of the next recession. But with such a low unemployment rate and job vacancies at all-time highs, talent is still at a premium.​ So even within this economic uncertainty, the skills shortage is ensuring that TA will have to adapt their approach to snag the people they need. We think the solution lies in DEI, remote work, education, and internal mobility – would you agree?
This article originally appeared in part on Johnny Campbell's Talent Leadership Insights newsletter on LinkedIn.
Find out how the likes of IBM, IKEA and Siemens
drive hiring excellence with SocialTalent
---