Keep up with the latest hiring trends!
/
/

How To Nurture Candidates Without Driving Them Nuts!
How To Nurture Candidates Without Driving Them Nuts!

Welcome to SocialTalent's Live & Learn series!
Each week we gift you with a little bit of info that will help smoothen your recruitment process and expand your knowledge of your industry.
With this Live & Learn series we promise we kept it:
Short
Simple
Ready to use!
Sound good to you? Let's begin!
Nurturing Your Golden Candidates
Angie Verros is the queen of keeping candidates interested. Even if you don't have the perfect placement for a candidate at the time a great recruiter knows they can't let those purple squirrels slip away! Learn how to keep top candidates engaged without driving them nuts!
Key Takeaways
Now you have some initial tips to help you nurture candidates in a meaningful way. Stay tuned as we dive deeper into the importance of quality candidate nurturing but for the moment remember:
Keep content relevant! Candidates will zone out if you spam them with job descriptions. Take time to get to know them and stand out from the crowd
2. Create a HOT list of candidates and give them some TLC every week. These are the people who you want to remember your name
3. Nurturing candidates in the right way will help you curate a talent pool of loyal advocates.
---
SocialTalent has created the best recruitment training for our Recruiter Academy. Packed with insights from Recruitment experts like Johnny Campbell, John Vlastelica and Stacy Donovan-Zapar to develop your skills as a recruiter, whether you work for an agency or have a role as an in-house recruiter as part of a team or flying solo- we have the training for you!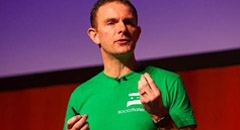 SocialTalent Recruiter Academy
A full library of videos that can help your team transform their hiring process
Find out how the likes of IBM, IKEA and Siemens
drive hiring excellence with SocialTalent
---