Keep up with the latest hiring trends!
/
/

What is internal mobility?
What is internal mobility?
We're going back to basics here at SocialTalent. In anticipation of the launch of our new Internal Mobility learning solution, we've compiled a blog series to help organizations understand the true importance of this function. In this first edition, we're going to define what internal mobility really means and uncover why companies need to embrace it more.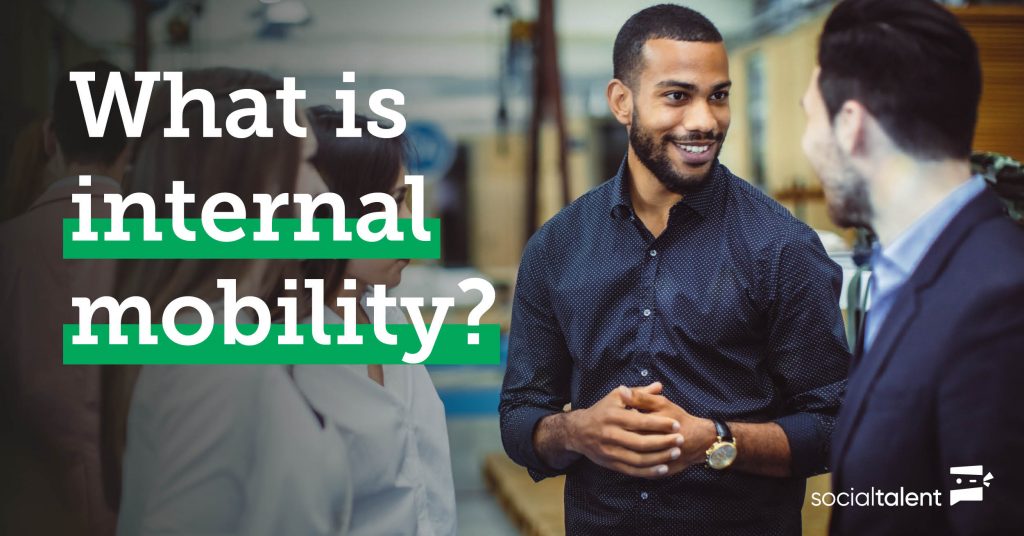 What is internal mobility?
In a nutshell, internal mobility is the process that supports career development, promotion and job seeking within an organization. While often discussed in quite binary or vertical terms, talent mobility is actually considerably broader than this. It refers to the opportunities that employees are afforded to learn and grow. Internal mobility also refers to lateral moves into different roles, opening up clear career paths, and focusing on developing the skills of the people within your current ranks. It's misguided to assume that internal mobility solely means promotion. As Dr. Bev Kaye, the renowned career development coach and SocialTalent expert, says: 
"Up is not the only way! Moving sideways doesn't mean you're sidelined. Lateral positions enable one to have broader knowledge of the organization, and this is now an invaluable asset." 
There is also a preconceived idea that to get top talent you have to hire externally. But often the best candidates are right under our noses. A thriving internal mobility program creates a bespoke and active talent pool, one that is engaged and encouraged to use their potential and evolve within the same company. No-one wants to feel stuck or stagnate – positive career movement is crucial, and internal mobility can be the answer to this.
Why is internal mobility important?
According to SocialTalent research, 74% of organizations are experiencing higher attrition rates in 2022 compared to the year previous. Gallup's latest State of the Global Workplace Report has shown employee engagement levels to be at a dismal 21%. And Fortune 500 leaders have identified talent shortages as the #1 threat to business success. As a snapshot of proceedings, it doesn't look great. But as more and more companies struggle with retention issues, low engagement scores, and the increasing skills gaps, internal mobility is quickly rising up as a clear solution. 
Recent Josh Bersin research has found that companies who encourage a culture of talent movement are 3.7x more likely to see innovation rise, and almost 5x likely to be recognized as a great place to work. Encouraging and advocating for internal mobility builds a more agile workforce. It future proofs your organization, allowing you to pivot and adapt without needing to find and hire externally – a practice that is far more costly. Retaining talent also means keeping valuable customer relationships and in-house knowledge within your walls. And ramp-up times are drastically shortened for internal hires. 
But it's not only important for the business, talent mobility offers a multitude of advantages for an employee too, helping to:
Boost engagement
Increase productivity 
Improve trust and loyalty
Foster a sense of culture and belonging.
In fact, 53% of talent leaders agree that career growth opportunities are the primary source of employee engagement at the moment. It's so important that many would even take a pay cut if they had access to more development opportunities.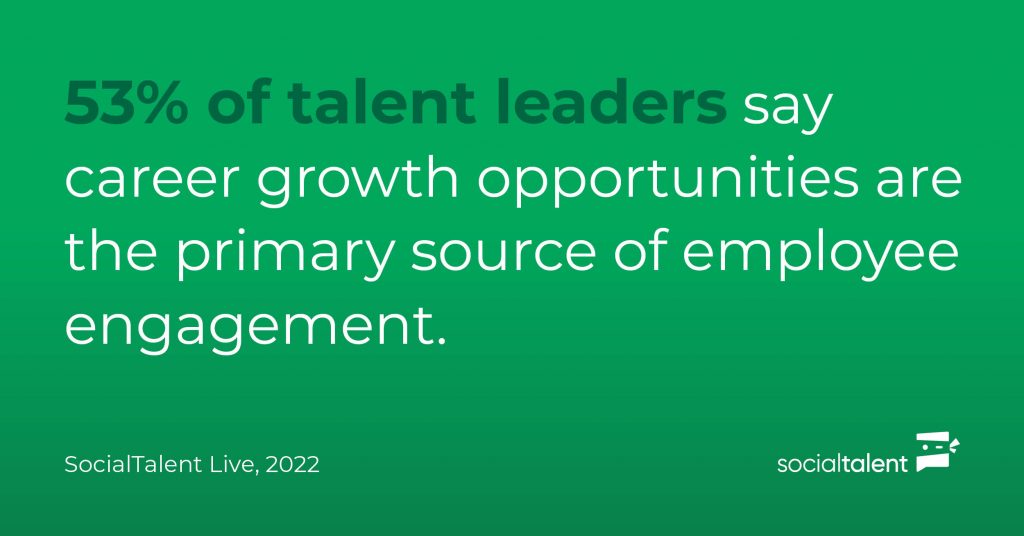 Our
Internal Mobility solution
will enable your teams to promote internal development and empower employees to seek out more opportunities.
What does internal mobility actually look like?
Like a fingerprint, how a company promotes and utilizes internal mobility as a function can be very unique. But there are many facets that make up effective internal development programs. Each component is used to demonstrate an organization's commitment to the growth and evolution of their staff, all with the intention of giving them the tools and support they need to build fulfilling and diverse careers. Some elements include:
Promotion

: moving up the career ladder.

Different role, same seniority

: a lateral move to another department or team.

Career development

: regular conversations with managers and leaders about how to best grow your career.

Mentorship

: dedicated and specific advice from a senior leader who can guide your career trajectory. 

Learning and development

: opportunities to upskill and reskill.

Job marketplace

: talent sharing functions within a company, allowing employees to jump into other projects

Shadowing

: enabling employees to see first-hand how a role is conducted.
One thing is known, however – internal mobility is not a sole person's role. Everyone, from HR leaders, to recruitment, team members, and people managers, must be invested in the function. For internal mobility to be ingrained into the very DNA of an organization, it must be a transparent, easily accessible, and complete process. 
While companies can never completely eliminate staff attrition, by investing the time and effort into creating a living, breathing talent mobility system, they can position themselves as an attractive option for employees seeking change. As McKinsey states: "Worker mobility is like a circulatory system within the economy, and it can serve the same function for organizations as well."
Are you looking to level-up your approach to internal mobility?
Check out SocialTalent's dedicated e-learning solution.
Our training will help your organization build and facilitate long-term careers for your employees.
Find out how the likes of IBM, IKEA and Siemens
drive hiring excellence with SocialTalent
---