Keep up with the latest hiring trends!
/
/

5 Canada Recruitment Trends That You Need To Know
5 Canada Recruitment Trends That You Need To Know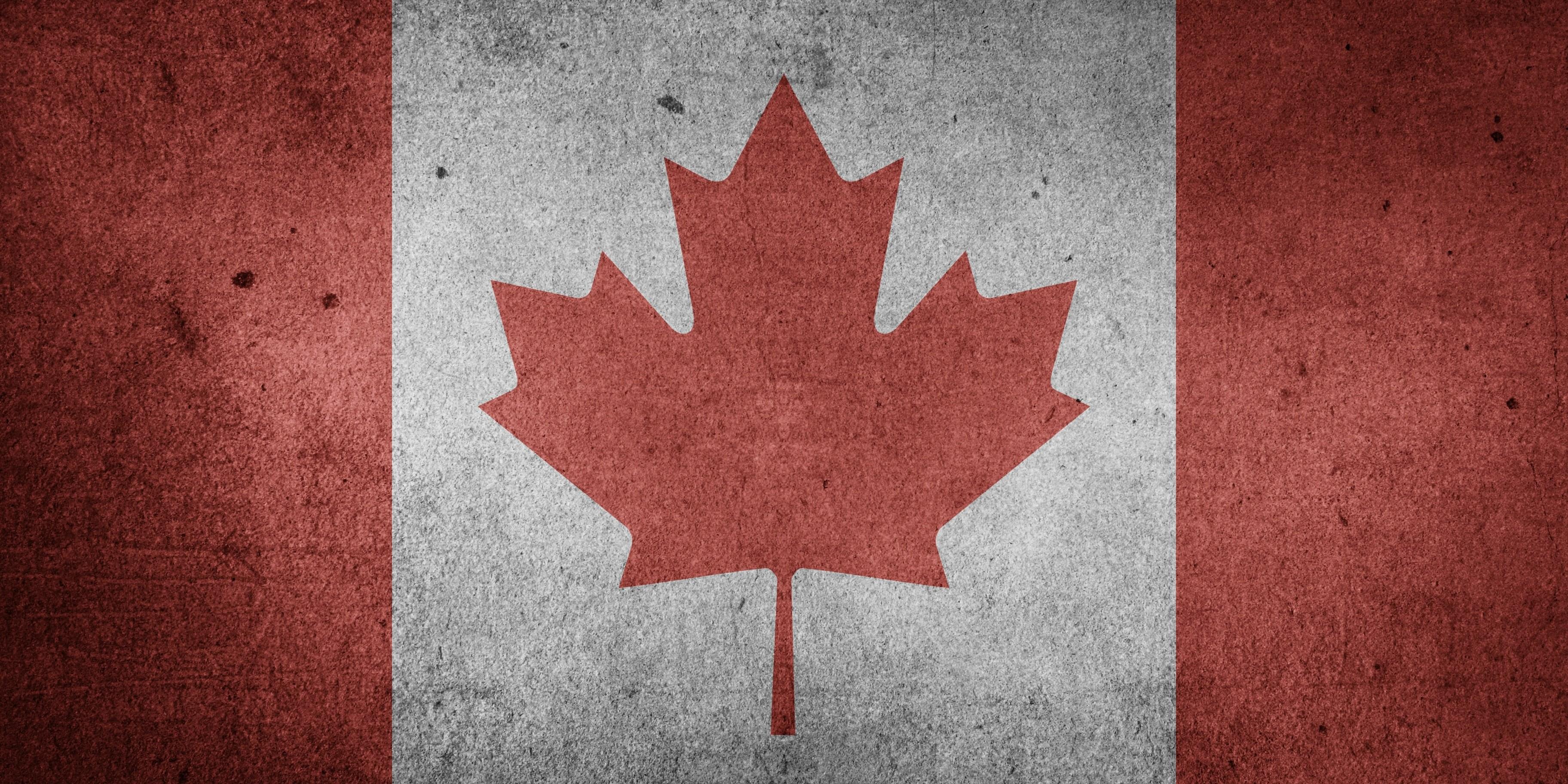 When compared to many of its global counterparts, Canada's recovery and employment record has been pretty strong since the Great Recession. Despite not fully recovering to pre-recession levels, Canada is on the right path with the 6.9% unemployment rate expected to decrease slowly in 2017 and analysts projecting growth until 2020!
This means it's going to get tougher for Canadian recruiters to attract top talent over the coming months and years. That being said, proactive recruiters are starting to focus on new, creative approaches and new media to stay ahead of the curve. So we decided to look at what recruiters can do in the changing landscape by looking at the 5 biggest recruitment trends happening in Canada right now:
1. Cross-Team Partnerships
Even though the benefits of a strong employer brand strategy are well-documented, the current trend is that companies are not treating it as much of a priority right now as compared to recent years. That still hasn't prevented talent teams within these companies from taking a proactive approach to employer brand strategy, however. According to LinkedIn's Canada Recruiting Trends Report, employers are finding increased success with online professional networks when it comes to using employer branding tools.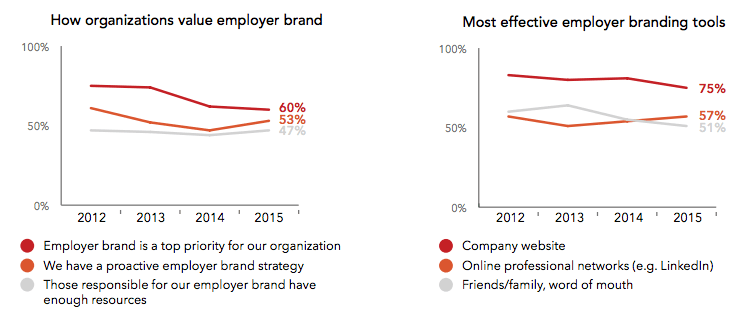 In order to make sure employer branding isn't deprioritised further, an increasing number of Canadian talent teams are looking to work with other functions (typically marketing) to make a bigger impact. There is an increasing trend among Canadian recruiters sharing ownership over employer branding strategy with 46% saying they share or contribute to employer branding with marketing.
2. Quality of Hire
Quality of hire continues to be to most valuable performance metric used by talent leaders. Although 'time-to-fill' and 'hiring manager satisfaction' have been increasing in popularity when it comes to tracking quality of hire, turnover and retention stats are the metrics used the most with 61% of recruiters using these measures to gauge effectiveness.
There is a caveat, however. Canadian recruiters are lacking in confidence when it comes to measuring quality of hire effectively. According to LinkedIn's report, the global average for confidently measuring quality of hire is 33% but Canada is well below this average, at 22%. Therefore, Canadian recruiters need to make it a priority to improve the ways they calculate and present quality of hire, which will help with budget increases. Recruiters need to dive into the data such as employment dates, roles, sources of hire and promotion and then determine the common traits between top performers, which can help with your recruitment strategy.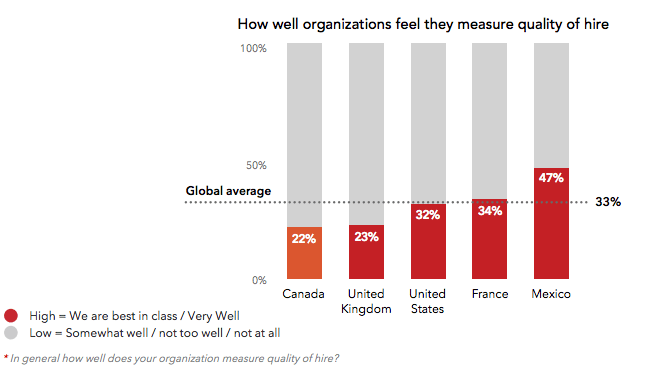 [cta-blog]
3. Social
It's hardly a surprise that social is featured on this list as it is very much a key tactic that employers are using to attract and engage talent. LinkedIn found that career sites are currently the top source of quality hires but this is in decline, while social networks are growing as an important source for quality hires. This shows that Canadian recruiters are using social networks in more sophisticated ways to engage with candidates and determine if they are good fit for the role.
Despite this, the danger still remains in that measuring Social ROI is notoriously difficult, especially when recruiters select simple metrics that can mislead recruiting efforts. To avoid this, employers should place an emphasis on the quality of metrics used rather than the quantity but at the same time, have several layers of metrics to ensure efficient insights. Take a look at our blog post on the best way to define your Social ROI.
4. Employee Retention Must Be A Key Focus
Last year, Economic Development Winnipeg found that the average employee tenure in Canada is 8.5 years. While that number seems to be strong, the general workforce is skewing strongly towards the Millennial generation who are less likely to follow a linear path in their careers, as discussed here. Therefore, there needs to be a dedicated approach to retaining this talent.
What can Canadian recruiters do? Well, the 'Millennials at Work Study' by PWC found that training & development and flexible working hours were valued more than financial reward so making the benefits millennial-friendly will go a long way in keeping them on board. Furthermore, a couple of interesting polls from Monster Canada found that a strong majority of Canadian workers are interested in corporate wellness programs, so allocating resources towards this can increase retention.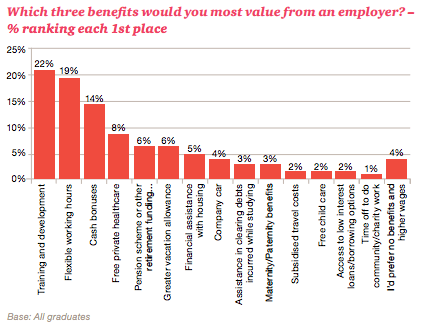 5. Mobile
With the influx of millennials in Canada, it only makes sense for Canadian recruiters to think about millennials' daily habits and see what are the best ways to communicate with them. Say hello to mobile. Job seekers have very much embraced mobile with Simply Hired, LinkedIn and Sonru all reporting that upwards of 70% of candidates use mobile to browse for career opportunities. So there is huge need to embrace mobile in order to source, contact and hire millennial talent.
However, many recruiters are still facing challenges particularly around their career sites, only few of which offer a candidate application process optimised for mobile and tablets. Recruiters still haven't developed the necessary expertise to deliver a mobile optimised candidate experience. To get started, recruiters need to ask some of the following questions:
Do potential candidates have to zoom in to see text?
Can they easily find jobs on mobile?
Is the navigation easily accessible?
Can candidates easily click on links?
So those are the 5 key trends dominating the Canadian recruitment market right now. Have you noticed anything else? Let us know in the comments below!
Find out how the likes of IBM, IKEA and Siemens
drive hiring excellence with SocialTalent
---