Keep up with the latest hiring trends!
/
/

5 Great Facebook Timeline Covers of Corporate Careers Pages
5 Great Facebook Timeline Covers of Corporate Careers Pages
Back before the Facebook Timeline changeover, we compiled a list of the Top 10 Facebook Timeline Covers of Recruitment Companies that had switched to Timeline before the deadline so as to inspire other companies in their Timeline Covers in time for the compulsory switch to Timeline. Now that a month has passed since all Facebook Pages have had to adopt Timeline, we've come across these great Timeline Covers for Corporate careers pages that we think you'll love.
[box type="shadow"]
Also, we're on the lookout for the Ultimate Top 10 list of Timeline Covers of Recruitment, Staffing and Careers pages – and we'd like you to nominate a Facebook page that you believe fits the bill. To nominate your favourite Facebook Timeline Cover (it can even be for your own page, we're hardly above self-promotion here!), just put the URL in the comments at the bottom, or email us at [email protected]
[/box]
While it was hard to whittle down the thousands of Corporate Careers pages out there to a list of 5 great ones, we particularly liked these because they all had bright images and had utilised the tabs images underneath to bring a unity of branding to the top of their page, highlighting their jobs and careers information so that prospective applicants can easily find what they need. Corporate Careers pages fulfill a different objective than Recruitment Agency pages, especially in honing their employer brand and demonstrating why a person would want to apply for a job with them.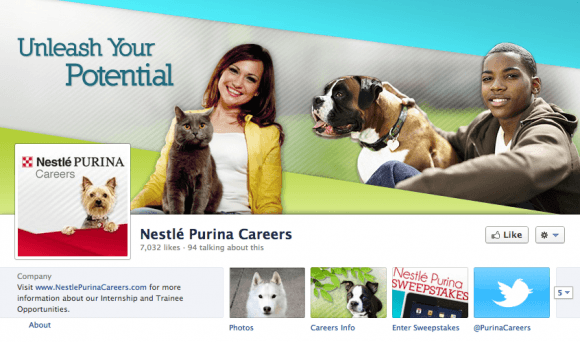 Nestle Purina's Career page, with a great play on words, "Unleash Your Potential" – and great use of tabs and branded images.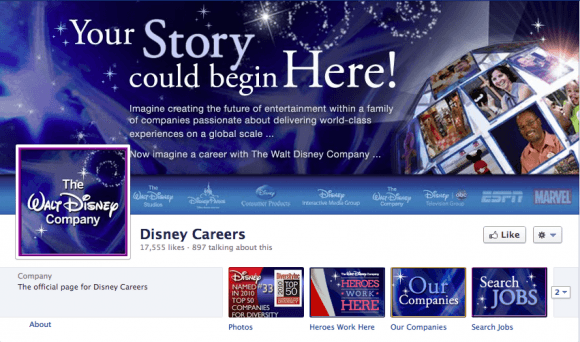 Fantastic use of branding and customised tabs, this delivers employer branding and a source of information for potential applicants.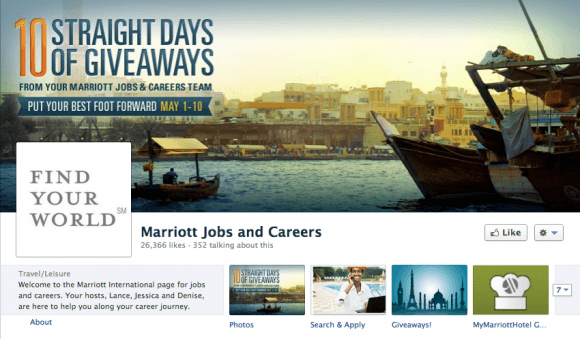 Marriott Hotels also has a link to their MyMarriottHotel game, where you can run your own hotel and see if you're up for working in one for real.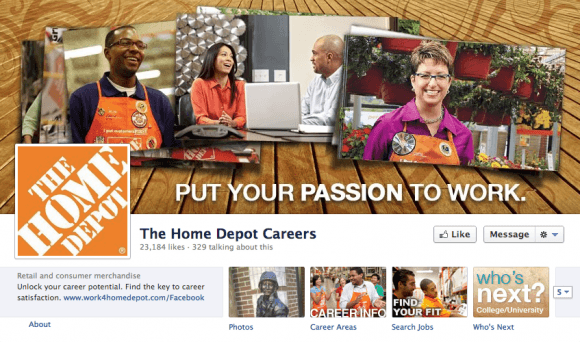 The Home Depot careers page is really exciting and has utilised customised tabs excellently, catering for a jobs search, graduate careers and different roles within the company.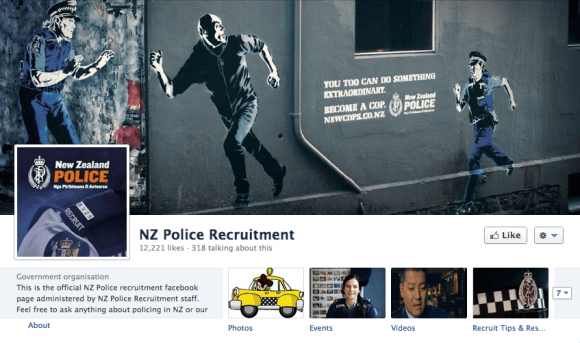 This is one of our favourite images, a wall mural of a crime-stopping scene, and another great example of a corporate careers page utilising tabs well, providing information on their open days, videos of their officers and recruiting tips for applicants.
What do you think of these Timeline Covers? Don't forget to nominate your favourite Recruitment, Staffing and Careers Facebook Page for our Ultimate Top 10!
Find out how the likes of IBM, IKEA and Siemens
drive hiring excellence with SocialTalent
---