Keep up with the latest hiring trends!
/
/

5 India Recruitment Trends That YOU NEED To Know
5 India Recruitment Trends That YOU NEED To Know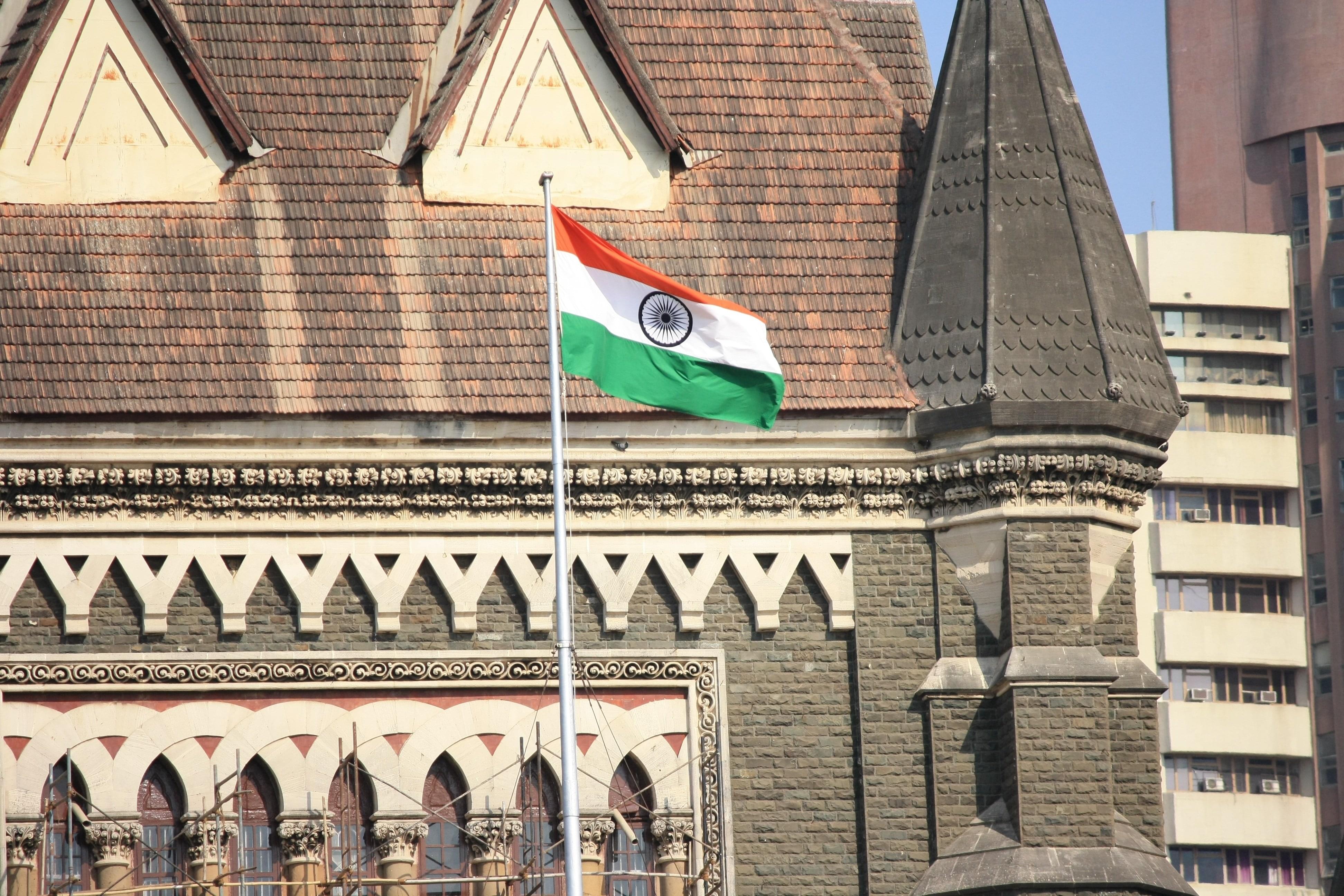 Thanks to the growth of India's key industries such as IT, retail and banking, as well as the country's continued focus on innovation, the Indian economy is growing at an attractive rate. As a result, the demand for talent is increasing across many sectors to deliver rapid and sustained growth.
Therefore, Indian recruiters will be facing significant pressure in attracting and retaining top talent. In fact, Aon Hewitt and People Matters found that 79% of Indian organisations project increased hiring for 2016-17. This seems to be a critical time for Indian recruiters to evolve and be as innovative and nimble as possible. So we decided to break down the 5 key recruitment trends happening in India right now and some key actions Indian recruiters can take in this new landscape.
Trend #1. Increasing Gap Between Hiring Volume and Budget
After a positive year with the gap between hiring volume and recruitment budget getting narrower, 2015 saw this gap get significantly wider. This means Indian recruiting leaders must do more with less and invest wisely. This finding from LinkedIn's India Recruiting Trends 2016 report makes it all the more difficult for recruitment teams to overcome the obstacles associated with attracting top quality candidates from high-demand talent pools.
The disparity between volume and budget means recruitment teams need to use creative and cost-efficient ways to meet their goals. Some of the trends that follow are evidence of this, with more companies focusing on less costly channels such as employer branding and employee referrals so as to not break the bank.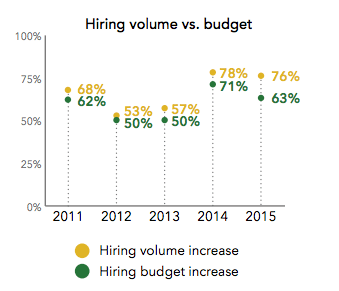 Trend #2. Quality of Hire
One of the key priorities for Indian recruiters for the foreseeable future is optimising 'quality of hire'. According to LinkedIn, talent leaders believe 'quality of hire' is the most valuable performance metric to track hiring effectiveness. While the urgency to fill open positions led to 'time to fill' getting the biggest increase in attention over the past year, 'quality of hire' remains the most valuable key performance indicator for recruiters.
A common challenge recruiters face is finding the best way to measure this metric. And there seems to be no unified way to measure this, with Indian recruiters tracking 'quality of hire' in various different ways. Time to productivity, new hire performance evaluation and early attrition are all used to determine this success metric. Aligned with this, hiring manager effectiveness in identifying the best talent is a key enabler in optimising this metric. This means employers need to build the interviewing capabilities of hiring managers.
Trend #3. Employer Branding
With the increased demand for talent for many economic sectors in India, recruiters are beginning to realise the positive impact a well defined and consistently communicated employer brand can have in attracting top candidates. With senior leadership starting to take a keen interest in their companies' employer brands, this is starting to grow as a big priority.
What recruiters need to do is start building cross-functional relationships, specifically with marketing, in order to build attractive employer brands and gain a competitive edge. According to LinkedIn's report, social media is on the biggest upward trend when it comes to employer branding tools, with traditional channels like LinkedIn and websites falling in popularity. Also becoming more popular is using employees as brand ambassadors who can help communicate a distinguished employer brand.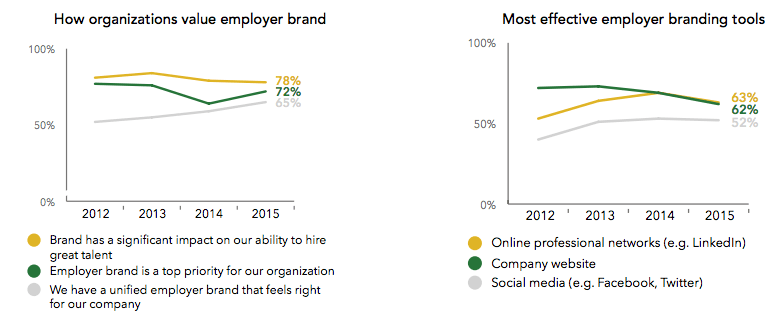 Trend #4. Employee Referrals
Using employees as brand ambassadors is the perfect segue into the next big Indian trend: employee referrals. Employee referrals as a source of hire in India has grown in size and importance, especially in the last year. Reasons for this include the need to reduce cost per hire and getting access to passive talent that would be otherwise not available for recruiters. A big finding in the LinkedIn study was that India is leveraging employee referrals extremely well and that they actually lead usage in this across the world.
If you are not using employee referrals as one of your main sources of hire, you need start experimenting with this immediately as it is fast becoming a key trend in the Indian recruitment market. Recruiters may face some challenges in getting internal buy in as well as developing one that incorporates current technology (we're talking digital and mobile) but these programmes can drastically improve candidate quality, quality of hire and employee retention. Be sure to communicate to employees what they can expect from your employee referral programme and make sure to incentivise them with rewards.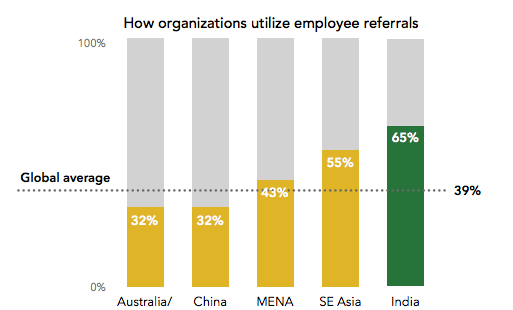 Trend #5. Analytics
Given that Big Data has swept into every industry and has become the key basis of competition and growth for enterprises of all sizes, it comes as no surprise that the integration of talent analytics and key hiring decisions is becoming a top priority. According to Aon Hewitt and People Matters, 65% of Indian companies now have dedicated team members for talent assessments, data analytics and technology.
That being said, many companies lack the ability to effectively crunch the data, with Glen Cathey, SVP of Talent Acquisition Strategy and Innovation at Kforce, stating that "the vast majority of companies have yet to fully embrace data as a strategic asset in talent acquisition". Recruitment teams need to start building an in-house capability to drive data-based hiring by educating themselves on best practices, tools and techniques, as well as selecting the metrics that really matter. Glassdoor recommend some key metrics you can measure around quality of hires, influence over hires, and retention, which should serve as a good starting point.
So these are the 5 biggest recruitment trends that India recruiters need to look out for. Have you noticed any other trends that will have big affect on recruitment? Let us know in the comments below!
Find out how the likes of IBM, IKEA and Siemens
drive hiring excellence with SocialTalent
---