Keep up with the latest hiring trends!
/
/

5 Industries Facing a Talent Shortage
5 Industries Facing a Talent Shortage

No degree? No problem!
Research carried out by job search site Indeed has revealed that a candidate's lack of degree need not be a cause for worry for recruiters. Indeed has analysed the salaries offered by tens of thousands of job adverts to identify the top roles open to non-graduates that pay substantially more than the average UK yearly salary.
Top of the list is ethical hackers, who on average can expect to earn £56,547 a year – more than double the national average salary. While some ethical hackers may have degrees or technical qualifications, many learn the skills through experience.
The list also includes careers in construction, software engineering, maintenance and sales.
Bill Richards, UK Managing Director at Indeed, comments: ''This data proves that choosing not to go to university after school does not automatically mean a lower salary. Although all the roles in our list do require some form of training, they don't require a degree.''
5 Industries Facing a Shortage of Talent
Finding it difficult to find top talent in your industry? Things could be getting worse, according to research from The Korn Ferry Institute.
By 2030, according to the report, financial and business services will see a 10.7 million shortage of candidates. Technology, media, and telecommunications will have a 4.3 million worker deficit. Manufacturing could potentially see a shortage of 7.9 million candidates.
What can recruiters do to solve this potential crisis?
Looking at training today could potentially offset issues later. Education and learning is the number one weapon against rapidly depleting talent pools, and arming yourself for the War For Skills is one of the easiest ways to be proactive!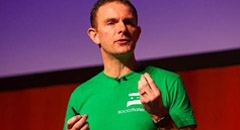 SocialTalent Recruiter Academy
A full library of videos that can help your team transform their hiring process
Find out how the likes of IBM, IKEA and Siemens
drive hiring excellence with SocialTalent
---