Keep up with the latest hiring trends!
6 Important Things Every First Time Manager Should Know
The role of management has changed drastically over the course of the last few years. And understandably so. Workplaces are markedly different environments now, not only in terms of how and where people operate, but also culturally. Never has there been a bigger onus on creating fairer, more equitable workplaces. As the lines between our jobs and lives have shrunk, wellbeing has stormed into primary focus.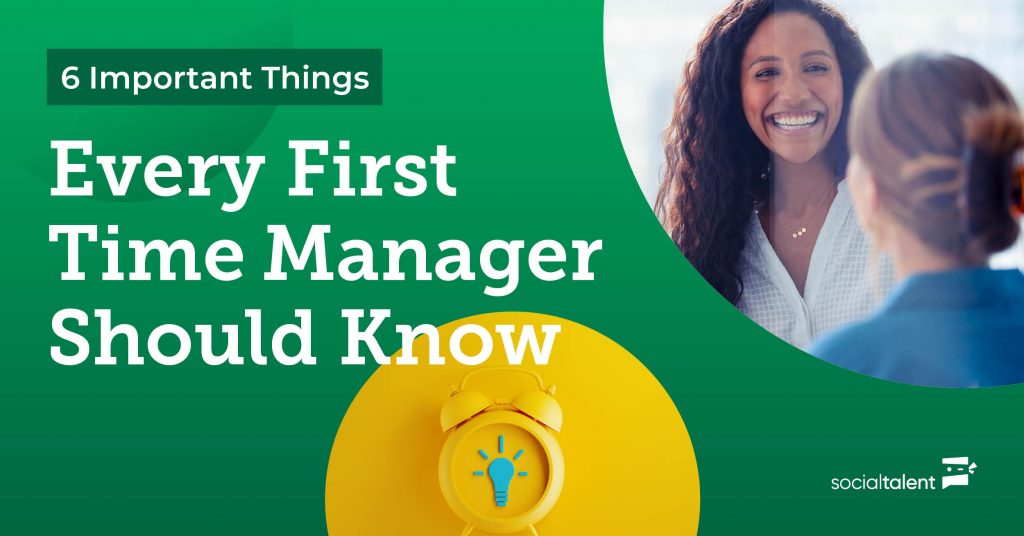 However, all this change begs a very important question – are managers, and particularly first time managers, being supported to lead teams successfully through this new horizon? According to research, only 42% of managers feel they have been given adequate leadership training. Management is a learned skill (although it's often not treated as one!). Thinking that because someone is good at their job, they will automatically be a good manager is so dangerous.
Given how altered the world of work is right now, it's never been more important to ensure that fledgling managers are enabled for success. Why? Because they don't have accurate blueprints or playbooks that truly reflect the new nature of the workplace.
So let's dig into it. Here are SocialTalent's list of six essential tips for first time managers.
SocialTalent's Leadership Training is designed to empower all on this journey, from first-time managers, to seasoned CEOs. Take a look!
1. Understand your team and their needs
According to Gallup, as many as 50% of people have left a job to get away from a bad leader at some point in their career. Your role as a manager is inextricably linked with that of your employees – so it's important to do the groundwork in terms of understanding your team and their needs. 
This falls under two categories: 
Understanding how your team works, how they communicate, and operate in the context of the organization. 

Understanding your direct reports as human beings. 
So, how do you approach this as a first time manager?
We recently spoke with Linda Jonas, one of SocialTalent's resident experts on leadership training, and she referred to Kim Scott's concept of "radical candor" – or, having the right conversations with your employees in a sincere, kind, and clear manner. It's not about barking orders and expecting pinpoint perfection. Your goal as a manager should be to help and enable your team to do their best work. Ask the important questions, like: 
Do you prefer Slack over emails? 

Are there any tools you need that could amplify your output? 

Is there an obstacle preventing you from nailing a project? 

How can I be clear in the way I communicate?
But remember, it shouldn't all be about work either… 
Listen to Linda's appearance on The Shortlist where she spoke about leadership in a hybrid setting:
2. Build trust
As we mentioned, you must also seek to understand your team from a more personal or human perspective too. Strong leadership is built on a foundation of trust. However, there are no quick wins to be had in this arena, and as a first time manager you'll have to play the long game here. Trust is fostered in small moments over periods of time. According to Vessy Tasheva, who delivers SocialTalent's trust-driven leadership training, managers must "go inside and go deep." Society is all about immediate consumption, but growing as a leader and building trust takes concerted effort. 
And while connection can be garnered in so many ways, it has to come from a place of authenticity. Leaders must genuinely care, be open to making mistakes, be transparent in how they operate, honor their commitments, and appreciate their people. It's about building an empathetic relationship. But the return is most definitely worth it. According to HBR, high-trust companies see:
74% less stress

50% higher productivity

40% less burnout

76% more engagement.
Learn more about
building trust as a leader
from Vessy's appearance on our weekly podcast.
3. Define what 'good' looks like
According to Culture Partner's Workplace Accountability Report, 85% of employees aren't clear about what their organization is trying to achieve. And without a strong north star, confusion and frustration can quickly seep in. So it's your job as a manager to ensure that clarity abounds.
Early on, you must establish expectations and define finish lines that your team can work towards. Be upfront about the desired results, continually check-in with your people to make sure they understand, and remember to be proactive in assisting them if any barriers to success arise. In her SocialTalent training on managing remote teams, Linda Jonas says that nothing kills engagement quite like uncertainty. Opt for simplicity and transparency. It can be quite daunting as a first time manager to inspire and drive results, but keeping your team engaged and on the same page is a fantastic step in the right direction.
4. Champion the development of your team
In a recent SocialTalent poll of over 500 TA and HR leaders, we discovered that career growth opportunity is the #1 driver of workplace engagement. Employees are craving opportunities to develop, and as a manager, you're in the perfect position to help with this!
It's always worth reiterating – your ultimate goal as a manager is to facilitate and nurture your team to reach the peak of their potential. From day one, show that you are open to having conversations about development and progression. There is often a fear that managers 'talent hoard' and these chats are taboo, but stifling your team and inciting a toxic culture will only hurt in the long run. Promote the possibilities available. Champion internal mobility in all its forms, whether that's encouraging upskilling, shadowing other teams, or even applying for lateral moves. Remember – attrition is a natural part of the management process. Rather than avoiding it, embrace how much your team has grown and celebrate that success.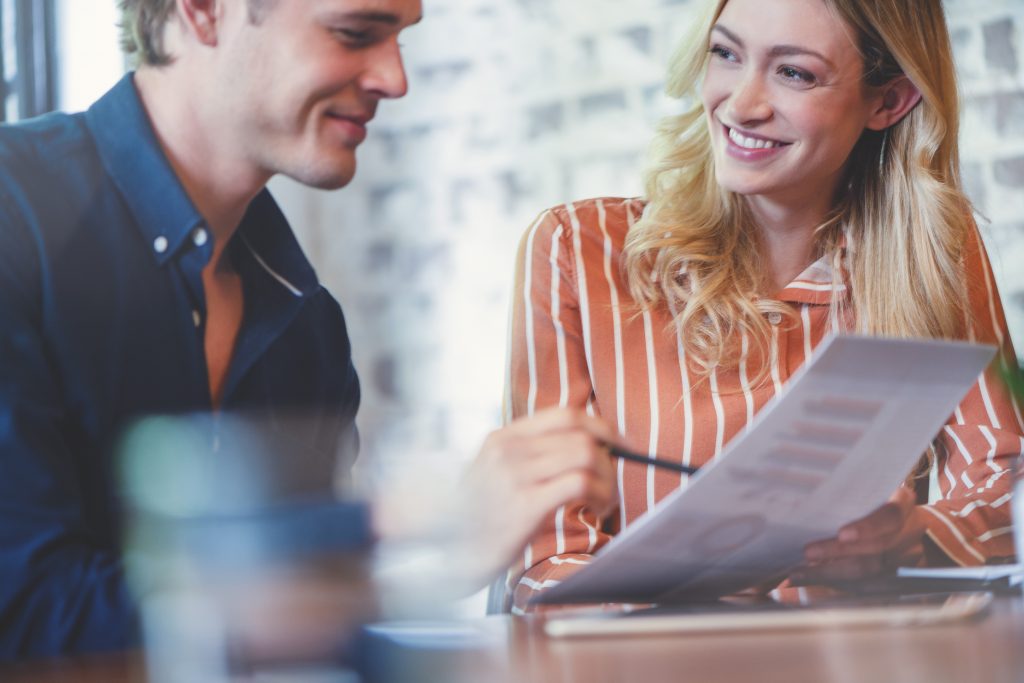 SocialTalent also offers dedicated
internal mobility training
to help first time managers better understand and leverage this process.
Check it out
.
5. Set up a culture of feedback and recognition immediately
New managers will often wait for year-end reviews to solicit feedback from their teams, but being open to feedback at all times is the hallmark of good leadership. Feedback is a two way street. It's a baked in requirement for you to provide your employees with honest, constructive, and fair feedback. But the best managers know they can also learn a great deal from their teams as well. Establish this culture – ask the questions:
Is there anything you would do differently on this report?

What can I do to support you more on this?

How can I show up better as your manager?

Can you let me know your thoughts on X?
Coupled with feedback, you must also consider recognition. In his training on improving recognition on the SocialTalent platform, bestselling author Dan Heath states that "recognition is the most neglected currency in the organizational world." He believes there is a HUGE gap between the amount of recognition an employee wants (or needs) and the amount we're delivering today. Never forget to call-out your team for their amazing work, both to them personally and to the company at large. Appreciate their talent and make sure they know how their efforts are impacting success.
Dan's training is all about creating peak moments – and this is so important for new managers. Take a look at this preview: 
6. Don't be afraid to ask for help
We'd put this in shining neon lights if we could – being a first time manager can be incredibly overwhelming. In fact, according to a HBR survey, 65% of fledgling managers admitted to feeling uncertain or anxious about their role transition. Oftentimes people are simply promoted into management positions because they are good at their jobs. Anne Helen Peterson refers to this as "add-on management" on the Work Appropriate podcast because that's essentially what this route is. There's no training involved, no assessment of specific skill – you're just being asked to lead and nurture a team with little-to-no experience. So what can you do?
Ask for help. It sounds simple (and we know it's not!) but make use of the people around you. See if you can find someone in the company who you respect to mentor you. Enquire about what training might be available. And talk to your own line manager about any concerns you may have. Being a great manager requires practice and learning – don't deny yourself these opportunities. Remember, the best managers aren't the ones who know everything, they're the ones who are upfront, authentic, and honest.
Find out how the likes of IBM, IKEA and Siemens
drive hiring excellence with SocialTalent
---