Keep up with the latest hiring trends!
/
/

A Complete Guide to Posting Jobs on Indeed.com
A Complete Guide to Posting Jobs on Indeed.com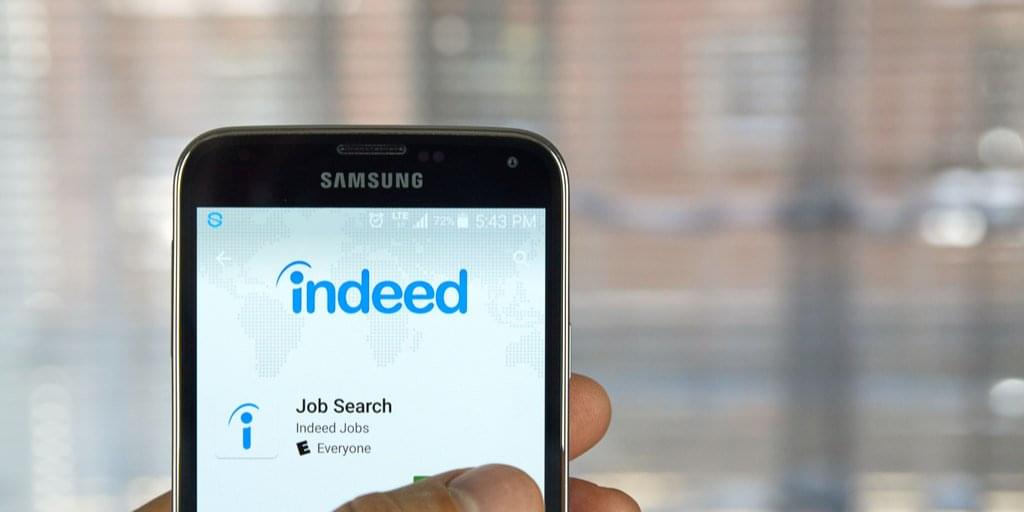 Indeed.com is the world's largest and most popular job board, with over 180 million unique visitors every month. They also have some of the highest quality resumes listed and are one of the few job posting sites that allow employers to post job ads for free or pay for postings by the click (versus having to pay a hefty $400 – $500 fee up front). Which just so happens to be the topic of our blog today: job postings on Indeed.
Here's our guide to effective job posting on Indeed.com:
Why choose Indeed?
As the world's largest job boards, Indeed enjoys the largest pool of job seekers online.
It's free for employers to advertise their jobs directly as long as the employer has no more than 5 jobs advertised at any one time.
Indeed provide a built-in ATS (applicant tracking system) for all employers who advertise on their site, which allows them to keep track of candidates who have applied.
Any ads created on Indeed are automatically mobile compatible, which means you can take advantage of the fact that 54% of Indeed.com job seekers use their mobile devices to search for jobs.
Indeed provides a number of key statistics around competitive salaries and job titles, that can be used to inform and improve your job postings (We've even used them to create industry-driven blog posts).
According to independent research, jobs placed on Indeed drive 3 times as many hires as Monster, LinkedIn and Careerbuilder combined.
And finally, because it's easy for job seekers to use, it's their go-to job seeking tool, which means if you're not on it or making the most you're missing out.
How to: Post a Job on Indeed.com
Step 1. Go to www.indeed.com/hire and click the blue Post Job button.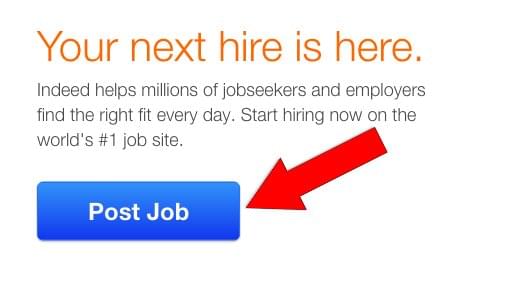 Step 2. Create an employer account by just entering your email address and a secure password.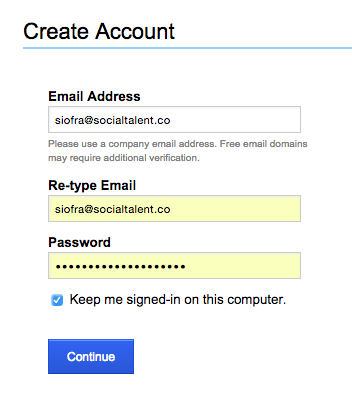 Step 3. To post a job for free in the Indeed.com site, all you need to do is fill out 3 key areas on the form Indeed ask you to fill out:
Job Title
Job Description
Location
However, we strongly recommend that you fill you all available text boxes including the company name, salary, job type etc.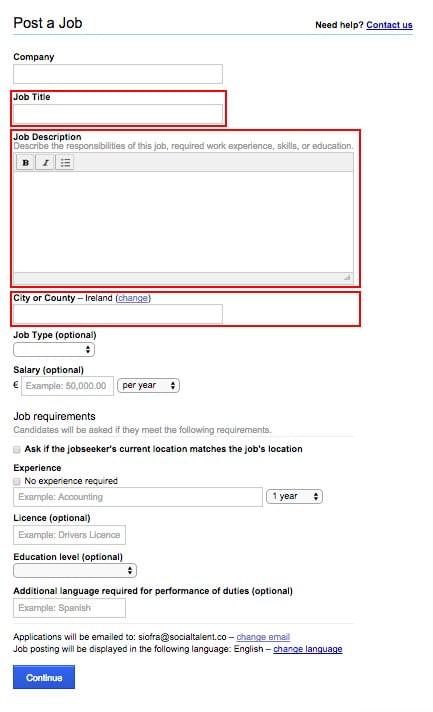 How to: Make the Most of Your Indeed Job Postings
When it comes to writing really compelling job ads, there are 8 key points you need to keep in mind:
1.Consider the job title.
Be as specific with your job title as possible. As noted by Indeed.com's Director of Employer Insights, Kevin Walker, a well-written job title can increase your traffic by up to 1000%! When devising a suitable title, think of the job title potential candidates will search for, rather than the exact title of the role you have to offer. For example, people will not be searching for "Web Designer II." If you're trying to attract a high-level applicant, "Senior Web Designer" is much clearer to applicants. Similarly, it's important to use the job title to describe the main aspects of the job. For example, "Events and Sponsorships Manager" is much more effective than just "Marketing."
Keep the job title concise, under 80 characters, and avoid all caps. Oh, and people are unlikely to include special characters in their search, so leave those out too.
2. Ask yourself, "How would I sell it verbally"?
Recruiters are at their best when they get to sell personally – so selling in a personable manner is key. Write your job description as you would sell in-person to a candidate. Entice them with your words. Why would a chef write on his menu that the soup of day is "vegetable soup" when, in person, he would describe it to his diners as a "wholesome carrot and parsnip soup" with ingredients his team grew in the kitchen garden? He wouldn't, so why would you do something similar in your job advertisements?!
3. Write it down in layman's language, and be passionate!
Be explicit about why your ideal candidate should move from their current role to yours. And, as I mentioned earlier, don't change the type of language you would use in person. Forget buzzwords and remove any jargon. Jargon is cold and ultimately meaningless.  You need your job ad to stand out for all the right reasons. It needs to be enjoyable to read. That's why straight-forward language with a passion behind it works. For example, going back to our restaurant metaphor: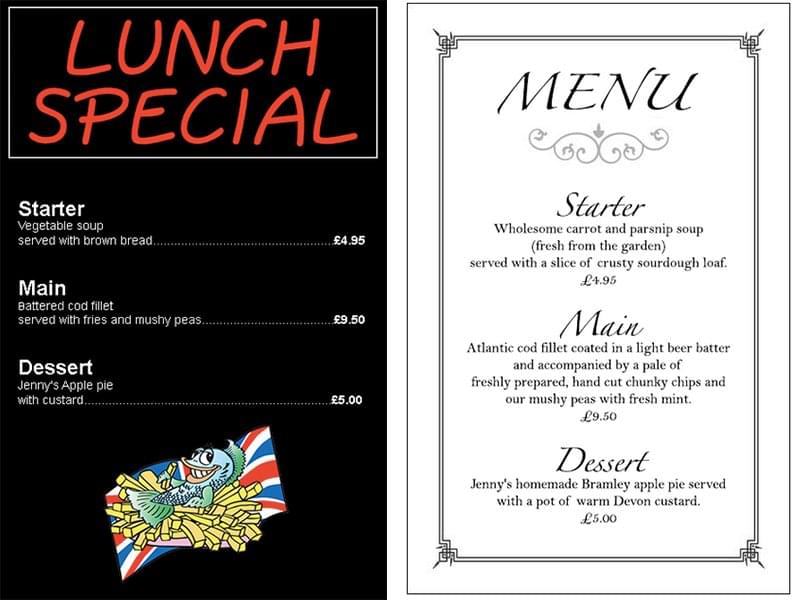 While Menu One tells you what you're going receive, it doesn't make you yearn for the food like Menu Two does. Menu Two goes into detail about the fact that the vegetables are fresh from the garden, implying that care and effort went into their preparation. We're told the cod is Atlantic cod and the batter is a light beer batter, not just any old stodgy batter. We're also told that our chips are hand cut and will be brought to us in a pale, and that the mushy peas aren't just plain old mushy peas. Use that kind of storytelling detail in your job advertisements.
4. Use Headings.
When TheLadders conducted a study examining the eye movement of 30 recruiters over a 10-week period to "record and analyse where and how long someone focuses when digesting a piece of information or completing a task", they found that the resume on the right was studied more thoroughly by recruiters than the one of the left because of its clear and concise formatting: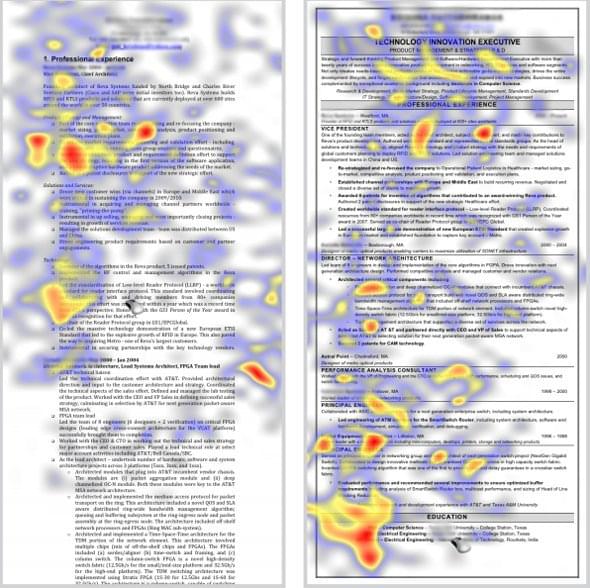 Headings are a great way to structure your job ad and provide an easily readable format for job seekers. NEVER underestimate the power of headings.
5. Bold your keywords.
Highlighting the most important keywords and points in your job spec will improve your applications. Why? Because when candidates read the job description in full, they get a feel for what's really important and they understand the requirements. You can see that, along with headed sections, the above resume also uses this technique to draw and guide the reader's eye.
6. Write the boring stuff.
The details are important, but you don't need to put them front and centre. Sell your candidates the opportunity first, and reinforce it with the key details later.
7. Take advantage of Indeed's built-in ATS
If you post a job on Indeed, you are automatically granted access to Indeed's built-in applicant tracking system. It allows you to easily manage your job postings on Indeed by providing a dashboard that allows you to see all applicants at a glance, view and forward their resumes, email them and even schedule interviews with them, all in the one place. It also lets you generate useful performance reports that tracks the views and clicks of your job postings. If you're not using it, you're missing out!

8. Test, test and test again
After creating a compelling job title and description, keep going. Test variations of job titles and descriptions to determine which ones draw the most qualified applicants. By using these metrics to make decisions, you will empower your organisation to improve the quality of the candidates who come to you.
How to: Advertise Your Job on Indeed
According to Indeed, there are 8.2 ads posted on the site every second, which means it's very easy for your job to get pushed down. Now, although we have it on good authority that the vast majority of job seekers will scroll to page 7 of Indeed search results, the best way to keep your job ad at the top of the pile is to pay to promote it.
Sponsored job listings are the top 2-3 and the bottom 2-3 listings on each Indeed.com job search page: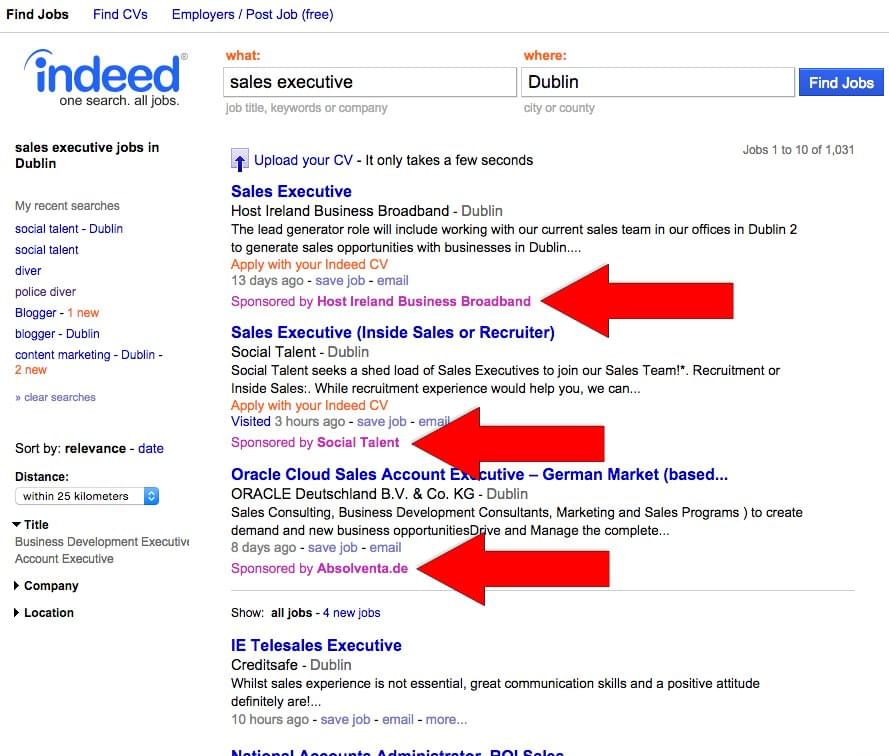 In many cases, sponsored listings will outperform free or organic job listings by 3-5 times. Why? Well, as I already pointed out, Indeed.com's search results are based on relevancy and recency, which means as your free/organic listings age, they generally fall further down in search results. Sponsored ads do not, they always remain on top/bottom.
Indeed.com's sponsored ads work on a pay-for-performance cost model, which means you pay a certain fee for every click you get from the sponsored ad, generally between $.25 – $1.50/£0.12 – £0.70/€0.15 – €0.90 or so. You can set a monthly budget, a targeted amount of customers, and Indeed.com will try to meet your goals by bidding automatically for you, no longer displaying your add when your monthly budget is reached.
All you need to do to sponsor a job posting on Indeed, is click the "sponsor this job for more reviews" when you view your job postings under the Jobs tab in Indeed's built-in ATS:

Then all you need to do is simply pick a monthly budget and you are good to go: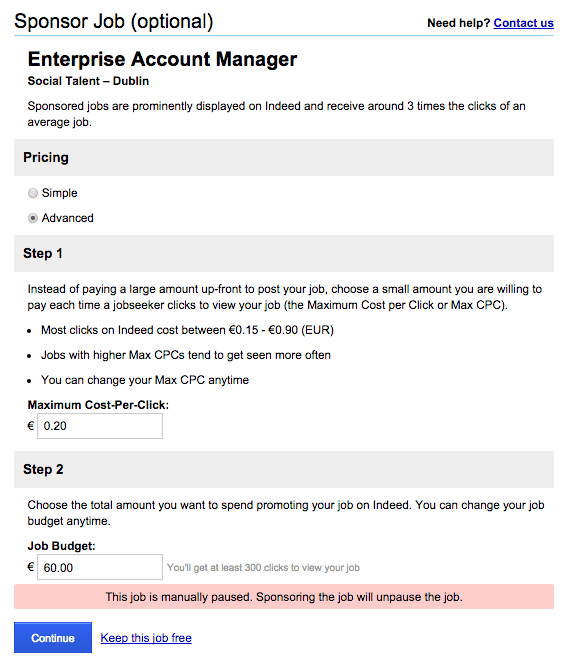 So there you have it folks! Pretty much everything you need to get started with posting your open roles on Indeed.com. Now all you need to do is go do it! Good luck and happy sourcing 🙂
Find out how the likes of IBM, IKEA and Siemens
drive hiring excellence with SocialTalent
---